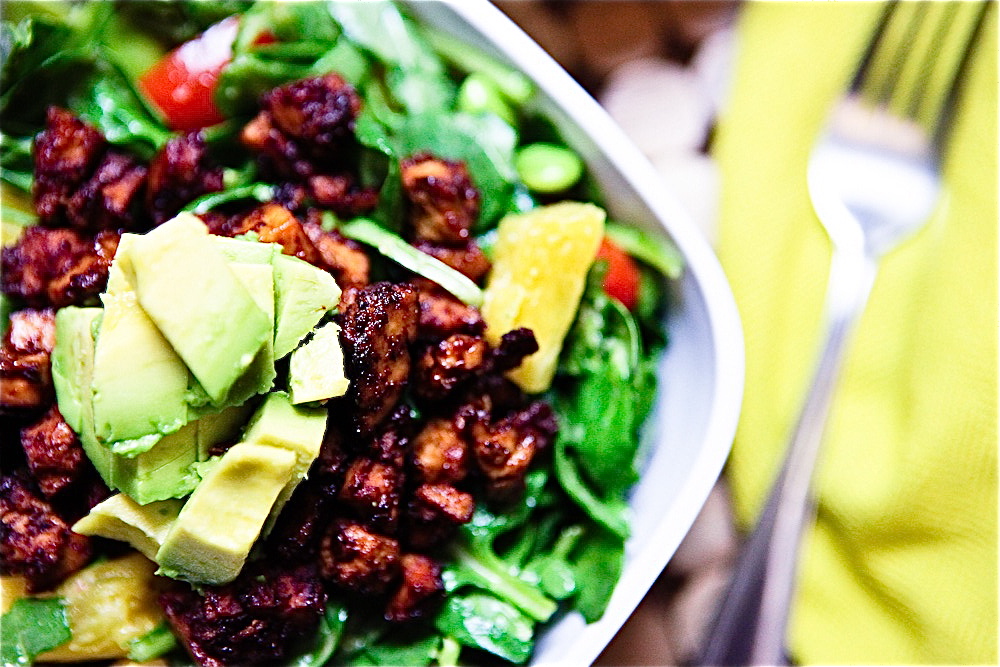 One thing, among many, that I love about traveling is how much being exposed to new cuisines inspires me when I get back to my kitchen.  The first time I went to Spain, I wanted Catalan Bread (toasted baguette, drizzled with olive oil and covered with tomato pulp from being rubbed with a freshly cut tomato half) with every meal.  After coming back from our honeymoon in Greece, I craved tzatziki constantly.  Maui made me realize that there were several ingredients and flavors I have seriously neglecting in my cooking.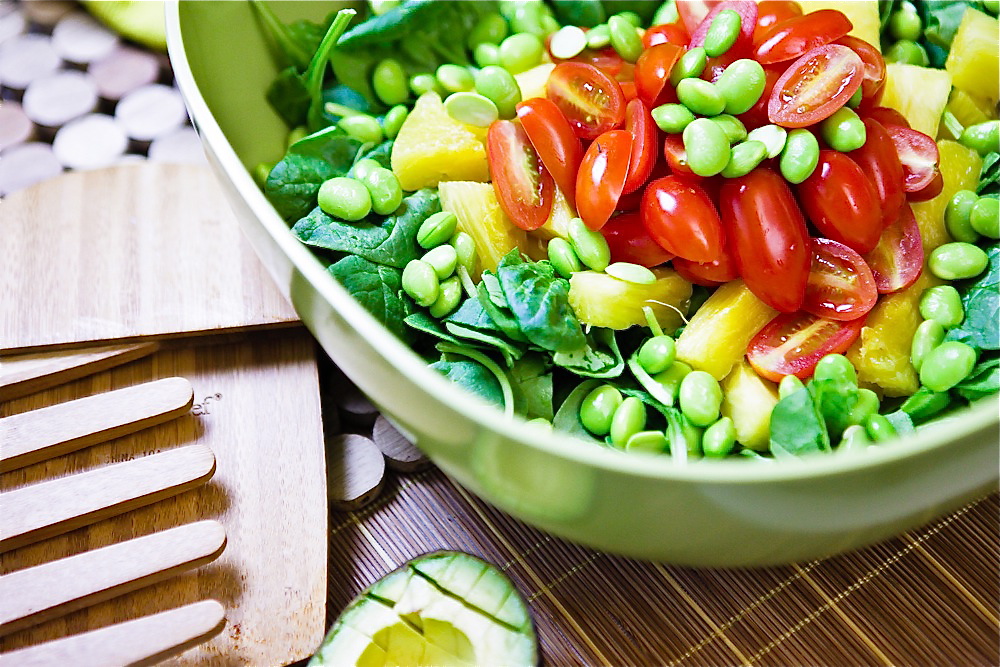 Since getting back on my game in the kitchen (it took me a few days), coconut milk has been replacing almond milk in several recipes.  I can't go a day with out my cacao nib fix.  We have a large variety of dips to dip our veggies in (other than hummus) than we ever have before.  Pressed and baked tofu has been a popular entree in this house, and pineapple has also become an ingredient that I crave daily.  This salad is a culmination of several flavors we enjoyed in Hawaii.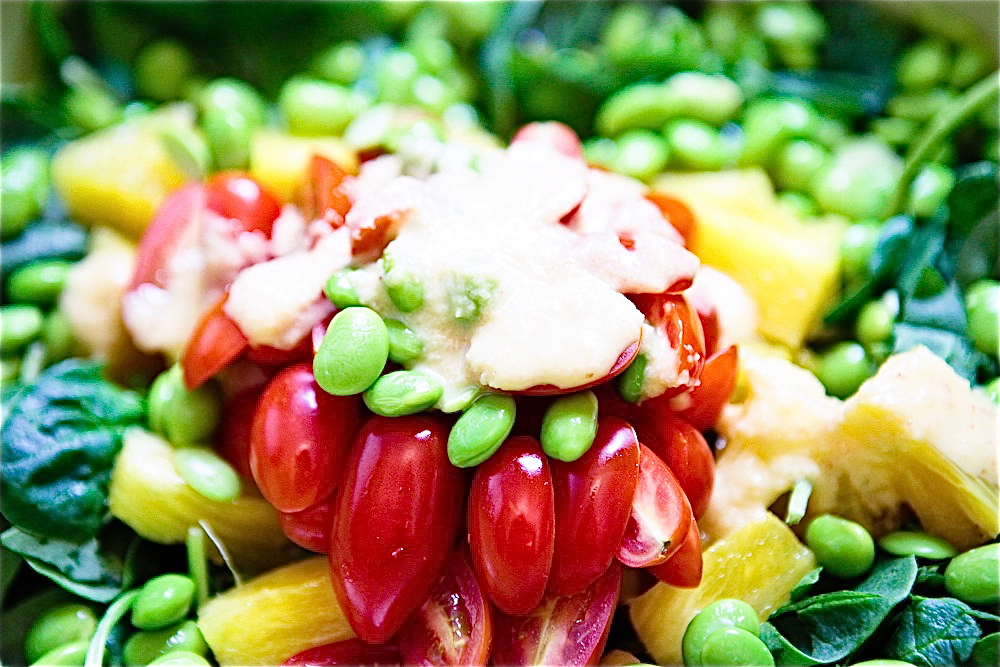 If you like salads with a variety of textures and flavors, then this one is for you.  The savoriness of the baked barbecue tofu, combined with the citrusy, juicy pineapple and the sweetness of the nectarine balsamic dressing is one of the best combinations of sweet and savory ever.  If that wasn't great enough, it's paired with the crispness of the fresh spinach and edamame, the creaminess of the avocado, and the bursts of tart cherry tomatoes.   It was delicious enough for us to have it two nights in a row and it definitely took the edge off our longing to be back in Maui.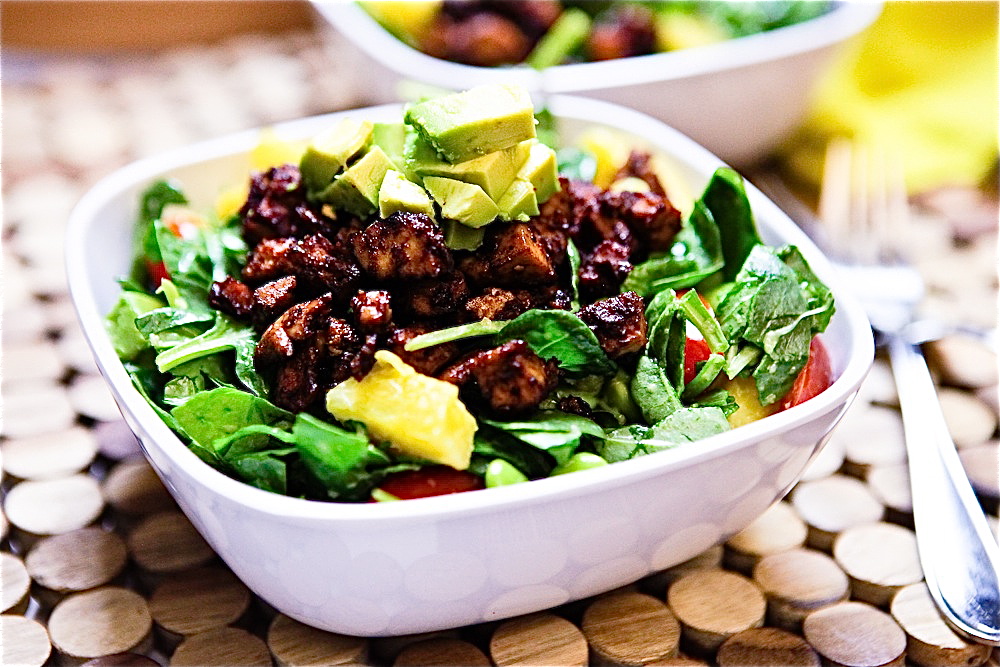 BALSAMIC NECTARINE DRESSING
Ingredients:
1/3 cup olive oil
¼ cup + 1 T white balsamic vinegar
1/8 cup apple juice (orange juice would be good too)
1 nectarine, pitted, and roughly chopped (peeling is optional)
1 tsp Dijon mustard
½ tsp powdered stevia
¼ tsp salt
dash of cayenne pepper
dash of garlic powder
Instructions:
Combine all ingredients in a blender and blend until smooth.  Chill for an hour before serving.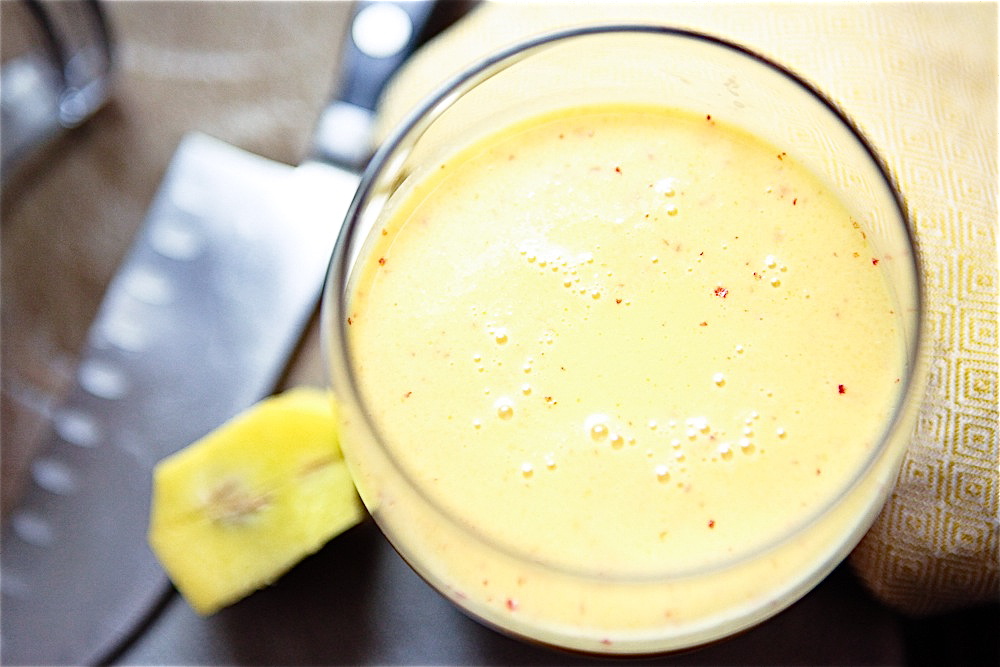 BAKED BBQ TOFU
Ingredients:
1 package of extra-firm tofu, drained and pressed overnight or up to 24 hours
1/3 cup + 1-2 T barbecue sauce, separated (I like the Homemade BBQ Sauce from Veganomicon, if you want to make it yourself, but I just used Organicville's Tangy Barbecue Sauce, made with Agave Nectar)
1 T balsamic vinegar
1 T Bragg Liquid Aminos (or tamari/soy sauce)
Instructions:
Preheat oven to 375.  Lightly grease, or spray with olive oil, a shallow baking dish, such as a casserole dish.
In a small bowl, combine the 1/3 cup barbecue sauce, balsamic vinegar and Bragg Liquid Aminos.  Set aside.
Halve the pressed block of tofu, horizontally.  Thinly slice the two blocks into two thinner blocks, so you have 4 tofu sheets, all roughly 2 inches by 4 inches.  Cut each slice into small cubes.
Place ½ the cubes in the barbecue sauce mixture and toss to combine.  Use a slotted spoon to retrieve each cube, letting most of the sauce drain off the tofu.  Place the tofu in the prepared shallow baking dish, and repeat with the 2nd half of tofu.
Place the baking dish in the oven and allow tofu to bake for 30 minutes, tossing the pieces halfway through to allow them to cook evenly.
After 30 minutes, drizzle 1-2 tablespoons of barbecue sauce over the tofu and toss to combine.  Place back in the oven for another 10 minutes.  Remove from oven and let cool for about 10-15 minutes before using in the salad.  You can make this a day in advance, if you'd like.  After allowing the tofu to cool completely, refrigerate in an airtight container until ready to use.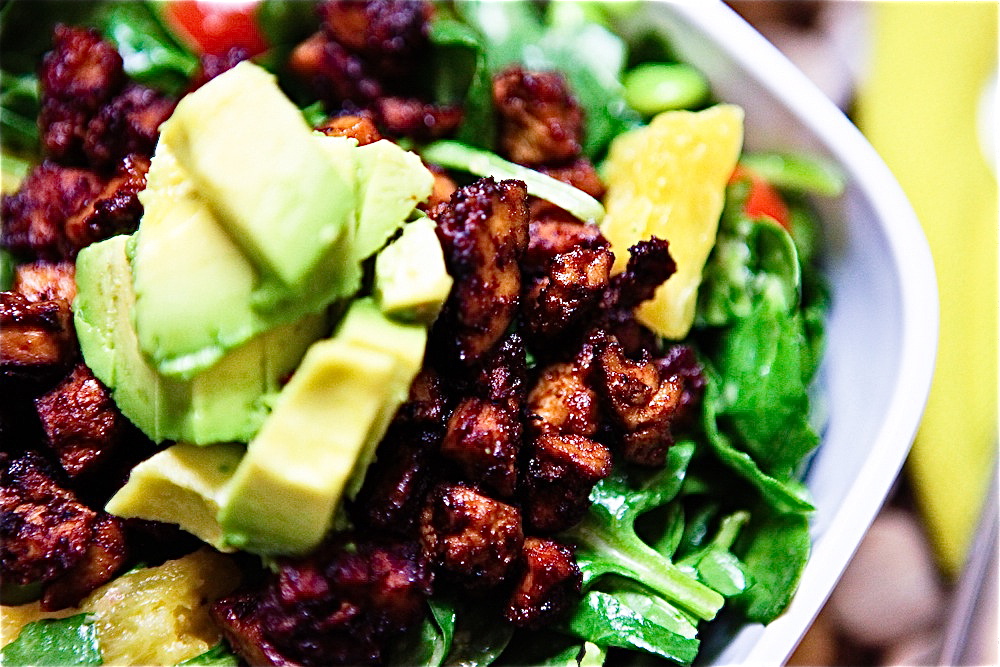 BBQ TOFU, EDAMAME & PINEAPPLE SPINACH SALAD
makes 2 entree-sized salads or 4-6 side salads
Ingredients: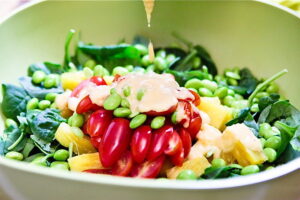 6 cups baby spinach
1 ¼ - 1 ½ cup diced pineapple
1 cup shelled edamame
15 cherry tomatoes, halved
½ avocado, diced
½ recipe Baked BBQ Tofu
¼ cup Nectarine Balsamic Dressing
Instructions: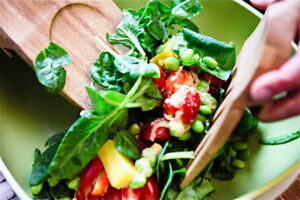 In a large bowl, toss together the spinach, pineapple, edamame, tomatoes and the Nectarine Balsamic Dressing.  Serve it in 2 bowls (to eat as an entrée salad) or more bowls (to eat as a side salad).
Top with the ½ recipe (or more if you'd prefer) of Baked BBQ Tofu bits and avocado.  Serve immediately.  Enjoy!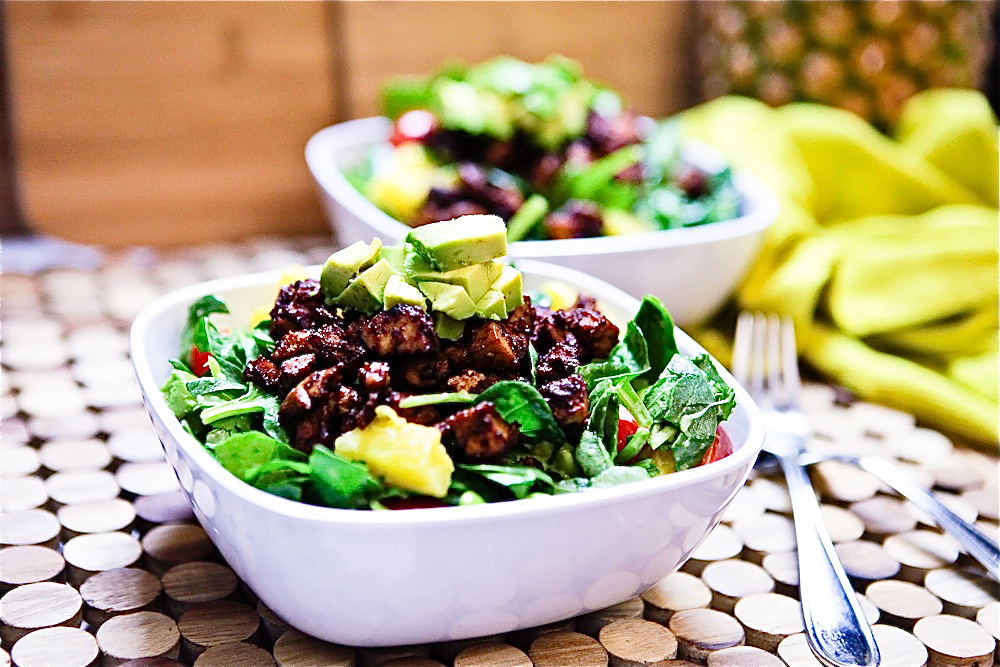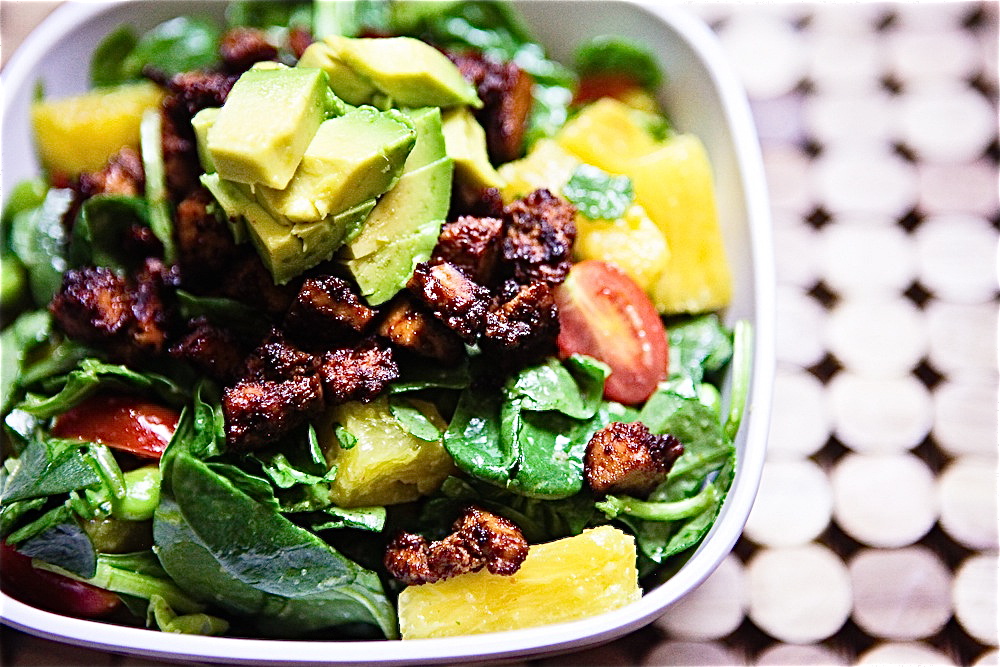 How have your travels inspired you in the kitchen?
All Photos taken by Chris Miller

© Kristy Turner and Keepin' It Kind, 2012. Unauthorized use and/or duplication of this material (content and images) without express and written permission from this blog's author and/or owner is strictly prohibited. Excerpts and links may be used, provided that full and clear credit is given to Kristy Turner and Keepin' It Kind with appropriate and specific direction to the original content.