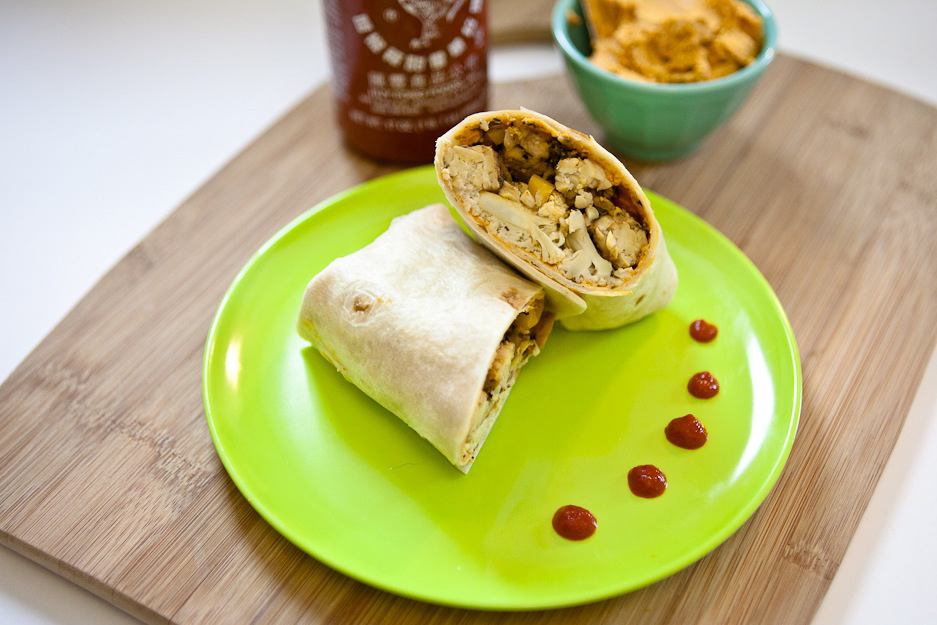 I love spicy foods, but to be perfectly honest, my body does not handle it as well as it used to.  Back in the day, my friends and I would try the burritos at a different taqueria each Sunday.  This went on for about 2 or 3 years.  At one point, I felt confident to say that I had tried over half of the taquerias in San Jose, CA.  We considered ourselves experts on the San Jose burrito scene, and because of this experience, we also considered ourselves hot sauce aficionados.  Weekly, we slathered our burritos in the hottest sauces we could find.  If I tried such a shenanigan today, I would likely only be able to stomach a couple bites before being doubled over in pain.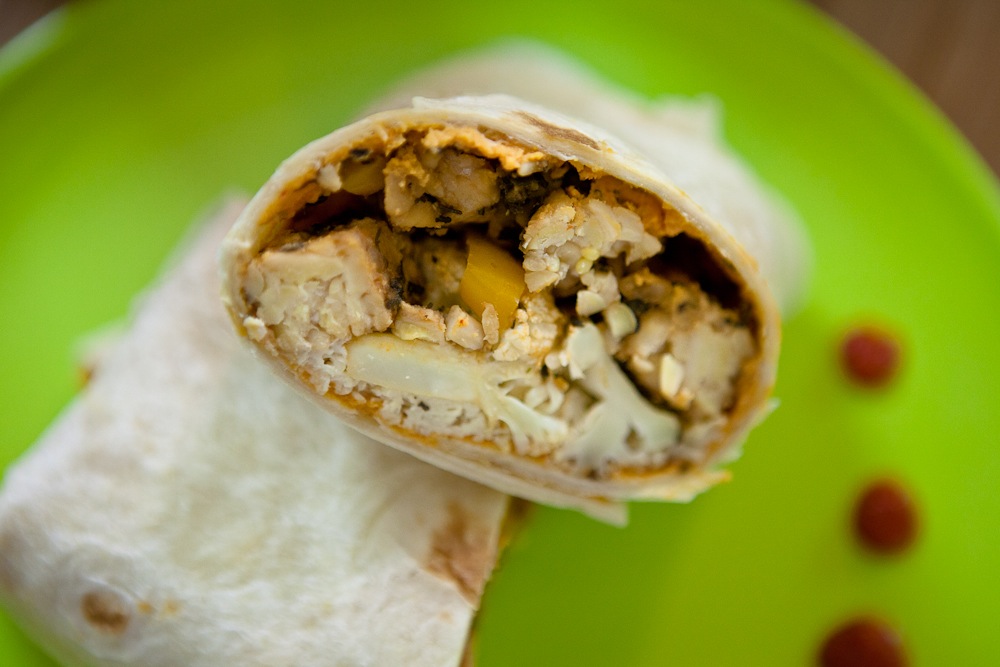 Enter Sriracha Sauce.  The "rooster sauce" has a salty sweetness to it, with subtle garlicky notes.  A little bit goes a long way for me, packing enough heat to satisfy my cravings without burning my tastebuds and the lining of my stomach.  I know people, however, who can drench their food in it.  A friend, and former colleague of mine (and co-star in an episode of Rob Dyrdek's Fantasy Factory), wrote The Sriracha Cookbook, an entire cookbook dedicated to recipes containing this magical sauce.  I never thought I would be the type to have an entire recipe revolve around Sriracha Sauce.  Until now.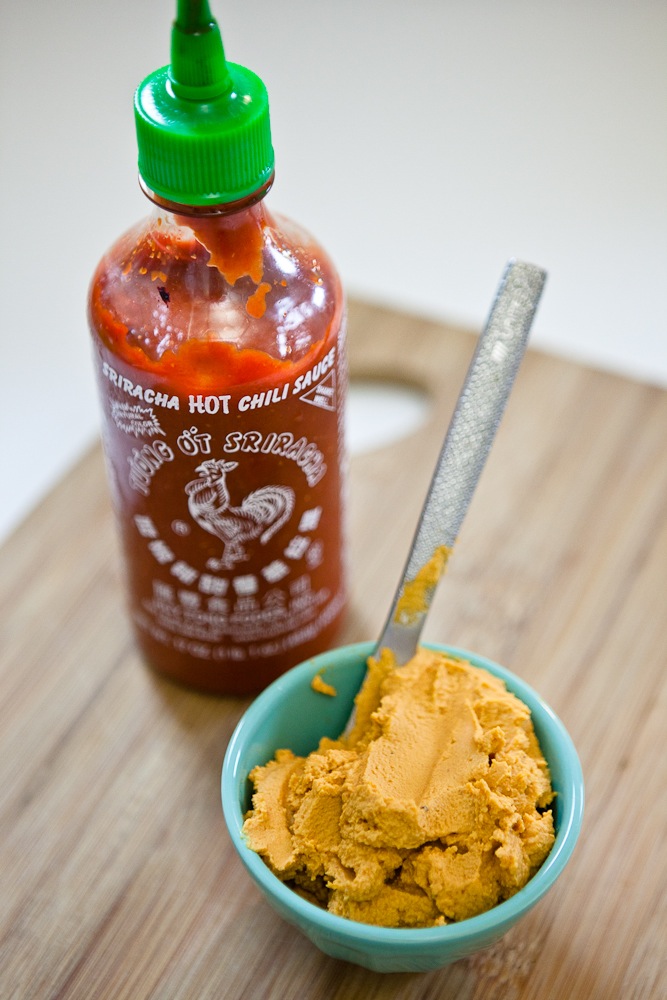 One day, on a whim, I decided to add Sriracha to a sun-dried tomato hummus I was making.  I pulled out my baby carrots and did my regular hummus taste test and it passed with flying colors.  Not only did it pass, I caught the Sriracha fever!  Before I knew it, I was marinating tempeh in a Sriracha-laced marinade, with dreams of a wrap containing both the hummus and the tempeh.  Then I remembered the half head of cauliflower in the fridge and minutes later, it was in pieces on a baking sheet, drizzled with Sriracha sauce, just waiting to be roasted.
In anticipation of this spicy, mouth-watering wrap, Chris could not take pictures fast enough.  It was perhaps our fastest photo shoot to date.  Once the last picture was taken, the plates were on the table and we were savoring our first bites.  Because Sriracha is magic, the wrap, while having Sriracha involved in every element, was not overwhelmingly hot.  The taste of the tempeh and roasted cauliflower burst through and the texture of the velvety hummus on the light, fresh tortilla was a match made in Hot-Sauce Hummus Heaven.  The only thing that we did not care for is the fact that we only had enough tortillas for us to each have one wrap each.  Afterwards, my tastebuds were still in tact and my stomach was hungry for more, my love for Sriracha Sauce stronger than ever.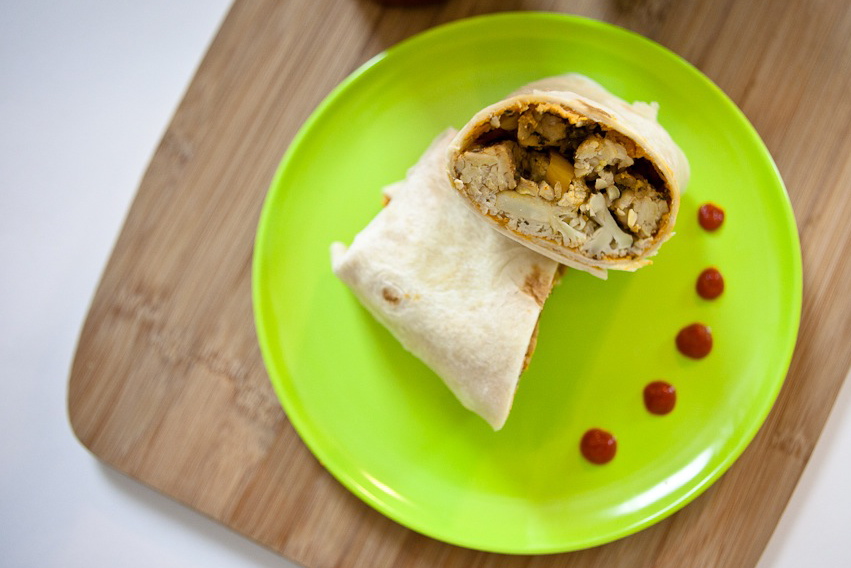 Sriracha.  Because sometimes a girl needs her spice.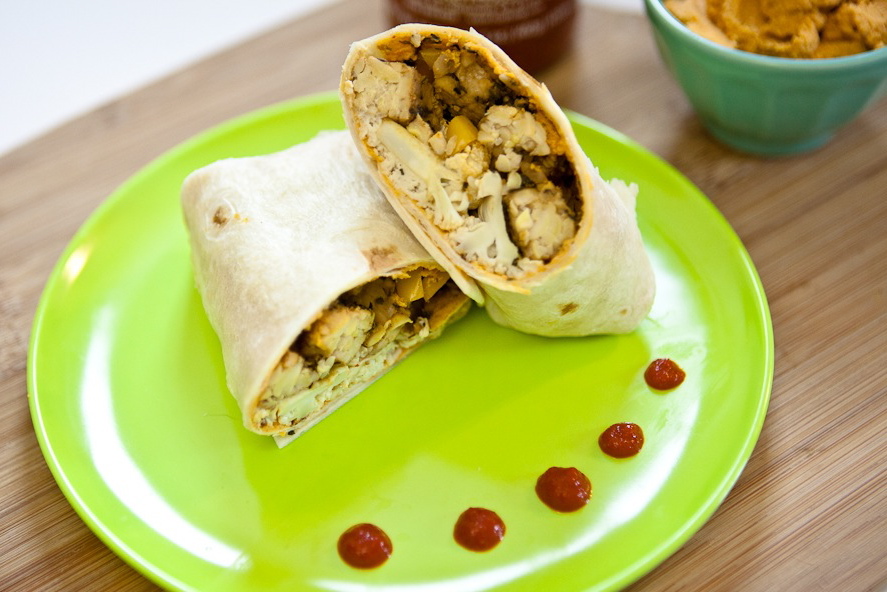 SUN-DRIED TOMATO SRIRACHA HUMMUS
Ingredients:
1 14.5oz can of chickpeas, rinsed and drained
3 T tahini
3-4 T fresh lemon juice
2 cloves garlic, chopped
¼ cup vegetable broth
¼ cup sun-dried tomatoes, soaked if needed
2 tsp Sriracha sauce (or more if desired)
½ tsp cumin
½ tsp ancho chile pepper
¼ tsp paprika
salt and pepper to taste
Instructions:
In a food processor or high-speed blender, process all ingredients together until smooth.  Chill until ready to use.  Enjoy!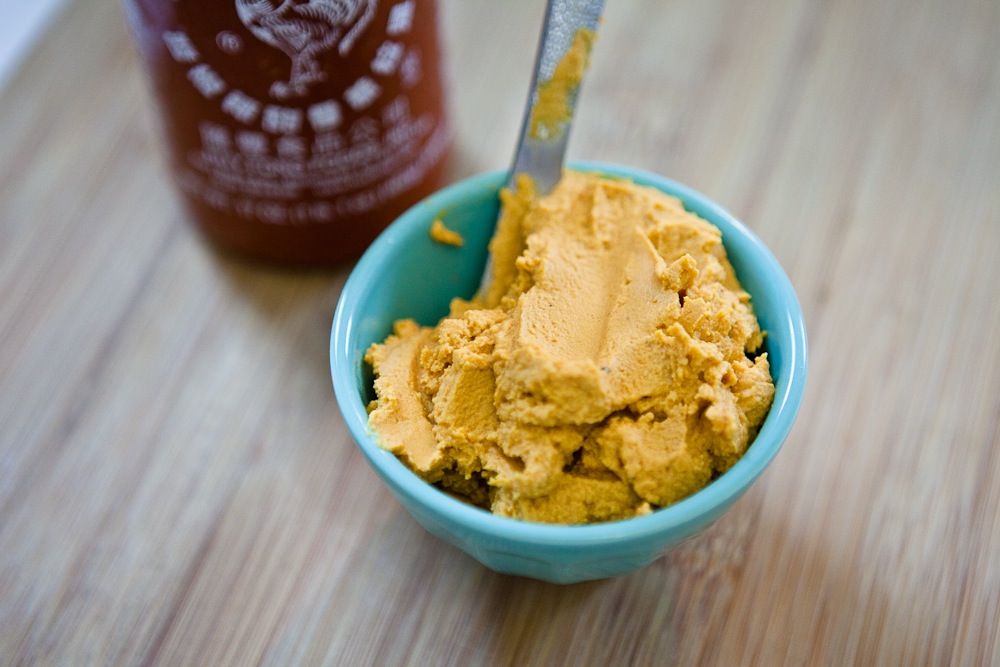 SRIRACHA TEMPEH CAULIFLOWER WRAP
makes 2 wraps
Ingredients:
for the tempeh:
½ cup vegetable broth
1 T Bragg Liquid Aminos (or tamari/soy sauce)
1 ½ tsp balsamic vinegar
1 tsp liquid smoke
2 tsp Sriracha sauce (or more/less if desired)
2-3 fresh sage leaves, finely chopped
2 tsp dried basil
1 tsp dried thyme
½ tsp garlic powder
½ tsp dried onion granules
1 8oz package of tempeh, cut into small cubes
2 baby sweet bell peppers, seeds removed, halved and thinly sliced
for the cauliflower:
½ head of cauliflower, cut into bite-size pieces
olive oil spray
1-2 tsp Sriracha sauce (based on preference)
½ tsp cumin
salt and pepper to taste
for the wraps:
2 tortillas
4-6 T Sun-Dried Tomato Sriracha Hummus (recipe above)
2-3 T shredded vegan cheese
Instructions:
Marinate your tempeh.  Combine all tempeh ingredients (except the tempeh and bell peppers) in a shallow dish/bowl and mix until combined.  Add the tempeh and toss to fully coat. Marinate in the refrigerator for 1-3 hours.
Preheat oven to 400.  Line a baking sheet with parchment paper.  Spread the cauliflower out on the sheet and lightly spray with olive oil.  Add Sriracha, cumin, salt and pepper.  Toss to fully coat.  Bake in the oven for 20 minutes, flipping halfway through.  Remove from oven and set aside.
While the cauliflower is in the oven, cook your tempeh.  Heat a frying pan over medium heat for about 30 seconds.  Add the tempeh, with the marinade and bell pepper slices and sauté until tempeh is tender and liquid is absorbed.  If the liquid absorbs too quickly and the tempeh starts to stick, deglaze with a little vegetable broth and lower the heat.
Once both tempeh and cauliflower are cooked, you can assemble the wraps.  Spread 2-3 T sun-dried tomato sriracha hummus on one side of a tortilla.  Add about ½ cup of the tempeh mixture (you will have leftover tempeh) and a ½ cup of the cauliflower.  Top with the shredded cheese and more Sriracha sauce (if you prefer).  Fold the left and right edges over, then taking the edge closest to you, roll the tortilla up, burrito-style.  Cut in half and serve immediately.  Enjoy!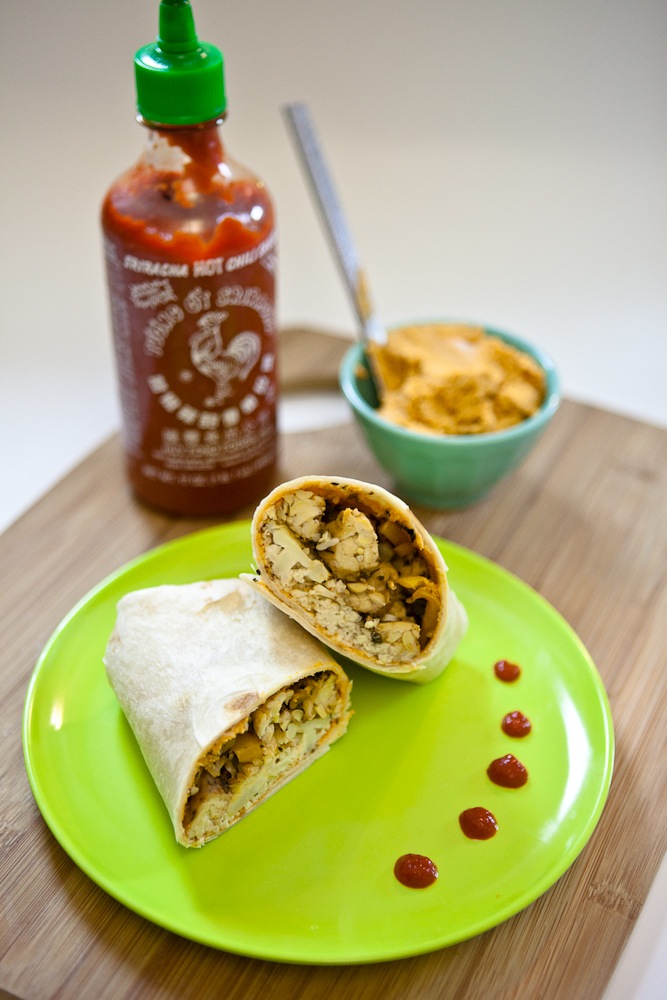 Have you caught the Sriracha fever?
All photos taken by Chris Miller and Kristy Turner

© Kristy Turner and Keepin' It Kind, 2012. Unauthorized use and/or duplication of this material (content and images) without express and written permission from this blog's author and/or owner is strictly prohibited. Excerpts and links may be used, provided that full and clear credit is given to Kristy Turner and Keepin' It Kind with appropriate and specific direction to the original content.