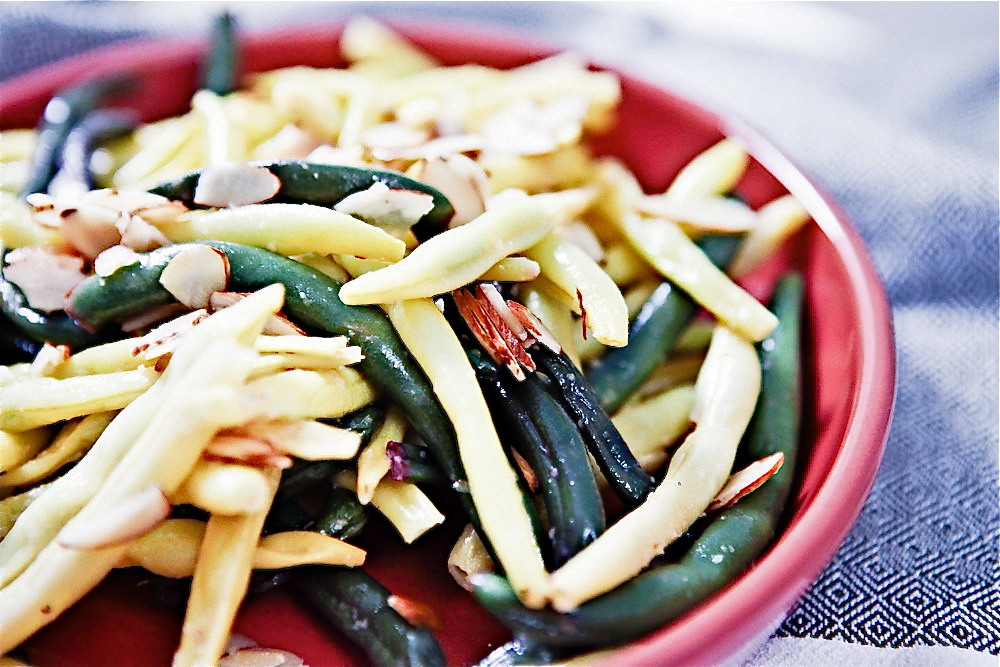 I never ate a fresh green bean until I was about 24.  Until that glorious day, I had only experienced the canned variety (my family was big on canned food).  The age of 24 is when I first became interested in farmer's markets and fresh foods.  I would buy mostly just fresh fruit, with the occasional familiar vegetable.  One day, I came near closing time, and as I bought a bunch of carrots, the farmer dumped a large bunch of green beans in the bag as well.  "I need to get rid of them," he said with a smile.  My response was a very confused expression and a quiet "thank you," as I walked away.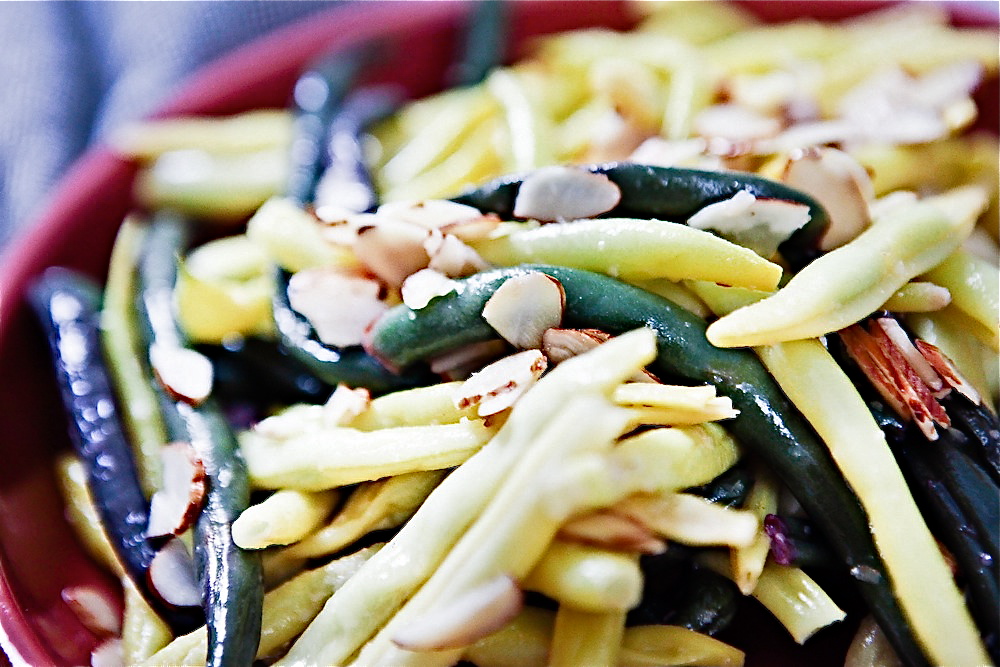 Because I'd only ever had salty, mushy green beans from a can, I really didn't care for green beans.  On holidays, in a casserole, covered up with a lot of other canned gunk, I thought they were alright.  I had no idea what to do with these long, bright, fresh green beans I'd been gifted.  They sat on a shelf in my refrigerator for a couple days, where I would periodically stare at them while reaching for something else.  Finally, one day, I pulled them out, washed them, and steamed them (ends not trimmed, because I didn't realize this needed to be done), melted a bit of butter on them and gave them a try.  Expecting them to be tasteless and mushy, I was amazed with their crispness and the complexity of flavor.  I was shocked to find that there was a slight sweetness to them, and I love the way it felt to bite into the pod.  Instantly, I was hooked.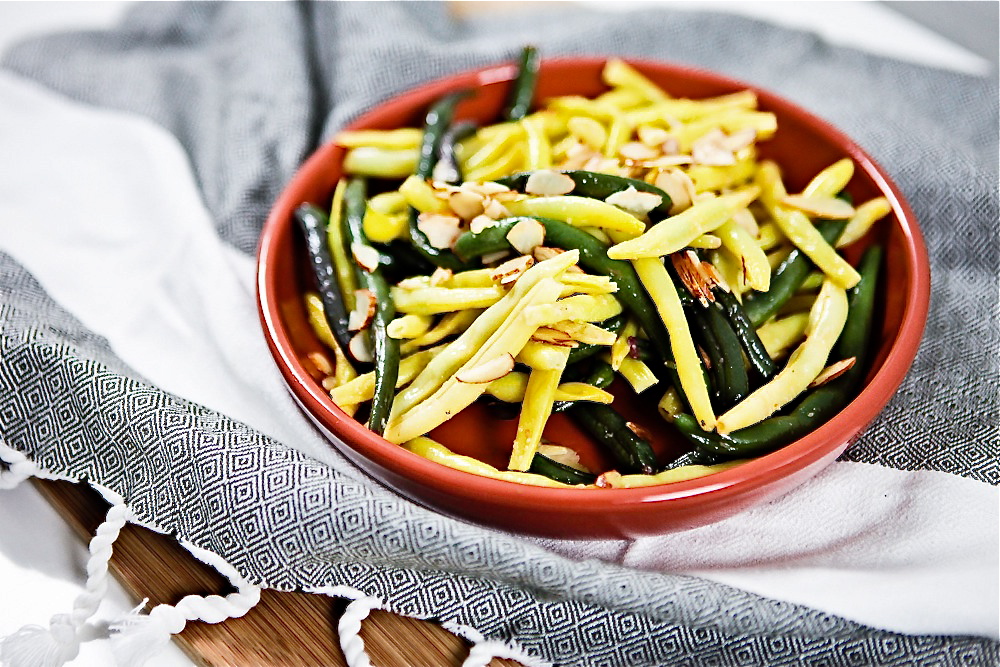 I tried many ways of preparing these green beans, but this is my most favorite.  The first Thanksgiving dinner that I hosted, and cooked entirely by myself, featured these buttery lemon-almond green beans.  They were a huge hit and when I recently received some gorgeous yellow and purple "green" beans in my CSA delivery, I couldn't think of a better way to enjoy them.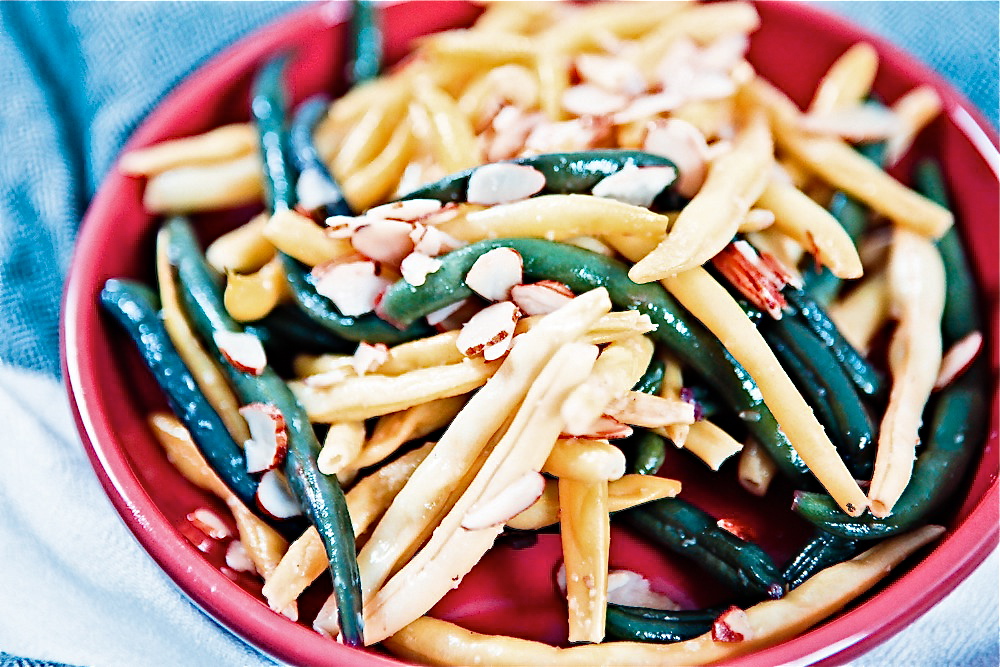 LEMON ALMOND GREEN BEANS
Ingredients:
1 lb fresh green beans, any color, cleaned and ends trimmed
1 T vegan butter
1 clove garlic, minced
1 T lemon juice
1/8 cup almond slices
Instructions:
Bring a 3 quart pot of water to a boil.  Add the green beans and let them cook for 2 minutes.  Pour the green beans into a strainer and run under cold water to stop the cooking process.  Set aside.
In a large, shallow saucepan, melt the butter over medium-low heat.  Add the garlic and sauté until garlic is golden, about 2 minutes.  Add the green beans and toss with the butter.  Let the green beans sauté with the butter for about 2 minutes, stirring occasionally.  Add the lemon juice and the almonds and continue to sauté until liquid is absorbed.  Remove from heat and serve immediately.  Enjoy!
All Photos taken by Chris Miller

© Kristy Turner and Keepin' It Kind, 2012. Unauthorized use and/or duplication of this material (content and images) without express and written permission from this blog's author and/or owner is strictly prohibited. Excerpts and links may be used, provided that full and clear credit is given to Kristy Turner and Keepin' It Kind with appropriate and specific direction to the original content.