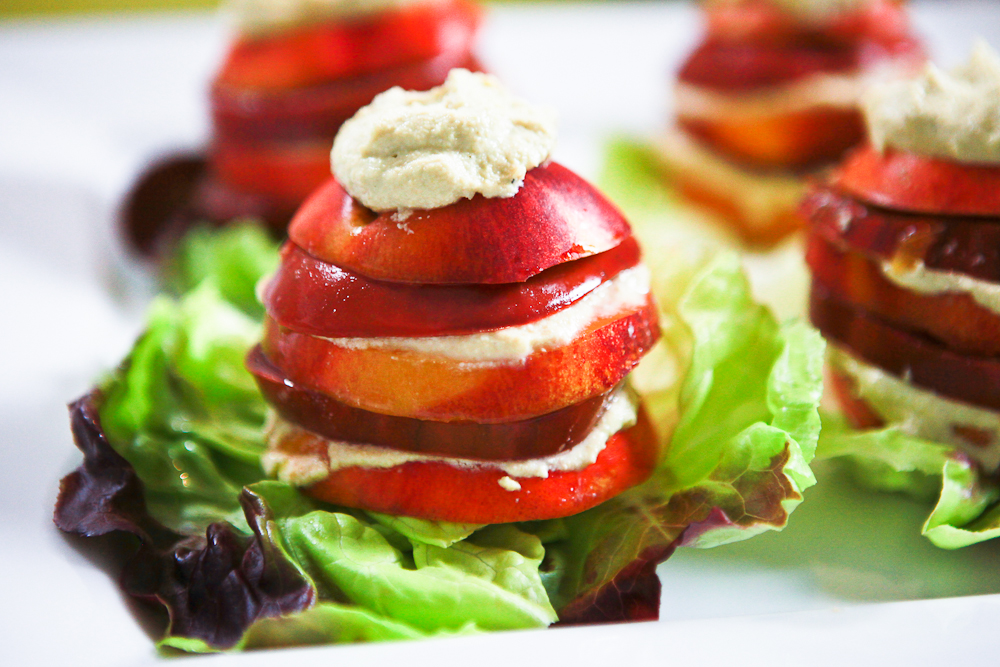 Last week, I discussed my recent "blahdom" in the kitchen.  My creativity was zapped, and I would be lying if I didn't (several times) slather some hummus on a pita and call that a meal.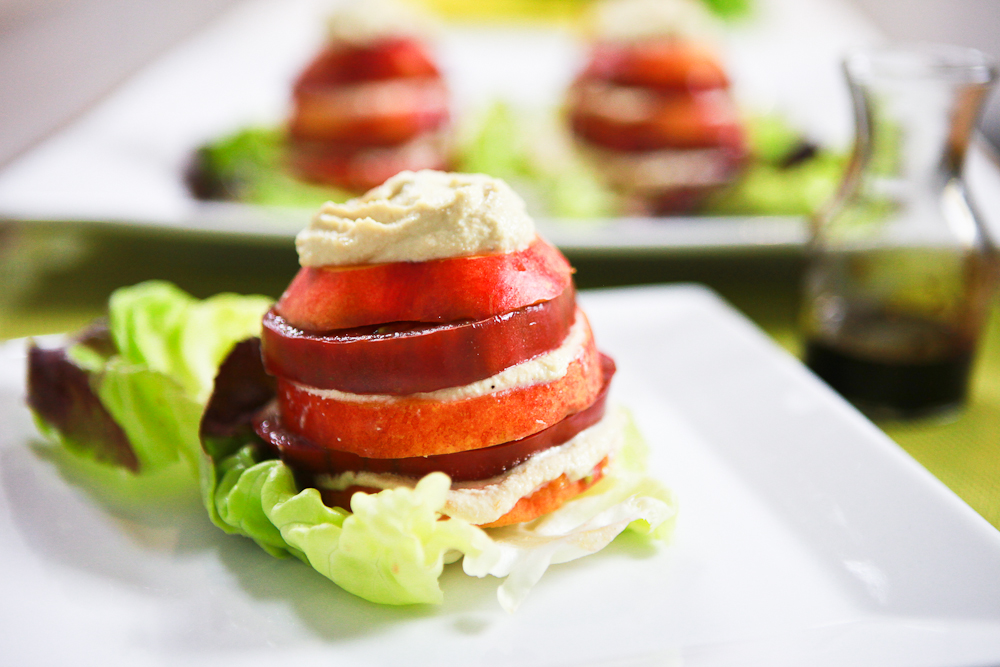 After meeting a friend for coffee in Redondo Beach (a place I rarely go to), I was driving home and happened upon a farmer's market I did not know existed.  That's what you get for driving down roads you rarely travel, on a day and time when you would normally be elsewhere.  I knew I only had $3 in my purse, but I decided to peruse the farmer's market and pick something out for just that amount.  I ended up with four of the hugest, juiciest, most flavorful organic nectarines I had ever seen (I'm a sucker for nectarines).  When I brought them home and set them on the counter, next to the humongous heirloom tomatoes our CSA had sent us, I started feeling the river of creativity beginning to trickle.  "Similarly sized fruits, eh?  I'll see what I can do with that," I told my canine roommate thought to myself.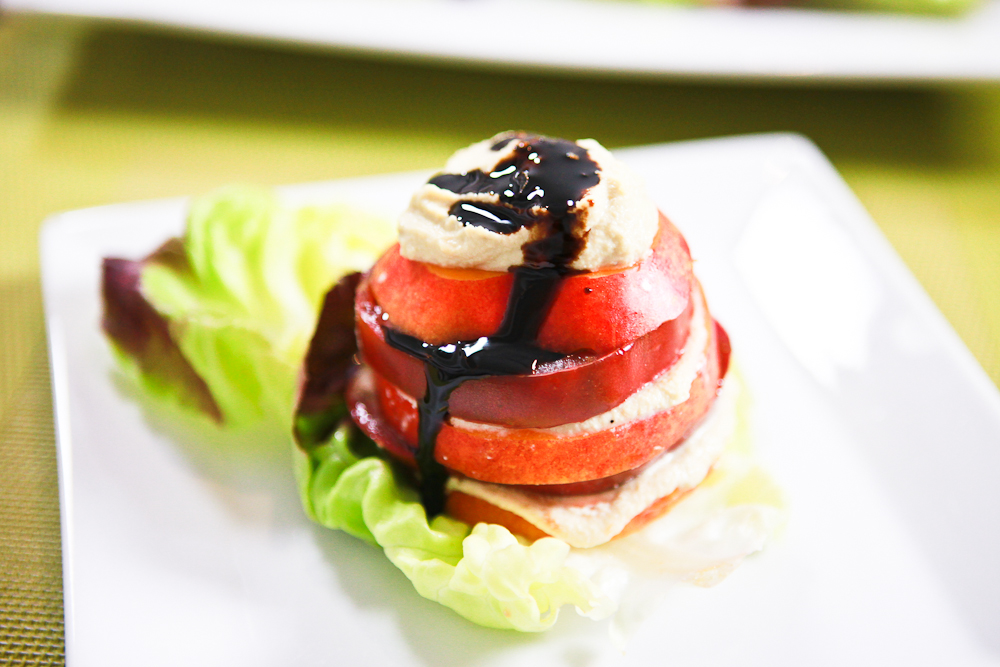 Before I knew it, I was soaking cashews and roasting garlic.  I sliced my tomatoes and nectarines and laid them all out, in order of their size (an exercise my anal-retentive side loved).  Once I did my quality control taste-test of the roasted garlic cashew ricotta, it was so fantastic that I did my happy dance (and by "happy dance," I mean "the running man").  I felt like I had got my groove back and I only got more cocky proud when Chris walked in and exclaimed at how beautiful these little stacks were.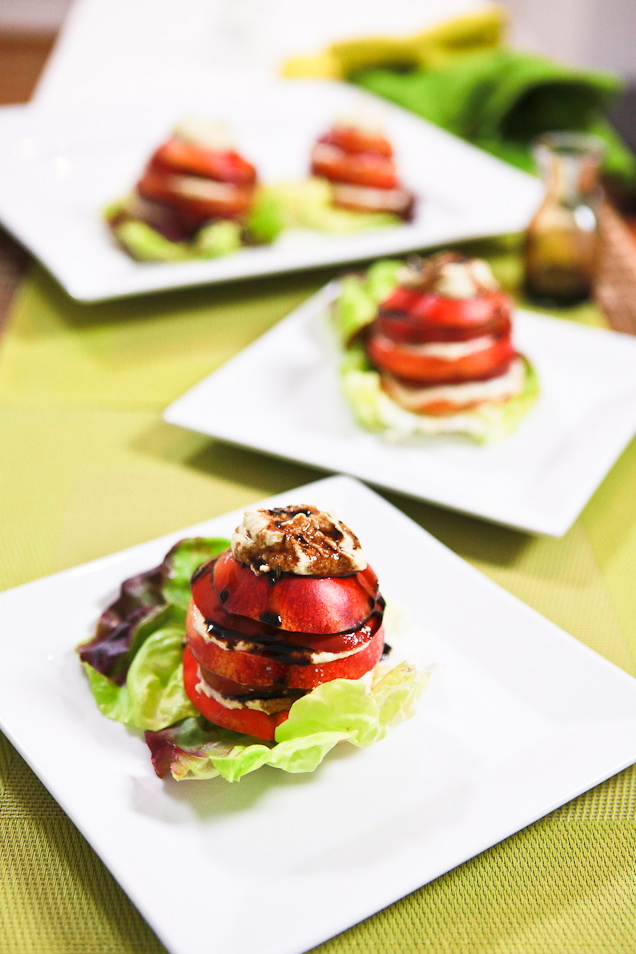 As we sat down for dinner, I had that familiar inner struggle, where I can't wait to dig in but I didn't want to ruin my beautiful creation.  I got over the struggle pretty quickly, though, and was stunned by how well the roasted garlic cashew ricotta complimented the bright, juicy and flavorful tomato and nectarine combination.  It was the perfect combination of savory and sweet, light and rich, cheesy and fruity.  Then there was the "Honey" Balsamic Syrup!  This sweet yet tangy syrup, using the "Better than Honey" I spoke about last week, was the perfect touch to this salad stack, tying it together perfectly.
The alternate title for this post, the one I chose not to use, was "The Blah-Buster Salad."  I chose to go with the more appetizing title, but it still fits.  Sometimes, all it takes is just taking a different road to get your gears going again.  Perhaps it's just indulging in a rich, elegant meal.  Sometimes, it's just digging into some delicious fresh, seasonal produce.  This one meal did all three of those things for me and Voila!  My focus is back (for now)!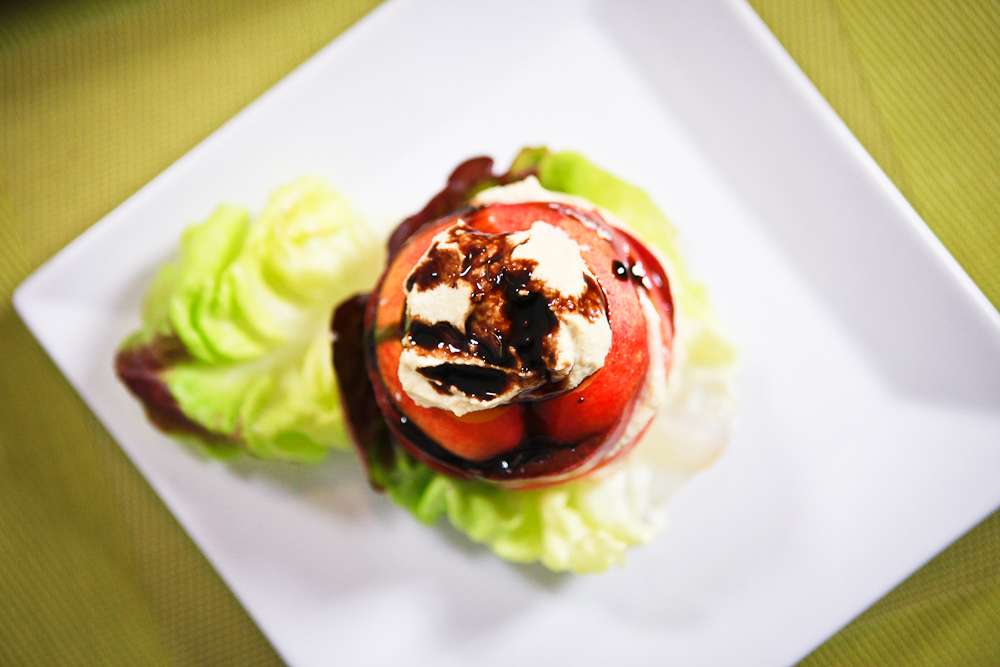 Nectarine Tomato Salad with Roasted Garlic Cashew Ricotta and "Honey" Balsamic Syrup
Ingredients
for the roasted garlic cashew ricotta

1 head of garlic
1 teaspoon olive oil
salt & pepper
dried basil (optional)
1 cup raw cashews + water to cover them
2 tablespoon nutritional yeast
1 teaspoon miso
juice from 1 lemon
salt and pepper to taste
2 medium-large heirloom tomatoes
2 similarly sized nectarines
4 butter lettuce leaves
½ cup balsamic vinegar
2 tablespoons of "honey" rice nectar (or maple/agave/brown rice syrup)
a few dashes of pepper
Instructions
for the roasted garlic cashew ricotta

Soak cashews in water for 2 hours. Save the water when you drain them.
Preheat your oven to 450. Lay out a piece of aluminum foil. Chop the top off a head of garlic and place it on the aluminum foil and drizzle with olive oil, and add salt, pepper and dried basil to taste. Wrap the garlic up into the foil and bake in the oven for 40-50 minutes, until the centers of each clove are soft and slightly "gooey." Let cool completely before handling.
Once the garlic is cool, squeeze the base of the head of garlic and continue to squeeze until all of the cloves are empty of their contents.
In the bowl of a food processor, combine the roasted garlic, cashews, nutritional yeast, miso, and lemon juice. Add 5 tablespoons of the reserved cashew water and puree until smooth, scraping the sides as necessary. Salt and pepper to taste and chill until ready to use.

for the salad and balsamic syrup

Slice the tomatoes from bottom to top, into ½ inch slices. Lay them out on a clean towel and let them set for about 30 minutes.
Slice the nectarines, from bottom to top, into ½ inch rings. After slicing the bottom off, you will need to run your knife around the nectarine, with the pit at the center, creating a ½ inch slice. Then run the knife around the pit, separating the slice from the pit. Slide the slice over the pit and set aside. Repeat for remaining slices.
Make your balsamic honey syrup. Combine the balsamic vinegar and "honey" in a sauce pan. Cook on medium heat, stirring occasionally until the liquid has reduced to about half. Set aside to cool.
To assemble the salads, organize the tomato and nectarine slices into similarly sized piles (i.e. larger slices of tomatoes with the larger slices of nectarine), until you have 4 piles, each with equal amounts of tomato and nectarine slices. Start with a nectarine slice that and place it on a butter lettuce leaf. Spread about 1 tablespoon of the ricotta on top and then place atomato slice on top of the ricotta. Add another nectarine slice, another tablespoon of ricotta, and another slice of tomato. Add one more slice of nectarine and then top with a bit more of the cashew ricotta. Repeat with the other 3 piles.
Drizzle each stack with the balsamic syrup and serve immediately. Enjoy!
Keepin' It Kind is participating in the Walk for Farm Animals to give hope to millions of abused and neglected farm animals! Please support me by making a Donation today. Together we can make the world a more compassionate place for animals!  Learn more about Why I am Walking for Farm Animals and join our team!
Photography by Chris Miller