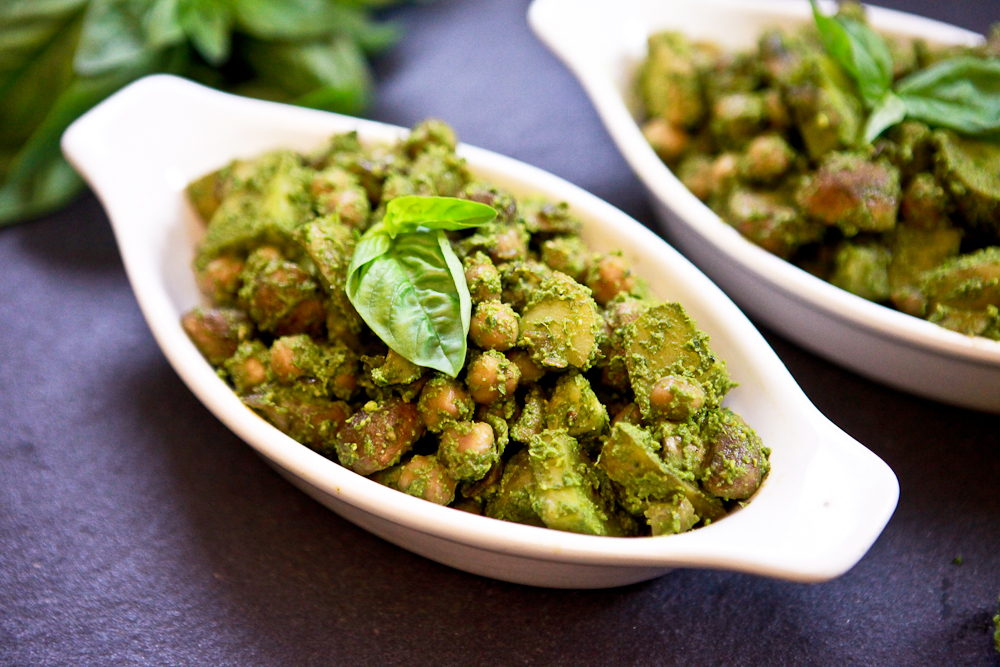 There are times when my creativity is flowing, and then there are times when the river slows to just a trickle.  Lately, the river has completely dried up.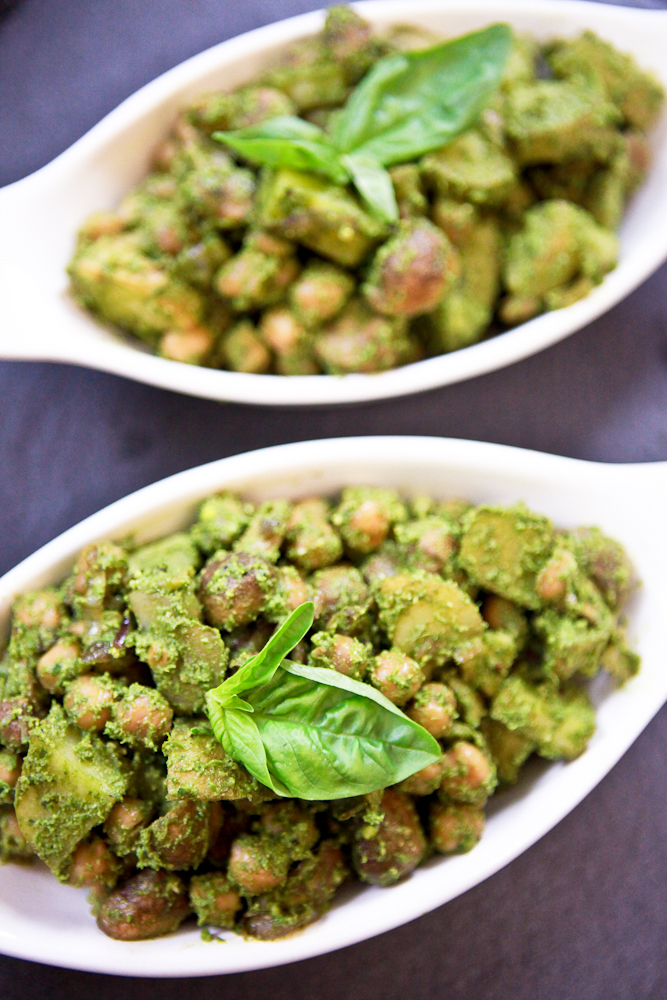 My mind has been all over the place, everywhere except in my cooking or writing.  I may pause, in the middle of preparing a dish, to ponder a certain thought (which is usually something trivial, like "When was the last time I had my hair trimmed?"), only to return to the task at hand without a clue as to what I'm doing.  I then try to recall what I had been doing, and once I figure it out, I stop to ponder another thought ("What would a dinner party with Amy Poehler and Will Arnett be like?").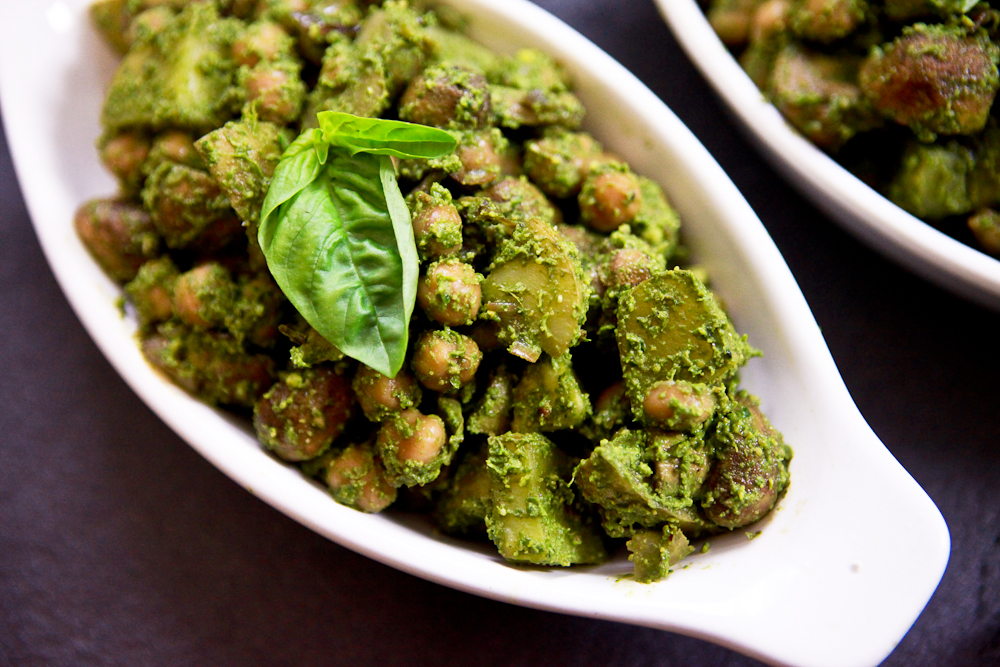 Since I can't rely on myself to create something new and exciting, I rely on old standbys.  I know I can never go wrong with pesto, so what to do I do with the beautiful bunch of basil I received from our CSA?  I make a ton of (oil-free) pesto.  And what about all of those delicious potatoes they sent as well?  Find another vegetable in the fridge that needs to be used and roast 'em.  All I have to do is mix them together with some chickpeas (because chickpeas make everything better), and I have something that's simple enough for me to repeat almost every night for the rest of the week.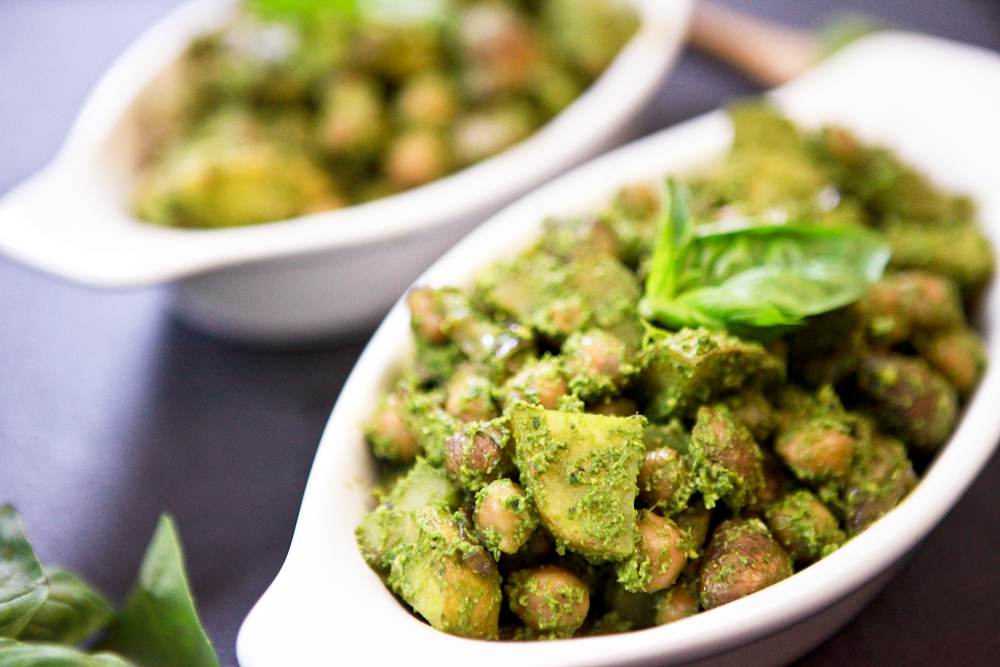 There are no complaints in our household about eating this dish night after night (and by "household", I mean Chris).  It is so satisfying and tasty and the perfect summer comfort food.  My favorite combo is potato and mushroom, which is what this recipe calls for, but I've also switched the mushrooms out with half a head of cauliflower and it was pretty swoon-worthy as well.  Not only is this salad super delicious, it is incredibly healthy.  I've discussed before how healthy basil is, but I've eliminated the oil typically found in pesto to make it a little lower in calories, and added hemp seeds because they're just so darn good for you.  I actually find myself craving this dish, and a couple times, I have stopped whatever I had been doing to remember how tasty it is.  The best part of this dish, however, is that it is so simple and comes together so quickly, which gives my mind more time to think about useless things ("I wonder if Who's The Boss is on Netflix?") .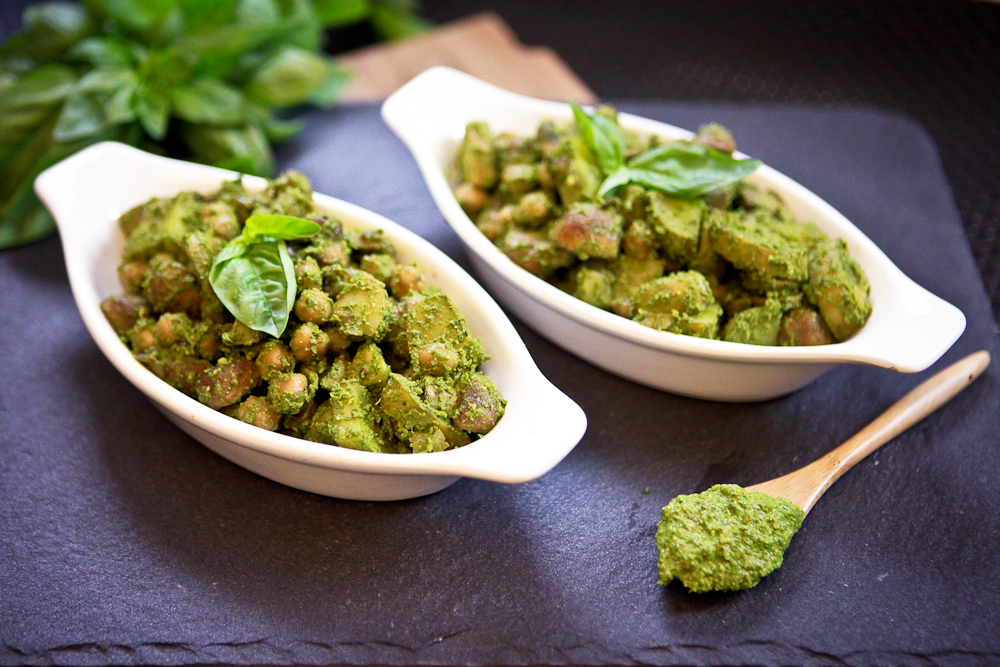 PESTO POTATO MUSHROOM CHICKPEA SALAD
Ingredients:
3-4 medium golden potatoes, diced
2 cups of mushrooms, halved
olive oil spray
salt and pepper to taste
1 14.5 oz can of chickpeas, rinsed and drained
OIl-Free Pesto (recipe below)
Instructions:
Preheat your oven to 400.  Line a baking sheet with parchment paper.  Spread the mushrooms and potatoes out on the baking sheet.  Lightly spray with olive oil and add salt and pepper to taste.  Toss to fully coat each piece.  Bake in the preheated oven for about 15-18 minutes, until the largest chunk of potato can easily be pierced with a fork.  Remove and set aside to cool.
While your mushroom and potatoes are cooking, you can prepare your pesto.
Once the mushrooms and potatoes have cooled for about 10 minutes or so, place them in a bowl along with the chickpeas.  If you want it really "pesto-ey", dump all of it in.  Otherwise scoop it in by the spoonful, tossing the salad to combine between each spoonful, until all the pieces are coated to meet your pesto preference.  You can serve immediately or chill for 30 minutes or more before serving.  Enjoy!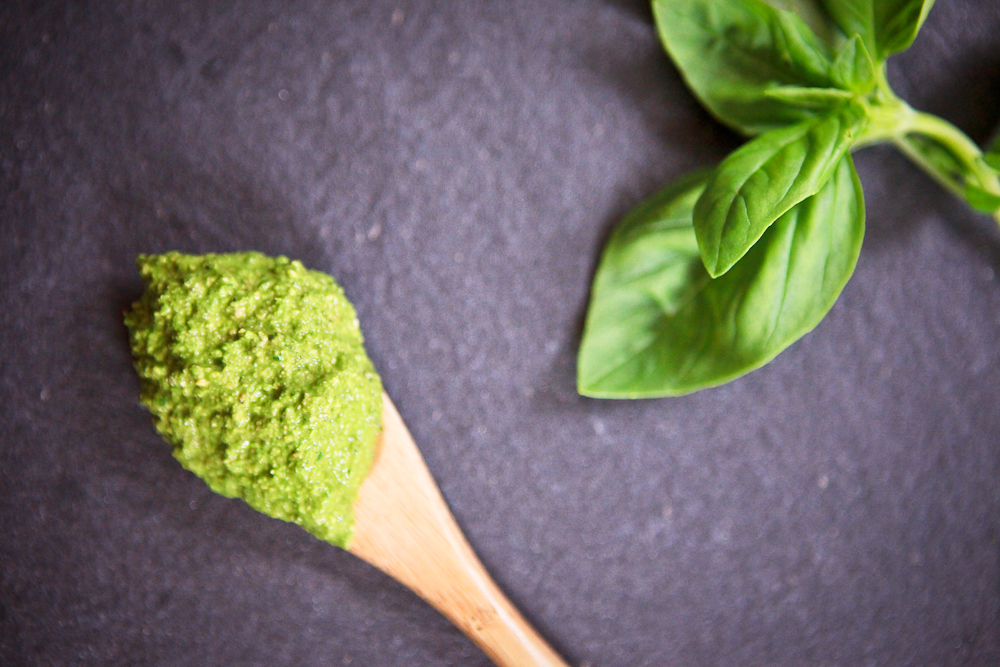 OIL-FREE PESTO
Ingredients:
2 large cups of basil leaves
1/8 cup cashews
1/8 cup pistachios
1/8 cup hemp seeds
¼ cup nutritional yeast
1 T lemon juice
vegetable broth
salt and pepper to taste
Instructions:
Love animals? Help support Farm Sanctuary's mission to protect farm animals from cruelty! Keepin' It Kind's goal is $500, but we can't do it alone! Together, we can make a real difference for farm animals everywhere. Donate today!  Learn more about Why I am Walking for Farm Animals and join our team!
 All Photos taken by Chris Miller
© Kristy Turner and Keepin' It Kind, 2012. Unauthorized use and/or duplication of this material (content and images) without express and written permission from this blog's author and/or owner is strictly prohibited. Excerpts and links may be used, provided that full and clear credit is given to Kristy Turner and Keepin' It Kind with appropriate and specific direction to the original content.