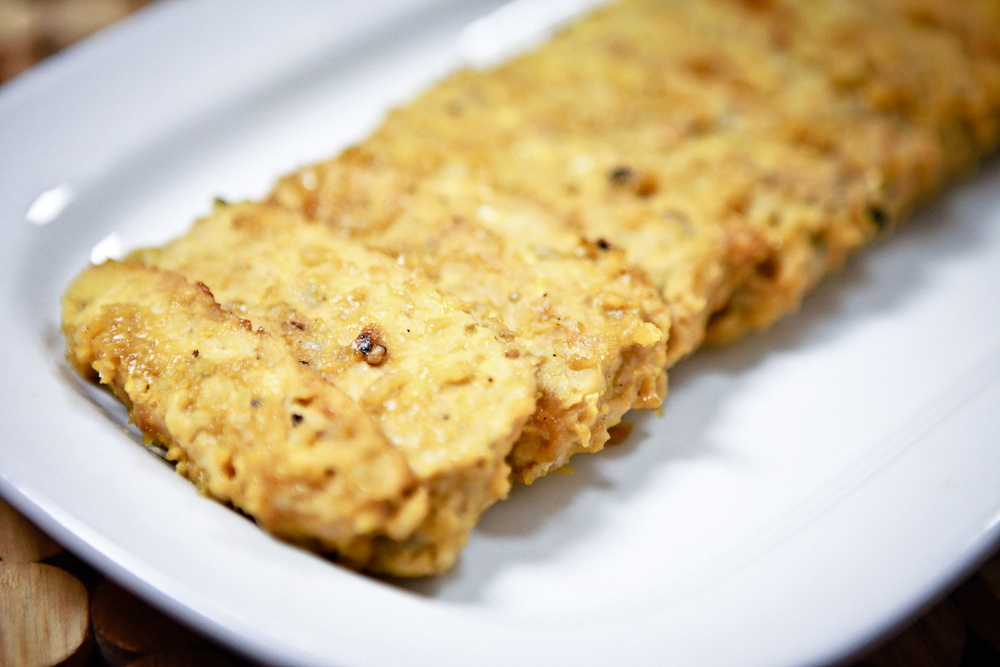 I know there are people out there who do not care for tempeh.  People who even strongly dislike tempeh.  I'd always been on the fence about it.  I have always liked it in small pieces and heavily marinated, the end product being hidden inside a wrap or a taco shell.  I like when restaurants do something clever with it, like disguise it as a mock tuna salad.  Having a big ol' slab of tempeh, however, never really appealed to me.  That was, until now.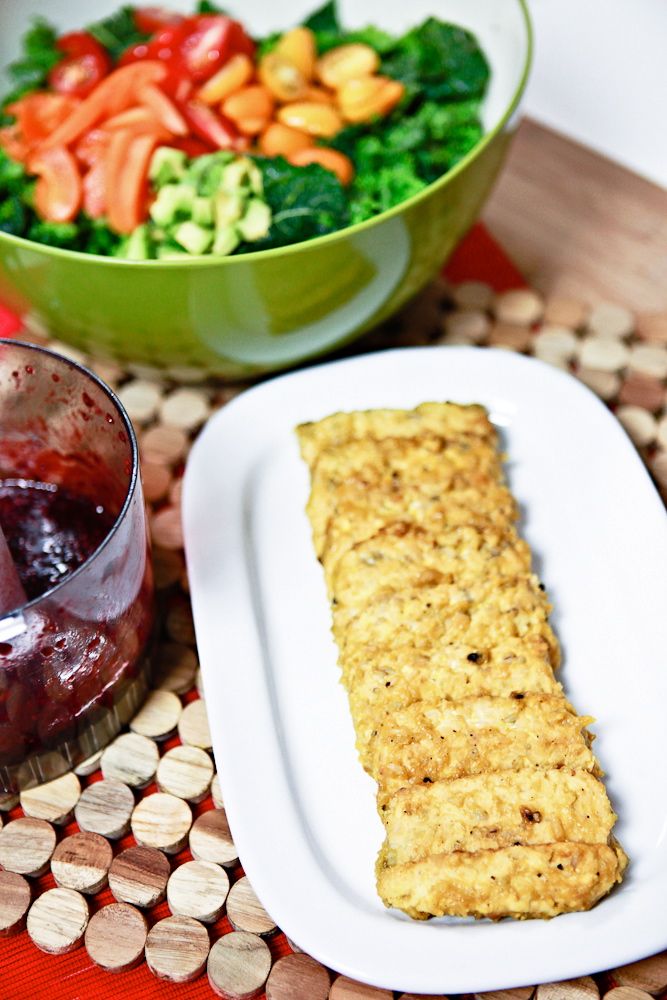 I'd been anxious to try steaming tempeh ever since I attended the Spork Foods cooking demo a few weeks ago.  There I'd learned that steaming tempeh removes bitterness, opens the spores, and allows for more flavor to be absorbed.  I tried the sample that they provided and was amazed!  I'd never had anything like it.  It was so tender and juicy and full of flavor and in no way bitter.  This is what tempeh lovers are talking about!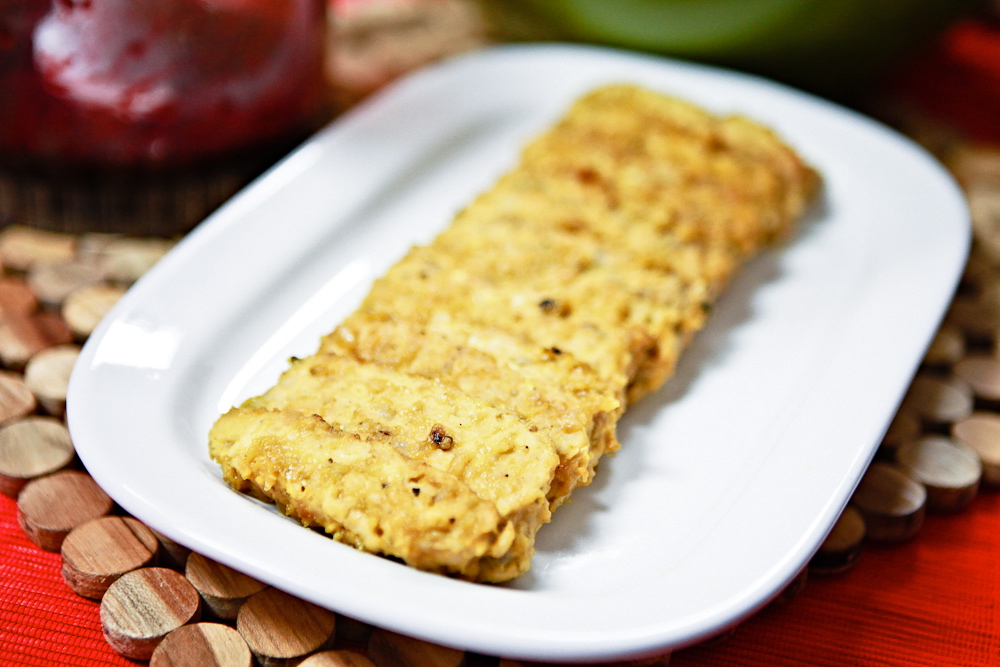 There have been a few tempeh-steaming experiments since then, all of them delicious, but this one is the one I fell head over heels for.  You could eat this tempeh by itself and it would be a grand entree, but I chose to put it on top of a fruity kale salad.  I was in the mood for a variety of fruit flavors, with savory and earthy notes mixed in.  While I was steaming the tempeh, I prepared the sauce.  Initially, it was going to be just a mango sauce, but when I went to add a few dashes of pepper, the lid fell off the pepper mill and peppercorns went everywhere.  I was able to scrape most of them off the top of the sauce, save roughly a teaspoon or two that had sunk to the bottom.  I just pulsed them in the food processor a couple more times and I would have to say, the sauce was better for it.  You gotta love Happy Accidents (and I'm not taking about the Vincent D'Onfrio movie), right?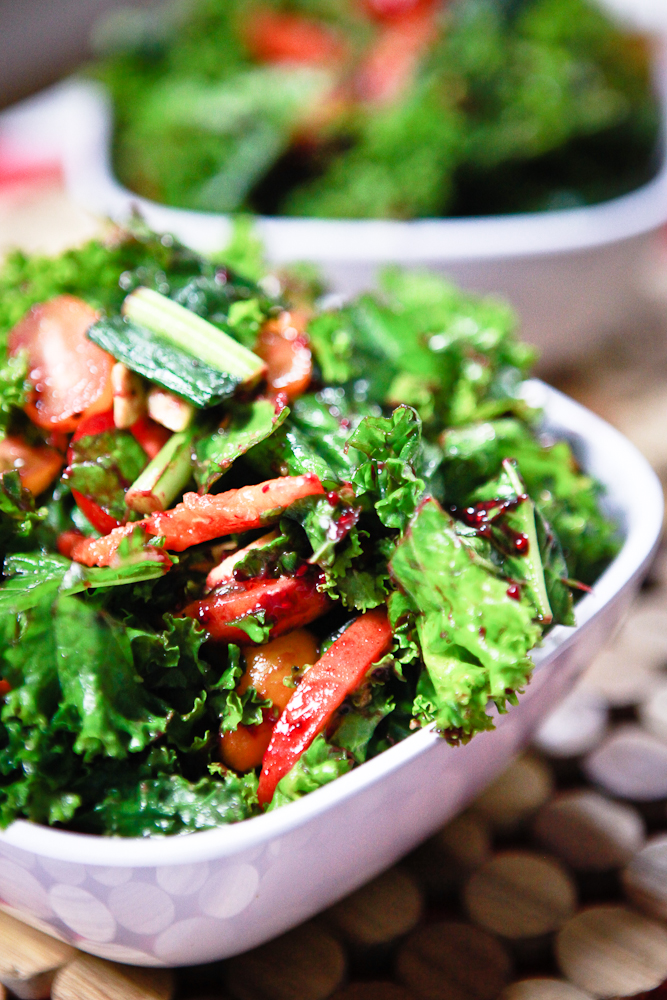 The point of this post, if you have not gathered already, is that I think that it is high time you tried steaming tempeh, if you haven't already.  If you've tried it, and you still don't like tempeh, I dare you to try this recipe.  In my opinion, it will convert even the biggest tempeh-disliker (I say "disliker" because I just don't care for the word "hate").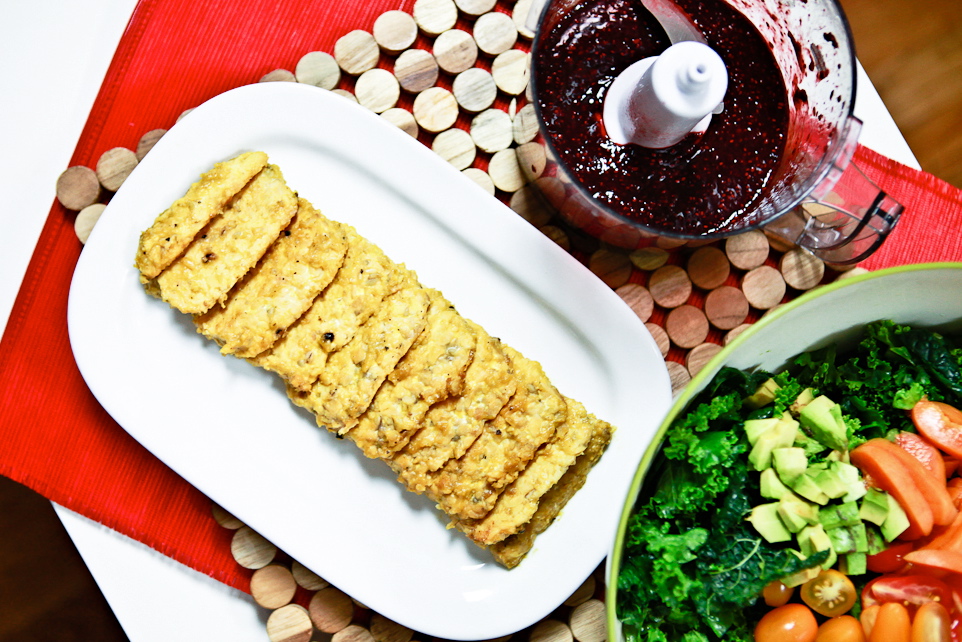 MANGO PEPPERCORN GLAZED TEMPEH SALAD with BALSAMIC BLACKBERRY CHIA DRESSING
makes 2 huge salads or 4 small salads
Ingredients:
for the dressing:
1 T balsamic vinegar
juice from 1 lemon
for the tempeh:
¾ cup mango, diced
1/8 cup vegetable broth
juice from 1 lemon
1-2 cloves garlic
1 T olive oil
1 ½ T Bragg Liquid Aminos (or tamari/soy sauce)
1 tsp miso
several dashes of paprika
several dashes of powdered ginger
1-2 tsp peppercorns (or just a few dashes of pepper)
1 8oz package of tempeh
for the salad:
1 bunch of kale, stems removed (if desired) and roughly chopped
juice from 1 lemon
½ T olive oil
20 cherry tomatoes, halved
2 apricots, thinly sliced
½ an avocado, diced
Instructions:
Prepare your dressing first.  If you have not already made the blackberry chiaspread, make that and let it chill for 1 hour.  Add 2 tablespoons of the blackberry chia spread to the bowl of your food processor.  Add the balsamic vinegar and lemon juice.  Pulse until smooth.  Chill until ready to use.
In a large bowl, combine the kale, lemon juice and olive oil.  Massage thekale for about 5 minutes (just crush it in your hands over and over again, rubbing in the oil and lemon juice as much as possible).  Set aside.
Remove the tempeh from the package.  Slice it horizontally, onadiagonal, so that you have 10 slices.  Fill a large shallow saucepan halfway with water and bring it to  a boil.  Place a steaming basket into the pot and arrange your tempeh in the basket.  Cover with a lid, lower to a simmer, and let the tempeh steam for about 10-15 minutes, flipping once.  When it is done, it will have a very nutty aroma.
While the tempeh is steaming, you can make the mango peppercorn glaze.  In your food processor, combine the first 9 tempeh ingredients (mango through ginger), and puree until smooth.  Add the peppercorns and pulseabout 10-15 times, until the peppercorns are broken up, but still have visible flecks. Alternatively, you canjust add pepper to taste.
Once your tempeh is done steaming, dump the water from the pan, and place the tempeh inthe pan.  Over medium heat, add the mango glaze and flip the tempeh until they are all fully coated.  Let the tempeh cook with the glaze until the glaze is almost completelyabsorbed/evaporated, flipping as needed.  If it is sticking, lower the heat and add a bit of water to deglaze.  When it is finished, there will be no more glaze in the pan, and the tempeh will be covered with the thick sauce.
Assemble your salad.  Add the tomatoes, apricots, and avocado to the bowl of kale.  Add the dressing and toss to combine.  Divide into bowls and then top with slices of the tempeh.  Tempeh can be made ahead of time and refrigerated for 1 day prior to serving.  Serve warm or at room temperature.  Enjoy!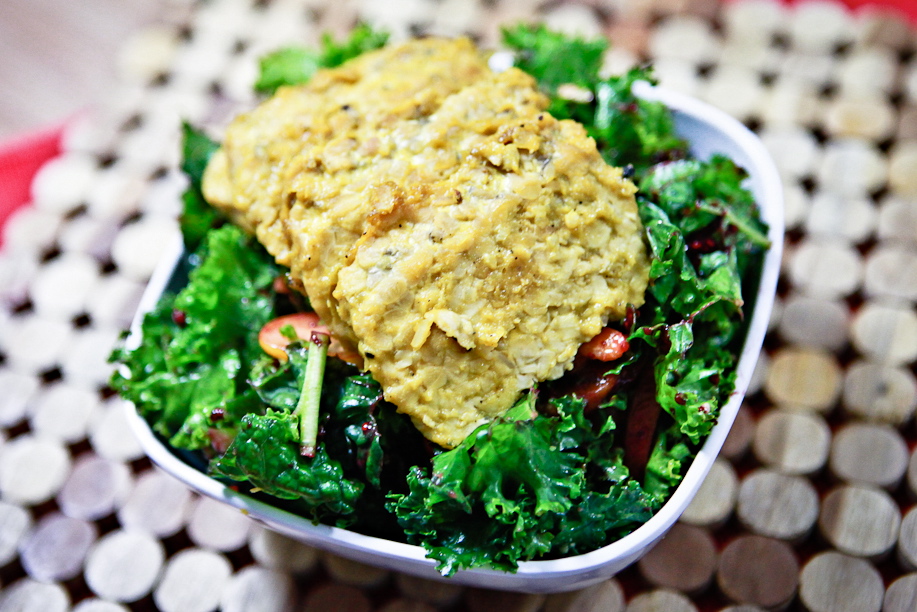 This recipe is being shared with Wellness Weekends and Healthy Vegan Fridays.
Love animals? Help support Farm Sanctuary's mission to protect farm animals from cruelty! Keepin' It Kind's goal is $500, but we can't do it alone! Together, we can make a real difference for farm animals everywhere. Donate today!  Learn more about Why I am Walking for Farm Animals and join our team!
 All Photos taken by Chris Miller
© Kristy Turner and Keepin' It Kind, 2012. Unauthorized use and/or duplication of this material (content and images) without express and written permission from this blog's author and/or owner is strictly prohibited. Excerpts and links may be used, provided that full and clear credit is given to Kristy Turner and Keepin' It Kind with appropriate and specific direction to the original content.