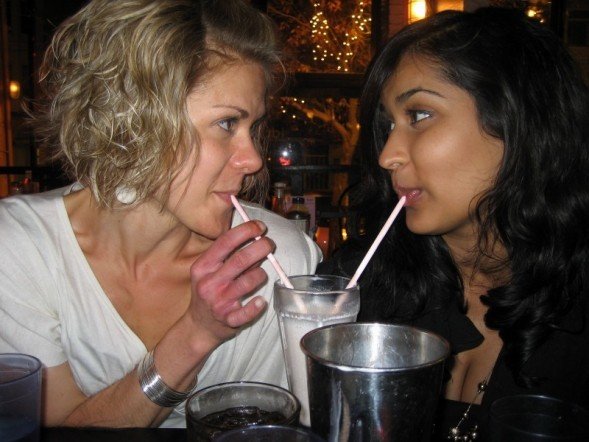 One of the reasons I moved from San Jose to Los Angeles was to be closer to my best friend, MJ.  When I moved back from Italy, San Jose just wasn't doing it for me anymore.  We had been spending so much time and money just traveling back and forth to be with each other, it just seemed to be the logical choice.  At first, we saw each other all the time, and we even worked together for a spell.  Life happened (jobs, boys, moving), and we found ourselves on opposite ends of the city, which in LA terms meant that we were at least an hour apart (in light traffic).
MJ lives in Los Feliz, near Silver Lake which is home to one of my favorite vegan restaurants in the city, Flore.   I never mind making the trek to see MJ, especially when I know Flore is going to be involved.  On Saturdays and Sundays, they have a wonderful brunch menu, and back when I lived over there, Samantha (my canine companion) and I were regulars over there on Sunday mornings.  Their Florito Burrito and Chicken & Waffles are musts for serious brunchers.  Their smoothies are all amazing, and I've also enjoyed the Eastsider Tacos and the Tempeh Meatloaf Burger.  Their potato salad is the best side dish on the menu.  The best thing, in my opinion, is their Tempeh Reuben.  Their homemade tempeh bacon layered with saurkraut, 1000 island dressing and both cashew AND tofu cheeses makes their Reuben the best in town.  Since I was making the trek across town, I was looking forward to this being my reward.
I live near the coast, where it is still somewhat cool during the day.  As I drove across town, windows down, music playing, I could feel it getting warmer and warmer.  By the time I got to Silver Lake, it was sweltering.  I got there first and got a table for us, and by the time MJ arrived, I was drenched in sweat.  My clothes were sticking to my body, my hair was frizzy, and my face had a not-so-lovely glow.  As we perused the menu together, it became evident that this was not heavy-duty sandwich weather.  We needed salads.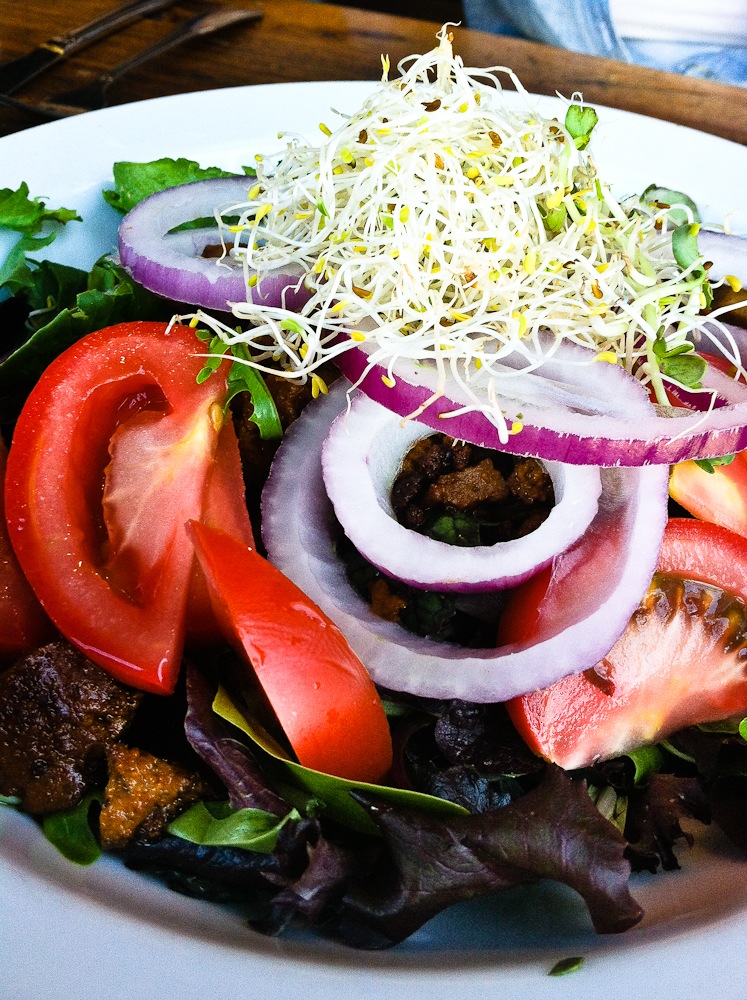 MJ ordered my favorite salad- the Avocado & Seitan Salad.  Flore does not skimp on the seitan or the avocado in this salad, and I can tell you from experience, every bite is filled with fresh, creamy avocado and big chunks of seitan.
Since MJ was ordering that salad, I decided to branch out and try something somewhat new, the Tempeh Tu-No Salad.  I say "somewhat" because the Tempeh Tun-No Melt is my 2nd favorite sandwich on the menu, so the idea of a big scoop of their perfect Tu-No salad, made from their wonderful tempeh, sounded perfect for this scorching hot day.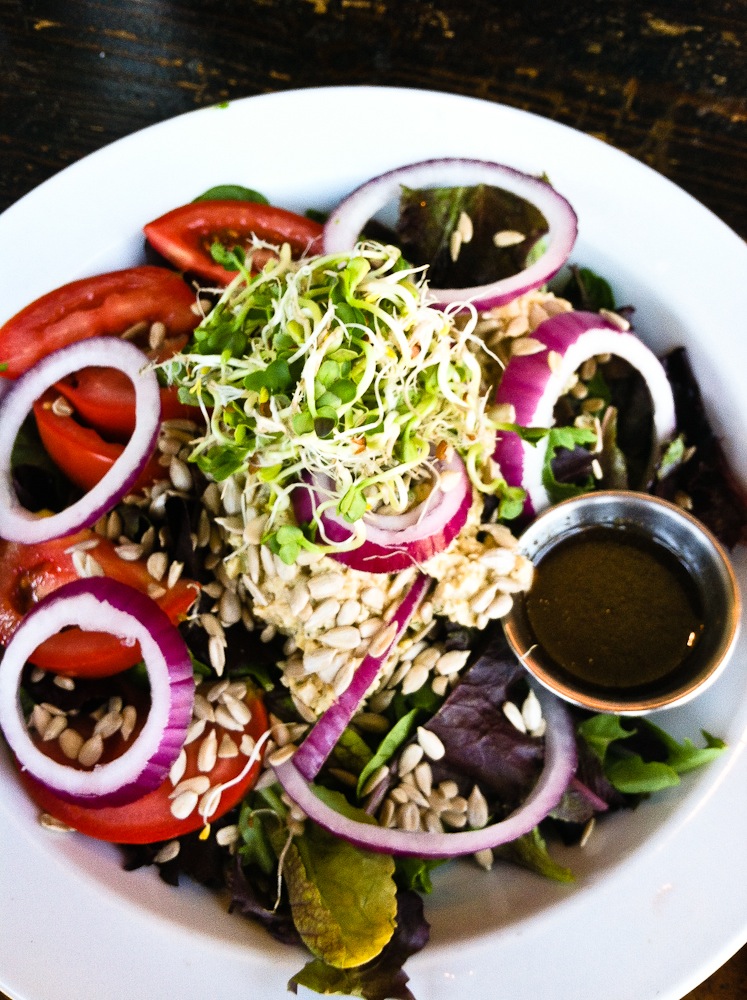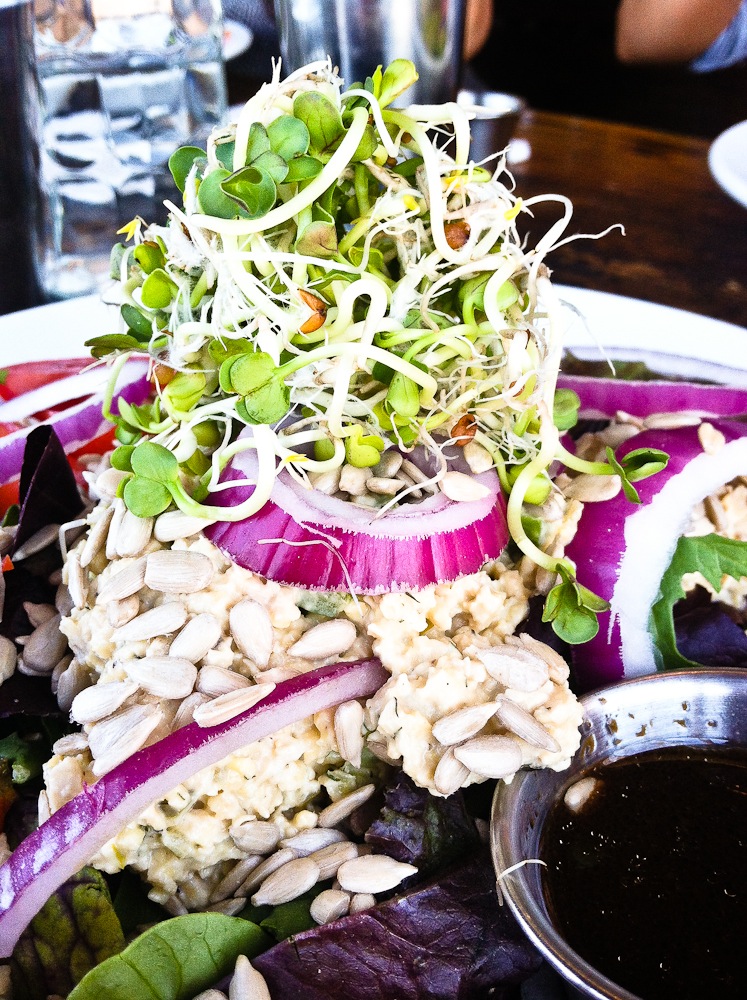 Flore does have a great selection of vegan desserts, and I've tasted several of their cupcakes.  This day, however, it was too hot for cupcakes (a statement I never imagined myself ever saying).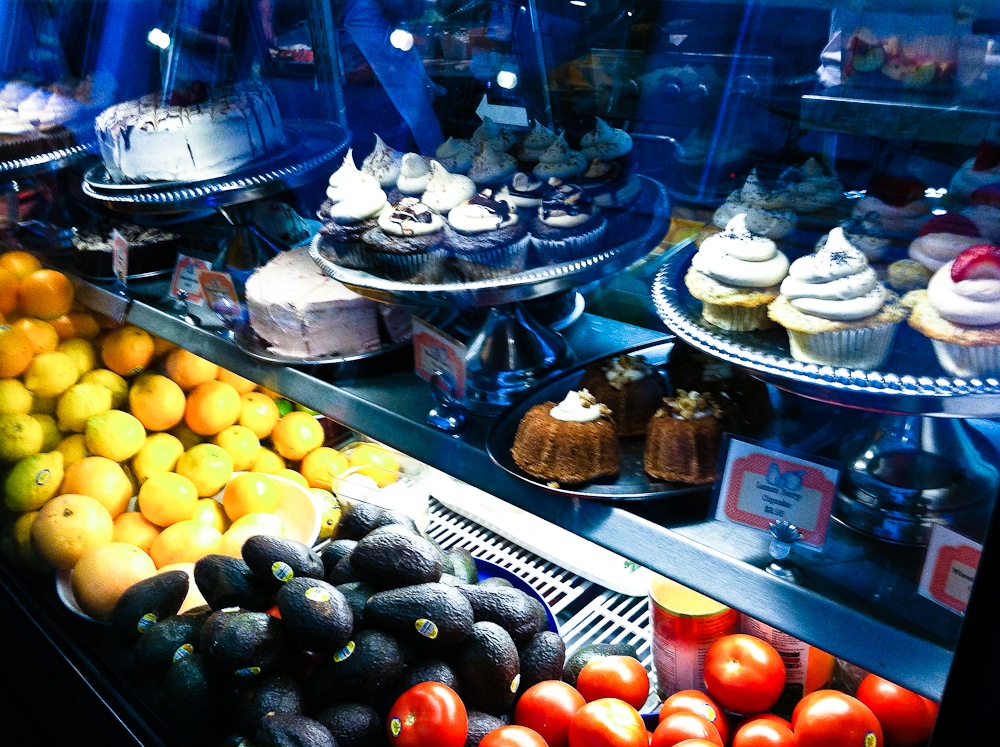 It was so good to see MJ- she's the type of friend who feels more like family than the dear friend that she is.  MJ and I had a great time catching up and laughing together and our salads were the perfect accompaniment to such a good time.  If you are vegan (or not) and are in LA (or not), you need to experience Flore at least once in your life.  It will be great if you're by yourself, but even better if shared with good friends.
All Photos taken on the phone of Kristy Turner

© Kristy Turner and Keepin' It Kind, 2012. Unauthorized use and/or duplication of this material (content and images) without express and written permission from this blog's author and/or owner is strictly prohibited. Excerpts and links may be used, provided that full and clear credit is given to Kristy Turner and Keepin' It Kind with appropriate and specific direction to the original content.