My 32nd birthday was this past Sunday.  Although I used to be quite fond of big parties and spending a week celebrating my birthday (It's right before Independence Day, so I had an excuse), my birthday has become more of a day of reflection on all these years I've been given this wonderful gift of life, and rejoicing in how blessed I am.  Every year, on my birthday, Chris, being a little older than I, says "Let's see.  You're __ years old now?  Yeah, __ is a good age."  As I reflect, though, I realize they have all been good ages, and I have loved every single year.  Because I like lists, I've made a small one to remind me of all the years I am thankful for:
Age 6 (the earliest I can really remember clearly): My brother was born on my birthday.  Jacob was a better gift than I ever could have even dreamed to ask for.

Age 14: I moved from San Jose to Tracy to live with my Grandparents.  I only lived there a year but learned far more in that 1 year than I had in the preceding 13 years.

Age 15:  I moved back to San Jose and was cast in a play (Neil Simon's California Suite) in my new high school, which introduced me to several dear friends, including my high school sweetheart.  I also got my first job, as a gymnastics coach at the gym where I had been a gymnast.
Age 19:  I moved out of my parent's home and learned how to support myself by working full-time (still as a coach), and put myself through school, where I was not totally loving my English major.  I also joined a gym and lost all the weight I had gained by being a terribly unhealthy eater during high school.
Age 20: Changed my major to Kinesiology, with a minor in Nutrition, wanting to help others get healthy and fit, just as I had.  I got a job as a personal trainer, and fell in love with helping people reach their goals.
Age 23: I was in a very serious car accident and realized my mortality which scared me into wanting to get married.  I married my high school sweetheart a couple months later.  I also became vegetarian this year.
Age 24: I rescued my canine companion, Samantha, who has several times since then, rescued me.
Age 26: I filed for divorce, which led to a series of revelations regarding what I was doing with my life.  I reached a level of happiness on my own that I had never achieved before.
Age 27:  I quit my job, sold the majority of my belongings, and left for Europe.  I traveled and explored anywhere and everywhere I felt like going.  I found peace in writing and became addicted to it.  I settled down twice- once to teach English in northern Italy, near Venice, and the second time to be a nanny in Florence, Italy, a job that did not last long, but taught me more about myself than any other job I ever had.  I moved back home after 8 months of traveling.  I then moved to Los Angeles.
Age 28:  While selling furniture, to supplement my very weak personal training income, I sold a TV stand to Chris Miller, my future husband.  A couple months later, I followed a fantasy of mine which led me to be the head fromagier at a cheese shop, a far cry from my former career as a personal trainer.
Age 29:  Chris and I created a home together at the beach.  Right before my 30th birthday, I took a job as a nutritional consultant/administrative assistant for a celebrity nutritionist's personal catering company (I left the cheese shop for health benefits).  This job taught me that no job, no matter the pay, is worth it if you're not happy.
Age 31: I eloped with my best friend.  I became vegan.  I quit my job and became Chris's assistant.  We started Keepin' It Kind.  I fell in love with yoga.  Just when I thought I couldn't get happier, I got even happier.
Amongst all of this reflection, I did some celebrating in the way of spending the day doing my favorite things: sleeping in with Chris and Samantha, sipping coffee on the front porch with Chris, walking Samantha on the beach, going to see a great movie (a rare treat for us), Moonrise Kingdom (We are huge Wes Anderson fans), and then dinner at one of my most favorite restaurants: Madeleine Bistro.
Madeleine Bistro is arguably one of the best vegan restaurants in Los Angeles.  The menu changes based on what ingredients are seasonal (though a few things are permanent), and every single thing we've ordered has been spectacular.  This visit was no exception.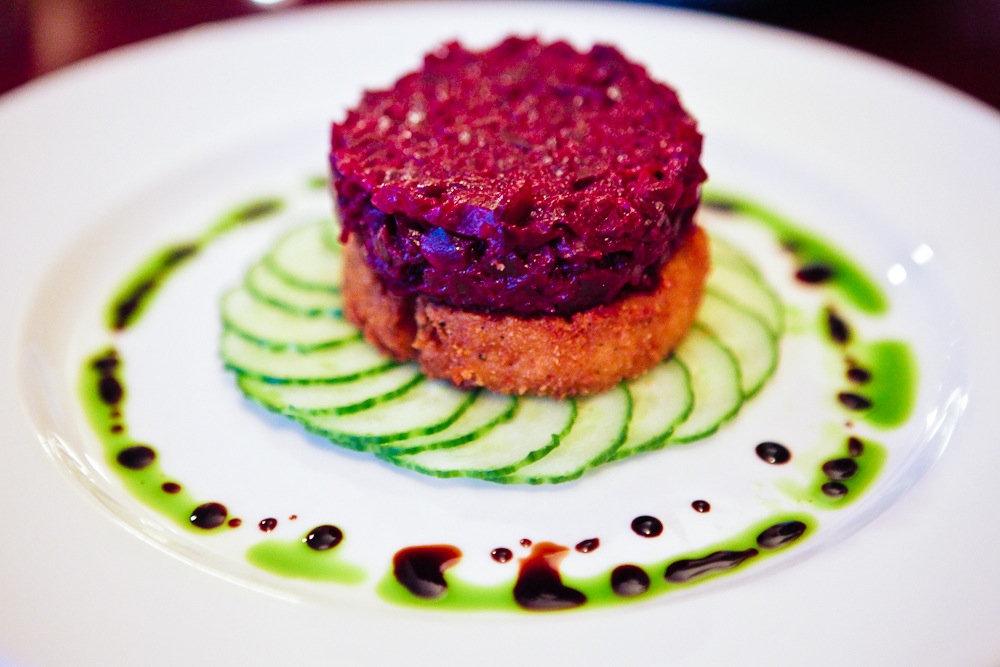 I mentioned before that I wanted a birthday cake size version of their Red Beet Tartare, my most favorite dish on the menu.  This didn't happen because the waitress I spoke to no longer works there, and I felt odd making such a request to a stranger.  We settled for the regular size and we were not dissapointed.  The dish includes a mixture of lightly seasoned beets atop a tofu goat cheese crouton, with cucumber slices and a balsamic glaze.  The tofu goat cheese crouton was even better than I remember it.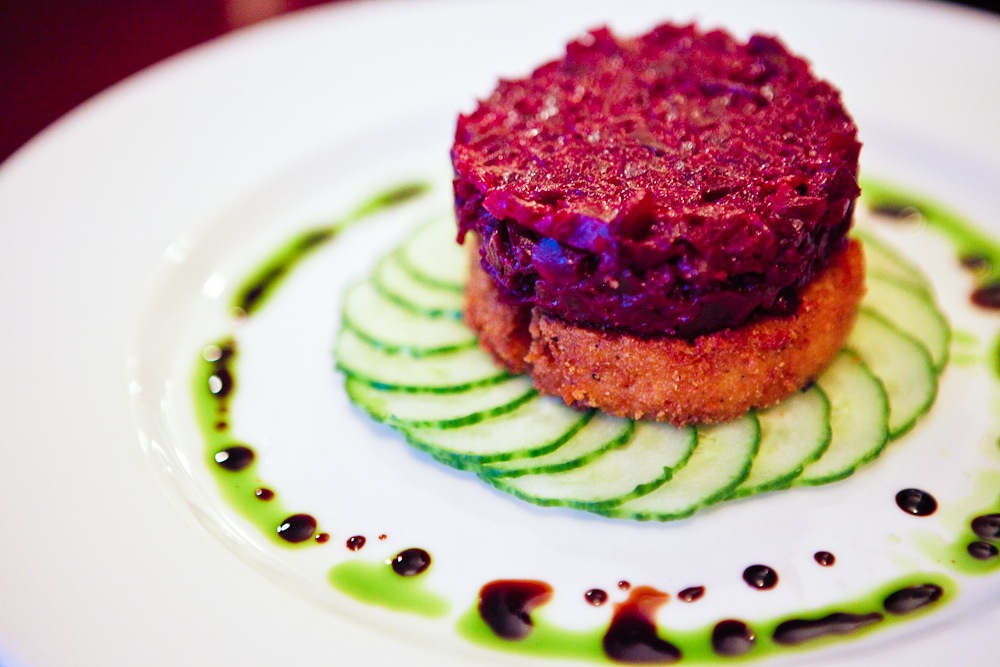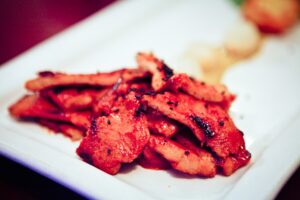 Next up, we shared the Korean style BBQ "short-ribs" with pistachio puree, rosti potato and haricots verts.  The "short-ribs" were so incredible, the sauce being very bold and tangy until the spicy hotness settles in during the aftertaste.  Did I mention that it was incredible?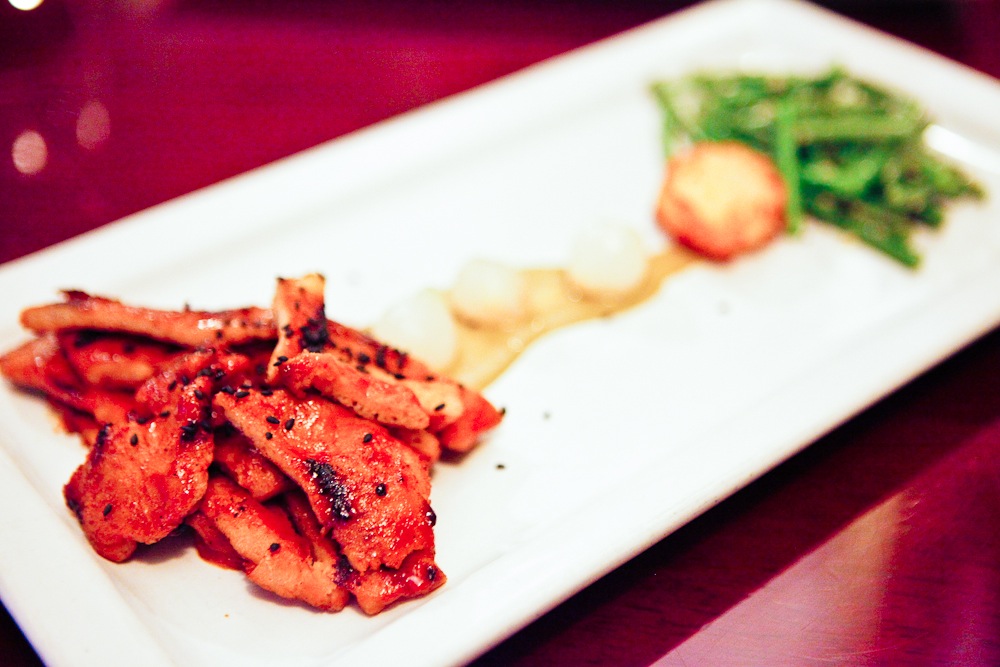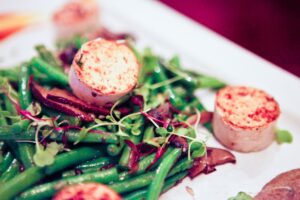 We also shared the porcini-crusted tofu scallops with mushroom puree, haricots verts and carrot-ginger syrup.  The outer porcini-crusts of these little tofu bites was the best part of the entire dish, and when dipped in the mushroom puree, a little bit of heaven on earth is created, right there on your plate.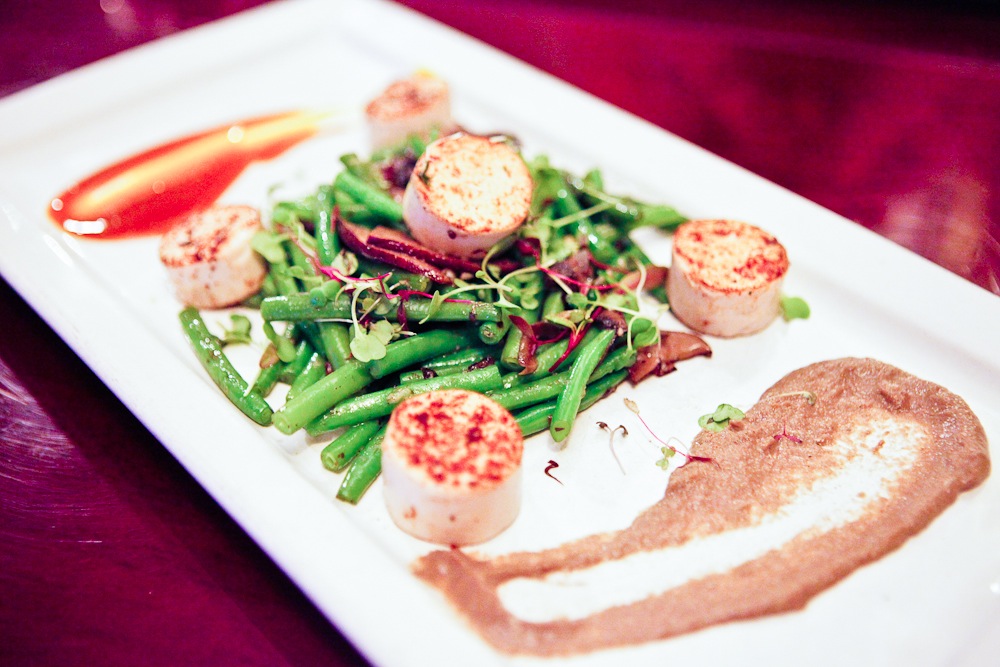 For dessert, we shared their Chocolate Souffle with Vanilla Ice Creme.  There are no words.  I'm on a chocolate high just thinking about it.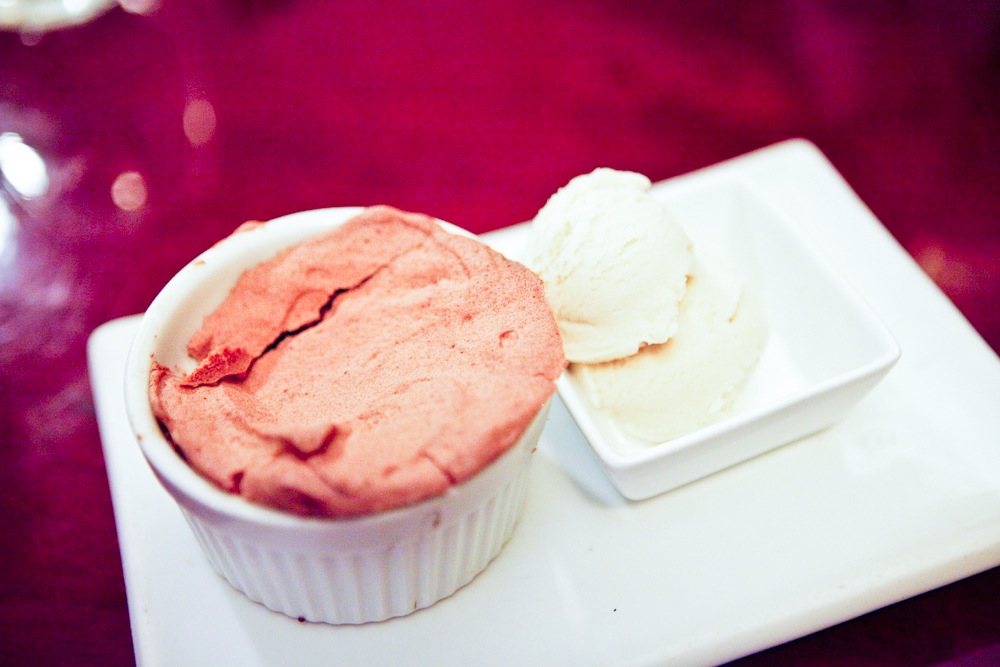 Madeleine Bistro has very limited hours (brunch and dinner on Saturday and Sunday) and they are in Tarzana which is quite a trek from our home in the marina, but making the time to have a meal there is something you must do at least once in your life, birthday or not.  They are opening another location- a vegan sandwich shop/ice cream parlor, which will open later this summer in Westwood, and I cannot wait to try this location (I heard talk of homemade vegan butterfingers as a topping on their variety of soy and nut-based ice cremes).
I want to thank all of you who have checked out Keepin' It Kind for making my 31st year so incredible (your kind words just make my day, every single day), and also for giving me even more reason to be thrilled about my 32nd year, and the years to come.  Thank you, thank you, thank you.
All Photos taken by Chris Miller

© Kristy Turner and Keepin' It Kind, 2012. Unauthorized use and/or duplication of this material (content and images) without express and written permission from this blog's author and/or owner is strictly prohibited. Excerpts and links may be used, provided that full and clear credit is given to Kristy Turner and Keepin' It Kind with appropriate and specific direction to the original content.