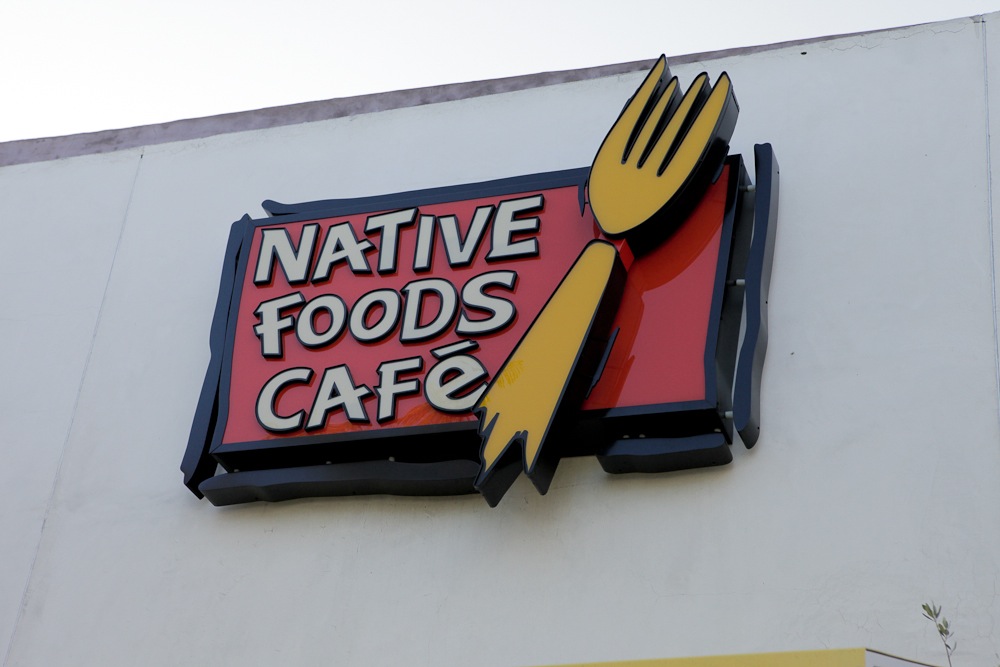 If you are not lucky enough to have one of these near your home, I'm sorry.  Native Foods is probably one of the best vegan chains in the US, if not the world.  They have locations all over Southern California, as well as in Chicago.  They make everything from scratch: the seitan, the "chicken", the cheese, even the tempeh!  Chef Tanya (who has her own cookbook) is amazing at making good ol' fashioned comforty-type foods (think Oklahoma Bacon Cheeseburgers, Native Nachos, Chicken Wings) vegan, healthy, reasonably priced, and super delicious.  They also have great cupcakes and brownies, along with beer and wine (all vegan!!!).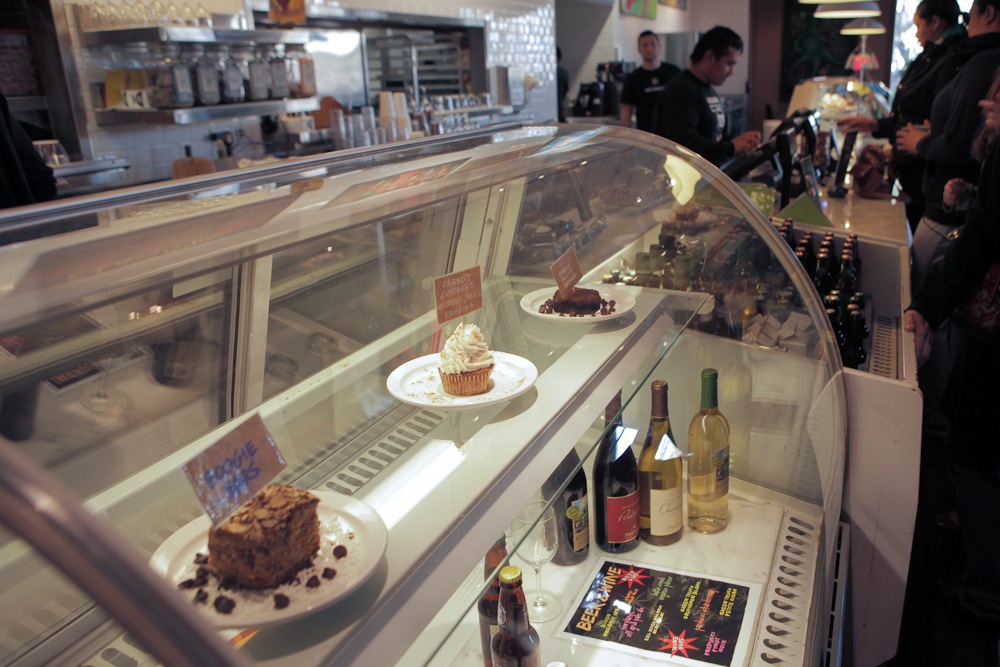 There is a location in Culver City and fortunately, that is very close to where we live, so we go here often.  Added bonus: Chris's twin 11 year-olds love Native Foods too, and actually beg to come here.  The kids' menu is small, but the kids love it.  Sophia always gets the Pizza Fingers and Max gets the Native Chicken Nuggets, and they both get a side order of fries.
I usually get the Crunchy Kale Salad with Peppered Seitan, and Chris's current favorite is the Italian Meatball Sub.  His favorite used to be this insanely good sausage pizza with portobello mushrooms (I don't remember the exact name), but they changed the menu a few months ago, getting rid of a few of our favorites, including this pizza.  Among the other items to get the shaft were the Baja Surf Tacos (one of my faves) and the Reuben, both of which became the center of some controversy.  There is now a Facebook page dedicated to bringing back the Tacos and the Reuben, and once it gets 500 "likes," Native Foods has agreed to put those items back on the menu (hint: go here and "like" it already!).
This past weekend, however, in honor of St. Patty's day, they temporarily brought back the Reuben.  Sophia had requested Native Foods for dinner, so we decided to go (it's not like she had to twist our arm, or anything) on Sunday.  We also decided that, since the only festive thing we actually did on the 17th was eat cabbage, we should honor the holiday by ordering the Reubens.  I ordered mine with sweet potato fries because frankly, I cannot help myself when it comes to sweet potato fries.  Chris got his with the Lemon-Dill Potato Salad.  The NF Reuben is piled high with their thinly sliced, homemade seitan and loaded with saurkraut with a layer of Russian dressing, stuffed between two slices of marbled rye bread.  Pretty stellar.
Since we are on the topic of Reubens, I should mention that there is a Vegan Reuben war going on in LA (see here on quarrygirl's archives).  I don't know what it is with vegans and this sandwich, but every vegan has their opinion of the best.  Chris and I think the best is a toss up between Flore and Locali.  Native Foods has a great contender, but Chris put it best when he said "There is something kind of G-Rated about their Reuben."  It's a little on the more subtle side, whereas Flore and Locali pack a punch of flavor in every bite, definitely in the more PG-13 or R rated range.  Regardless, the Reuben at Native Foods is delicious and should it find its way back to the regular menu, you must try it.  If the Reuben is not your thing, I'm sure you will find something on the menu that will rock your taste buds.
Tip: Get the Frequent Diner card and use it whenever you go to Native Foods.  You rack up points, and once you get 200, they take $10 off your bill.  There's also opportunities for for free dessert or other little perks along the way.  Also if you do the foursquare thing, sometimes you can get a special deal when you check-in.
Where is your favorite place to go for vegan Reubens?
Photos by Chris Miller
© Kristy Turner and Keepin' It Kind, 2012. Unauthorized use and/or duplication of this material (content and images) without express and written permission from this blog's author and/or owner is strictly prohibited. Excerpts and links may be used, provided that full and clear credit is given to Kristy Turner and Keepin' It Kind with appropriate and specific direction to the original content.