On this last, rainy Sunday afternoon, Chris and I found ourselves without children (a rarity on the weekends), and decided to go on a lunch date.  For about the first year of our relationship, we went out to dinner every single night.  Looking back, neither of us can believe how we kept up such an expensive ritual, but we're glad that we did- it brought us to where we are today.
When we first started dating, Chris had just moved to Santa Monica, and I lived with two male roommates in a house in Atwater Village (near Silverlake in LA).  Even though Chris lived on the complete other side of the city, we found it a little easier to meet up on his side of the city due to me having roommates and him having a very particular schedule (and no roommates).  There were several restaurants that we frequented, one of them being Real Food Daily in Santa Monica.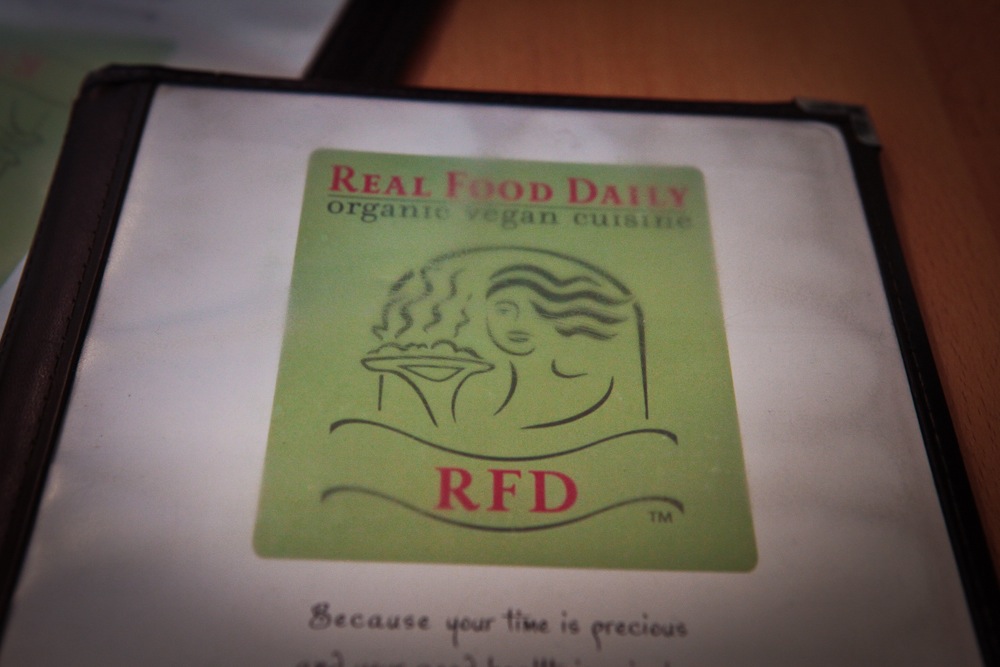 Back then, we were just vegetarian so we could find something to eat pretty much anywhere, but occasionally we liked going somewhere where we could choose from anything on the menu, and at that time, RFD was really one of the very few choices we had on the westside.  Now, there are quite a few more choices (not anything like Echo Park or Silverlake, though.  Hint: Flore, please open a location next door to my house!  Please, please, please!), and we don't go to RFD all that often.  It's also kind of pricy and sometimes leaves us a little underwhelmed.  With that said, we have found a few things that really rock our socks off (is that even an expression?) and we stick to those when we go.
When we went, they were still serving brunch, though we decided to go with their all-day menu.   Chris went for the Spicy BLT Wrap, because in all honesty, RFD does make some of the best tempeh bacon around.  It's stupid good.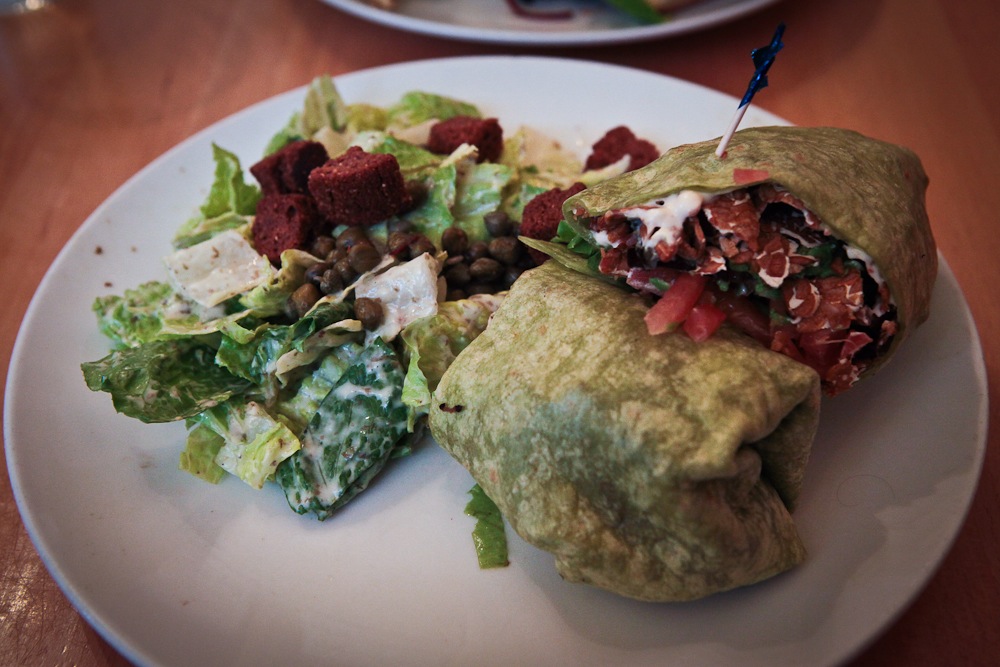 Usually, you can't go wrong with anything mexican-themed on their menu: the tacos, the burrito, the nachos- all are pretty great.  I was all set to order the Tac-O' The Town plate, but when our waiter came to take our order, all of a sudden I was ordering The Club sandwich.  I was so glad I did- their version of the club is crazy delicious and totally reminiscent of the (totally un-vegan) ones the teenage me would order each week when my grandpa would take me out to dinner on the nights my grandma taught class.  The perfectly toasted sourdough toast even scratched up the roof of my mouth the way the old ones did.  AND it has their awesome tempeh bacon, not to mention these amazing seitan cutlets!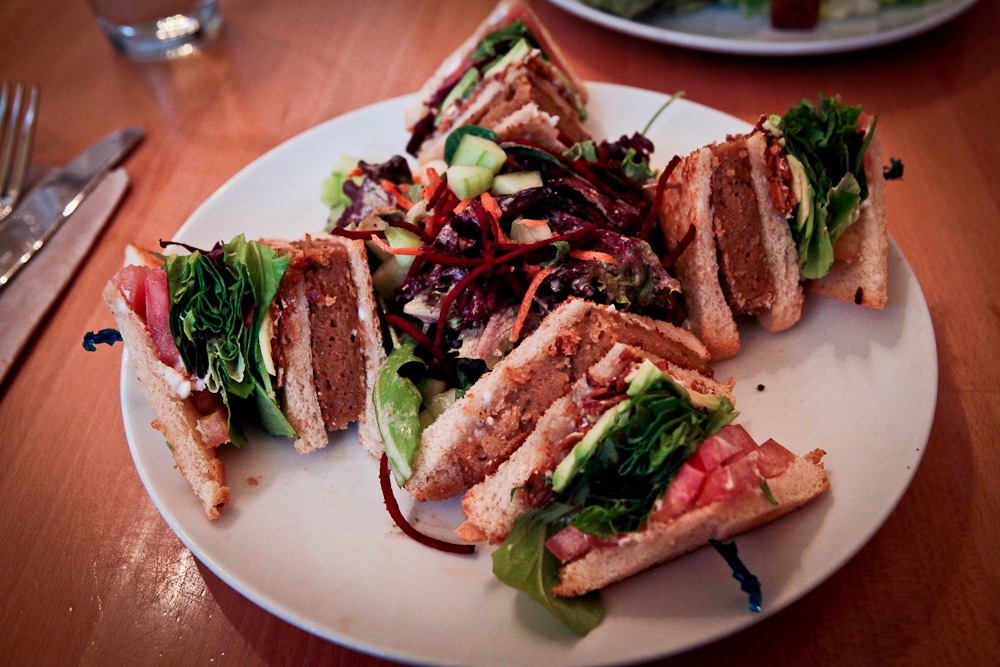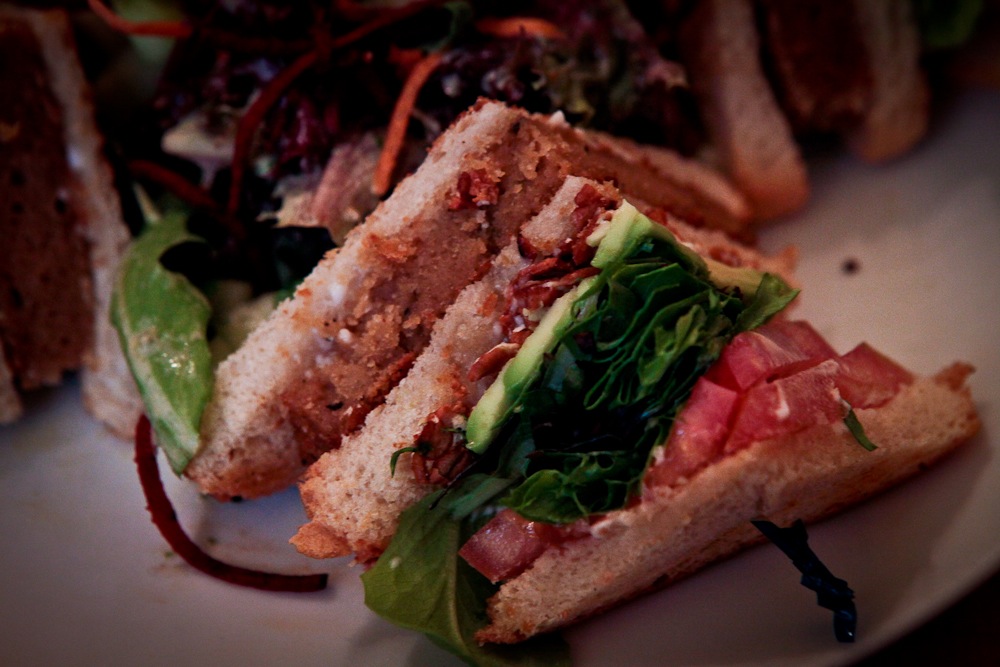 After we were done with our lunches, we weren't quite ready to face the rain, so in the spirit of being on a date, we decided to share a chocolate shake.  I had envisioned us making googly-eyes at each other while sipping from straws from the same shake.  Our waiter, however, had different plans and split it into two glasses for us.  I'm glad he did because it was so good, I did not want to share my portion.  My anal-retentive side would have come out and I would have been monitoring the number of sips we took, in order to ensure we each got the same amount.  It was just like those old-fashioned shakes you would get at a diner, where the extra milkshake would be in a silver canister, so when you finished your glass, you still had some bonus shake waiting for you.  It was that good.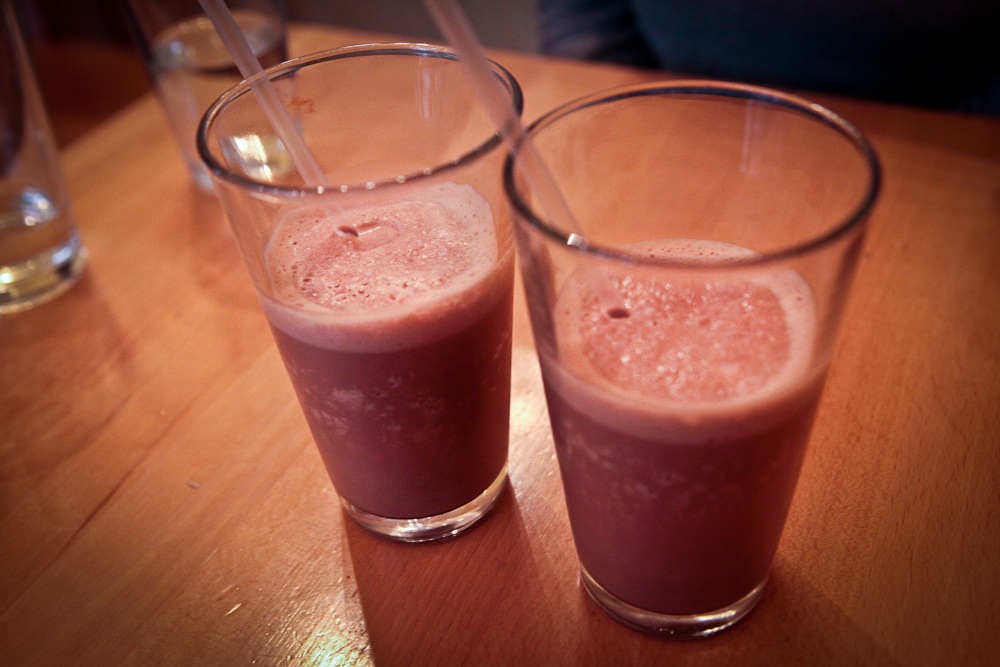 We still made googly eyes at each other, though, while we sipped our separate shakes.
If you're vegetarian or vegan or just like to eat healthfully and you're in LA, you should try Real Food Daily (either the Santa Monica one, or the West Hollywood one) at least once.  They're kind of like LA vegan landmarks.  We keep coming back for a reason, even though it is a little on the pricier side.  I do love that they focus on organic, non-GMO ingredients, and they put those ingredients to good use.  There is also and incredible dessert case (try the brownies!).  Despite the occasional "meh" meal, more often than not, I'm pretty pleased with my meal at RFD and 95% of the time, I leave with a full, happy belly.
All Photos by Chris Miller
© Kristy Turner and Keepin' It Kind, 2012. Unauthorized use and/or duplication of this material (content and images) without express and written permission from this blog's author and/or owner is strictly prohibited. Excerpts and links may be used, provided that full and clear credit is given to Kristy Turner and Keepin' It Kind with appropriate and specific direction to the original content.