UPDATE 4/18/12:  I just read here that Seed Bistro is closing on April 28th!  If you live in LA, please hurry over to give this place a try before it goes!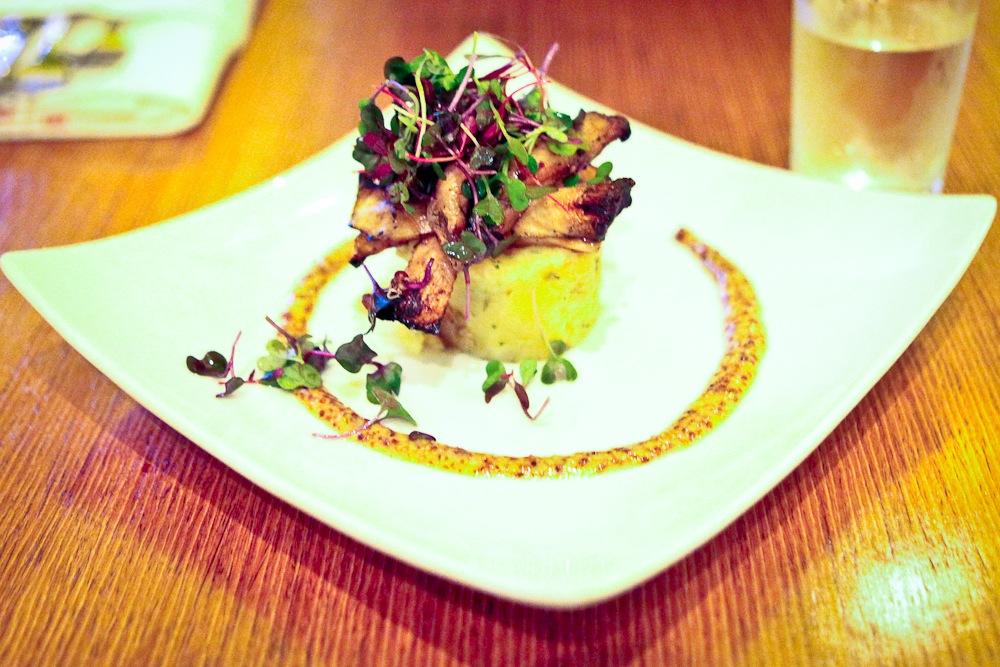 I have a habit of having the good intention of doing something, taking forever to do it (even resisting it at times), and when I do finally get around to doing it, I ask myself: "Why did I wait so long to do this?"  It is a pattern I've become more and more aware of in the last few years.  Yoga, watching Crazy, Stupid, Love (I have NO idea why I resisted watching this.  No idea whatsoever.), accepting broccoli and eating it on a regular basis, wearing skinny jeans (actually, truth is, I'm still not totally on board with this trend and I kinda wish we could all go back to wearing boot cut), and even becoming vegan, all fall into this category.  It also applies to trying Seed Bistro.
Seed Bistro opened last August.  We live right next to its sister restaurant in Venice, Seed Kitchen, and are big fans.  We had every intention of being first in line to try chef Eric Lechasseur's newest venture, but August came and went and then so did September and the rest of 2011.  It seemed as though whenever we decided to go out, there was always somewhere else to go.  Something seemingly better.  We were so wrong.
The other night, Chris and I both felt like getting a little dressy and going on a "fancy" date.  On the west side of LA, there's not a lot of "fancy" vegan places, and we did not want to drive to the valley or downtown or the east side just to go somewhere a little more upscale.  "Well, I guess we could try Seed Bistro," I said.  Not having any better ideas, we made our way over to Wilshire and Bundy.
It was slightly more casual than we expected, but we both instantly loved the ambiance.  It felt very zen but very sophisticated at the same time.  The menu was packed with great sounding items (many of which are macrobiotic and/or raw) and our neighboring diners had beautiful dishes at their tables.  We were very excited to order.
We started with the grilled mushrooms, yukon potatoes, capers: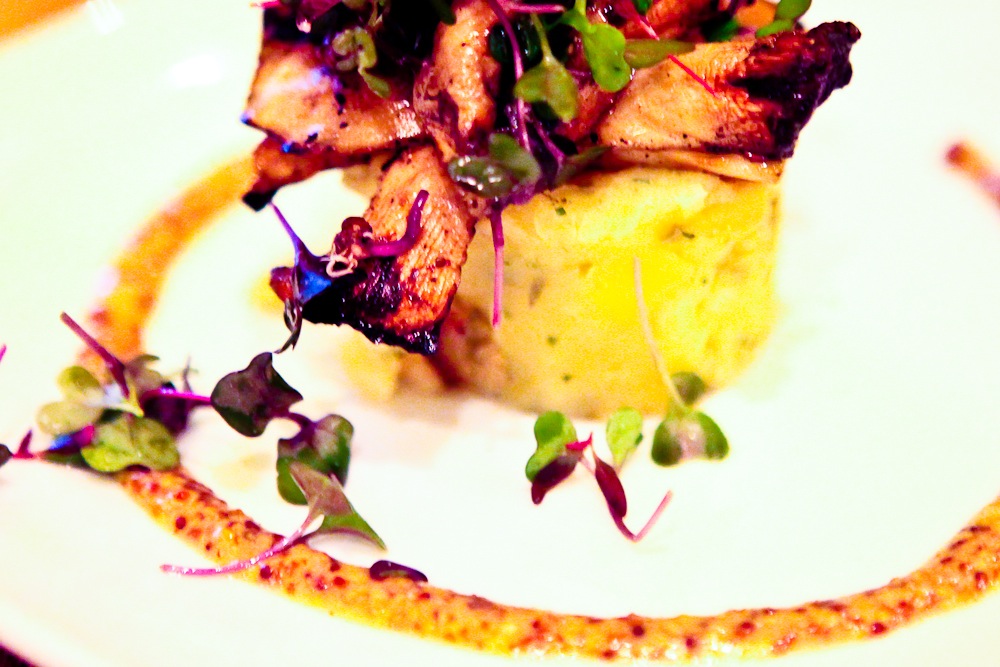 This was probably my most favorite dish.  The combination of the sauce with the potato and the mushrooms was absolutely genius.  We then shared the spicy tempeh roll, daikon sprouts, avocado: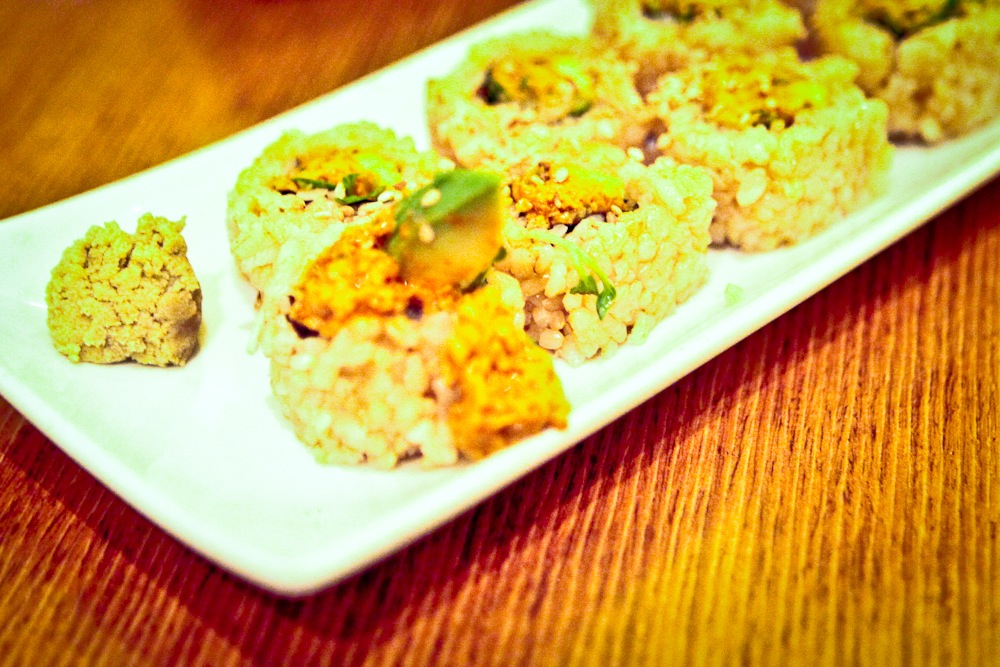 In the past, I have not been the biggest fan of sushi, but I think these tempeh rolls may have converted me.  I could have eaten the whole plate myself, and then had seconds.  It was incredible.  We followed that with their soup of the day, the cauliflower soup: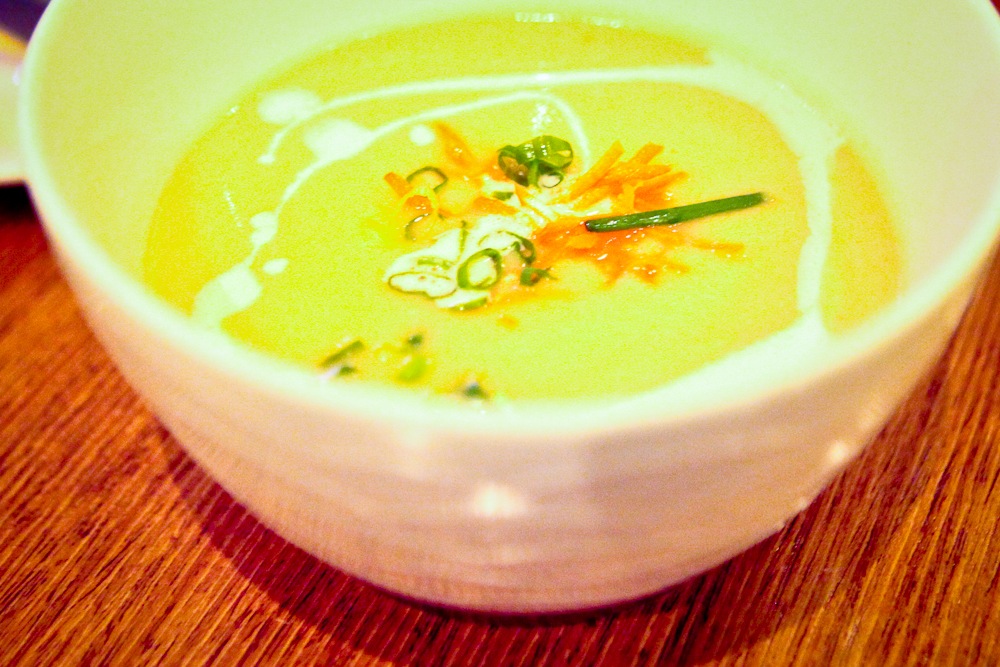 The soup was good.  It was very clean and simple and pleasant, but it wasn't my favorite thing.  It was certainly gorgeous, though!  For our final dish, we shared the seitan pepper steak, watercress, fork mash potatoes: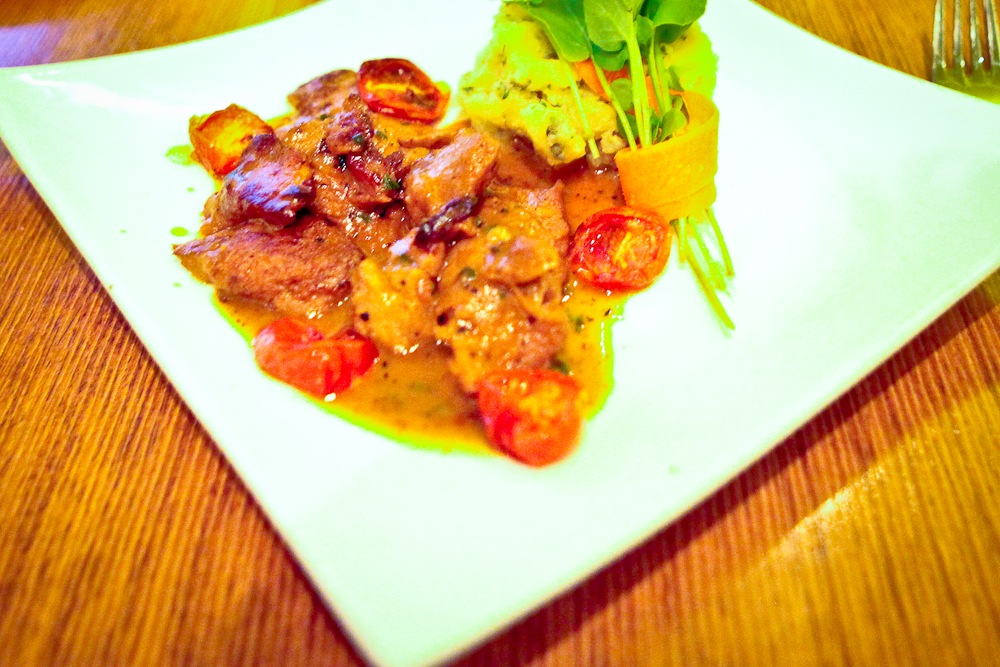 That was perhaps the most tender seitan I've ever had.  The sauce complimented the not-too-buttery mashed potatoes beautifully.  I only wish it was a larger portion.  I will just have to return and order a whole plate for myself.
Seed has a great dessert menu, but I had made a dessert that was waiting for us at home, so we opted for that instead.  Now I have another reason to return to Seed.  There's also a great wine and beer list.  I strongly suggest the organic Chilean sauvignon blanc from Natura.
Don't make my mistake.  Go to Seed Bistro.  Go now.  It is definitely one of the best vegan restaurants in Los Angeles and if you love fresh, organic, thoughtful vegan meals, this is your place.
All Photos by Chris Miller
© Kristy Turner and Keepin' It Kind, 2012. Unauthorized use and/or duplication of this material (content and images) without express and written permission from this blog's author and/or owner is strictly prohibited. Excerpts and links may be used, provided that full and clear credit is given to Kristy Turner and Keepin' It Kind with appropriate and specific direction to the original content.