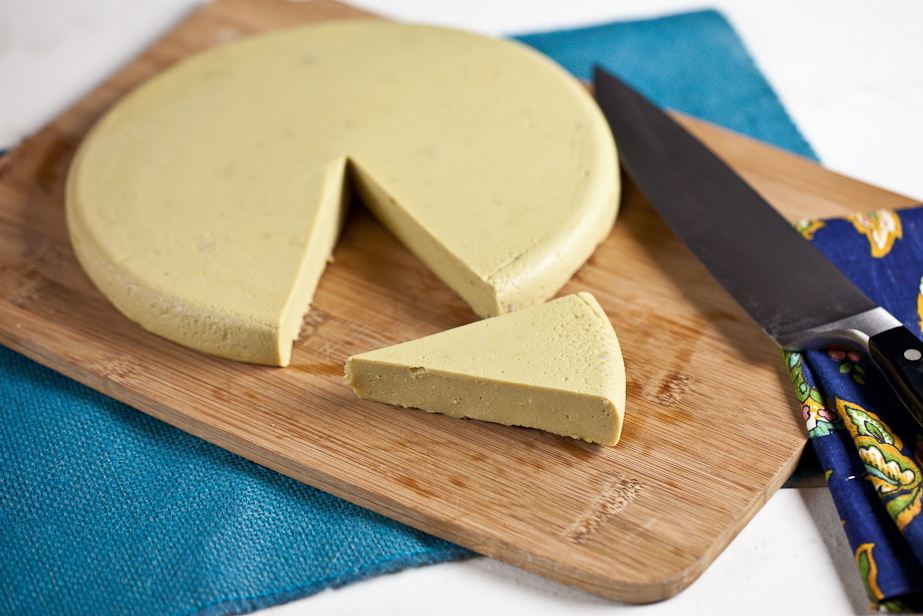 Recently, I was at a party and I found myself in the middle of a conversation about cheese. The fact that I used to be the head fromagier for a pretty well-known cheese shop in LA came up.  The girl I was talking to told me that she was so jealous and that being a fromagier was her dream job.  She, very innocently, as any passionate cheese-lover would, began bringing up her various favorite types of cheeses and asking my opinions.  Being that we had just met, I didn't want to make her uncomfortable by doing my speil about cheese and I couldn't deny that this topic had once been my passion and I had started many a conversation just as she had.  I decided to be agreeable and say "oh yeah, blue cheese is good," and "yeah, I used to like really stinky cheese too."  Then I told her that one day a light bulb turned on and the way cheese is made became completely disgusting to me.  This is where I lost her.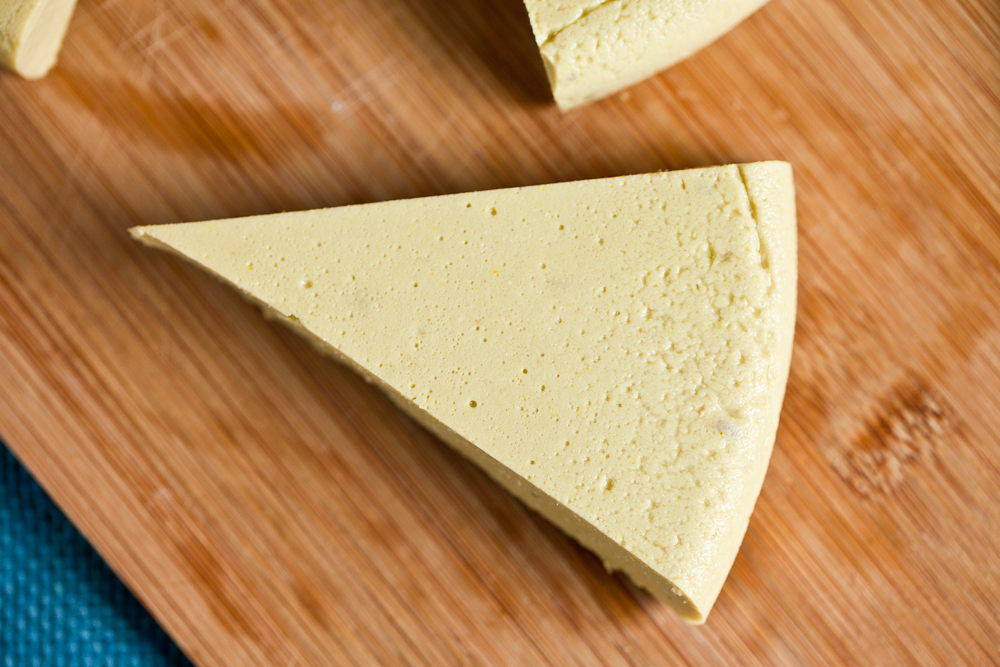 After the conversation was interrupted, I began imagining other ways the conversation could have gone.  I imagined that I began telling her that my favorite cheese was actually a new cheddar that had just been invented.
"Really?!  A new cheddar?  From where?" she would ask.
"My kitchen," I would proudly reply.
"Where is that?  Is it new?"
"No.  It was an early 70's build.   It's at my home."
She would look at me, clearly confused.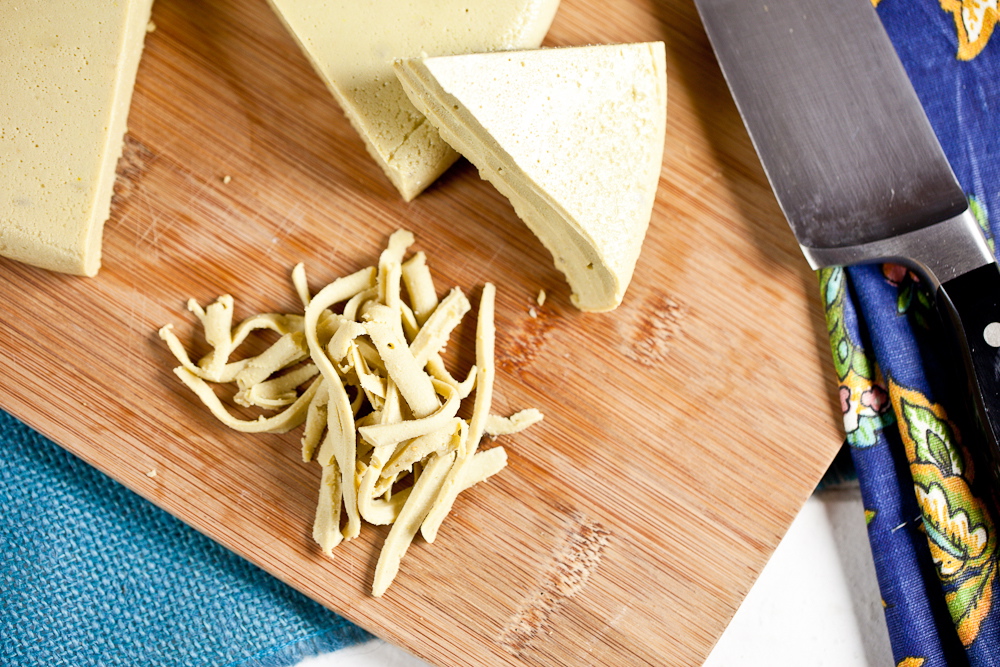 "You see," I would tell her, "I make my own completely cruelty-free cheese, and I've just come up with a new, rich, mildly sharp and nutty cheddar.  It is so delicious and after one taste, you will not be missing it's non-compassionate (to say lightly) original."
"Oh, is it one of those nut cheeses?"
"No.  This one is nut-free and almost completely soy-free."
"Really?  What's it made of then?"
"Sunflower seeds and love."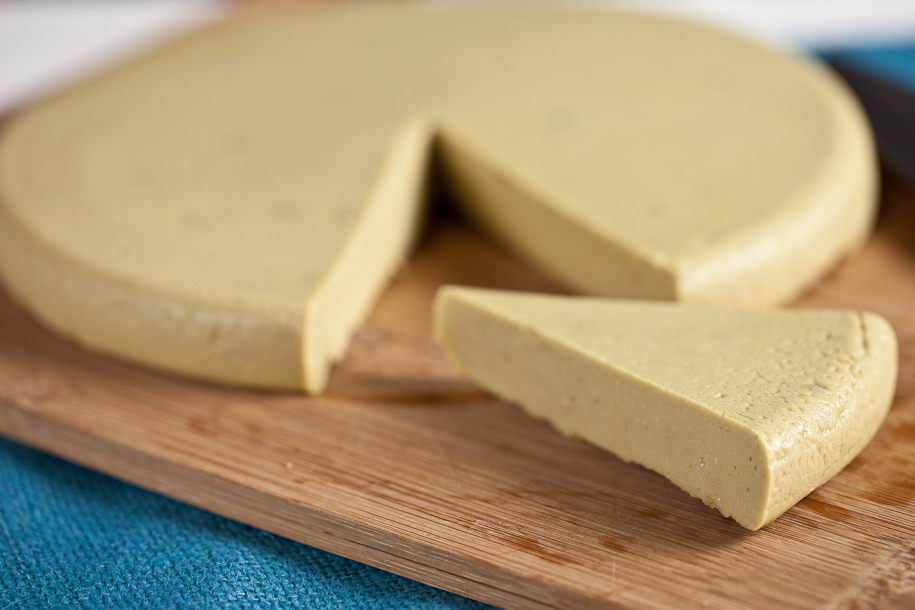 Okay, maybe I would leave the "love" part out, but at this point she would be so intrigued that she would demand that she tried it.  I would conveniently have some in my purse (as any good woman would) and she would hesitantly (I did just pull a piece of cheese from my purse) take a bite.  She would hug me and thank me for introducing her to her new favorite cheese and proclaim "I shall never consume another yucky, cruel dairy product again!"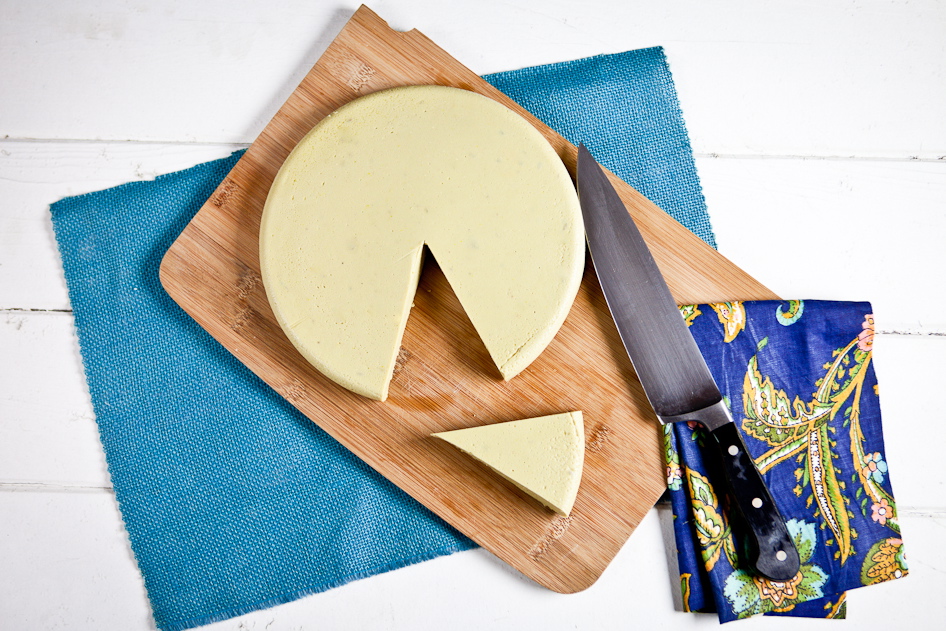 That's how I picture the conversation going and I'm confident that it could have been a reality if I hadn't eaten all of said sunflower cheddar, thus having some in my purse for this absolutely lovely cheese-lover to try.  Next time.
Ingredients
2 cups raw sunflower seeds
1/2 cup nutritional yeast
2 1/2 tablespoons lemon juice
1 1/2 teaspoons white miso (to make this recipe 100% soy-free, use a chickpea miso or leave out completely)
2 teaspoons sea salt
1/2 teaspoon onion granules
1/2 teaspoon garlic powder
1/2 teaspoon mustard powder
1/4 teaspoon turmeric
1 package of Pamona's Pectin
1/4 teaspoon agar powder (optional- but will add a little bit of firmness to the final product)
2 cups + 1/2 cup water divided
Instructions
Spray a pie pan or loaf pan or individual muffin tins (all will work- it just depends on what shape you want your cheese to be) with olive oil spray. Set aside.
Thoroughly mix the calcium packet from the pectin package with 1/2 cup water. Set aside.
In a high-speed blender or food processor, combine the sunflower seeds, nutritional yeast, lemon juice, miso, salt and spices until it forms a thick paste-like consistency. You can leave it here, or if your blender is difficult to scrape things out of, scrape the contents out into a small bowl.
In a pot, bring 2 cups of water to a boil. Add the pectin powder and agar powder and use a whisk (and a lot of upper body strength) to thoroughly combine both into the water. Continue to whisk until you have a very thick liquid. Pour the the sunflower mixture into the pectin mixture and stir like crazy until you have a very thick cheesy sauce. Add the calcium/water mixture from before and thoroughly combine. Pour into prepared dish and place in the refrigerator.
After an hour or two, once the cheddar is firm, turn out the cheese onto a plate and let chill for one more hour. After it has chilled, you can serve it immediately or use it in any recipe that calls for cheddar cheese. Keep it stored in an air-tight container in the refrigerator. Enjoy!
Notes
*This recipe is from Somer's old blog, Good Clean Food (which continues to be a great resource for plant-based kitchens everywhere), but Somer has branched out and started her own blog, Vedged Out.  You should totally check it out, because Somer is a true gem and this blog is sure to be amazing.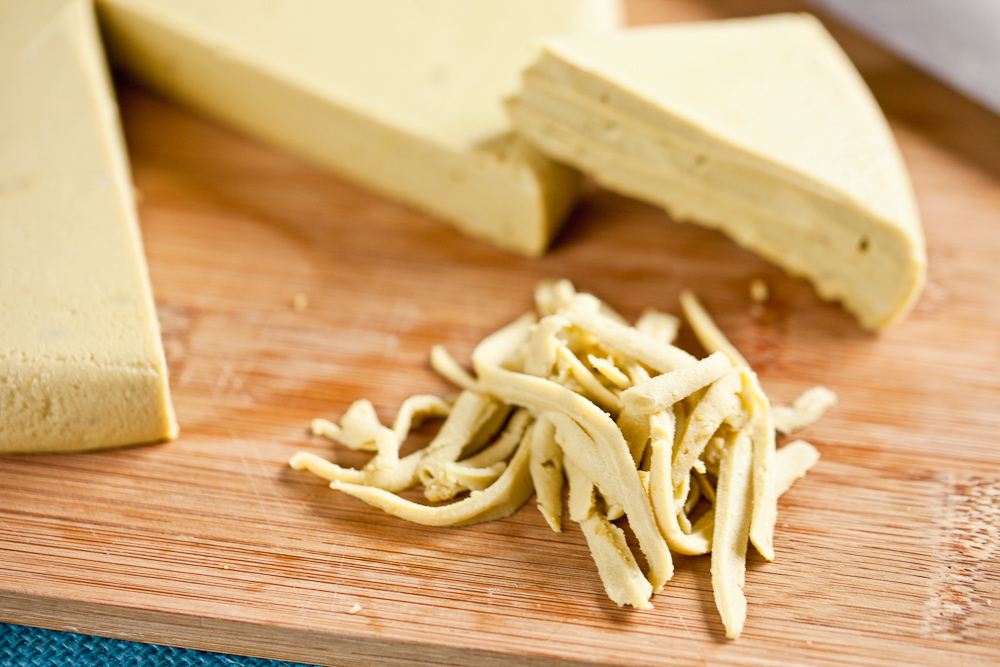 Stay tuned next week for some recipes using this great cheddar!
This recipe is being shared with Gluten-Free Fridays, Wellness Weekends and Healthy Vegan Fridays.
Have you entered to win your copy of Robin Robertson's Fresh From the Vegan Slow-Cooker? If not, hurry and enter here because the giveaway ends tonight at midnight!  Good luck!
Keepin' It Kind is participating in the Walk for Farm Animals to give hope to millions of abused and neglected farm animals! Please support me by making a Donation today. Together we can make the world a more compassionate place for animals!  Learn more about Why I am Walking for Farm Animals and join our team!
Photography by Chris Miller