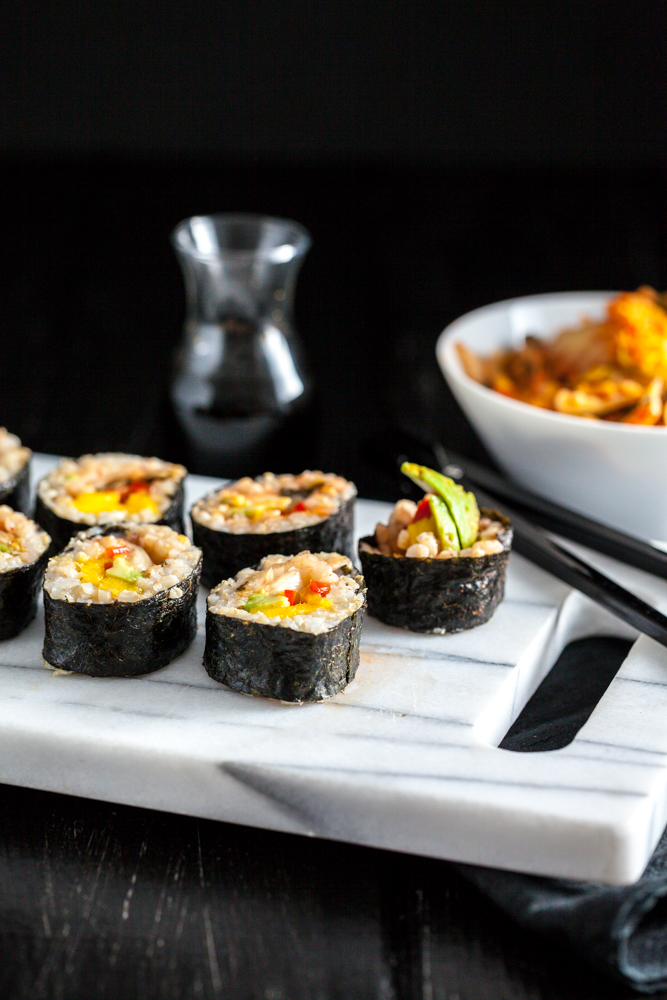 Something about making sushi at home has always intimidated me.  I thought I was afraid I wouldn't be able to make the rice stick to the nori and I was positive that the nori sheets would crack, but in reality, I was just afraid of trying something new.  Sushi-rolling was definitely not something I grew up doing in my grandmother's kitchen and the whole concept seemed foreign to me (pun intended).  It was much like preparing a sourdough starter or tempering chocolate- it was something new to me and, like most new-to-me things, I had built it up to be much more complicated than it actually was.  Up until I became vegan, though, this didn't bother me because I didn't really care for sushi.  "I don't really like it so I don't really care how it's made," I would think to myself.
But then I tried vegan sushi.  The delicious and meticulously designed rolls at Shojin and Beyond Sushi changed my view of sushi to such a point that I actually began to crave it.  Like, all the time.  So I went to the chef's supply store and I got myself a bamboo sushi rolling mat.  And then put it in the cabinet for three months because I didn't know where to start.  Eventually, I bought some nori sheets and some brown rice (I don't generally keep rice in the house- Chris and I usually prefer other grains) and those too got put in the cabinet to sit for some time.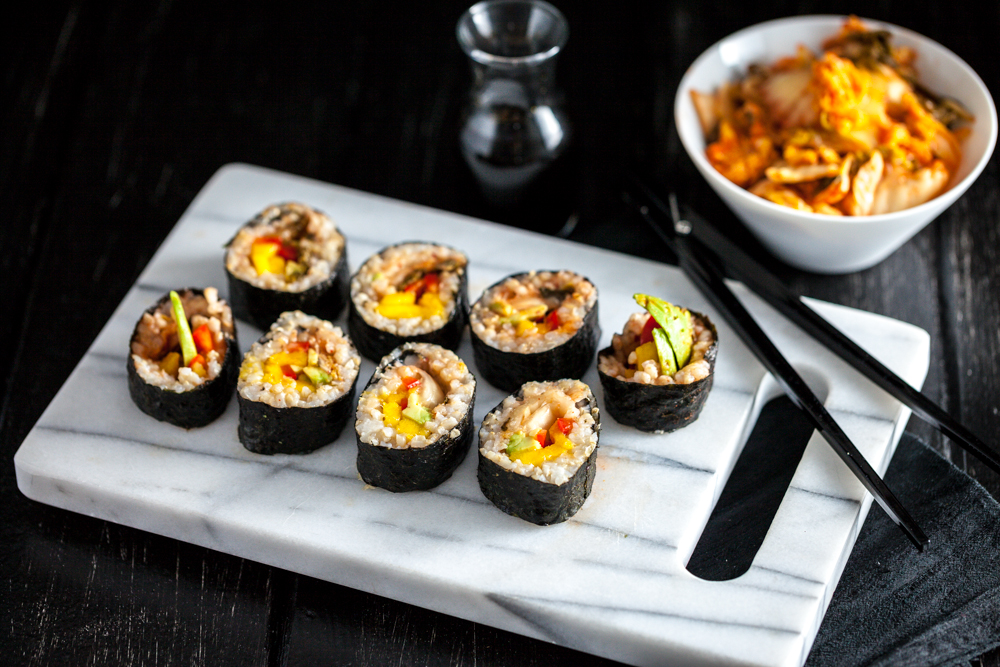 After awhile, though, my cravings got the best of me.  I began dipping my toe in the water by watching sushi-rolling tutorials and researching how to make sticky rice.  One day I finally decided to put my big-girl pants on, pulled out the rice-cooker and got to work.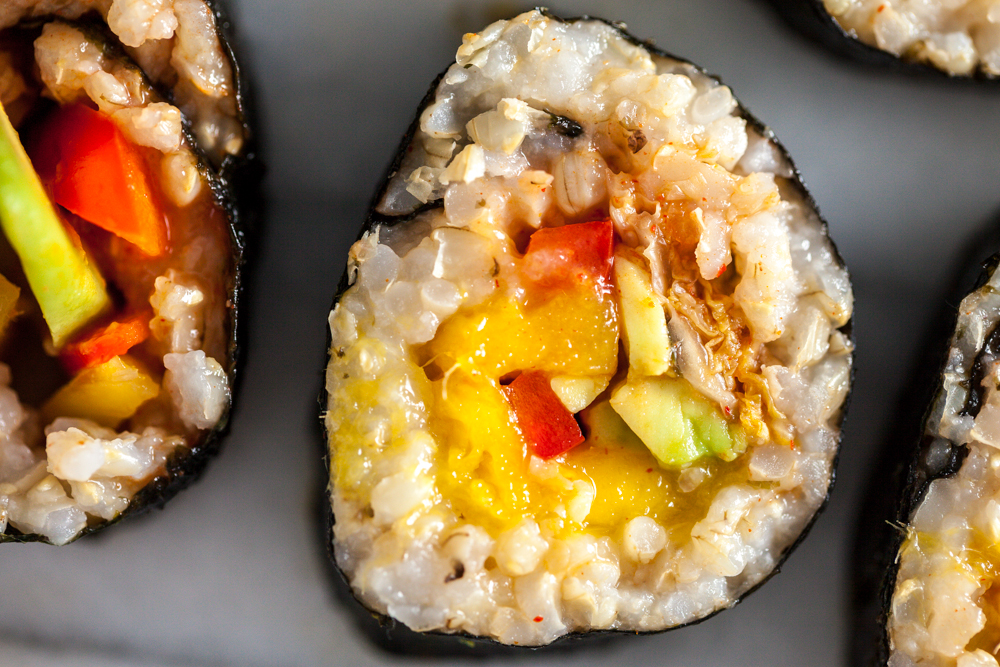 I tried a few different combinations that day, but one stood out from the rest.  Bright, juicy mango, creamy avocado and spicy, tangy kimchi with just a sliver of fresh red bell pepper to add crispness to each bite made for the most addictive little roll.  One would think that the explosion of flavor coming from every bite would be overwhelming but the mild brown rice balanced it out perfectly.  For a little extra heat, I even added a few drops of Sriracha to one of the rolls.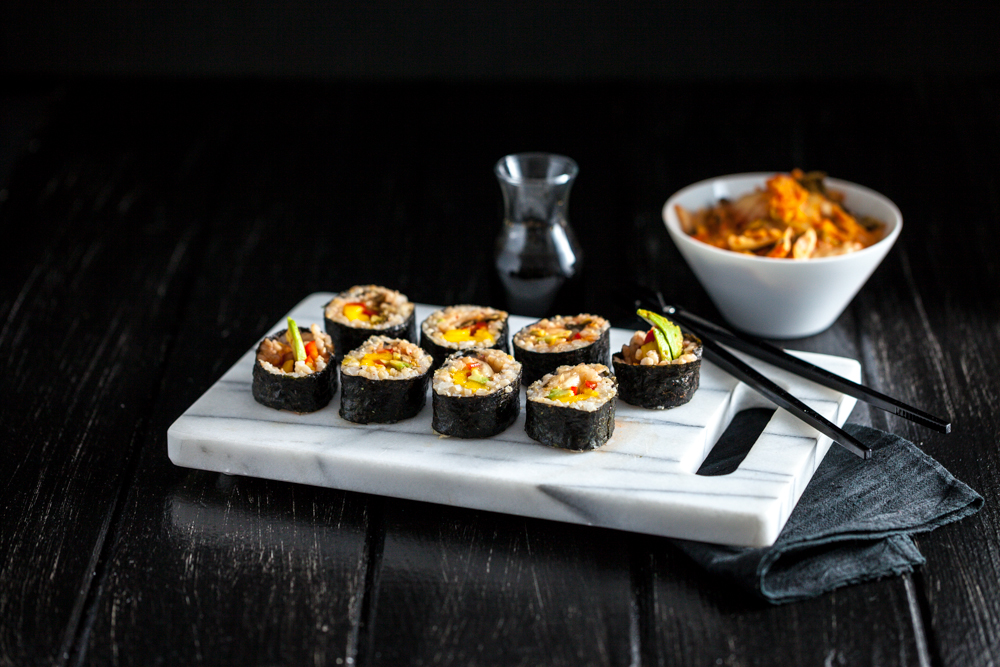 Now sushi-making no longer intimidates me (well, except for the ones where the rice is on the outside.  I'm still working on that).  It actually is a process that really speaks to me- from preparing all of the sushi fillings, making sure they are similar in size and shape, to carefully rolling it, symmetrically slicing it into pieces and arranging the pieces on a platter.  It was also a good reminder that in order to tackle what intimidates or scares me, I need to just dive right in.  Now onto sourdough starters...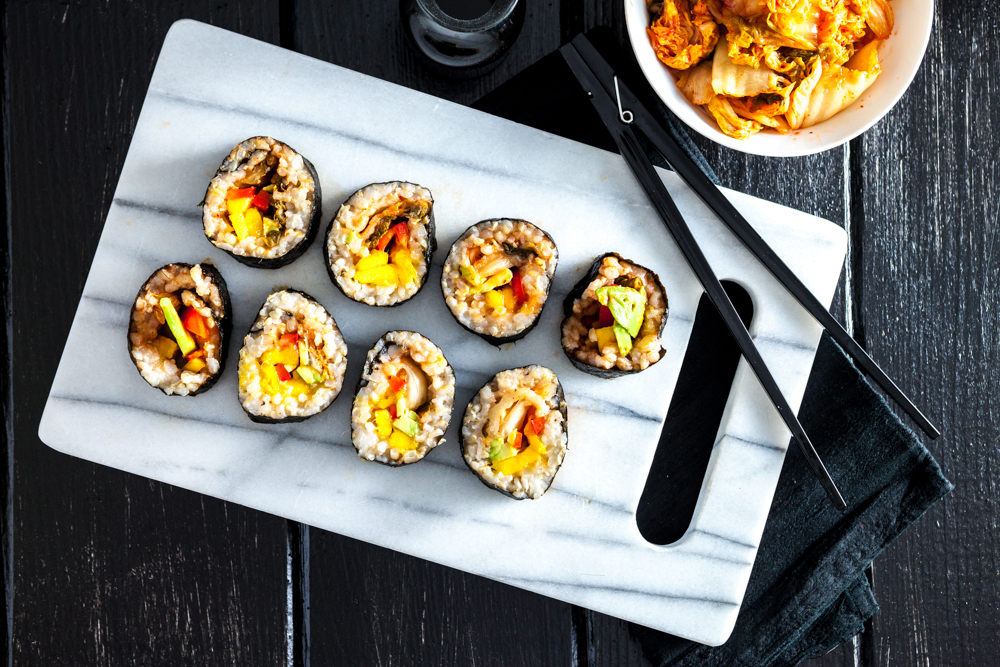 Avocado, Mango & Kimchi Sushi Rolls
Ingredients
2 cups cooked brown rice
1 tablespoon brown rice vinegar
1 teaspoon mirin
1/2 teaspoon salt
2 nori sheets
1/2 cup kimchi
1/2 a mango, peeled and sliced into thin strips
1/2 avocado, peeled and sliced into thin strips
1/4 red bell pepper, thinly sliced into strips
Instructions
In a large bowl, mix together the cooked rice with the brown rice vinegar, miring and salt. Or you can skip this step, if you'd like.
If you've never rolled sushi before, I strongly recommend watching a tutorial first (it will explain it much better than I can). I learned from this tutorial.
Wrap a bamboo rolling mat in plastic wrap. Layout one sheet of nori, smooth side up, on top of the plastic wrapped rolling mat. The nori should be laying lengthwise from left to right (the distance from front to back should be the shorter distance of the rectangle).
Spread rice out on top of the nori, leaving about 1/2 an inch clear at the end of the nori sheet farthest from you.
About 1-2 inches from the end closest to you, layout 1/2 of the mango, avocado, bell pepper and kimchi in a strip going from side to side.
Using the rolling mat, roll the sushi tightly over the strip of ingredients, using your fingers to keep it packed in as much as possible. Wet the clear end of the nori with a little bit of water so that when you roll it over, the nori will stick. Use the mat to hold the roll firmly for a few seconds.
Using a sharp knife, chop the roll in half. Then chop each half into four pieces, making a total of eight pieces. Repeat with the remaining ingredients. Serve immediately. Enjoy!
Are there any recipes you are nervous to try?