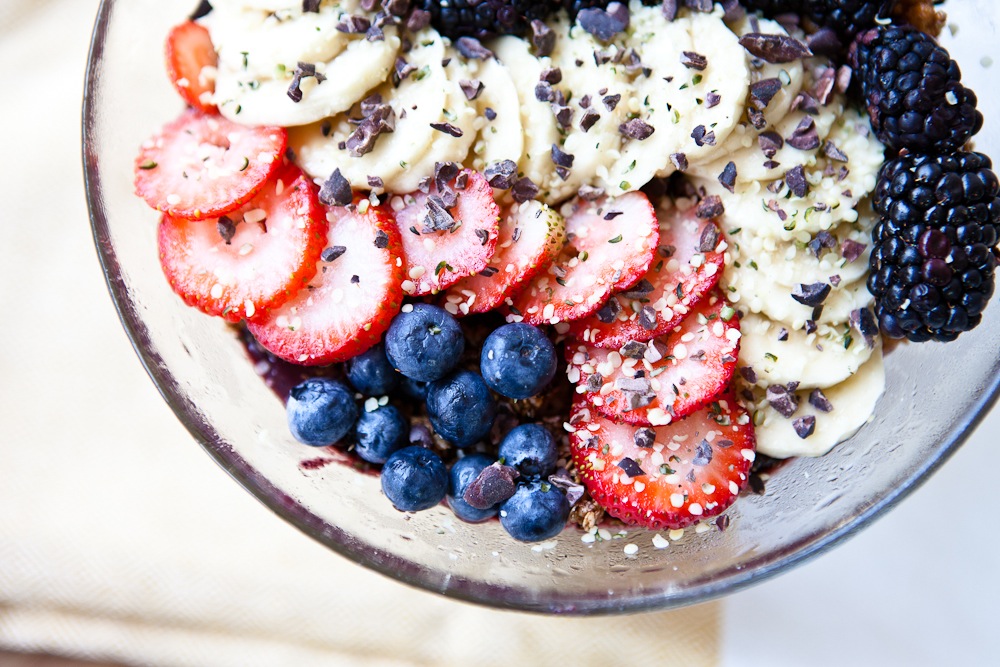 What does "bliss" mean to you?  For me, it's sharing this life with my partner, Chris.  It's being at the beach.  It's the way my canine roommate tries to spoon with me at night, her head on the pillow right next to mine.  It's watching It's a Wonderful Life on Christmas Eve.  It's listening to the twins when they have a fit of giggles.  It's looking deeply into the eyes of a cow.  It's seeing an inspiration become reality.  How beautiful is it when you can realize the bliss as you experience it?  How incredible is it when you can recognize it and really savor it?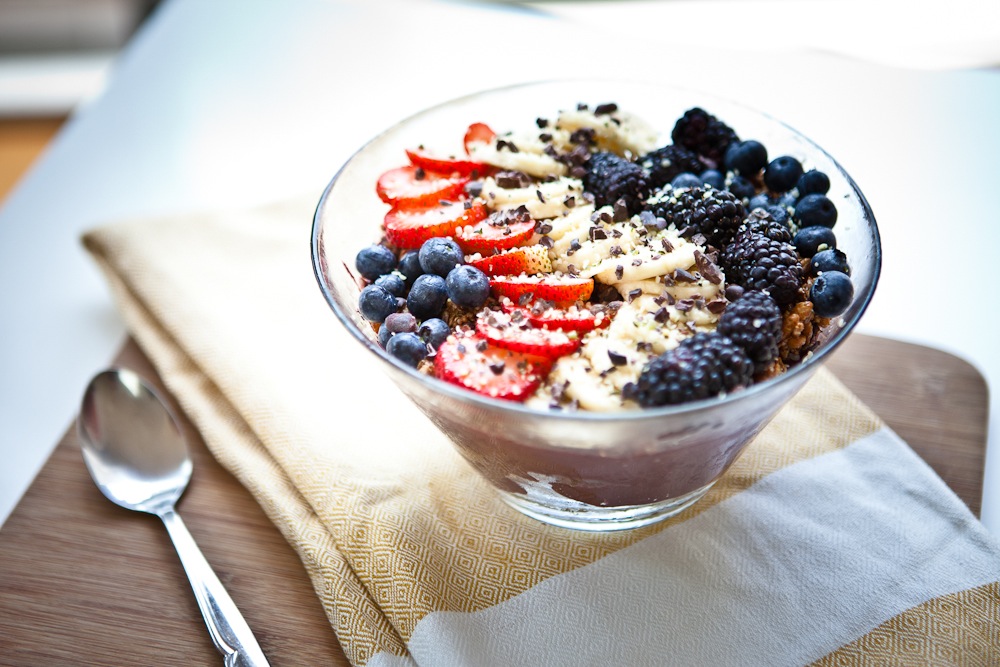 The absolutely lovely Bex, of Vegan Sparkles, referred to my last acai bowl as a bliss bowl, and I was quite taken by the name.  I have to say, though, this acai bowl is much more deserving of the name.  Cacao contains phenylethylamine, which causes the brain to release seratonin, giving you that euphoric, "feel good" feeling after consuming it.  It also contains theobromine, a cousin to caffeine, and has a similar effect, without affecting your central nervous system.  On top of that, cacao is thought to increase blood circulation, increase brain power, and slow the aging process.  After having my first cacao-filled bliss bowl, I felt a natural "high."  It seemed that since this was not something my body was used to, I was very aware of it's effects.  My body was enjoying this chocolatey little treat.  I sat for awhile, just embracing the euphoric feeling in my body.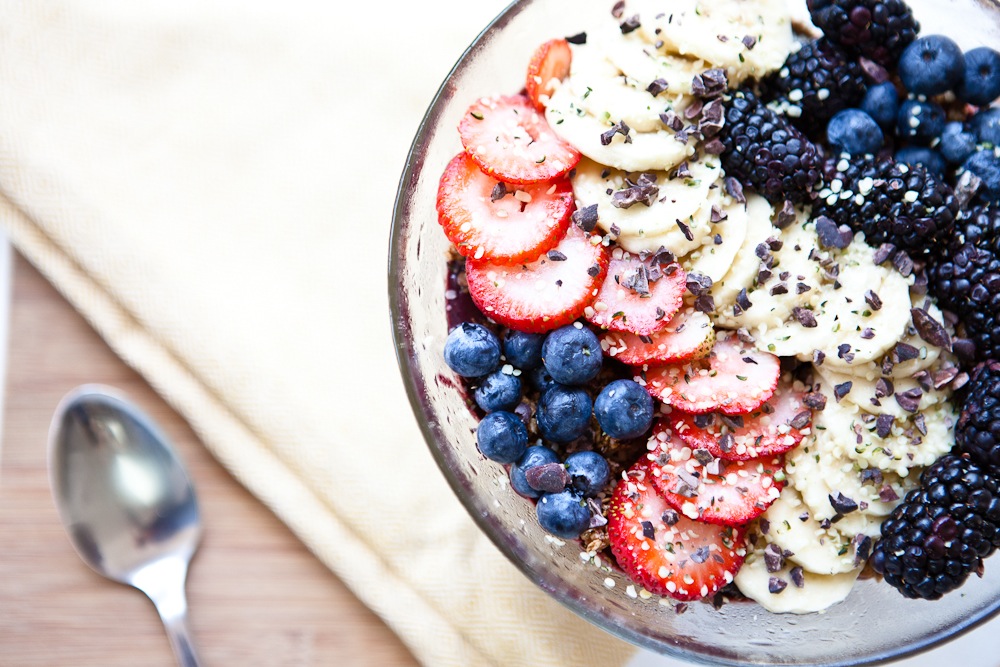 In my last post, I discussed my tactics for getting more chocolate into my everyday life.  Inspired by the deliciousness of my Cacao Quinoa Granola, I knew I needed to have an equally cacao-influenced acai bowl to enjoy with it.  I paired the cacao powder with berries to make this acai bowl even more dreamy.  I know I'm not introducing any new ideas here, but really, how awesome are berries combined with chocolate?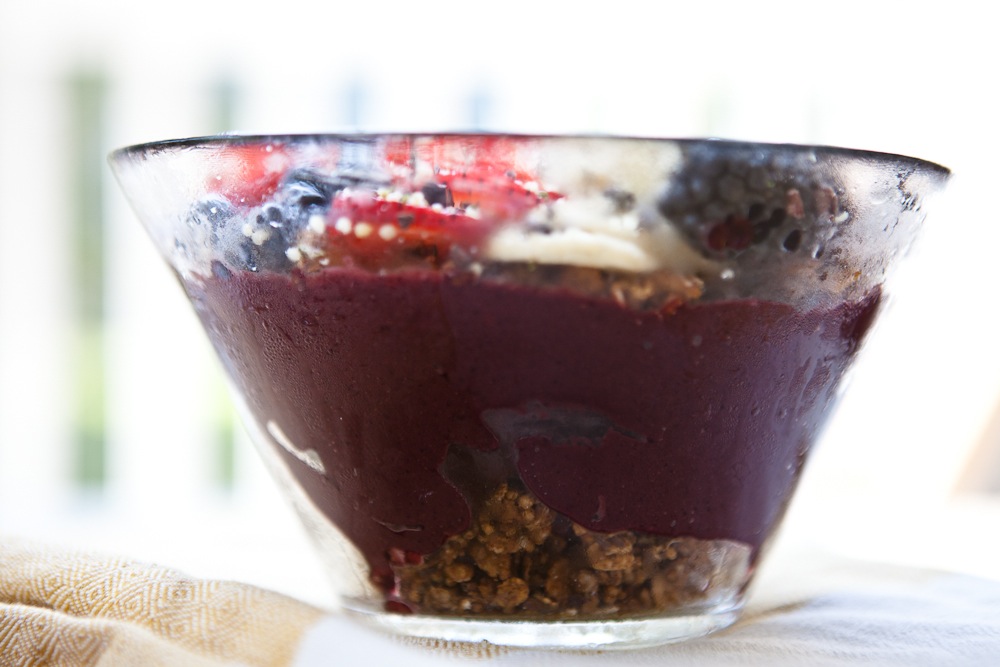 Though this is my favorite way to do acai bowls these days, and I had initially been looking for ways to enjoy chocolate every single day, I feel that I need to keep this bowl with all of it's blissful powers as a "treat."  For me, it's something to have every now and then, perhaps on a lazy weekend morning, when you can really be aware of the flavors and savor the bliss.  Go on now- Treat yourself!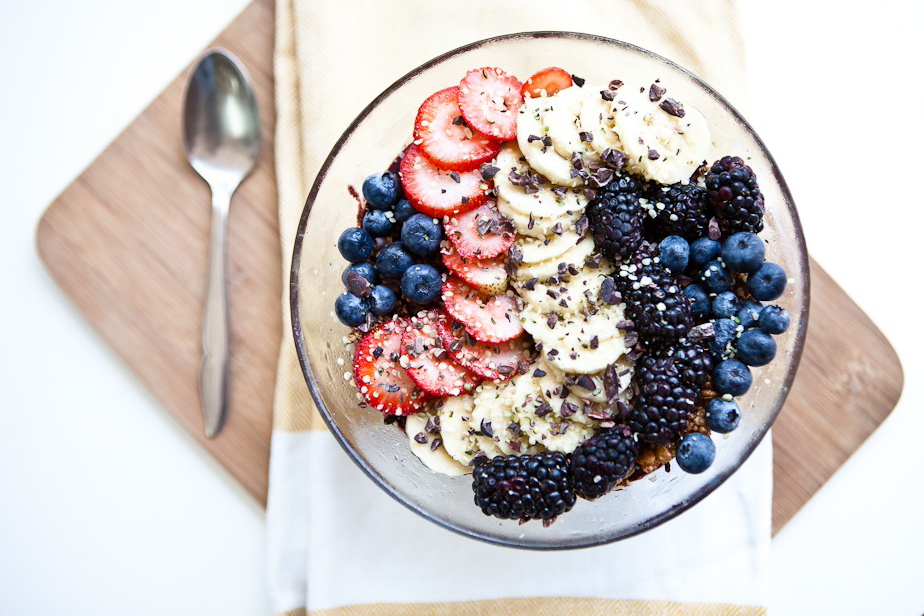 CACAO BERRY BLISS BOWL
makes 1 bowl
Ingredients:
1/4 cup almond milk, or other vegan milk
1/2 banana
1 ¼ cup frozen mixed berries
1 acai packet
1 heaping tsp maca powder
1 – 2 T cacao powder (I like 1 ½ tablespoons)
1/2 cup + 1/4 cup Cacao Quinoa Granola (or granola of your choice), separated
1/2 banana, thinly sliced
2-3 strawberries, thinly sliced
½ cup of blackberries, blueberries, or raspberries (or a mixture of any of the three)
2 tsp cacao nibs
1 tsp hemp hearts (shelled hemp seeds)
Instructions:
Choose the bowl that you are going to serve the acai bowl in, and place it in the freezer (optional, but this will keep the smoothie colder longer).
Prepare your toppings, such as the slicing the strawberries and the half banana.  Set aside.
Combine the first 6 ingredients in your high-speed blender, and puree until smooth.  You may need to scrape the sides a few times or stir it to break up clumps.  This will be a thick smoothie.
Remove the bowl from the freezer and pour 1/4 cup granola into the bottom of the bowl.  Gently pour the smoothie on top of the granola (If the smoothie has started to liquify, you may want to place the blender canister in the freezer for about five minutes before pouring into the bowl).  Top with the 1/2 cup of granola and sliced fruit.  Sprinkle the cacao nibs and hemp seeds on top of the fruit and serve immediately.  Enjoy!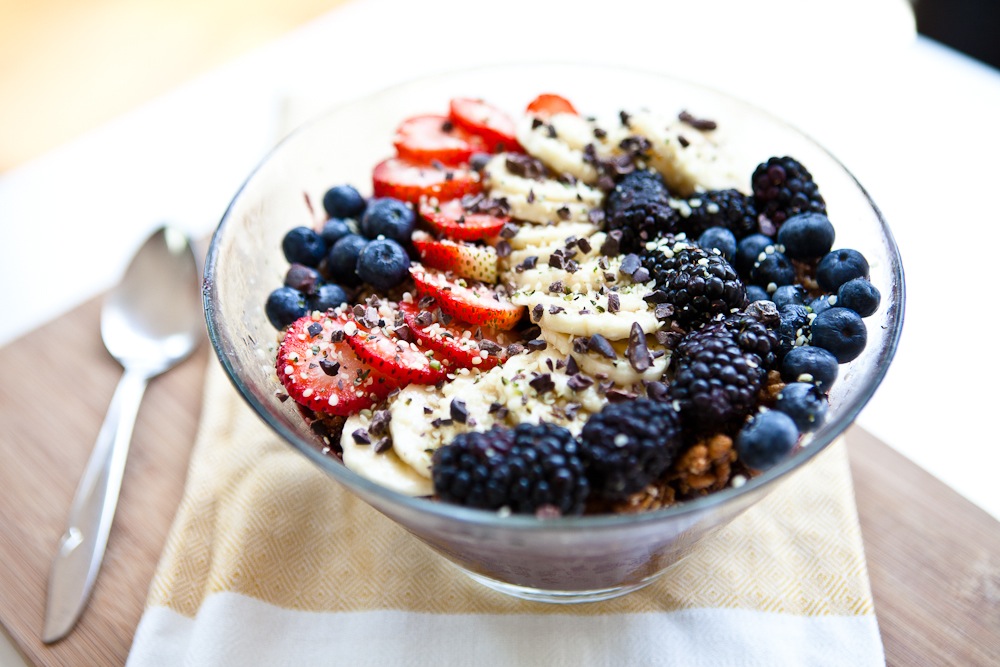 What is your bliss?
This recipe is being shared with Wellness Weekends and Healthy Vegan Fridays.

All Photos taken by Chris Miller

© Kristy Turner and Keepin' It Kind, 2012. Unauthorized use and/or duplication of this material (content and images) without express and written permission from this blog's author and/or owner is strictly prohibited. Excerpts and links may be used, provided that full and clear credit is given to Kristy Turner and Keepin' It Kind with appropriate and specific direction to the original content.