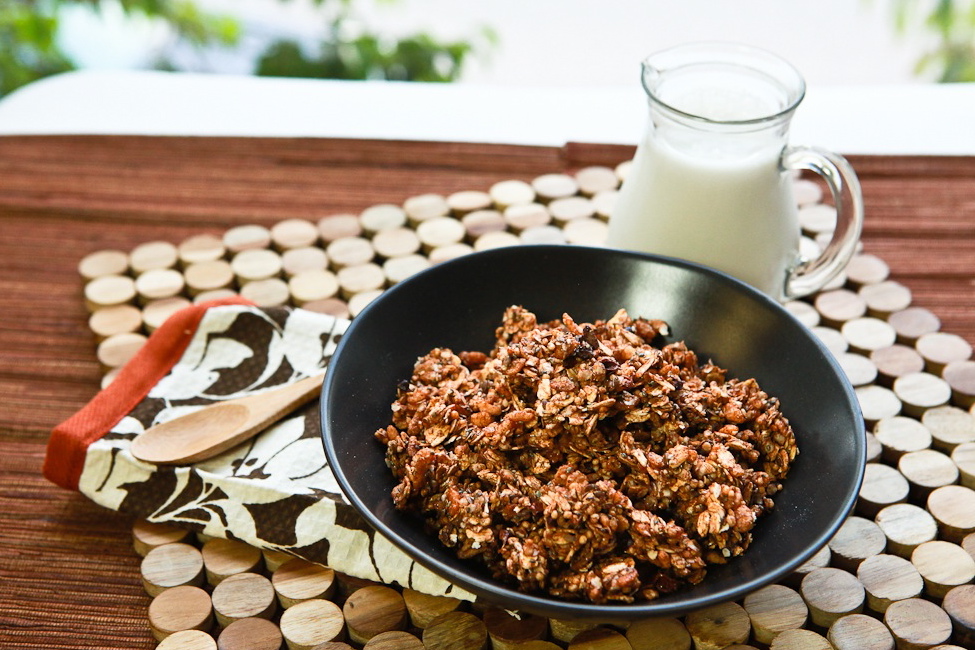 Do you ever wonder how you could get more chocolate into your life?  It's a thought that crosses my mind often.  It's right up there with "I wonder what the new season of Arrested Development will be like?" (Answer: If it's anything like the first 3 seasons, it will totally rock my world) and "Is there anything cuter than baby pigs?" (Answer: No).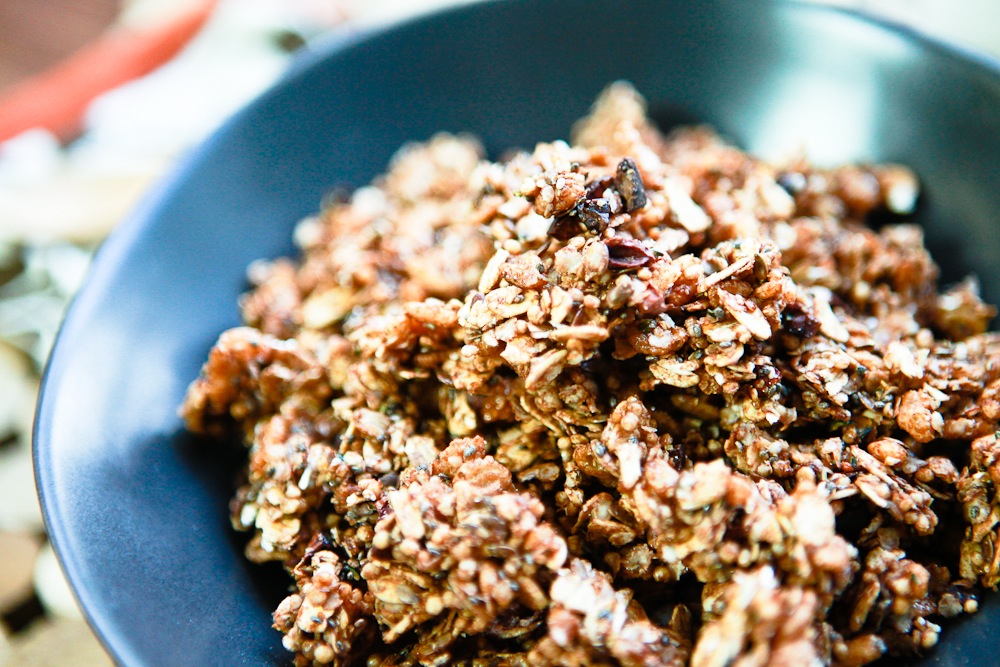 I was pondering chocolate and how to increase the amount of it in my day-to-day life, while making my granola for the week.  It occurred to me, while I was pulling the freshly baked granola out of the oven, that I perhaps should have added chocolate to the granola.  That was my light bulb moment.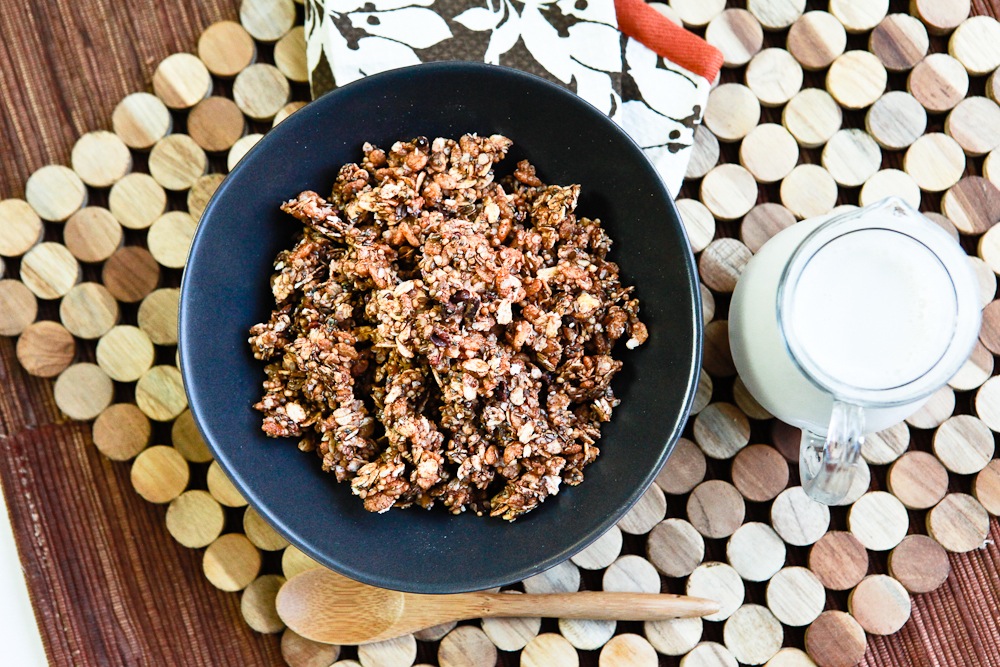 The next week, armed with chocolate extract, cacao powder and cacao nibs, I got to work.  I chose cacao powder and nibs over cocoa or chunks of chocolate, because I prefer bitter chocolate and I prefer to have a nice side of antioxidants, magnesium, and iron with my granola.  Also, regular consumption of dark chocolate has been shown to improve cardiovascular health.  How can you argue with that?  You need chocolate.  Science says so.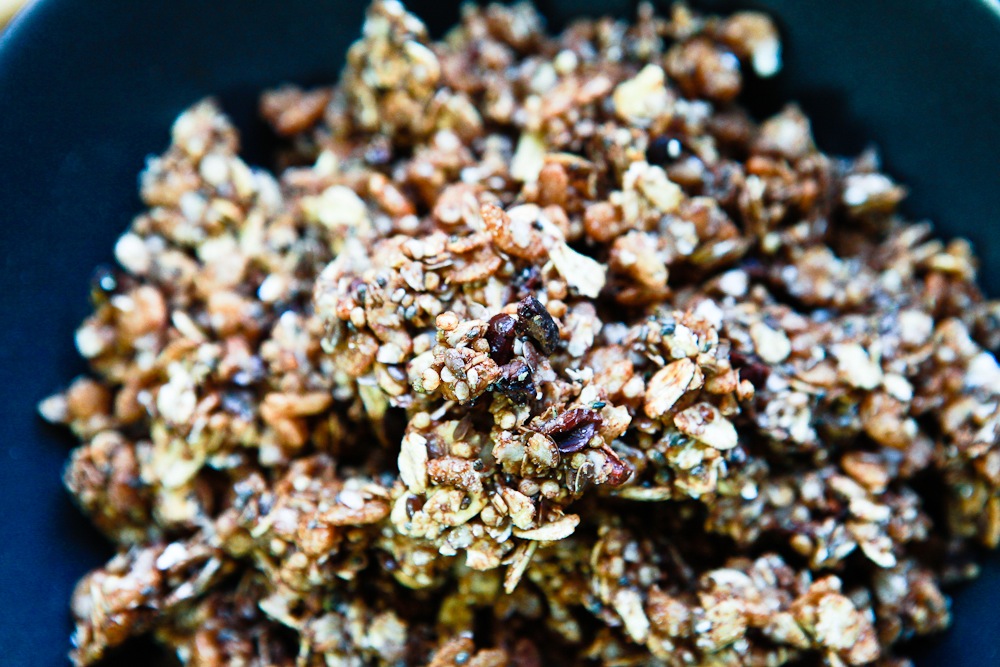 To pack this granola with even more health benefits, I decided alter my Super Seed Trifecta Granola, replacing some of the rice crisp cereal and rolled oats with puffed quinoa cereal and quinoa flakes (both of which I found in the bulk foods section of my local Whole Foods).  Quinoa is not only an excellent source of protein, containing all 8 essential amino acids, it is overflowing with calcium, iron, and fiber.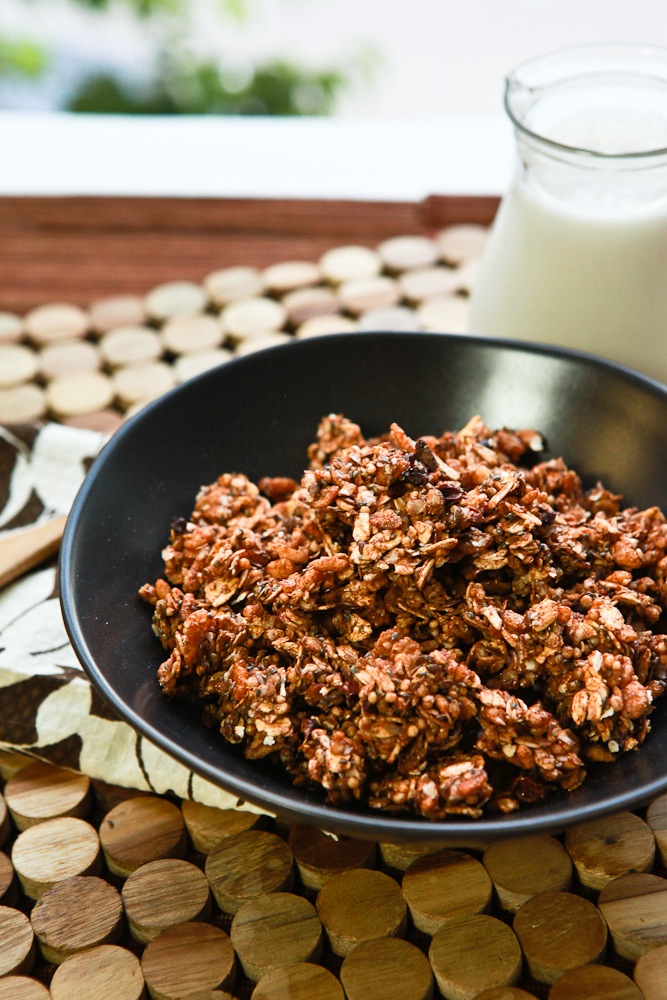 The result?  A very nutrient-dense granola with a bitter chocolate undertone.  You will want to eat this by the handful, but please save some to eat in a bowl with almond milk (or vegan milk of your choice).  The experience is out of this world.  If you're trying to get more chocolate into your life, this is your opportunity!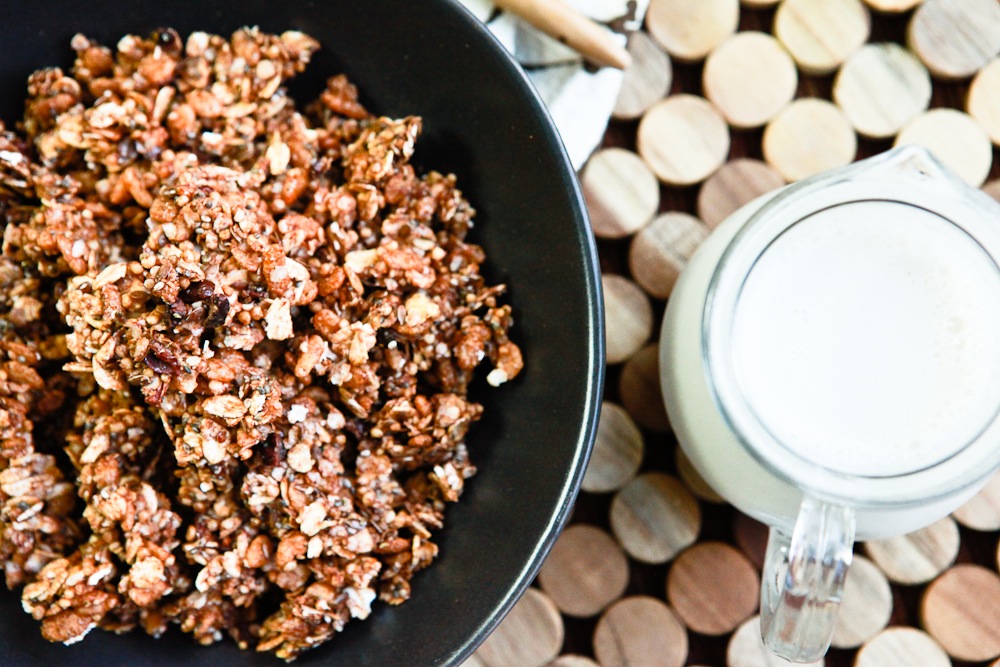 CACAO QUINOA GRANOLA
Ingredients: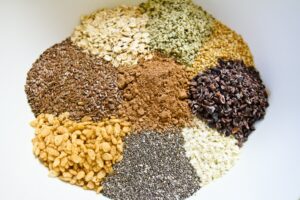 2 ¼ cups crisp brown rice cereal (gluten-free)
2 ¼ cups gluten-free rolled oats
1 ¾ cups puffed quinoa crisp cereal (or puffed millet cereal)
1 ½ cups quinoa flakes (or just do 1 more cup of rolled oats)
1/3 cup hemp hearts (shelled hemp seeds)
1/3 cup brown flax seeds
¼ cup chia seeds
¼ cup + 1 T cacao nibs
3 T cacao powder (I like Dagoba)
½ cup brown rice syrup
2 T flax oil (or other oil)
1 T molasses
1 T chocolate extract
Instructions: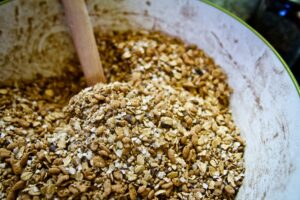 Preheat the oven to 275.  Line two baking sheets with parchment paper.
In a large bowl, combine the dry ingredients.  In a small bowl, combine the wet ingredients.
Heat the wet ingredients in the microwave for about 1-2 minutes.  Alternatively, you can heat the wet ingredients in a saucepan, until it just begins to bubble around the edges.
Add the wet ingredients to the dry and thoroughly combine.  Divide the mixture between the two baking sheets and spread out evenly.
Bake the granola for 45 minutes, switching shelves for each sheet half way though (i.e. placing the sheet from the top shelf on the lower shelf and vice versa).  Once done, let cool completely before transferring to an air-tight container.  Enjoy!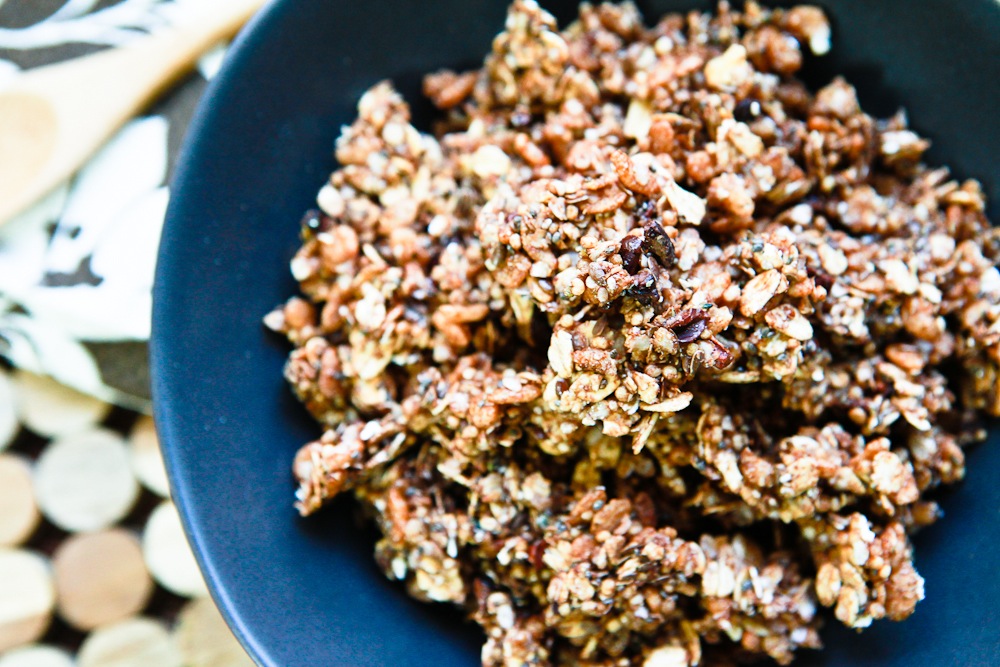 This was just the beginning of the influx of chocolate in my life.  Stay tuned to find out what other way I'm enjoying more chocolate in my life!
All Photos taken by Chris Miller and Kristy Turner

© Kristy Turner and Keepin' It Kind, 2012. Unauthorized use and/or duplication of this material (content and images) without express and written permission from this blog's author and/or owner is strictly prohibited. Excerpts and links may be used, provided that full and clear credit is given to Kristy Turner and Keepin' It Kind with appropriate and specific direction to the original content.