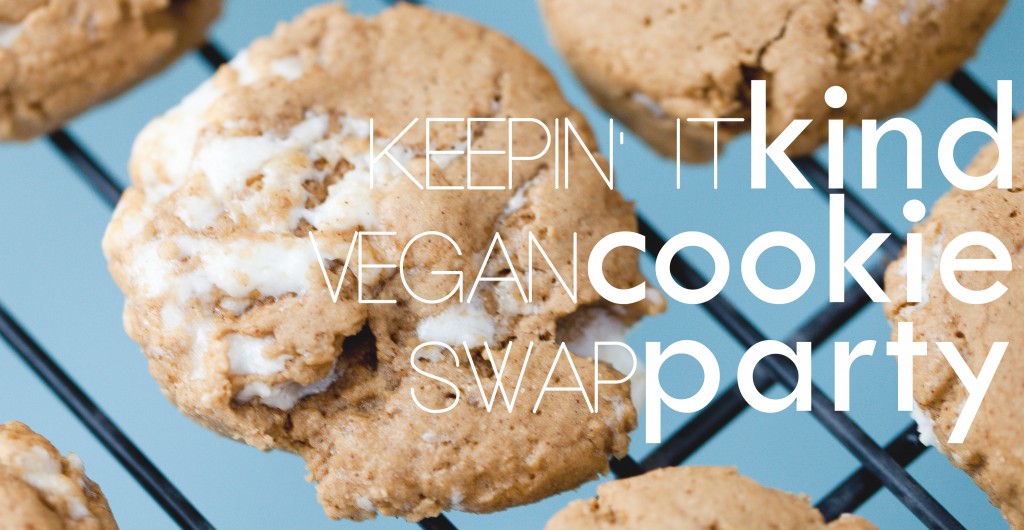 Back in the day, my friend used to host a cookie exchange party every year.  Everyone would bring about 40-50 cookies and the recipe printed out on an index card.  Each person would get to take 2 of each type of cookie as well as the recipe for each cookie.  It was an awesome party and it's something I miss doing each year.  I am ecstatic to tell you all, however, that for the next month, I will be hosting a virtual, vegan version of this cookie swap party, with tons of guest posts from some of my favorite bloggers.  Keep checking back to see who brings what type of cookie!  
Today, I am so excited to have Somer from Vedged Out to get this party started!  I've been following Somer ever since she was part of another blog, and instantly fell in love with her compassionate heart, her creativity, and her enthusiasm.  Her desserts are always just to die for, so getting to share one of her dessert recipes here is such a gift.    
First, a huge thanks to Kristy for hosting this "Vegan Cookie Swap"! I'm so honored to be a part of it and to be the first to share my cookies with you. These "Brookie Grasshopper Squares" didn't turn out exactly like I planned. I wanted to be more like cookie bars. They protested and were more like brownies. But hey, I'm not complaining, hence the Brookie Title!
I've always loved grasshopper cookies, girl scout thin mints, and anything to do with peppermint and chocolate. Tis' the season! And since I was feeling generous I wanted this to be a recipe I could share with everyone's happy tummies so I made them gluten free (optional), egg free, dairy free and nut free, however these are NOT sugar free or fat free, but I think you'll forgive me!
Brookie Grashopper Squares
for the squares
2 C. Gluten Free Flour Blend (I used Cara's All Purpose GF Mix at Fork and Beans, it's better than Bob's Red Mill!) get the recipe here or if you don't need gluten free, use 2 C. whole wheat pastry flour
1 t. xanthan gum (omit if creating a non-gluten free version)
1/4 C. cocoa powder
3/4 C. raw sugar
1 t. baking soda
1/2 t. sea salt
1 T. vanilla
1/2 C. melted coconut oil
1/2 C. rice milk or non dairy milk of choice
1/2 C. vegan chocolate chips
5 drops peppermint essential oil or 1 teaspoon peppermint extract
Method: Preheat oven to 350 degrees. Mix dry ingredients together with a wire whisk. Add peppermint essential oil or peppermint extract and whisk again. Add wet ingredients and stir all together with a wooden spoon until just combined. Press into a oiled 9x9 square baking dish and bake for 30 minutes or until a toothpick comes out (mostly) clean. Set on a cooling rack to cool.
Chocolate Peppermint Icing
1/2 C. vegan chocolate chips
1 T. coconut oil
2 drops peppermint essential oil or 1/4 t. peppermint extract
Method: Melt the chocolate chips and the coconut oil and then stir until no lumps remain. Add the peppermint and stir until combined. Pour over "brookies" they can still be warm when you do this. Smooth all over the surface with a silicone spatula. Let cool completely in fridge or freezer before adding the grasshopper icing.
Grasshopper Icing
1/4 C. vegan powdered sugar
1/4 t. spirulina powder or 1 drop other plant based green food coloring (Wilton's products are plant based)
1 t. rice milk
1 drop peppermint essential oil or 1/8 t. peppermint extract
Method: Combine all ingredients with a wire whisk in a small bowl. Pour the icing into a small ziploc, snip off a very tiny corner and drizzle over completely cooled "Grasshopper Brookies". Cut into 16 squares. Share, this is a cookie party after all!
Thanks for stopping by and be sure to come back on Thursday to see who our next special guest is and what they bring to the party!  Thank you so much, Somer, for bringing these ridiculously delicious bars!  
Be sure to check out the rest of the cookies at the party: