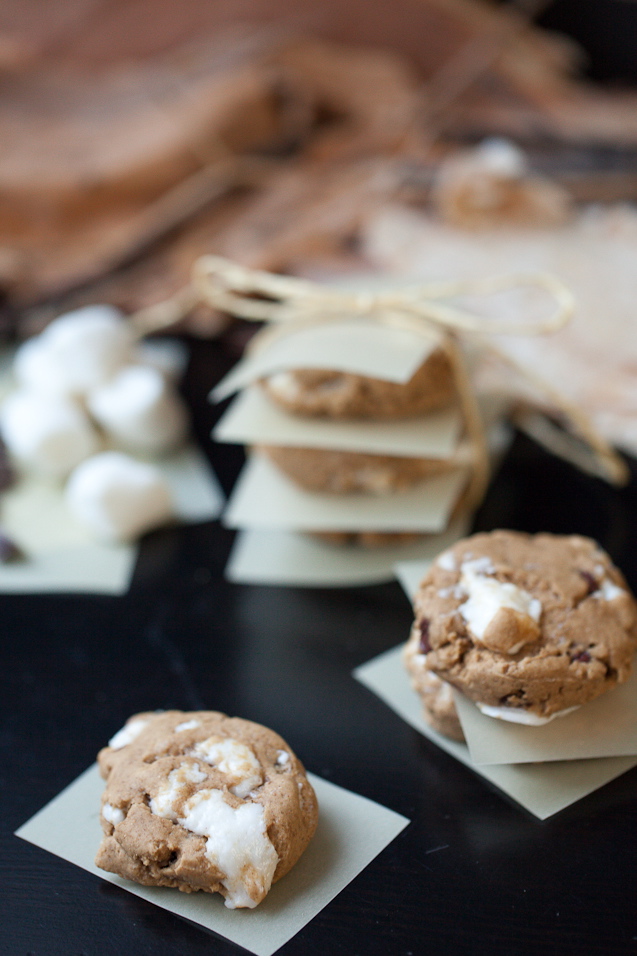 When I was younger, my grandparents used to take all of us grandkids on huge camping trips every summer.  These camping trips hold some of my fondest memories of my cousins.  There was a large rock in the middle of the lake and we all had the goal to be able to climb up on top of that rock.  It was a monumental year when all eight of us "older cousins" were able to crawl up on top of that rock.  It was so monumental that my grandma had to climb up on top of  it as well and the picture of all of us with my grandmother on top of that rock is one of my favorite photos.  After a day spent swimming in the lake, climbing on top of the rock, running through the woods and crossing the river via fallen tree trunks, and once dinner had been eaten and the dishes cleaned, we would gather around the fire to tell jokes and the occasional scary story, roast marshmallows, and make s'mores.  I don't think there was a limit to how many marshmallows we could have, but there was one, maybe two, s'mores allowed per child per night.  I have vivid memories of my cousin, Stephanie, holding a graham cracker with a piece of Hershey's chocolate on it so I could place my hot melting marshmallow, still on its stick, on top of the chocolate and she would sandwich that marshmallow with another graham cracker while I pulled the stick away.  I would then reciprocate the favor for her and we would enjoy these delicacies together.  After s'mores, all of us cousins would pile into our huge tent and spend the night talking until we all fell asleep.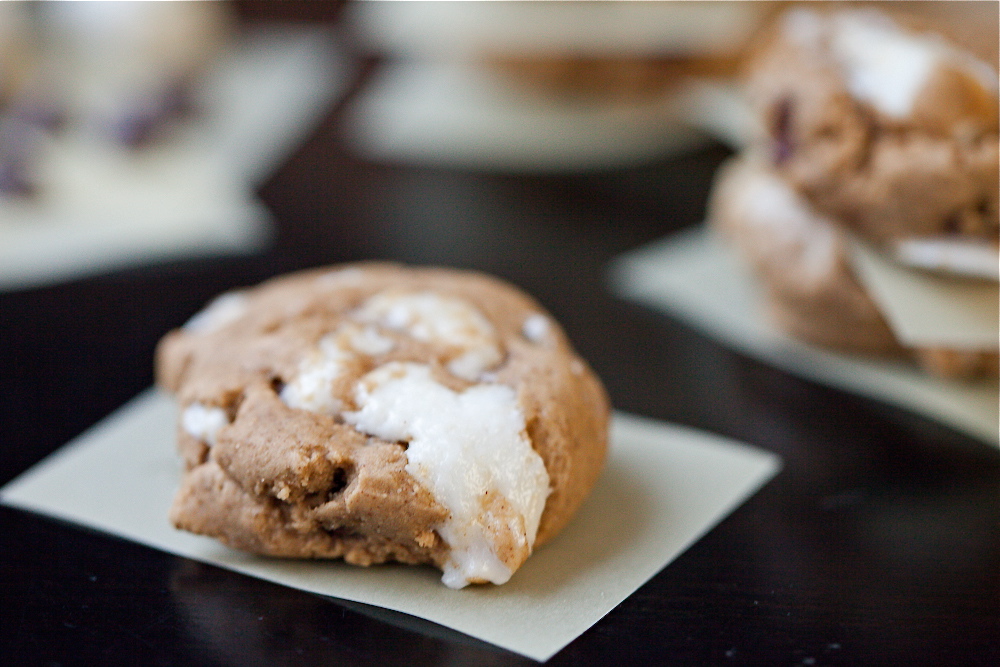 As an adult, s'mores still feel like somewhat of a delicacy.  First, it was because I was a health-obsessed personal trainer, who would allow herself maybe one s'more per year.  Now, it's because I find gelatin, one of the ingredients of your common marshmallow, to be one of the most disgusting things one can consider putting in their body, and vegan marshmallows, though extremely delicious, are slightly more expensive (and still being slightly health-obsessed, the sugar content is not something I want to consume regularly) so I like to maintain them as a treat.  Also, though I think s'mores taste wonderful, it's not a taste I crave regularly.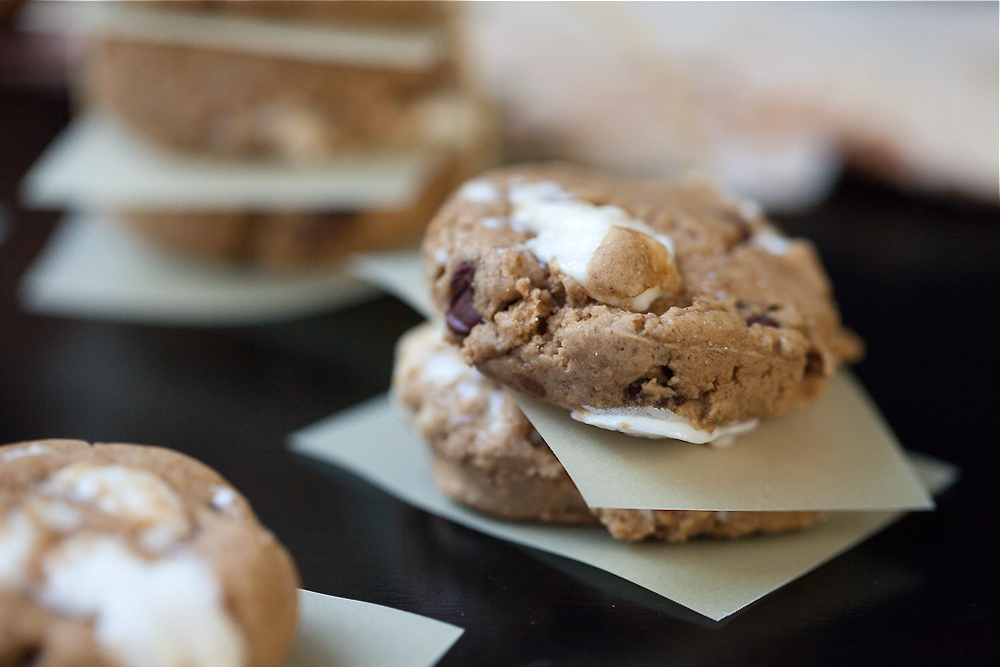 Recently, Max asked if there was such a thing as vegan marshmallows (in much the same manner as a child may ask if there was such a thing as unicorns).  I was happy to inform him that yes, there were, and they taste even better than their animal-based counterparts.  I made a mental note to buy him a bag of vegan marshmallows the next time I came across some, and wouldn't you know, the next time I was at Whole Foods, they were fully stocked with Dandies.  I felt that I owed it to Max to pick up a bag.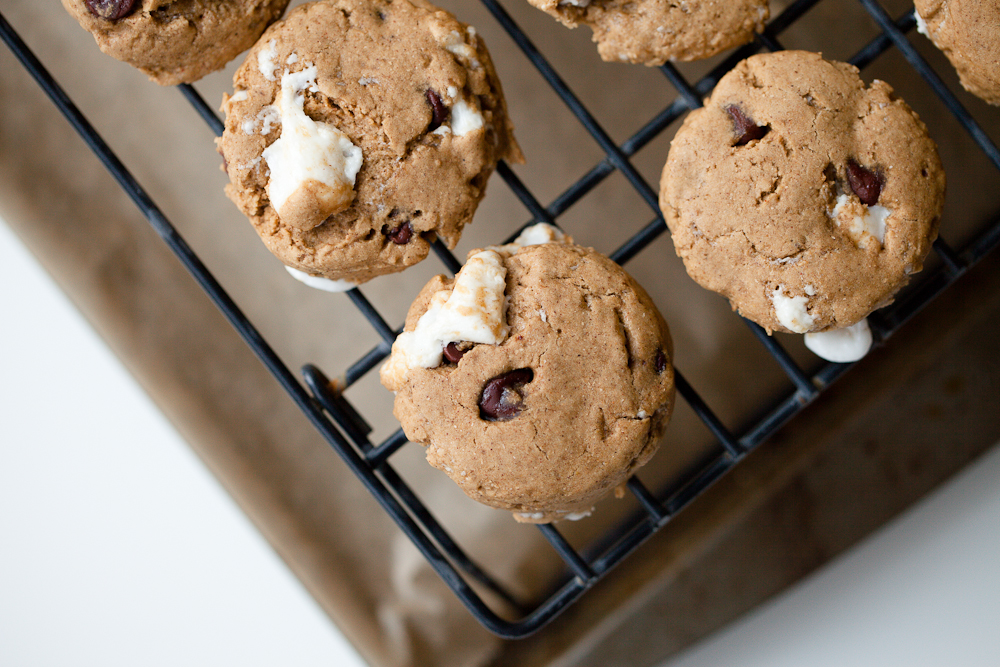 Something happened, however, which prevented Max from getting to try the vegan marshmallows I had bought for him.  I was gathering my ingredients to make some gluten-free, vegan chocolate chip cookies for a family get-together (my grandparent's 60th anniversary and vow renewal), very excited to see all of my cousins again soon, when I came across the bag of Dandies in the cupboard.  The wheels started turning, and before I knew it, I was adjusting the recipe to make the cookie base more "graham crackerish" and chopping up marshmallows (mindfully saving more than half the bag with the intention of sharing with Max) to throw in with the chocolate chips.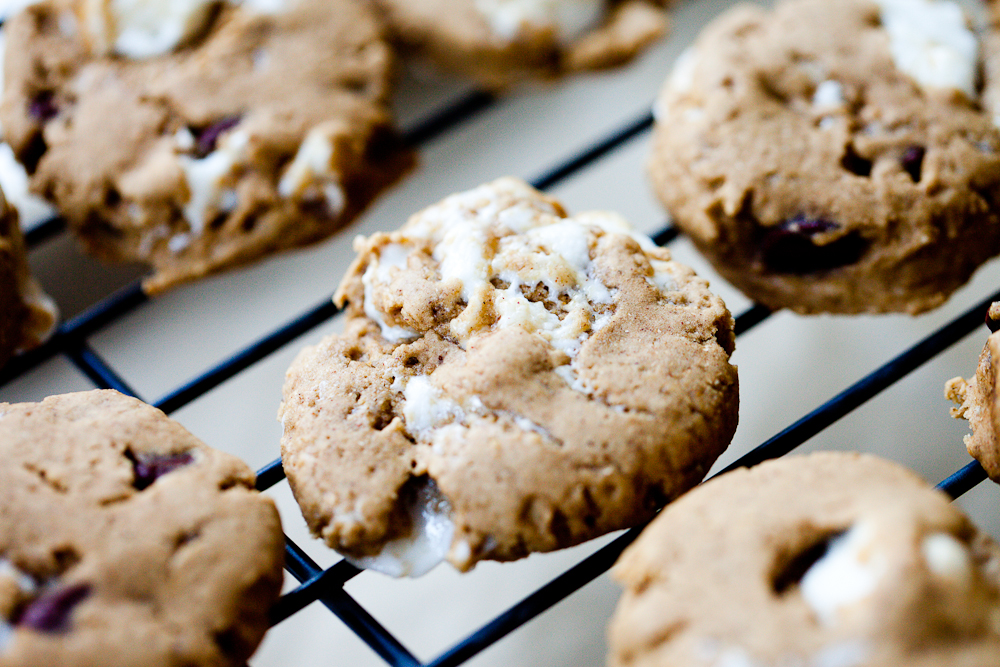 Once the s'more cookies came out of the oven and were cool enough to handle, I tasted a cookie, while the marshmallow was still a little gooey. The taste is remarkably like those s'mores that I used to enjoy with my cousins, while sitting around the campfire.  It was so similar, that it felt as if Stephanie, dressed in clothes that matched mine (we used to try to fool people into thinking we were twins because we're ten days apart in age, but the fact that she was about 6 inches taller than me and had brown hair kind of threw people off), was right next to me, enjoying one herself.  I'm guessing the cookies went over well at the get-together because there were only five and half (???) remaining when we left, and those disappeared somehow on the drive home.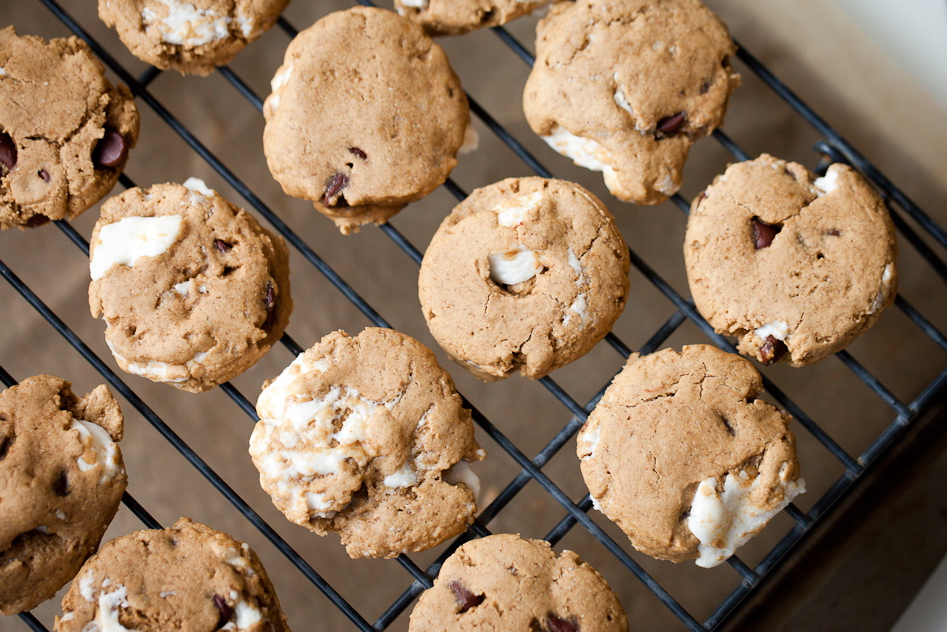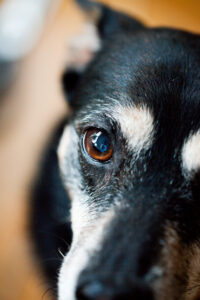 Since these cookies were so good and disappeared way too fast to be able to take pictures, I had to make more (still leaving about 1/3 of the bag for Max).  This batch was even better than the first, with a lightly crisp exterior and a very soft and chewy filling, just like an actual s'more, the taste even more spot-on than the first batch.  Samantha even snagged one during the photo shoot, when we weren't looking.  She was awfully proud of herself afterwards, so I'm guessing she liked it (and she didn't get sick from the chocolate, thank goodness).  As I'm writing this, there are no more Dandies in the cupboard and my house smells like camping.  You do the math.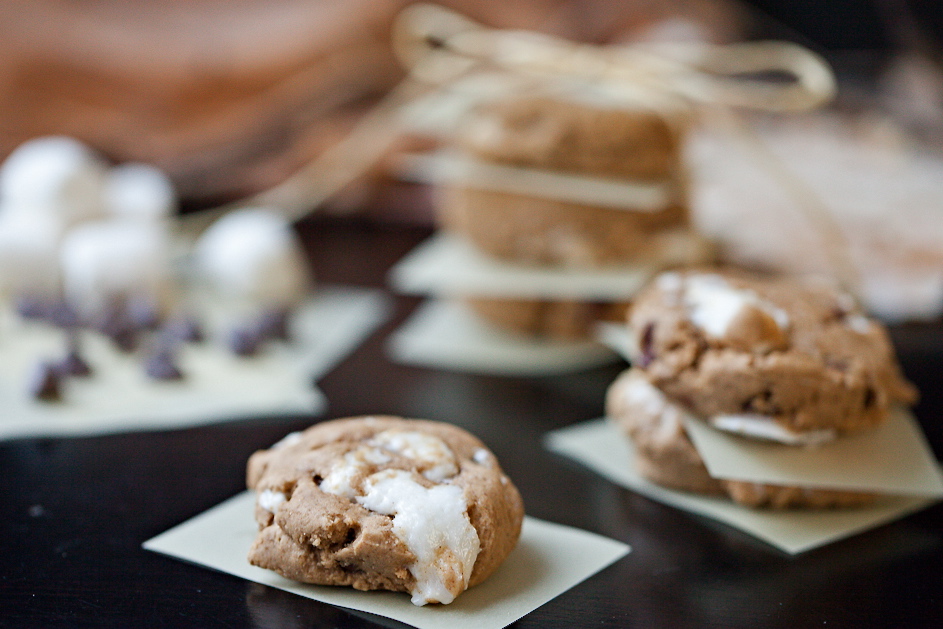 Ingredients
¼ cup brown rice syrup
2 tablespoons blackstrap molasses (or regular molasses)
2 tablespoons maple syrup
1 large ripe banana, mashed
2 tablespoons coconut oil
1 teaspoon chocolate extract
1½ cups gluten-free flour mix, such as Bob's Red Mill (or all-purpose flour)
1 ½ teaspooons Ener-G Egg Replacer
¾ teaspooon ground cinnamon
½ teaspooon baking soda
½ teaspooon salt
¼ teaspooon ground ginger
½ cup chocolate chips
2/3 cup vegan marshmallows, loosely packed, cut in half or into quarters (I used Dandies)
Instructions
Preheat your oven to 350. Line 2 baking sheets with parchment paper.
In a large bowl, thoroughly combine your dry ingredients. Set aside.
In a medium bowl, beat together the mashed banana with the coconut oil. Add the brown rice syrup, maple syrup, molasses, and chocolate extract. Stir until combined.
Make a "well" in the middle of your dry ingredients and pour the wet ingredients in. Mix until just combined. Add the chocolate chips and marshmallows and mix until they are evenly distributed (with not too many big clumps of marshmallows).
Using a tablespoon, scoop the dough in heaping spoonfuls (including at least 1 marshmallow bit in each scoop), and drop onto the prepared baking sheets. Use the bottom of a measuring cup or glass to slightly press each cookie into a thick flat disk.
Bake the cookies for about 8-9 minutes, until firm, but still soft. Remove from oven and let them cool on the baking sheet for about 3 minutes before transferring them to a cooling rack to let them cool completely. Enjoy!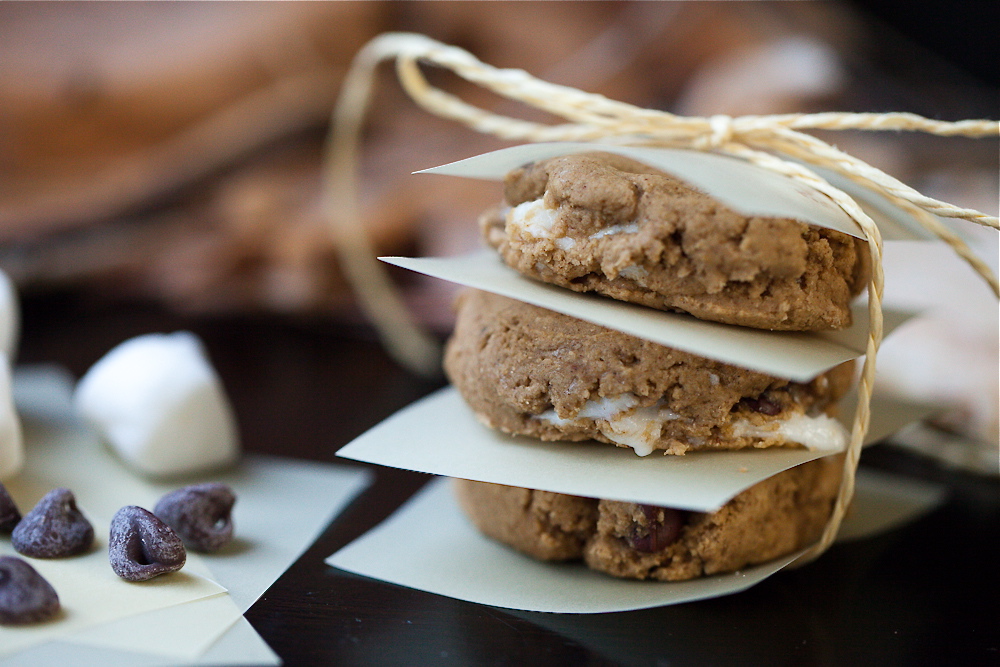 Keepin' It Kind is participating in the Walk for Farm Animals to give hope to millions of abused and neglected farm animals! Please support me by making a Donation today. Together we can make the world a more compassionate place for animals!  Learn more about Why I am Walking for Farm Animals and join our team!
Photography by Chris Miller