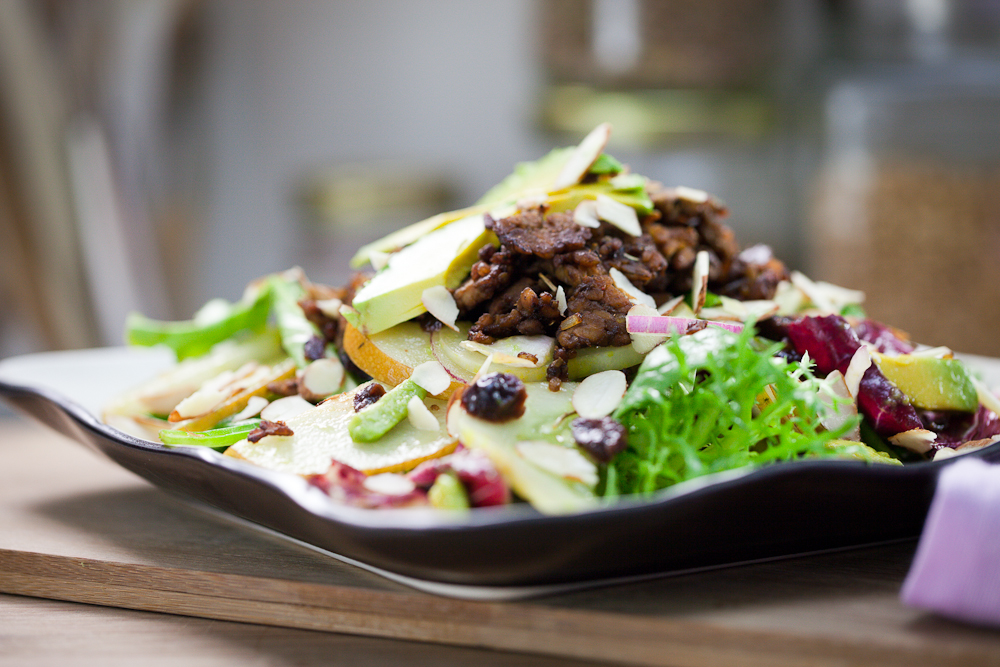 Before we joined our CSA, we stuck to buying the same fruits and vegetables, week after week.  Even at the farmer's market, if I had time to go, I knew which items I wanted and stuck to those.  I didn't bother trying to learn what those "mystery greens" or what that "unidentifiable tubular-shaped vegetable" was.  At home, if I came across a recipe that had an ingredient that I was unsure of, I just didn't make that recipe.  Easy peasy.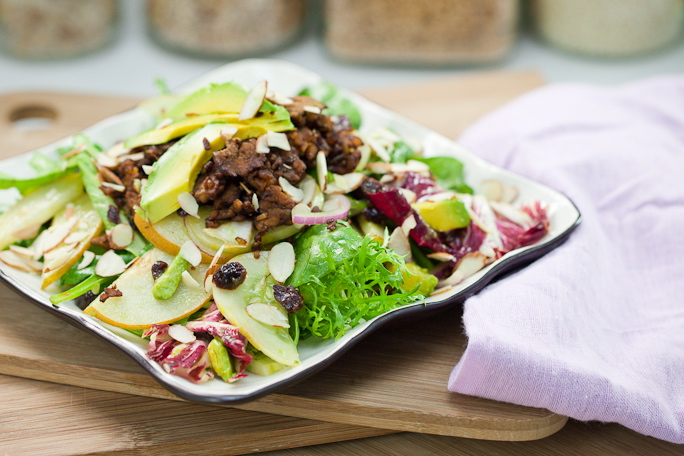 Once we became vegan, we became more interested in where all of our food was coming from.  I began to research the horrors of Monsanto and how terrible produce that is not organic can be for you.  I became aware of how much packaging was being wasted with all of our produce purchases.  I didn't like it.  Not one bit.  We began to transition to mostly organic food (I would say that now we are at about 85-90% organic).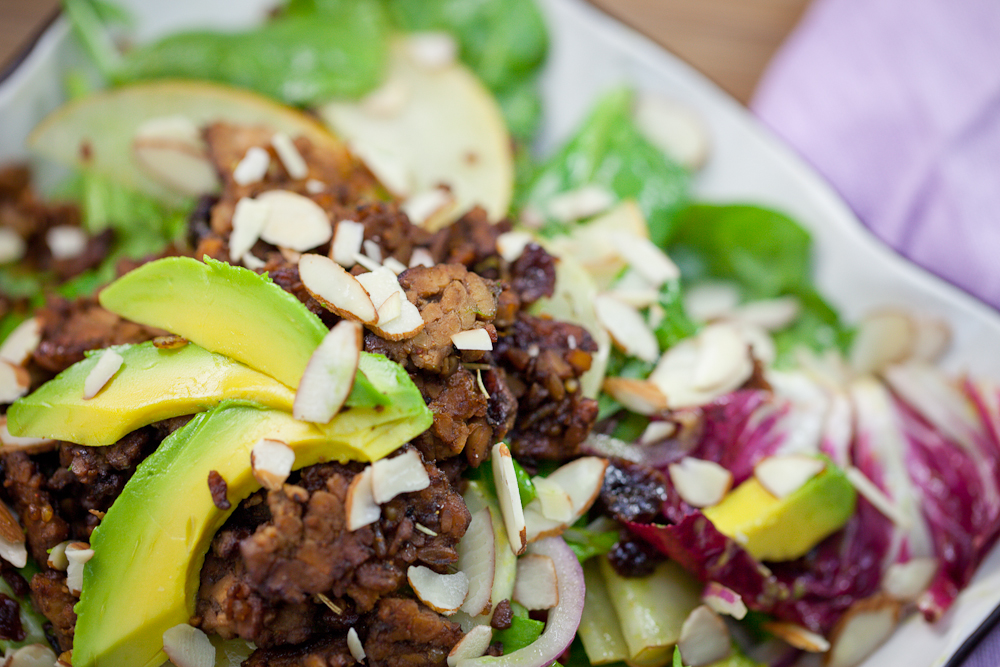 After this transition, we began to realize just how expensive it can get, trying to only consume organic produce.  I also became concerned with the carbon footprint left by transporting organic produce that had been grown in Mexico or Chile.  Since we don't have time to always go to the Farmer's Market, we needed an eco-friendly, inexpensive way to get our organic produce.  I began researching local CSAs (Community Sustained Agriculture) and after trying a couple that left us pretty underwhelmed, we found Savraw.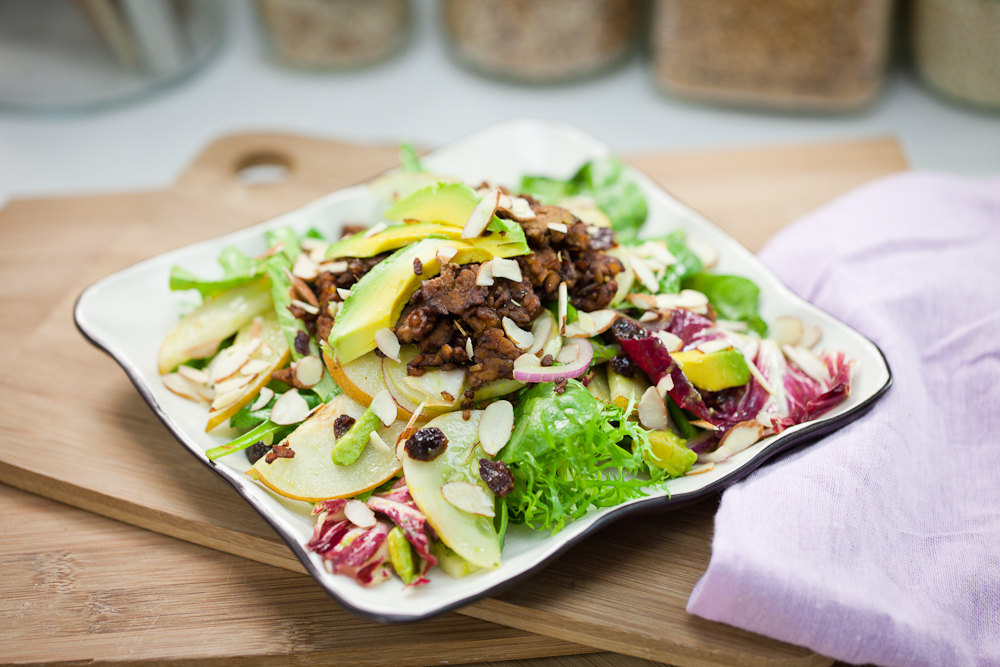 I love Savraw because the fruit and vegetables are always fresh and delicious (truly some of the best produce I've ever eaten) and it's delivered right to my door.  I also get the satisfaction of knowing that our money is supporting local farmers and not corporations.  The best part is that they send me produce I never would think to buy on my own.  Mizuna, Candy Cane Beets, Dandelion Greens, and Star Squash are just a few examples of the great things I've been able to try.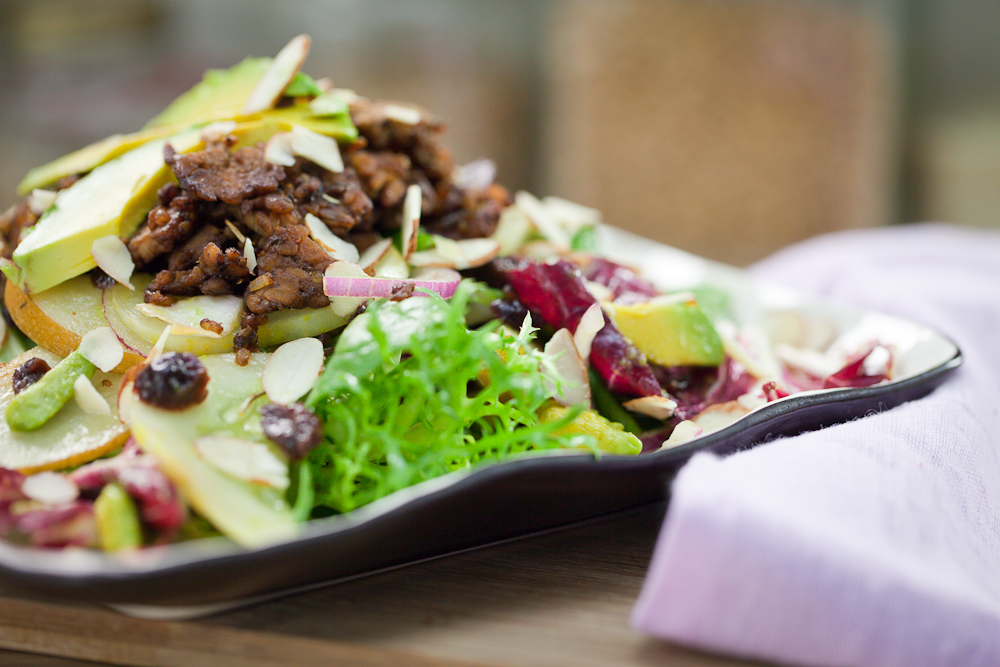 Recently, we received from our CSA, among a number of other wonderful things, asian pears and lemon cucumbers.  Asian pears are probably more familiar sounding, and though I've known of them, I've never bought them because pears aren't my favorite fruit.  They're a little too mealy for my taste, but Asian pears, to my surprise, are very crisp.  They have a little twinge of tartness to them and remind me of apples but a little less juicy.  I immediately wanted to put them in a salad, and opened my fridge to see what else the CSA fairy had brought and I found a handful of lemon cucumbers.  Lemon cucumbers are more bulbous than their popular cousins, and though they share the same texture, they are slightly sweet.  They seemed like the perfect companion to my asian pears and along with some lettuce our CSA brought us, a salad began to form.  I added a few other ingredients we had in the kitchen, but since this was going to be our dinner, I wanted a little protein as well.  This rich and smoky tempeh was perfect, but if tempeh isn't your thing, some baked tofu or chickpeas would also be great.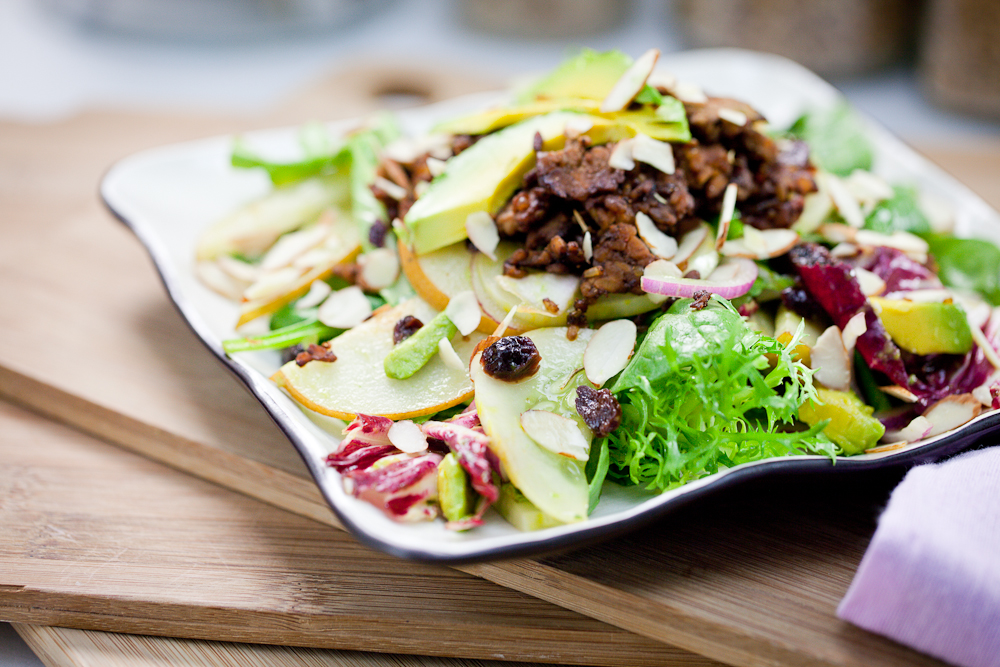 Thanks to our CSA, I'm so much more in awe of the beauty of plants and the huge variety of ways you can eat them, and I'm also more appreciative of the hard work my neighboring farmers do every day so we can have this beautiful organic produce.  If you're stuck in a produce rut, don't be afraid to talk to the vendors at the farmer's market and try some new things.  If you don't have time to go to the farmers market, look for a CSA in your area.  You will be surprised with the creative dishes you are able to come up with, while decreasing your carbon footprint and supporting your local farmers.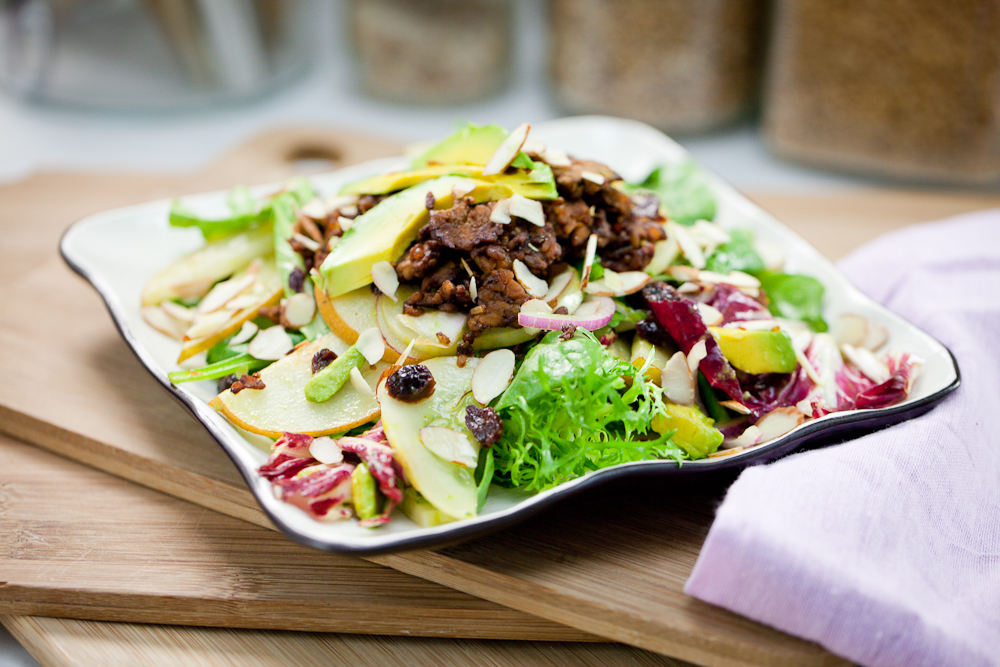 Asian Pear & Lemon Cucumber Salad with Rosemary Molasses Tempeh Bits
Ingredients
4 cups spring mix greens (or other salad greens)
1 medium-large asian pear, quartered and very thinly sliced
2-3 medium-large lemon cucumbers, halved and very thinly sliced
1/2 small red onion, thinly sliced
1/2 avocado, diced
1/4 cup dried tart cherries, roughly chopped
1/4 cup sliced almonds
3-4 tablespoons Trader Joe's Orange Muscat Champagne Vinegar (or white wine vinegar/sherry vinegar)
1/2 8oz package of tempeh
1 tablespoon blackstrap molasses
1 tablespoon balsamic vinegar
1 tablespoon vegetable broth
1/2 tablespoon Bragg Liquid Aminos
1 teaspoon liquid smoke
1 teaspoon dried rosemary, crushed
dash of pepper
Instructions
Very thinly slice your block of tempeh. Place it in a steamer and steam for about 10 minutes, flipping halfway through. You can skip this step if you'd like, but the steaming will remove some of the bitterness (I've done it both ways and like it steamed just a little bit more). In a small cup, mix together the molasses, balsamic vinegar, broth, Bragg Liquid Aminos, liquid smoke, rosemary, and pepper.
Once the tempeh is done steaming, place it in a small frying pan, and heat it over medium heat. Flip it every couple minutes or so, to prevent sticking, but letting each side brown slightly. Let it break a part into small squares or crumbs. Once the tempeh is slightly browned, add the sauce and lower the heat to medium/low. Mix to fully coat all the tempeh and let it cook until the liquid is gone, flipping occasionally to prevent sticking. Once the liquid is gone, lower the heat to low and let it continue to cook and get a little more crisp, continuing to flip occasionally to prevent sticking. Once the tempeh is more on the dryer, crispier side, remove from heat and set aside.
In a large bowl, combine all of the salad ingredients and toss to combine. Divide the salad between two plates and top each salad with the tempeh bits. Serve immediately. Enjoy!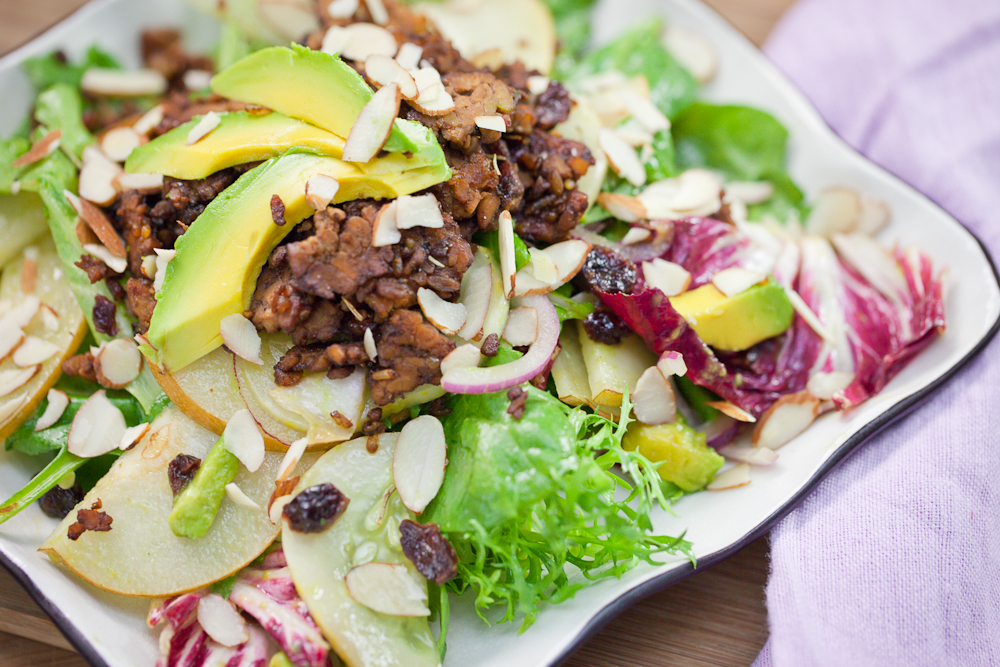 Disclaimer:  Savraw did not ask me to write this.  I am a customer of theirs and my opinions are my own.
Love animals? Help support Farm Sanctuary's mission to protect farm animals from cruelty! Keepin' It Kind's goal is $500, but we can't do it alone! Together, we can make a real difference for farm animals everywhere. Donate today!  Learn more about Why I am Walking for Farm Animals and join our team!
 Photography by Chris Miller