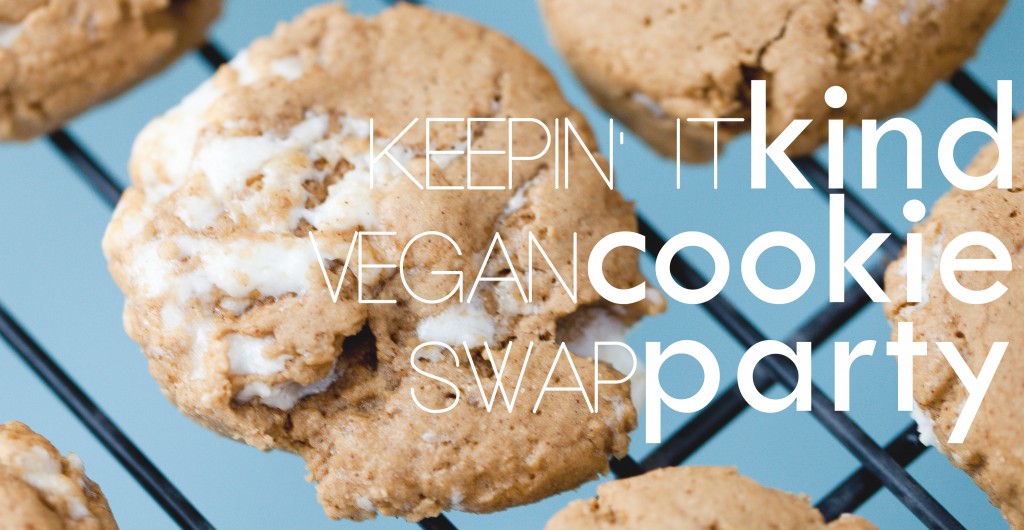 Back in the day, my friend used to host a cookie exchange party every year.  Everyone would bring about 40-50 cookies and the recipe printed out on an index card.  Each person would get to take 2 of each type of cookie as well as the recipe for each cookie.  It was an awesome party and it's something I miss doing each year.  I am ecstatic to tell you all, however, that through December 24th, I will be hosting a virtual, vegan version of this cookie swap party, with tons of guest posts from some of my favorite bloggers.  Keep checking back to see who brings what type of cookie!  
I found Cadry's Kitchen shortly after becoming vegan and what truly resonated with me and made me keep coming back was not just her creative, healthy, simple and ridiculously delicious recipes, but Cadry's compassion and her encouragement for the newly vegan.  Her open letters to a new vegan reaffirmed my decision to become vegan and helped make the transition less intimidating.  Her writing is so passionate while still being eloquent and unintimidating and her sense of humor tickles my funny bone.  Getting to know Cadry has been such a pleasure and I am truly honored to have her here, sharing one of her great recipes along with one of her wonderful stories.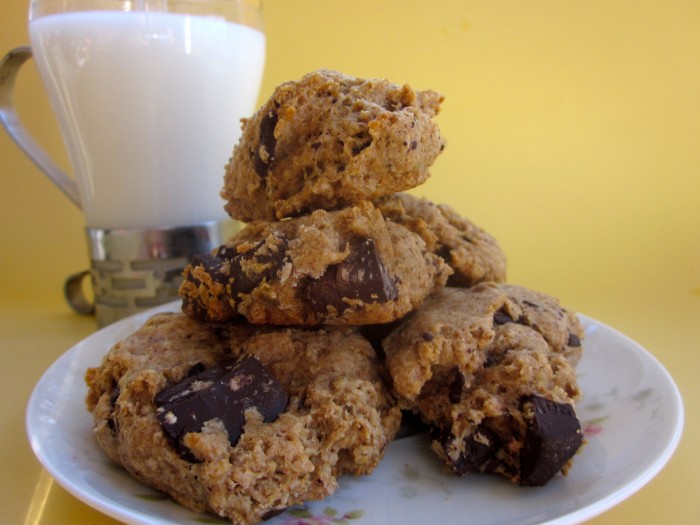 I was so delighted when Kristy asked me to take part in her virtual cookie swap. I've had the pleasure of getting to know Kristy over the past several months, and it's become completely clear from the heart and love that she brings to her blog that she is such a sincere and warm person. You can really feel her kindness, compassion, and good heartedness in every post. For that reason, it seemed natural to share a cookie recipe that has a lot of sentimental value for me…
If there's one thing that the holidays can do outside of crowd a mall parking lot, empty a wallet, and beautify a home, it's fill me with pangs of nostalgia. Whether it's playing my childhood vinyl Christmas album on the record player or hanging ornaments from my travels on the tree, this is a time of year that gives me pause for reflection. While I usually shy away from repeat viewings of movies, once December hits I want to watch Love Actually, Elf, and A Christmas Carol.
Along with those songs and shows, most of us find ourselves reaching for the same holiday food favorites again and again – whether it be stuffing, cranberry sauce, or Soy Nog. Added to that list of foods that I generally only eat around the winter holidays is banana bread.
An aunt of mine who has passed now would bring a few loaves of banana bread and zucchini bread to our holiday parties. I remember those cute little loaves, all wrapped in plastic. I'd slowly peel back the layers and smell the mild sweetness of banana underneath. Cutting into a slice, pinching the moist crumbs that fell from the loaf, and popping them into my mouth just felt like Christmas. As we ate our slices of banana bread, she'd show me origami tricks, like how to fold paper into three-dimensional boxes and dollar bills into rings. Even when I knew by heart how to fold them, I liked for her to show me. It was all part of the ritual and the quiet time that we'd share together.
These holiday cookies are based on those loaves of banana bread but with no slicing necessary. With ripe banana and a hint of vanilla, these softly sweet cookies would be lovely with a hot cup of coffee, English breakfast tea, or a tall glass of rice milk. Because banana and chocolate go together like Ebenezer & Marley, I threw in roughly chopped dark chocolate. For a more classic take, chopped walnuts would also be quite tasty.
I can't make any guarantees about if indulging in Banana Bread Chocolate Chunk Cookies will cure the nostalgia growing in you too. But why fight it? Press play on George C. Scott, fold a dollar bill into impromptu jewelry, and let the Spirit of Christmas Past move you.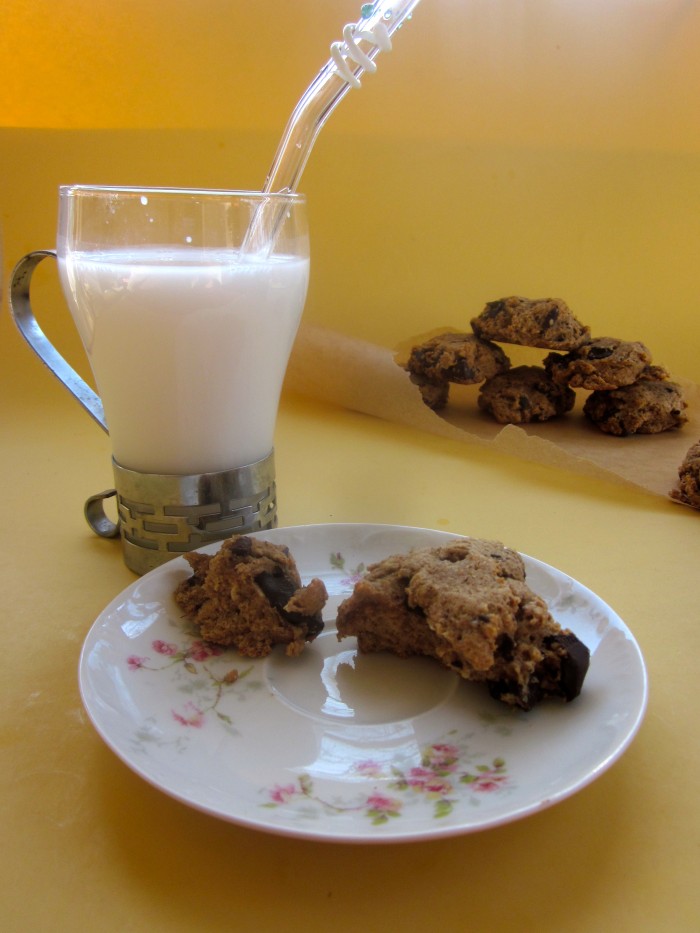 Cadry's Banana Bread Chocolate Chunk Cookies
Ingredients
1 cup whole wheat pastry flour
½ teaspoon baking soda
1 teaspoon baking powder
½ medium-sized ripe banana
2 Tablespoons agave syrup
3 Tablespoons applesauce
1 teaspoon vanilla extract
2 Tablespoons canola oil
½ of a 3.5 ounce bar of dark chocolate, roughly chopped into bite sized chunks (or ¼ cup of semi-sweet chocolate chips)
Instructions
Preheat oven to 350 degrees. Cover two baking sheets with parchment paper and set aside.
In a large mixing bowl, combine whole-wheat pastry flour, baking soda, and baking powder with a fork until combined. In a separate bowl, smash a banana with a fork until mostly smooth. Add agave syrup, applesauce, vanilla extract, and canola oil and combine. Add the wet ingredients to the dry ingredients and mix until it becomes a dough. Add the roughly chopped chunks of dark chocolate and combine, being careful not to overwork the dough. Using a Tablespoon, scoop the dough onto two parchment paper-covered baking sheets. Lightly press on each cookie, slightly flattening it. Bake for ten minutes. Remove the baking sheets from the oven, and slide the cookies on the parchment paper to the counter to cool.
Thanks for stopping by and be sure to come back on Saturday to see who our next special guest is and what they bring to the party!  Thank you so much, Cadry,  for bringing these incredible cookies (chocolate and banana bread... in a cookie! I mean, come on!!!)!   
Be sure to check out the rest of the cookies at the party: