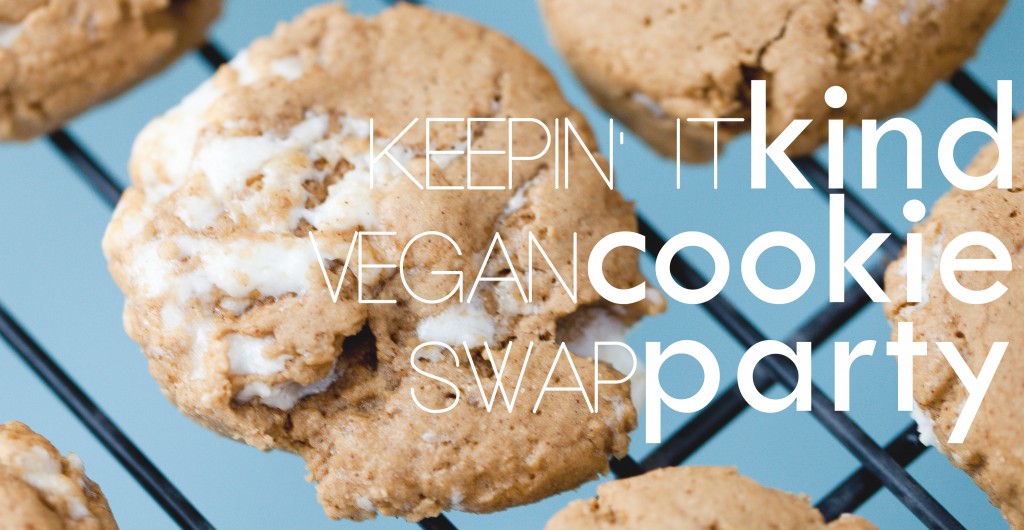 Back in the day, my friend used to host a cookie exchange party every year.  Everyone would bring about 40-50 cookies and the recipe printed out on an index card.  Each person would get to take 2 of each type of cookie as well as the recipe for each cookie.  It was an awesome party and it's something I miss doing each year.  I am ecstatic to tell you all, however, that through December 24th, I will be hosting a virtual, vegan version of this cookie swap party, with tons of guest posts from some of my favorite bloggers.  Keep checking back to see who brings what type of cookie!  
I love to look at desserts.  The last time I was in France, I needed to step in to every single patisserie and just ogle all of the gorgeous desserts and how perfectly they were presented.  I didn't need to buy anything, I just wanted to look.  It's a quirk of mine, but it adds to my charm.  Anywho, Ashlae, of Oh, Ladycakes, consistently indulges my desire to stare at stunning desserts.  And she does so while both making me laugh out loud and warming my heart at the same time.  Ashlae is also a great writer with a big heart, which makes it all the more fun to visit her blog.  It is such a pleasure to have Ashlae here today- please join me in ogling these incredible little cookies  welcoming her to the cookie swap party!
Ever since I can remember, my Oma (translation: Grandma) hired a man to dress up as Santa Claus and hand out presents at our family's Christmas Eve celebration. I don't know how she found him, but this guy was legit - aside from having an authentic suit and a set of sleigh bells, he also had a real beard (A REAL BEARD) and nailed the whole Ho! Ho! Ho! thing perfectly.
And then one year, Santa didn't make an appearance. Without any reason or explanation (the only one I can come up with is that Santa.. died?), we just went about our gift opening as normal people who don't have a crazy German Grandma that thinks it's hilarious to make her grandchildren sit on Santa's lap, long after they've grown into full-size humans.
Fast forward to three years after Oma stopped hiring a man to dress up as Santa. The youngest kids were of legal drinking age and, not surprisingly, not one of them had a single toy on their wish list. Anyway, we had just finished dinner - where Oma made it a priority to check the time every five minutes - and before we could get started on dessert, the old lady rushed us out of the dining room. We were escorted to the main living area, where we were told to sit and wait. For something.
Moments later the doorbell rang, and we all shot looks of disbelief at one another. I looked at Thom and warned him of the inevitable: Brace yourself, Santa is going to come walking through that door any minute now.
The real Santa? he asked.
Don't be ridiculous. YES THE REAL SANTA.
And next thing we knew, in walked a jolly man decked out in full Santa gear. He didn't have a real beard, nor did he have the whole
Ho! Ho! Ho!
thing down like the last guy, but his cheeks were extra rosy and his Christmas cheer was wildly infectious. He made comments about how we'd all gotten so big, and then one by one, we were forced to get our gifts and sit on Santa's lap. At the end of the night, we snapped
a group shot with the merry guy
, and I declared Christmas 2010 the greatest Christmas ever.
Thanks for having me, Kristy! And have a cheerful holiday season, folks.
Notes: Feel free to substitute equal amounts of gluten free flour for the all purpose flour - I've tried it, it works. Make sure you also add 3/4 teaspoon xanthan gum. If you prefer a super spicy cookie, I'd advise increasing the ginger and cloves (each by 1/4 teaspoon). If you don't have mini cutters on hand, just use normal sized cutters, but you'll want to bake the cookies for about 8 minutes.
Ashlae's Mini Gingerbread Folk
Ingredients
1/2 cup vegan butter
1/2 cup cane sugar
1/2 cup unsulphured molasses
1 flax egg
3/4 tsp ground ginger
3/4 tsp ground cinnamon
1/2 tsp ground cloves
1/4 tsp fine sea salt
1/2 tsp baking soda
2 1/2 cup unbleached flour
Instructions
In a large mixing bowl, cream the butter, sugar and molasses, using a hand mixer on high speed, for 20-30 seconds. Beat in the flax egg, ginger, cinnamon, cloves, salt, and baking soda, just until combined. Using a wooden spoon, mix in the flour 1/2 cup at a time. Once you've added 2 cups, mix in the remaining flour 1/4 cup at a time. If the dough feels firm enough after 2 1/4 cups of flour have been added, omit the last 1/4 cup.
Preheat oven to 350˚F. Line a large baking sheet with a silicon mat or parchment paper; set aside. Line a flat surface with parchment paper and lightly sprinkle with flour (or cocoa powder). Roll out half of the dough until it is about 1/4" thick. Cut dough and transfer pieces to the prepared baking sheet; chill in freezer for 5-10 minutes prior to baking (this will help the cookies to retain their shap). Bake at 350˚F for 6-7 minutes. Transfer to cooling rack then store in an air tight container for up to five days.
Thanks for stopping by and be sure to come back on Thursday to see who our next special guest is and what they bring to the party!  Thank you so much, Ashlae, for bringing these adorable little gingerbread folk!
Be sure to check out the rest of the cookies at the party: