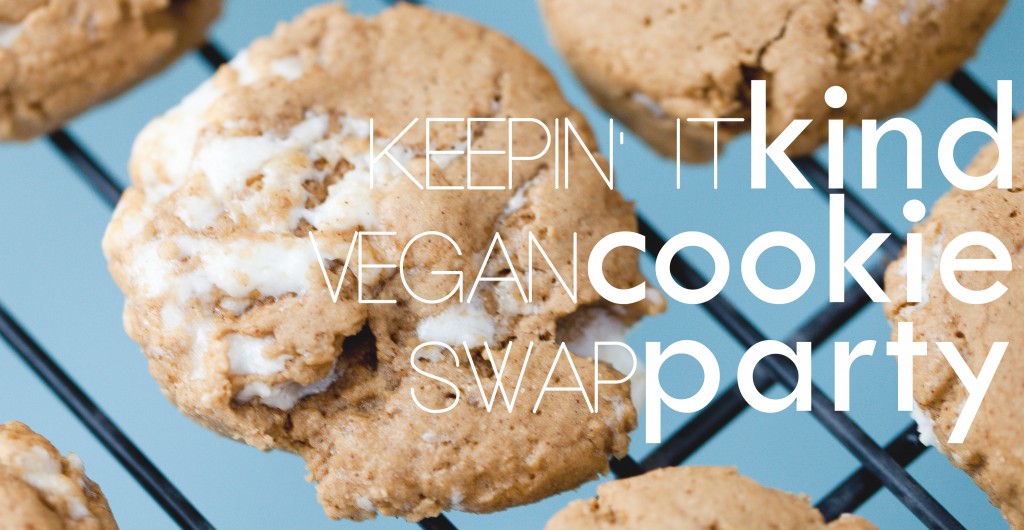 Back in the day, my friend used to host a cookie exchange party every year.  Everyone would bring about 40-50 cookies and the recipe printed out on an index card.  Each person would get to take 2 of each type of cookie as well as the recipe for each cookie.  It was an awesome party and it's something I miss doing each year.  I am ecstatic to tell you all, however, that through December 24th, I will be hosting a virtual, vegan version of this cookie swap party, with tons of guest posts from some of my favorite bloggers.  Keep checking back to see who brings what type of cookie!
When I first started to get to know Gabby, from The Veggie Nook, she mentioned to me that she "may or may not have thrown an Arrested Development theme party,", which caused me to ask the person nearest to me (which happened to be my dog) "Why does Canada have to be so dang far away?"  From that point on, I began to follow The Veggie Nook regularly and what I fell in love with is Gabby's calm and peaceful demeanor as well as her passion to help people live a healthy plant-based lifestyle.  I always learn something new from Gabby.  Even things that I struggled to commit to memory while studying nutrition in college, she finds ways to make them simple to understand and easy to use in everyday life.  Gabby also always puts the most creative, "out-of-the-box" spins on her recipes which leave me wondering "Why didn't I think of that?"  The cookies that Gabby has brought to the party today are no exception- I hope you enjoy them as much as I do!    
i feel so honoured to have been asked by kristy to participate in this cookie swap. kristy is a blogger who i have so much respect for- her recipes are out of control amazing, her site is beautiful and she never fails to deliver words of wisdom, guidance and strength. i often finish reading her posts filled with a wonderful feeling of hope and warmth. i feel so lucky to have gotten to know her through the blogging world. so of course when she invited me to bring some cookies to share, i had to say yes!
every family has a cookie that just has to be made at christmas. for some, it's the classic sugar cookie, decorated meticulously with multi-coloured icing, or maybe it's the oh-so seasonal gingerbread or something of the peppermint and chocolate persuasion. but for me, it's a much more simple and unassuming cookie that launches me into holiday mode. the scent and taste of it simply screams christmas to me. it's the nutmeg log.
in case you've never had the pleasure of tasting a nutmeg log for yourself, it is like a cross between a shortbread and sugar cookie, spiced with nutmeg and topped with a simple frosting (often kicked up with rum) and sprinkled with more nutmeg. they're shaped to look like logs with lines drawn in the icing to look like bark
the tradition of this cookie started with my mom, who first made them when she was around my age. she remembered how she found solace and comfort in carefully shaping them when she was going through a difficult time. i myself have received similar comfort from these treasures and thus they will always have a special place in my heart.
the original recipe i got this from comes from a page torn out of a magazine years and years ago, but i've adapted it to make it vegan and healthy! but just because it's healthy and free of butter, eggs and refined sugar, does not mean these are not delicious! the cookie itself is made with whole oat flour instead of white for a whole-grain, gluten-free treat and the sugar is replaced by coconut sugar making them low-glycemic! using coconut oil instead of butter, these simply melt in your mouth. the icing is made with cashews and coconut butter for a rich and creamy topping loaded with healthy fats and protein. finally, the taste of nutmeg in the cookie and sprinkled on top ignites your taste buds, giving these an almost egg-nog flavour. except of course without all those eggs 😉
and the scent coming from the oven as these bake is ridiculous- it's so difficult to wait for these to cool before icing them! they fill your house with a lovely rich, spicy scent that is perfect for the holiday season. and looking cute as these do, how could you not make them?
Ingredients
2 2/3 cups oat flour
2 tsp nutmeg
1/4 tsp sea salt
1 cup coconut oil
3/4 cup coconut sugar
4 tbsp applesauce + 1 tbsp ground flax, mixed together
2 tsp vanilla extract
1/2 cup soaked cashews
1/4 cup almond milk/rice milk
1/4 cup coconut butter, softened
2 tbsp coconut nectar/brown rice syrup
3/4 tsp lemon juice
1/2 tsp vanilla
1 - 1 1/2 tsp rum extract (i didn't add this time)
nutmeg for sprinkling
Instructions
soak cashews overnight or for 8 hours.
preheat oven to 350f. stir together the flour, nutmeg and salt.
cream together the butter and coconut sugar, gradually adding the sugar until fluffy. stir in the applesauce-flax mixture and vanilla.
add the flour mixture in 3 parts, stirring to incorporate fully each time.
on a lightly floured surface, shape with hands by rolling pieces of dough into long ropes 1/2-inch in diameter. cut ropes into 3-inch lengths. place 1-inch apart on a parchment paper-lined cookie sheets and bake for 12-15 min or until brown on the bottom. remove to racks to cool.
make the frosting: blend cashews with other ingredients (except nutmeg) until smooth.
spread frosting on each of the cooled cookies and mark each with the tines of the fork to resemble bark. sprinkle with nutmeg.
store in the fridge. when in the fridge the icing hardens and when brought to room temperature the icing will soften. keep this in mind in case you're transporting them. these also freeze very well!
hope you all enjoy these cookies and wishing you all the happiest holidays!
Thanks for stopping by and be sure to come back Saturday to see who our next special guest is and what they bring to the party!  Thank you so much, Gabby, for sharing these family favorites!
Be sure to check out the rest of the cookies at the party: