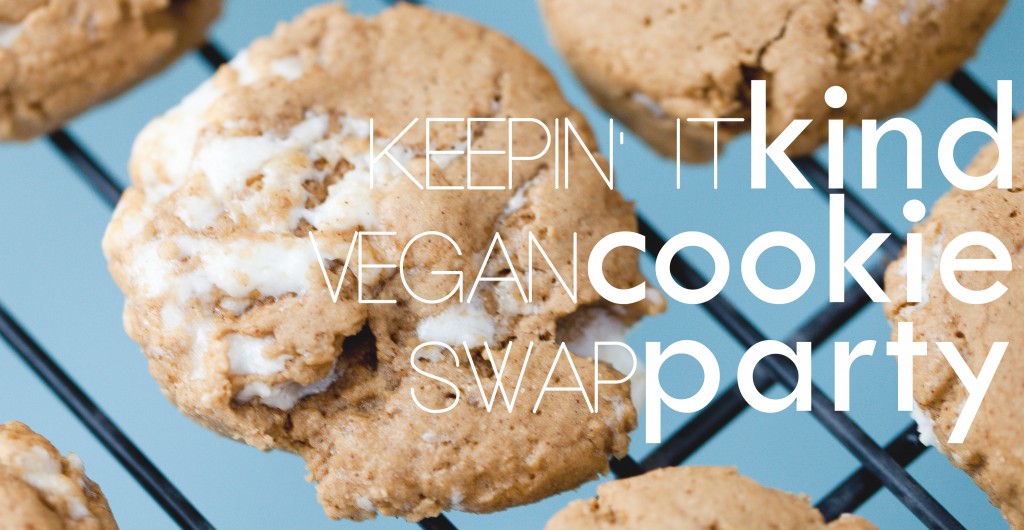 Back in the day, my friend used to host a cookie exchange party every year.  Everyone would bring about 40-50 cookies and the recipe printed out on an index card.  Each person would get to take 2 of each type of cookie as well as the recipe for each cookie.  It was an awesome party and it's something I miss doing each year.  I am ecstatic to tell you all, however, that tfor the last month, I've been hosting a vegan version of this cookie swap party, with tons of guest posts from some of my favorite bloggers.  Today I wrap it up with my own contribution.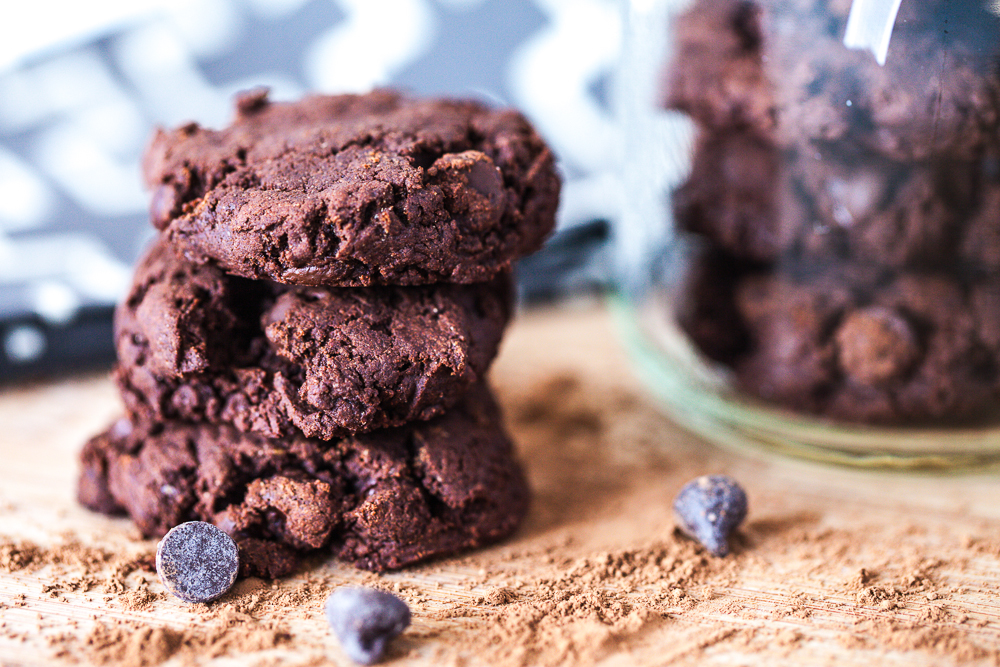 Growing up, Christmas was all about the chocolate.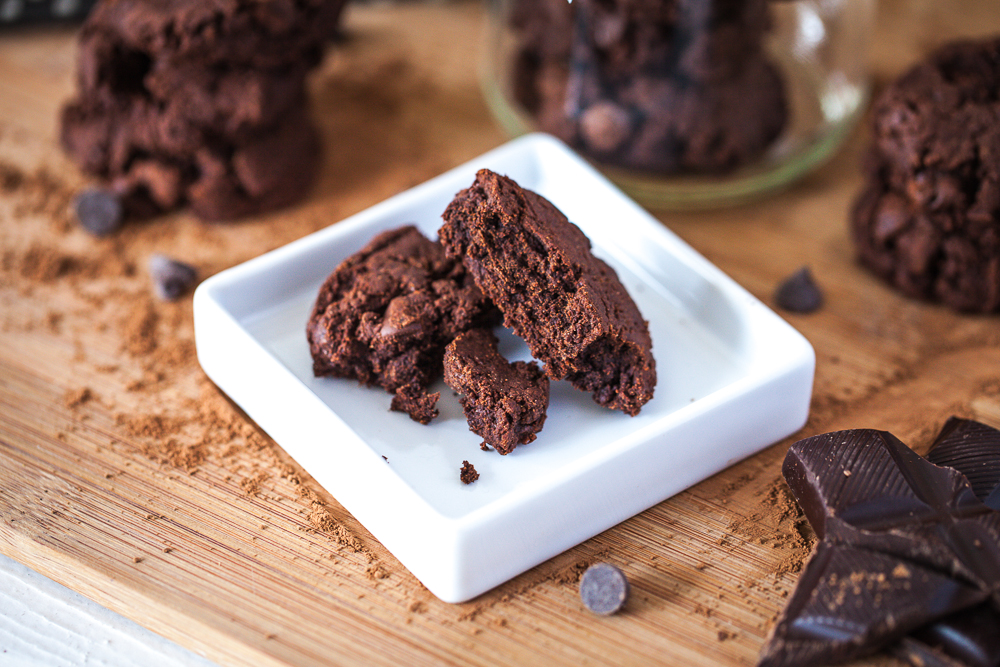 Okay, maybe it wasn't all about the chocolate, but boy did it play a significant part.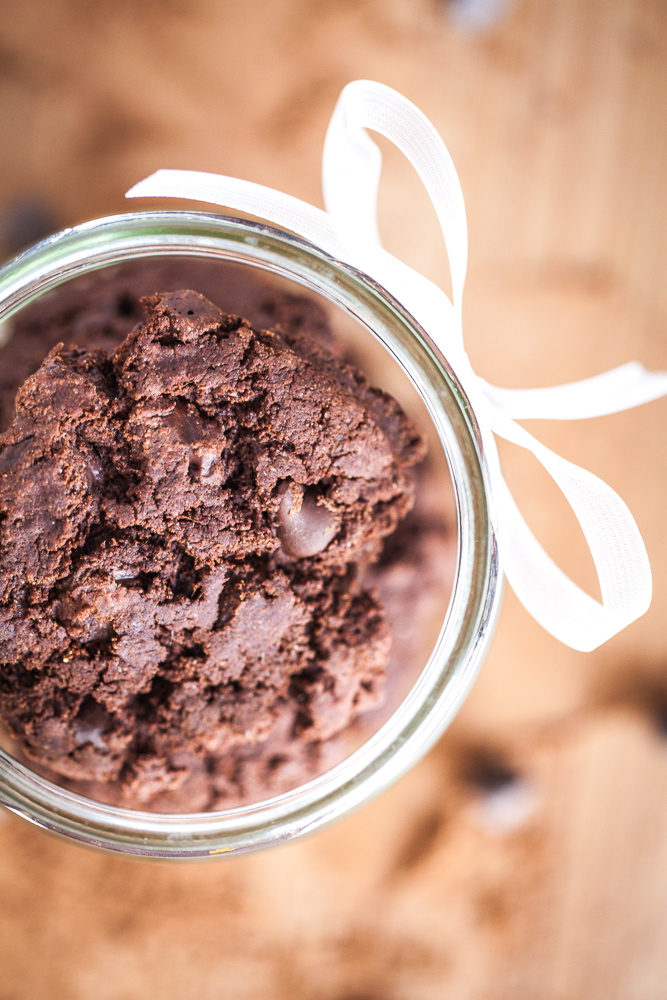 Santa knew me way too well, so he would fill my stocking with a giant chocolate santa, chocolate covered marshmallow snowmen, and chocolate covered peanut butter christmas trees.  He would also throw in some festively wrapped hershey kisses for good measure.  Then there was the bowl of red and green m&m's on my grandma's coffee table that, for some reason, she had to keep refilling.  There was also my mom's fudge and the platter of chocolate chip cookies and brownies that had no limit because, hey, it's Christmas!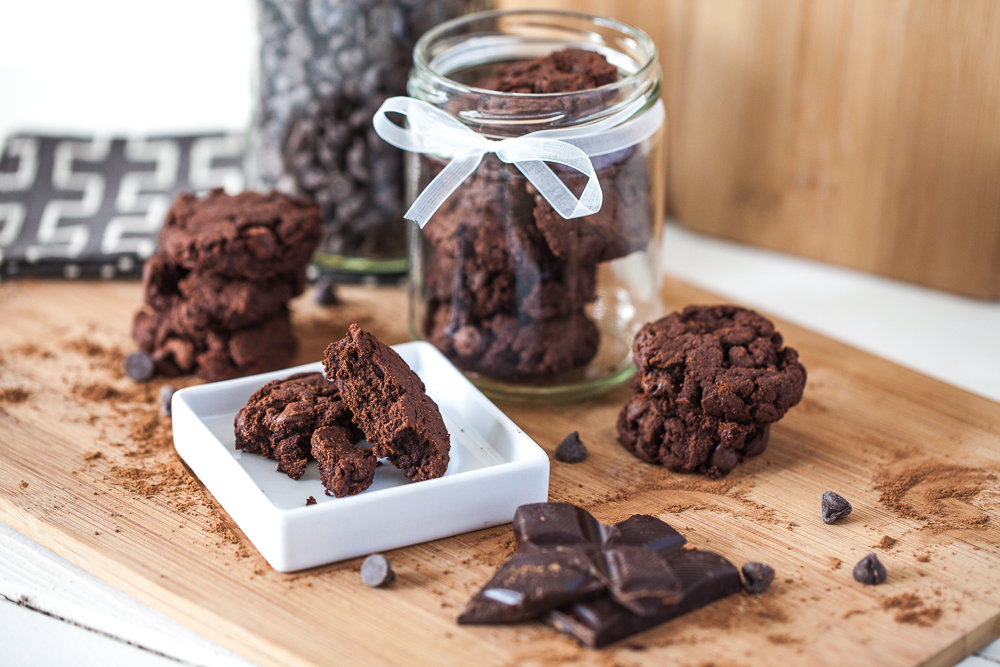 Every year, when trying to sort out my holiday baking, I find it hard to not incorporate chocolate into all of my creations.  I have to keep reminding myself that not everybody loves chocolate the way that I do (those crazy relatives- you know who I'm talking about).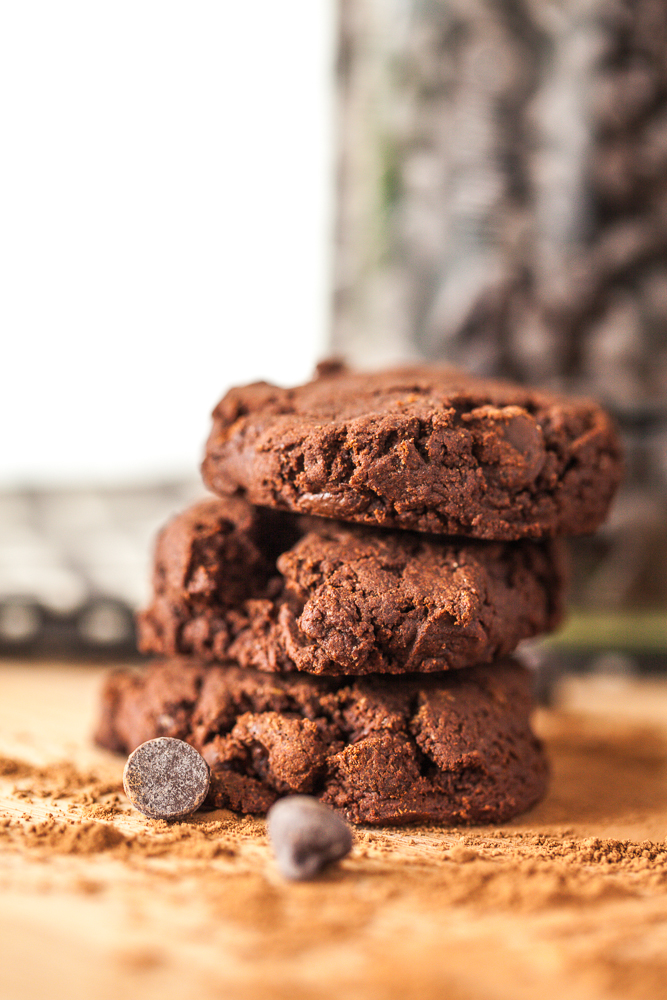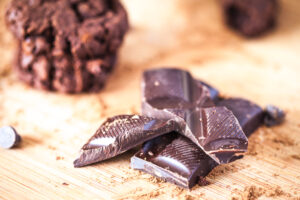 This year, I decided to combine all of my chocolate needs into one cookie.  Four kinds of chocolate join forces to make this holiday treat: cocoa powder, bars of super dark chocolate (88% cacao!), chocolate extract, and vegan dark chocolate chips.  And if you wanted to be even more hard-core, you could melt cocoa butter with the chocolate, in place of the butter.  But that's only for the truly hard-core chocolate lovers.  Hard.  Core.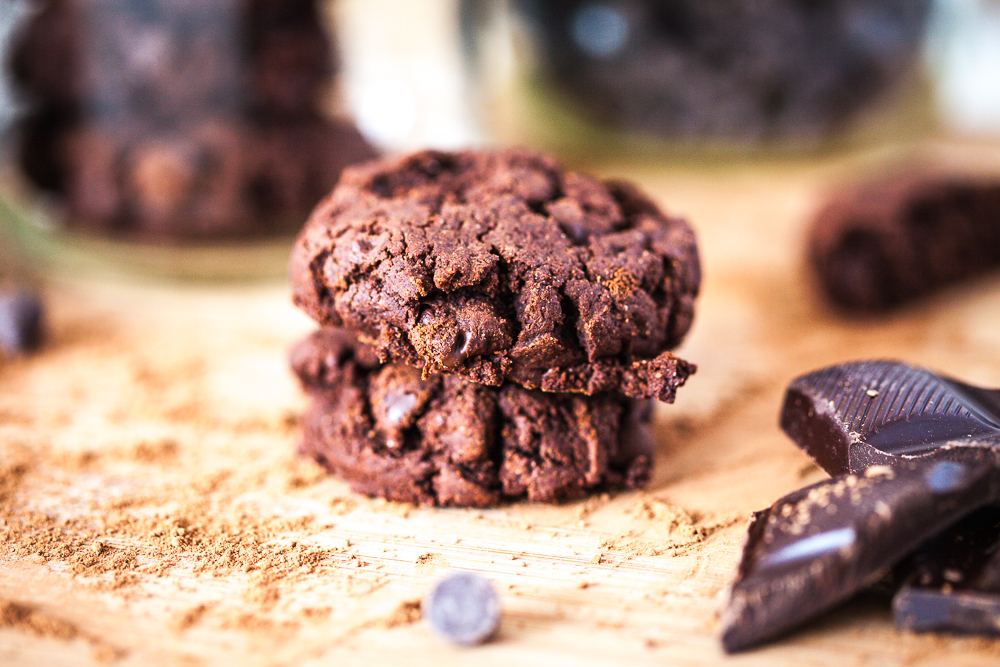 If you have any chocolate lovers on your list, or you've been looking for that last minute gift for yourself someone special, these cookies are begging you to make them.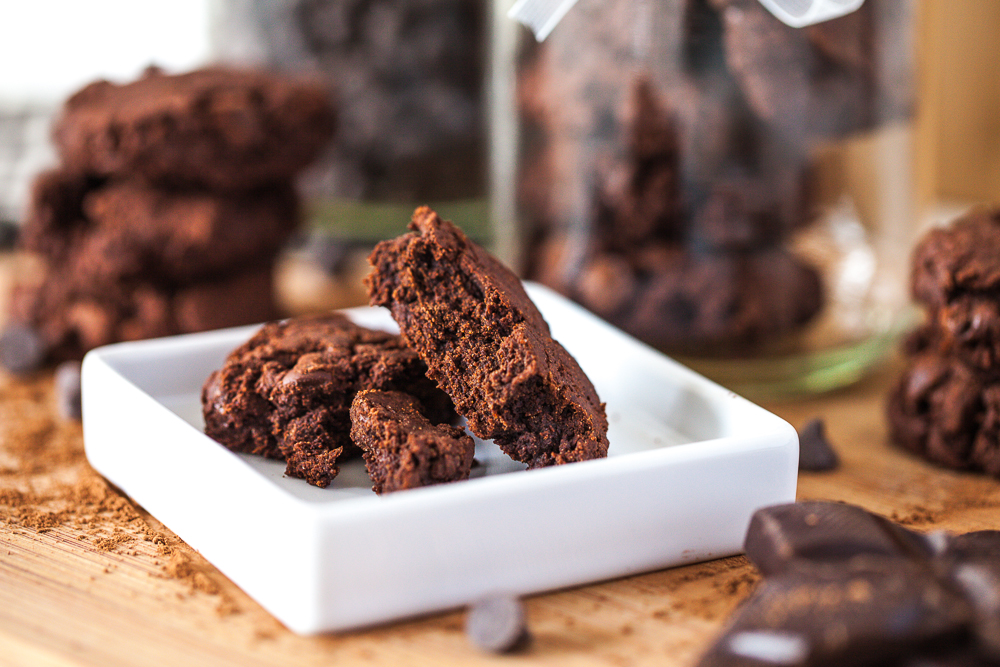 Kristy's Ultimate Quadruple Chocolate Chip Cookies
Ingredients
1 cup gluten-free flour (or all-purpose flour)
3 tablespoons dutch-process cocoa
1 teaspoon baking powder
½ teaspoon baking soda
1/2 teaspoon xanthum gum (only if using gluten-free flour, optional)
1/2 teaspoon salt
1 cup vegan dark chocolate, chopped
3 tablespoons vegan butter
½ cup coconut sugar
1/2 cup applesauce
2 teaspoons chocolate extract
1 cup vegan chocolate chips
Instructions
In a medium bowl, mix together your dry ingredients.
Heat your cup of chopped chocolate with the vegan butter in a in a large glass bowl over a pot of boiling water. Once it is fully melted, remove from heat. Add in the rest of the wet ingredients and mix thoroughly.
Add the dry ingredients to the wet ingredients and stir until just combined. Fold in the chocolate chips. Cover the bowl and refrigerate for 1 hour.
Preheat oven to 350 and line 2 baking sheets with parchment paper. Remove cookie dough from the refrigerator.
Using a tablespoon to scoop heaping spoonfuls of dough onto the cookie sheet. Wet the bottom of a measuring cup and use it to lightly flatten each of the cookies. If desired, sprinkle each cookie with a very tiny bit of sea salt (I used pink himalayan sea salt because I like to be fancy). Place in the oven and bake for 10-12 minutes, until edges are browned but centers are still slightly soft. Remove from oven and let them cool on the sheet for about 2-3 minutes before transferring to a cooling rack. It's best to let them cool completely before serving, but it would be a sin not to try one while they're hot. Enjoy!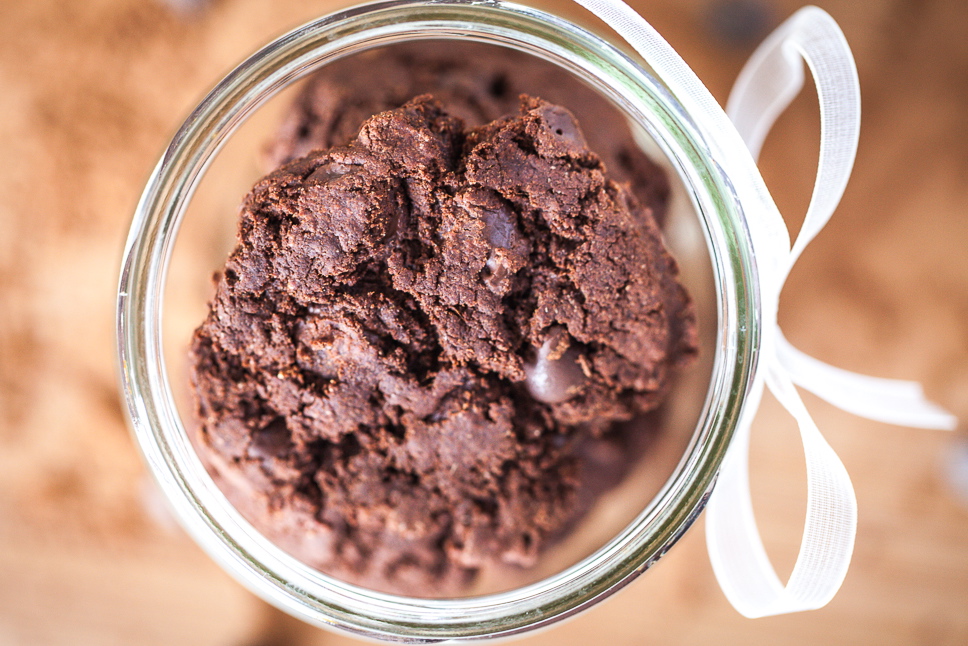 Photography by Chris Miller
Thank you so much for keeping up with my vegan cookie swap party!  I have been absolutely blown away by the creativity and thought that went into each cookie- all of you ladies are incredible and I am so thankful that you participated.  I can not wait to do it again next year!  I wish you all the happiest of holidays!  Have a fantastic rest of your week and I'll catch you before the new year!
Be sure to check out the rest of the cookies at the party: