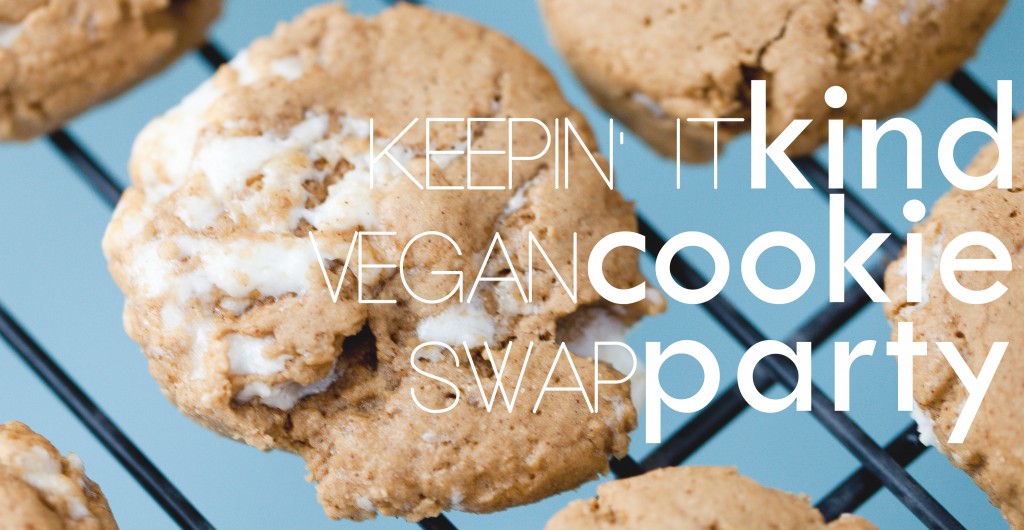 Back in the day, my friend used to host a cookie exchange party every year.  Everyone would bring about 40-50 cookies and the recipe printed out on an index card.  Each person would get to take 2 of each type of cookie as well as the recipe for each cookie.  It was an awesome party and it's something I miss doing each year.  I am ecstatic to tell you all, however, that through December 24th, I will be hosting a virtual, vegan version of this cookie swap party, with tons of guest posts from some of my favorite bloggers.  Keep checking back to see who brings what type of cookie!  
In our daily lives, it is so easy to caught up in things on our to-do lists or something that happened last week (or last month or last year), that we forget about right now.  We forget that at this very moment, none of that matters.  We have all that we need at this very moment to live and breathe and be happy.  We don't need to make things so complicated, we don't need all that extra "stuff."  Shira, from In Pursuit of More, constantly reminds me that it's so much easier to live simply, and not only is it better for us, but when living with less, you actually gain more.  Shira has even started her own non-profit organization, Not So Fast, which helps raise money to provide locally-grown food for less-privileged families, while also teaching the youth in these communities how to cook simple meals with this food.  In other words, Shira is a beautifully inspirational woman.  I am absolutely beside myself to have her here today, sharing one of her simple, yet mouth-watering recipes.
Aren't the holidays a wonderful time of year? I've got to say I was pretty psyched when Kristy invited me to join this cookie exchange - what a fabulous reason to head into the kitchen to veganize an all time family favorite of mine!
I should start this post with an admission though, and that is that I am guilty of forgetting how wonderful a fresh batch of home-baked cookies can turn a good day into a great one, or how the simple act of baking can relax us and bring so much joy to those who get to enjoy the results.
This recipe is a perfect example, as I have not eaten one of these little darlings in years. That was a serious shame.
Just the thought of making this recipe brought me right back to Christmas time in the family home. Memories of the scratched cookie tins that held these little bundles of love each year, and my mom's loving and generous energy every time she pulled another batch from the oven.
Love. That is what is in these.
I always thought they were complicated. But the truth is, they are dead simple to make and are incredibly forgiving.
This newly veganized version proved that old favorites can be re-made to fit our needs and desires of today, without sacrificing or losing anything. I simply replaced the butter & egg in the recipe with coconut butter & flax eggs and voila! Easy, cheap, and delicious. I am not letting this one get away again, not ever, and neither should you! They are just too special not to.
Shira's Gramma's Raspberry Birds Nest Cookies
Ingredients
(2) tbsp flax seeds
(6) tbsp warm water
(1/2) cup coconut butter, at room temperature
(1/3) cup sugar
(1/2) tsp vanilla extract
(1/4) tsp salt
(1) cup flour
(1-1.5) cups walnuts, ground (or very finely chopped by hand)
your favorite raspberry jam for filling the cookies, (about 1/3 cup)
Instructions
Heat the oven to 350 degrees. Start by mixing the flax seeds and warm water in a blender and let sit for a few minutes while you tend to gathering the rest. Grind the walnuts to a medium grind (not too fine but not too coarse either) and set aside in a flat baking tray or rimmed serving plate.
To mix the butter & sugar, simple cream the two together in a medium bowl and cut with a fork, working to get any lumps from the coconut butter out (obviously if you have an electric mixer this is easy work). If you are really adventurous, you can squish the lumps with your hands and cream the sugar & butter that way too. Mix the two until uniform and soft.
After about 5 minutes of soaking together, blend the flax & water mixture until the seeds are well broken down and the mixture has formed a gooey, gelatinous texture. Scrape the mixture out (use a spatula to get it all out!) directly into the butter & sugar bowl and set the blender aside.

*Alternatively if you are using ground flax seeds you can skip the blender step entirely and just stir the mixture after it sits for a few minutes.

Add the vanilla and stir to combine. Add the flour and salt next and mix the dough together until uniform (your hands are the best tool for this).
Next, roll the dough mixture into roughly 2 inch balls and then flatten gently. Push the cookies into the ground walnuts and allow both sides of the entire surface of the cookies to be enveloped in the crushed nuts. Feel free to gently push the nuts into the dough to get more in there.
Place the cookies on a cookie sheet (no need to oil it beforehand) and with your hands, gently form the rim around the 'nest'. Once all the cookies are formed and ready, spoon (just a little) of the raspberry jam into each nest. Each cookie will hold about a scant tablespoon or so of jam.
When all of the nests are lovingly filled, put the cookies in the pre-heated oven and bake for 12 minutes. Once done, remove from the oven and allow to rest on the pan for 3-5 minutes before gently moving to a cooling rack with a flipper.
Enjoy these beauties with a cold glass of your favorite milk or a hot cup of Rooibos tea.
I am so happy & grateful to have had this reason to bring them back, and again I must extend a huge thanks to Kristy for the gracious hosting of this cookie exchange, a fabulous idea! I am so looking forward to trying some of your favorites too 🙂
All this sharing reminds me of just why I love this time of year - thank you so very much for joining us and I can't wait to see what's next!
Yours in Less,
Thanks for stopping by and be sure to come back on Saturday to see who our next special guest is and what they bring to the party!  Thank you so much, Shira,  for sharing your mom's stunning treats!   
Be sure to check out the rest of the cookies at the party: