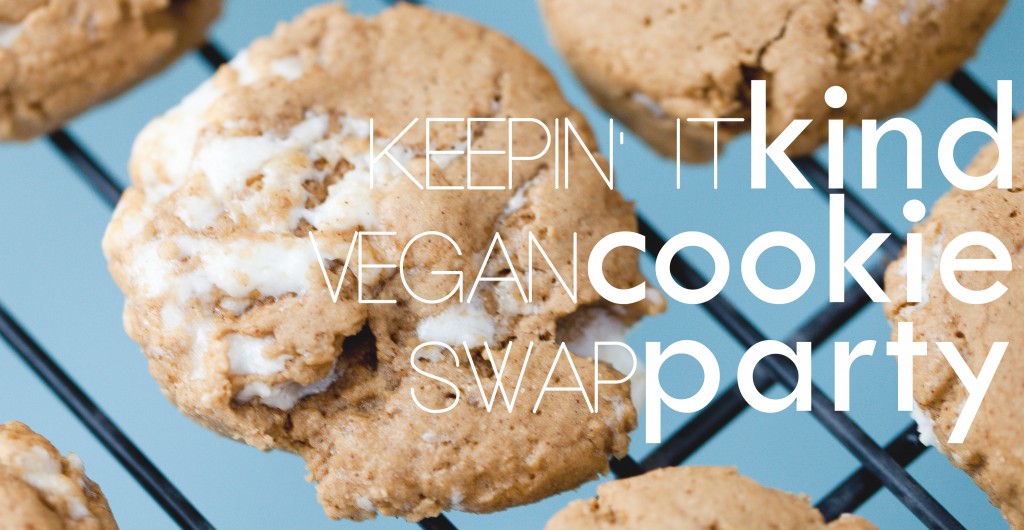 Back in the day, my friend used to host a cookie exchange party every year.  Everyone would bring about 40-50 cookies and the recipe printed out on an index card.  Each person would get to take 2 of each type of cookie as well as the recipe for each cookie.  It was an awesome party and it's something I miss doing each year.  I am ecstatic to tell you all, however, that through December 24th, I will be hosting a virtual, vegan version of this cookie swap party, with tons of guest posts from some of my favorite bloggers.  Keep checking back to see who brings what type of cookie!  
When I'm not working, one of my favorite things to do, is make a cup of coffee and sit at the computer and do some blog reading.  One of the first blogs to show up in my inbox each day is Annie's blog, An Unrefined Vegan.  Sipping coffee while checking out Annie's newest creation each morning is such a delight.  As her blog's moniker suggests, Annie does not use refined ingredients, but instead creates beautiful and delicious recipes filled with natural, healthy ingredients.  On top of being an incredibly creative and talented baker and chef, all of her posts are so incredibly heartfelt. When reading Annie's blog, I never know if I'm going to laugh out loud, get tears in my eyes, or rush to the kitchen to try one of her recipes (all of which have been absolute winners in this house).  Speaking of which, I need to run to the kitchen as soon as possible to try out these cookies- Please welcome Annie and her special treats!
Molasses Crinkles and Christmas Memories
Every generation has its version of "the good old days." For some, the memories are sepia-toned or come in shades of black, white and gray. For me they're tinged with the yellow fade peculiar to photos from the late 60s to mid-70s. The era of unenviable hairstyles, long lines at the gas station, The Brady Bunch and the game of Life. Christmas still retained its magic: the anticipation as my siblings and I waited at the top of the stairs ("Is it time yet?!") for dad to give the go-ahead for tearing into gifts; the homemade cinnamon rolls that followed; trays of frosted sugar cookies, green and red "spritz" cookies and spicy, dusky, soft molasses cookies; singing Christmas carols and the making of paper chains to hang around the house. Television had exactly three channels and the not-yet-classic Christmas cartoons and I were all about the same age (from Rudolph to Charlie Brown to the Grinch to Frosty was a creative cartoon span of 5 years - 1964 to 1969.) I was still young enough that the concept of a jolly fat man wearing a red suit and flying around the world in a sleigh driven by reindeer seemed like a completely logical explanation for the piles of wrapped gifts that appeared under the decorated tree - the one that had been present-less just the evening before - on Christmas morning.
Molasses Crinkles, if my memory serves, were the first cookies I made after I left the warm nest of my mom's kitchen. They became my "go to" cookie because they are delicious and a reliable crowd-pleaser. Best mixed up ahead of time so that the dough can firm up in the refrigerator, they're a soft, thick cookie with a crackly top - thanks to the sugar - that develop deep chasms as they bake, revealing the moist, spicy center of the cookie. I've taken the classic recipe and unrefined it and cut both the amount of sugar and fat - but the resulting cookies suffer not one bit. They aren't too sweet and they hold up well, making them perfect for cookie exchanges or gifts.
Thank you, Kristy, for inviting me to the cookie exchange! I hope that it becomes a yearly tradition. I had so much fun choosing a recipe, "testing" the results, taking the photos and writing the accompanying post - which brought back many good memories. I can't wait to see what other seasonal goodies are coming!
Annie's Molasses Crinkles
Ingredients
2 cups whole wheat pastry flour
1/4 cup coconut flour
2 tsp. baking soda
1/2 tsp. powdered stevia
1 tsp. cinnamon
3/4 tsp. ground ginger
1/2 tsp. allspice
1/2 tsp. ground cloves
1/2 tsp. salt
1/4 cup coconut oil
1/4 cup vegan butter (i.e., Earth Balance), softened
1/2 cup prune puree (baby food works wonderfully)
1/2 cup maple sugar
1 tbsp. flaxseed meal + 3 tbsp. water (whisk together then let sit for a few minutes)
1/2 cup molasses (not blackstrap)
2 tbsp. crystallized ginger, minced
~1/3 cup sanding sugar, for topping the cookies prior to baking
Instructions
In a small bowl, whisk together the flours, baking soda, spices, stevia powder and salt.
In a large bowl, beat together the coconut oil, butter and maple sugar until creamy. Add the flaxseed meal, prune puree and molasses, whisking until combined. Now stir in the flour until a thick dough forms. Put the dough in an air-tight container and let chill for a couple of hours or overnight.
When ready to bake, line 2 baking sheets with parchment paper and heat the oven to 350F. Have a small bowl with sanding sugar nearby. Scoop up a walnut-sized piece of dough and roll it into a ball. Dip one side of the ball into the sugar and place it on the baking pan. Continue with the remaining dough.
Bake the cookies for about 12 minutes, turning the pans halfway through for even baking. The cookies should be firm on the bottoms but still tender on the top. Let them rest on the cookies pans for a few minutes before transferring them to cooling racks.
Thanks to Ms. A for being a steady and patient hand model. I hope her childhood Christmas memories are as magical as mine.
Thanks for stopping by and be sure to come back on Thursday to see who our next special guest is and what they bring to the party!  Thank you so much, Annie, for sharing your ridiculously good-looking molasses crinkles!
Be sure to check out the rest of the cookies at the party: