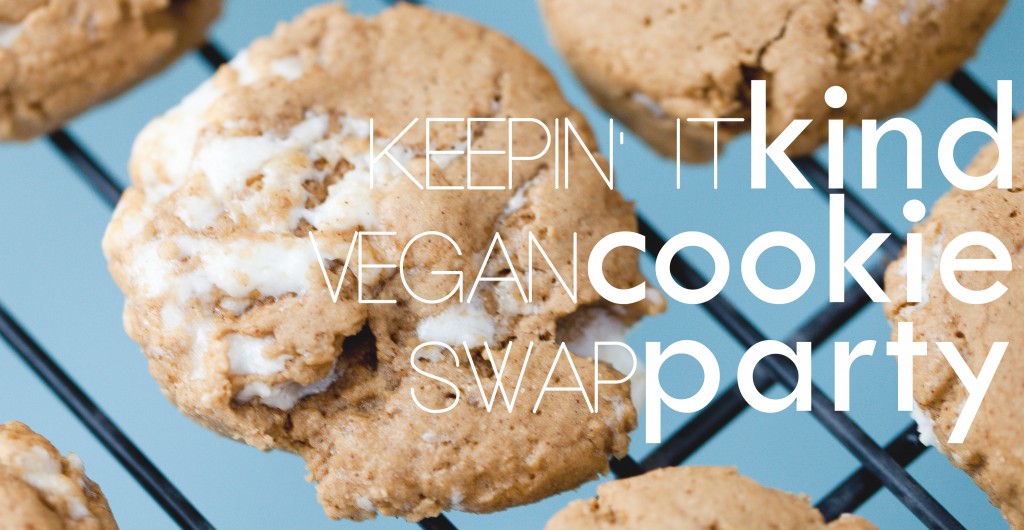 Back in the day, my friend used to host a cookie exchange party every year.  Everyone would bring about 40-50 cookies and the recipe printed out on an index card.  Each person would get to take 2 of each type of cookie as well as the recipe for each cookie.  It was an awesome party and it's something I miss doing each year.  I am ecstatic to tell you all, however, that through December 24th, I will be hosting a virtual, vegan version of this cookie swap party, with tons of guest posts from some of my favorite bloggers.  Keep checking back to see who brings what type of cookie!  
Today, I am so excited to have Courtney from The Fig Tree as a guest at the cookie party.  Courtney is genuinely one of the sweetest ladies I've ever had the pleasure of getting to know.  Her thoughtfulness, friendliness, and big, caring heart are so refreshing and while I tend to be a little on the introverted side, she inspires me to open my heart to people more often.  On top of all that, each of her posts reveal how talented she is both in the kitchen and with the camera.  Please enjoy these lovely treats that she is sharing with us today.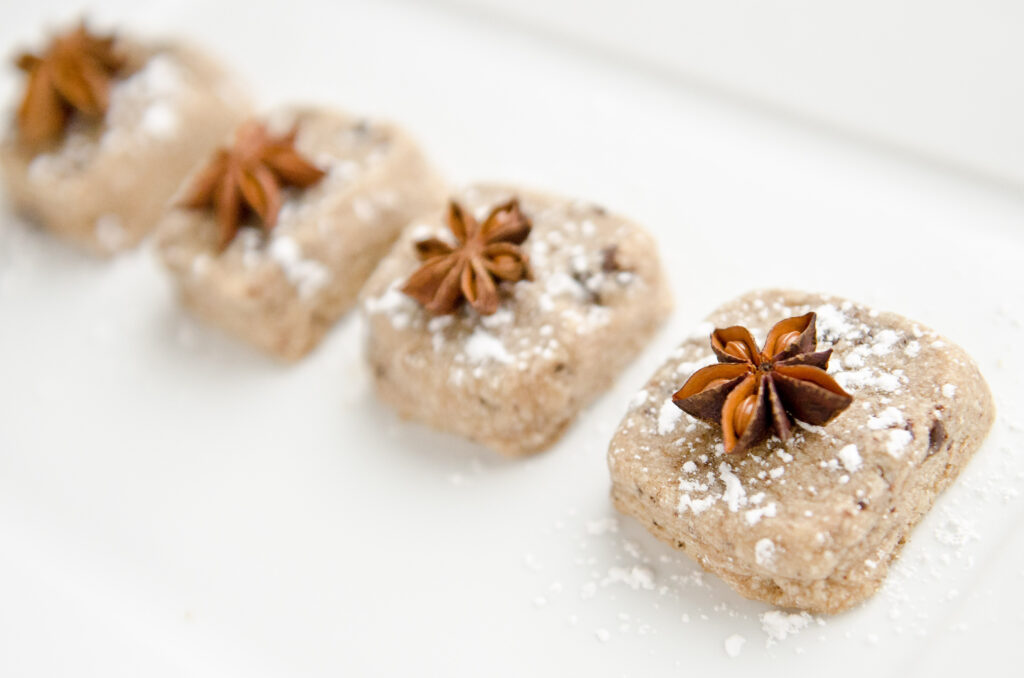 Hello and Happy Holidays everyone! 🙂 Can you believe it's already December? It's crazy how quickly time flies by - but I for one am extremely happy it's the holiday season. For one, it means spending lots of time with loved ones and carrying on awesome holiday traditions such as watching Elf. (SANTA!!!!) The holiday season also implies baking season - which I take as my license to bake way too often and eat way too much of it! What can I say...I'll jump on the weight loss resolution band wagon when January hits. *hehe* During the holiday season, I love baking cookies in particular. When Kristy so kindly asked me to participate in her awesome holiday cookie exchange, I was thrilled! What a great way to celebrate the holidays - sharing cookie recipes with some of my very favourite bloggers! And, not only was it yet another excuse to bake, it was also an excuse to try out a new cookie recipe. Every year, I tend to make the same standard recipes which normally include shortbread, gingersnaps and jam thumbprint cookies. But in the past few years, I've also made it an annual tradition to try something completely new. This year, I had my heart set on something a little spicy yet chocolatey. And thus the Chocolate Chai Shortbread Cookie was born! I'm so excited to share this recipe with you all today, as it's a definite winner. The shortbread itself is flaky, buttery and delicate. The spice is just right and the chocolate just adds something special. Chocolate is always a good idea, right? Anyhoo...wishing you all a wonderful holiday season. May it be merry and bright. xo
And a huge THANK YOU to Kristy for asking me to participate in this awesome cookie exchange. It was a lot of fun and I am very much looking forward to seeing what other bloggers post. My baking list is sure to grow exponentially over the next few weeks! As is my belly. *hehe* Kristy, I am thrilled to be sharing this cookie recipe on your amazing blog. You are one talented lady and I really appreciate all that you do through your blog.
Courtney's Chocolate Chai Shortbread Cookies
Ingredients
1/2 cup of non-hydrogenated vegetable shortening
1/2 cup of non-hydrogenated margarine; slightly softened
3/4 cup of powdered sugar, sifted
1 teaspoon of pure vanilla extract
2 cups of all-purpose flour
1 and 1/2 teaspoons of ground cinnamon
1 teaspoon of ground cardamom
1/4 teaspoon of ground cloves
1/4 teaspoon of ground nutmeg
pinch of ground ginger (optional)
1/4 teaspoon of baking soda
1/4 teaspoon of salt
4 ounces of dark chocolate, finely chopped

Note: I used the Earth Balance brand shortening and vegan butter for this recipe and they worked great.
Instructions
Preheat oven to 350'F. Line two baking sheets with parchment paper.
Using an electric mixer, cream together the shortening and the margarine until smooth. Fold in the powdered sugar and vanilla. Cream again until the mixture is smooth and creamy.
In a separate bowl, sift together the flour, cinnamon, cloves, nutmeg, cardamom, ginger, baking soda and salt.
Gentle beat in half of the flour/spice mixture into the butter/shortening mixture. Once just combined, add the remaining flour/spice mixture and fold with the mixture on slow until the dough just comes together. Fold in the chocolate. Knead the dough three or four times to completely incorporate the chocolate.
Divide the dough and form two logs about 8 inches long (1/2 inch thick). Wrap logs into parchment paper and place in the freezer for about 10 minutes. Note: After I chilled the dough, I shaped the log to have more squared edges.
Once dough slightly chilled, cut the logs into 1/2 inch thick slices with a sharp knife. Place 15 slices on the first parchment paper covered baking sheet (about 2 inches apart). Repeat with the remaining dough with the second cookie sheet.
Bake the shortbread for 12 to 14 minutes, or until it is slightly puffed yet firm and the edges are turning slightly golden. Allow the cookies to cool for 5 minutes on the baking sheet then transfer them to a wire rack to cool completely. Sprinkle on powdered sugar.
Notes
Source: adapted from Vegan Cookies: Invade Your Cookie Jar by Isa Chandra Moskowitz + Terry Hope Romero
Thanks for stopping by and be sure to come back on Thursday to see who our next special guest is and what they bring to the party!  Thank you so much, Courtney,  for bringing these beautiful, wintery shortbread wonders!   
Be sure to check out the rest of the cookies at the party: