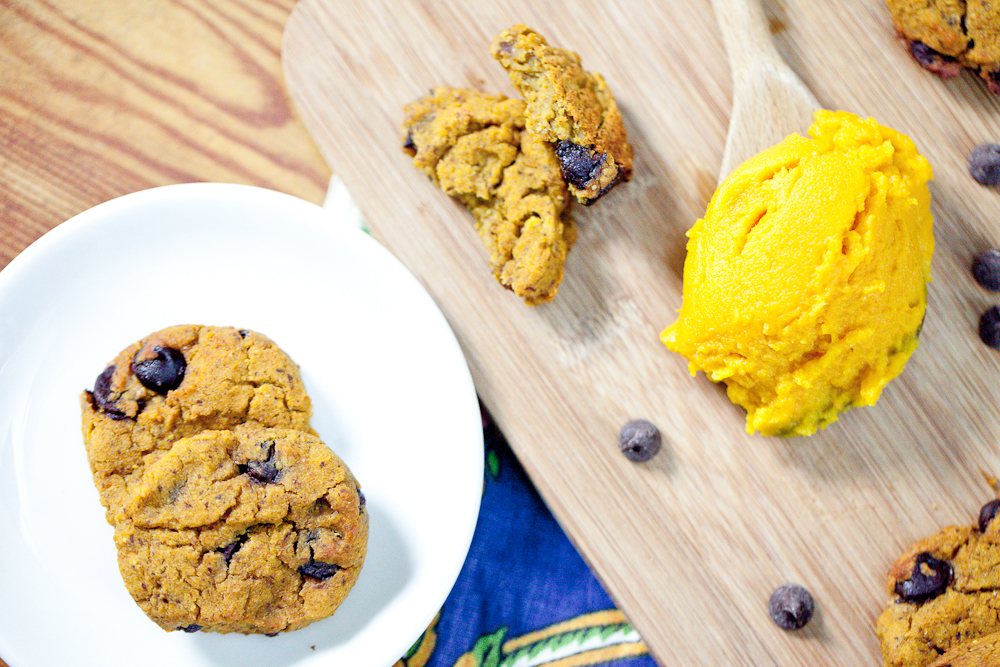 After going for a few months (several years in kitchen prep time) without a food processor, I can finally say that my kitchen is Food Processor equipped!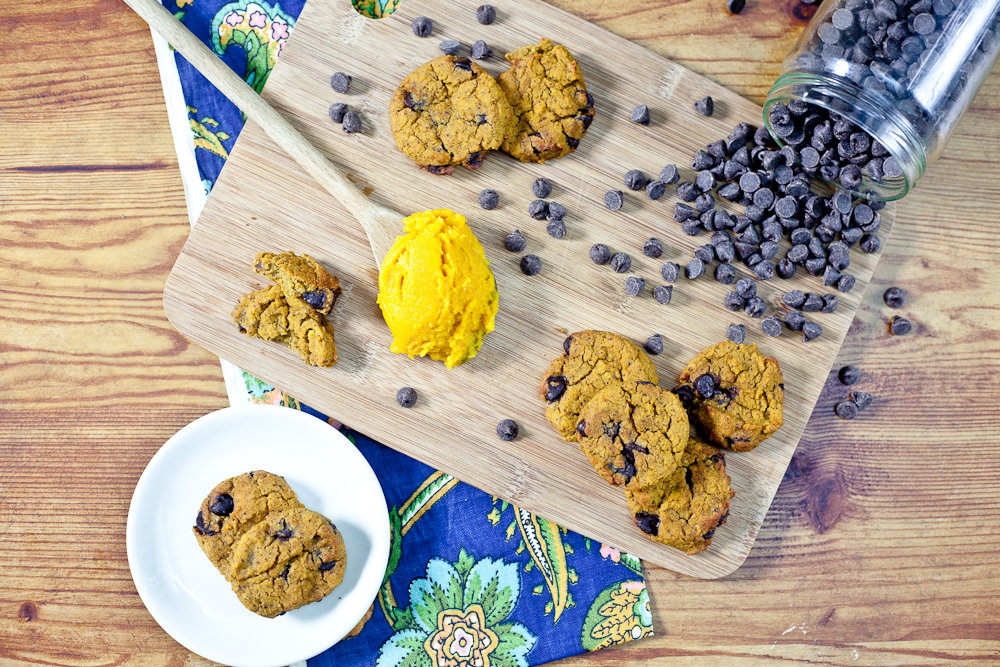 To break in my new toy, my man, Chickpea, decided to help out!  Inspired by nothing but the season and the chocolate chips hiding in the back of my cupboard, we got to work.  In went the pumpkin and the homemade cashew butter, but instead of adding flour, the chickpeas jumped in instead!  The food processor didn't even bat an eyelash.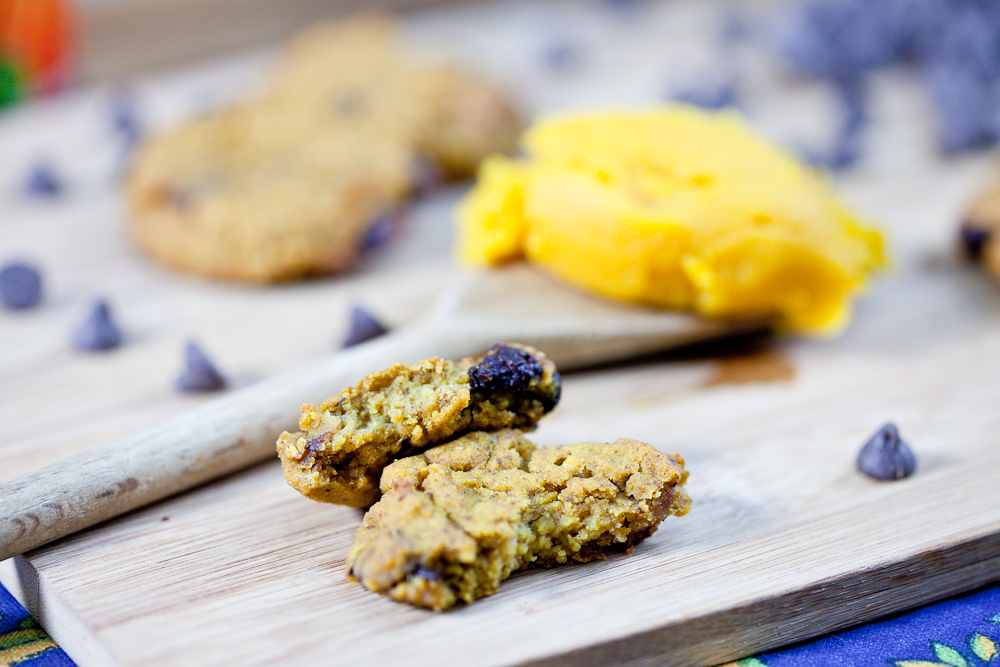 I folded in the chocolate chips and chilled the dough for awhile to get it to firm up a bit and then into the oven they went.  Because they are a little moister and have no flour, they do take a while longer to cook that your average cookie.  They are worth the wait, though!  I almost burnt my mouth trying one of these beauties as soon as they were out of the oven, but boy, were they worth the pain!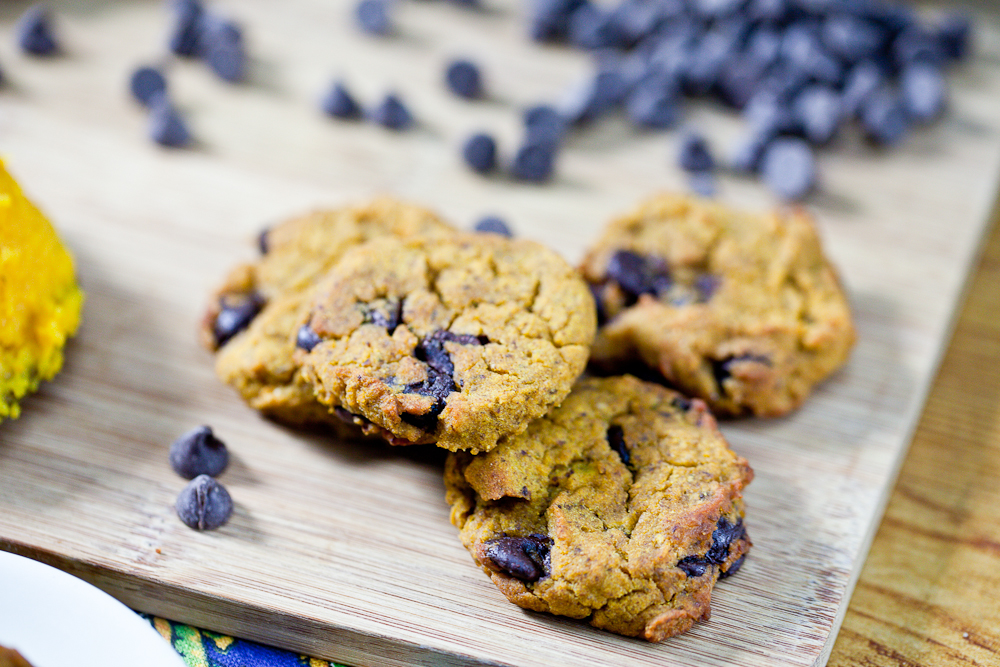 Slightly crisp on the outside, moist and chewy on the inside, pumpkin goodness throughout, chocolate chips in every bite...  Is there anything else you could possibly desire from a cookie?  What's that?  You want them to be healthy, gluten-free, and high in protein?  Well, these pumpkin chocolate chip cookies have that too!  Maple sugar, pumpkin, and cashews are all nutrient dense ingredients that just so happen to also be delicious.  No flour means no gluten (make sure your chocolate chips are certified gluten-free, if this is a concern), and all of those chickpeas ensure that each cookie is protein-packed.  These are cookies that your tastebuds and your body will love.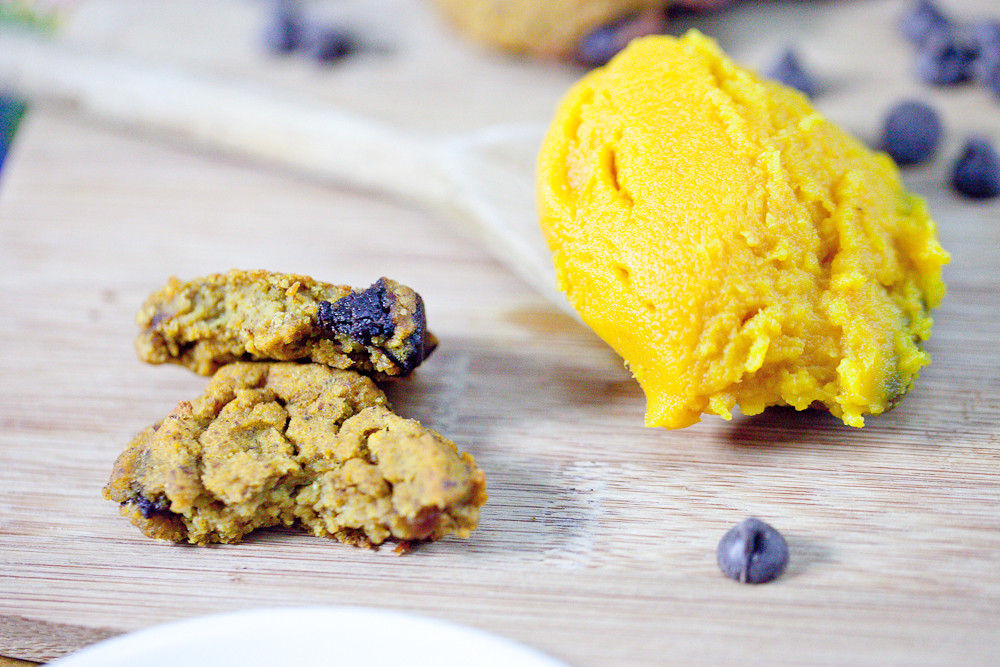 If you don't have a food processor, don't let that stop you from enjoying these cookies.  Just use a masher to thoroughly mash all of the chickpeas before adding the other ingredients.  Enjoy!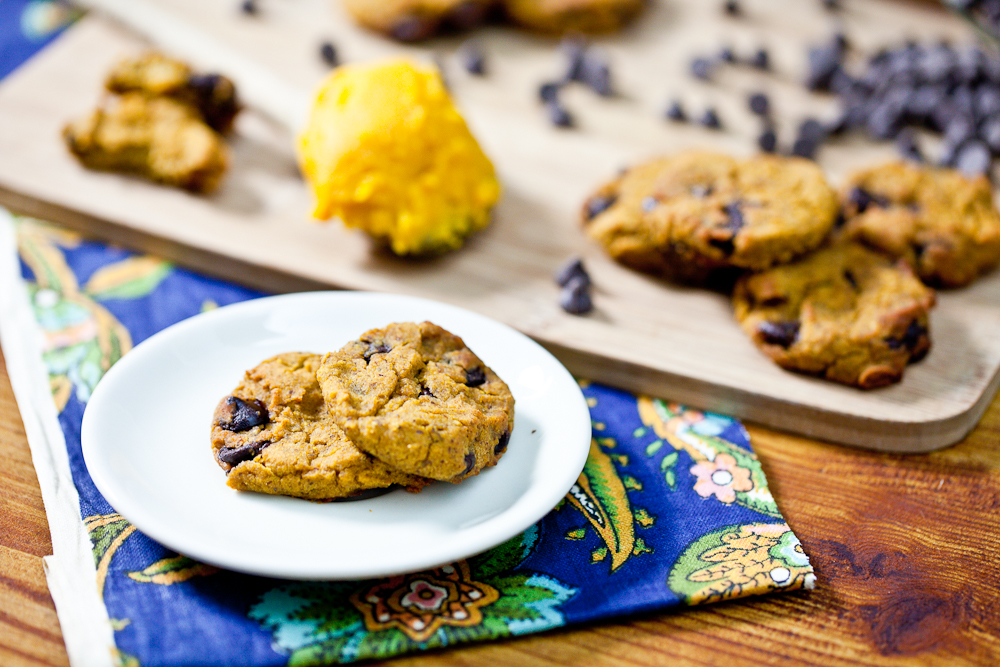 Flourless Pumpkin Chocolate Chip Cookies
Ingredients
2 cups cooked chickpeas (1 15oz can will have roughly 1.5 cups, so if using canned, you may need 2 cans. Be sure to rinse and drain them first)
1 cup pumpkin puree
¼ cup cashew butter (or other nut butter)
½ cup maple sugar (or other vegan sugar, don't sub with a liquid sweetener)
2 tablespoons flax meal
1 teaspoon vanilla extract
1 teaspoon ground cinnamon
¾ teaspoon baking powder
½ teaspoon baking soda
½ teaspoon ground ginger
½ teaspoon salt
2/3 cup vegan chocolate chips
Instructions
Place the chickpeas in the bowl of your food processor. Pulse a few times until mostly ground, but not pureed. Add the rest of the ingredients, except for the chocolate chips and process until smooth.
Pour the dough into a bowl, fold in the chocolate chips, cover and refrigerate for about 1 hour.
Preheat the oven to 375. Line two baking sheets with parchment paper. After the dough has set, use a tablespoon to scoop heaping spoonfuls on to the baking sheets. Use the back of a large spoon or measuring cup to lightly flatten each cookie.
Place the cookies in the oven and bake for 20-30 minutes (just keep an eye on them after about 20 minutes), until edges are slightly browned and the cookies have firmed up. Let cool on the baking sheet. Store the cookies in an airtight container in the refrigerator. Enjoy!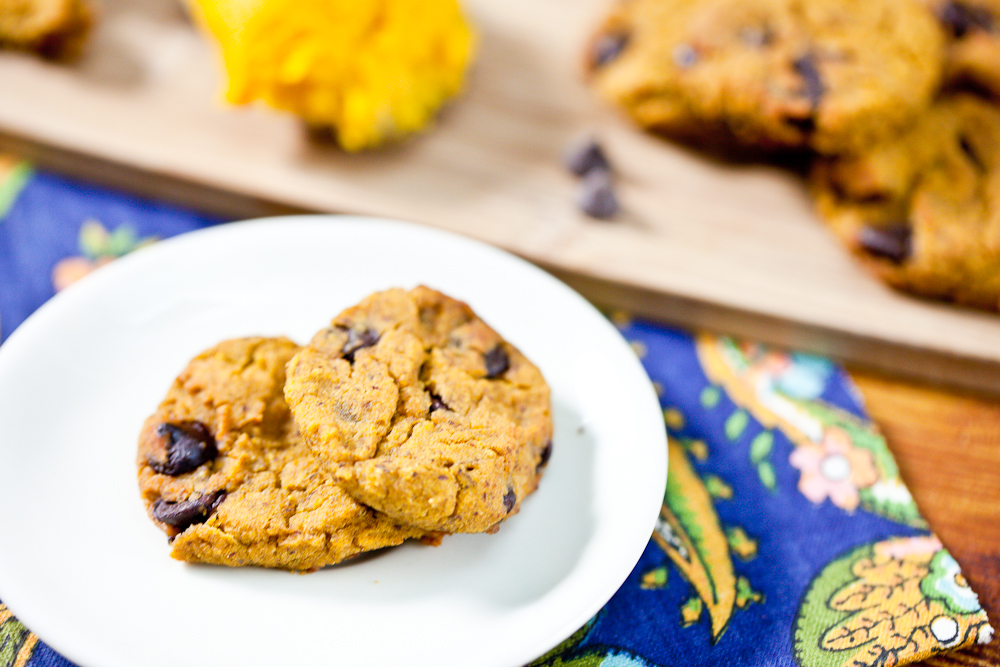 First time here?  Check out the rest of my Chickpea Love Affair Vegan MoFo Entries!
Keepin' It Kind is participating in the Walk for Farm Animals to give hope to millions of abused and neglected farm animals! Please support me by making a Donation today. Together we can make the world a more compassionate place for animals!  Learn more about Why I am Walking for Farm Animals and join our team!
Photography by Chris Miller