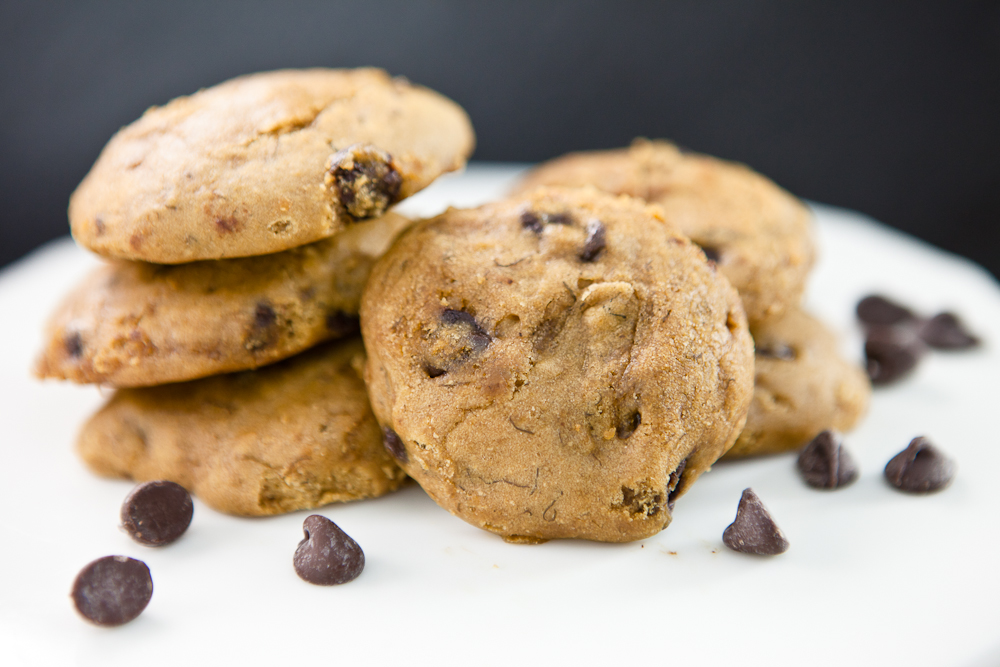 My mom used to keep candy in her purse.  She had various flavors of lifesavers- rootbeer, butterscotch, mint, and the classic rainbow of fruit.  She had hard candies and soft candies. Sometimes there were bags of m&m's, Reese's Pieces, or Skittles.  At Halloween time, you can bet there were a variety of halloween candies nestled away in there.  When we would go to the movies, out came the box of licorice.  My mom seemingly had a candy-themed, Mary-Poppins-style purse and she would always share.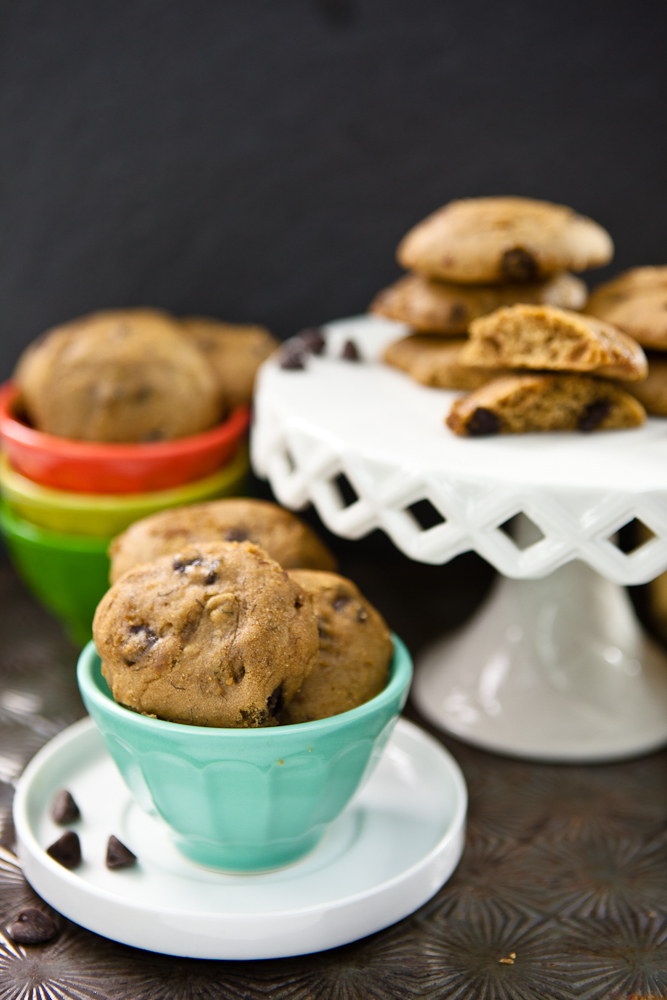 My favorite was the  See's Candy Chocolate Caramel Lollypops.  One of the most heavenly taste experiences ever must be rich chocolate and salty caramel blended together.  It was as if the Tootsie Rolls and the Kraft Caramel Chews in mom's purse got together and created a love child on a stick.  Perhaps these lollypops were Mom's secret weapon to get me to be quiet because as soon as I popped one of these bad boys in my mouth, it was as if everything around me disappeared and all that existed was me, that lollypop, and the angels singing up above.  These lollypops were not like the Tootsie Roll Pops that sometimes would make an appearance in Mom's purse, where you could bite into them and get to the chewy center after just three licks (according to Mr. Owl).  No, these Chocolate Caramel Lollypops demanded that you suck on them and savor every last bit (or you would likely break your teeth), even if it did take you 30-45 minutes.  I probably spent upwards of ten hours of my childhood, savoring the richly sweet, yet slightly bitter flavor of these lollypops and committing it to my not-yet-sophisticated taste memory index.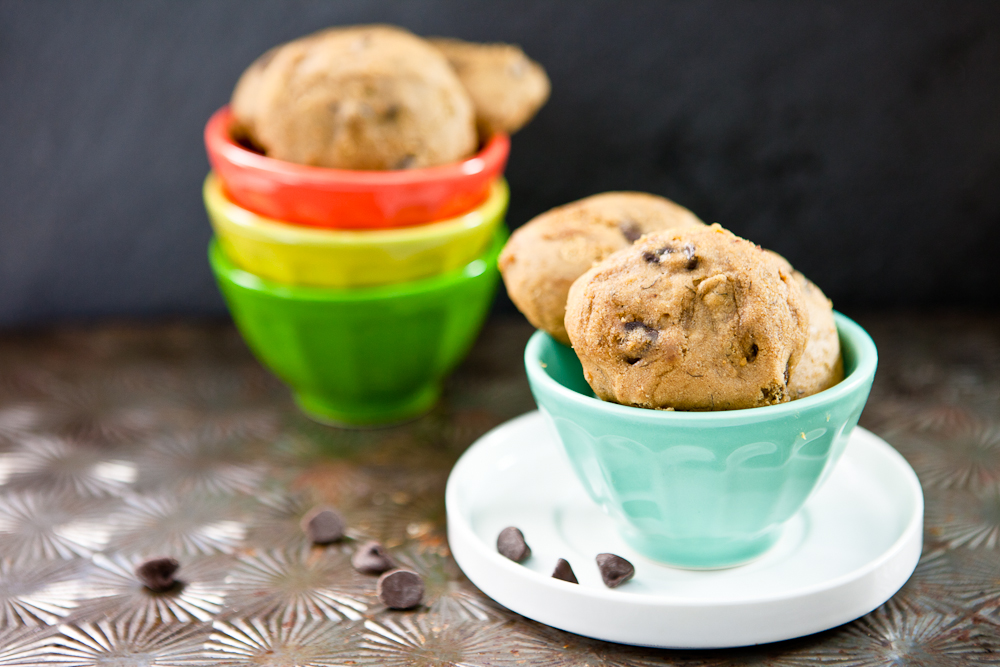 I'm not sure what spurred me to make these cookies, but one day I just had the urge to make caramel sauce.  Once it was done, I wanted chocolate to go with it.  For some reason, I really wanted to reconnect with the calming effect of that flavor profile in the form of my favorite dessert: cookies!  Perhaps my brain was being a little too noisy and needed to be quieted down, but the craving for these cookies was extremely intense and I got to work.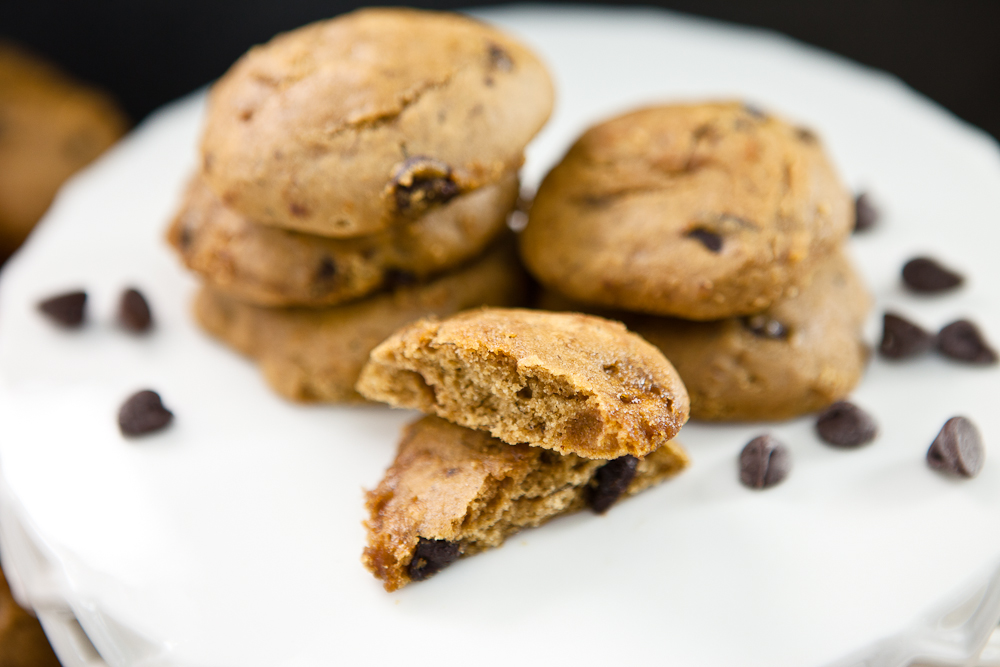 Once they were out of the oven, I was tearing one in half, letting the steam carry the very strong aroma of caramel and chocolate to my nose.  The chocolate was melty and there were chunks of caramelized cookie dough throughout, making the first bite absolutely glorious!  The flavors are so intense that all I could concentrate on was this scrumptious, soul-satisfying cookie.  The flavor brought waves of memories of me savoring those See's lollypops, trying to soak up as much of the flavor as possible.  I usually limit myself to one taste-test cookie right out of the oven, but I found myself quickly going back for seconds.  And thirds.  When I asked the twins the obligatory "Do you want a caramel chocolate chip cookie?"  I was thankfully met with scrunched up noses (caramel is not on the twins' list of acceptable flavors).  Though I love sharing cookies with my family, I was even more thankful that there would be more for these for me and Chris!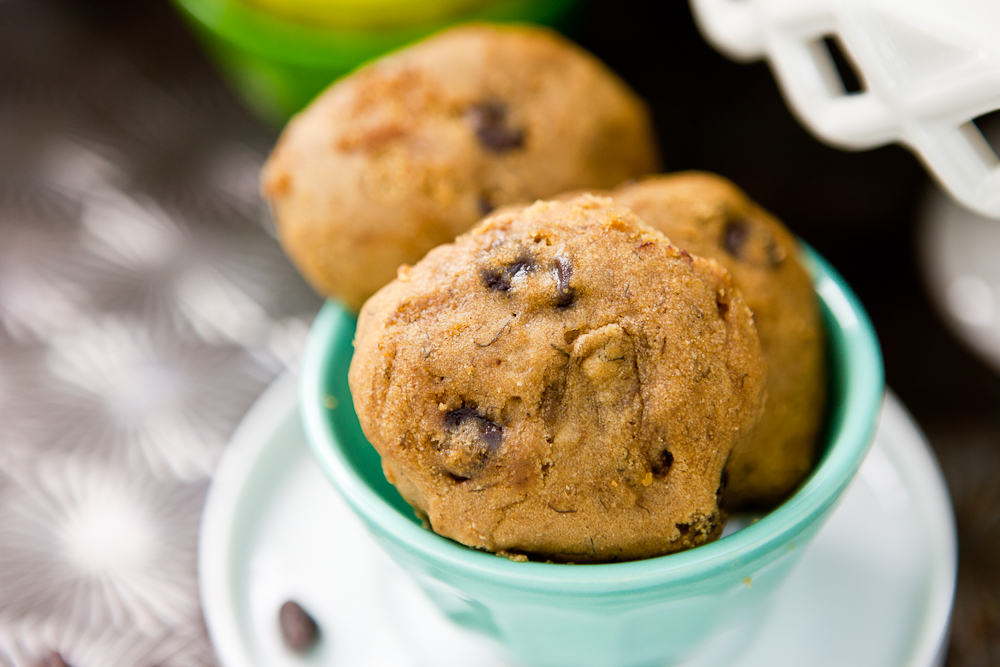 Unfortunately, Chris and I went through that first batch so quickly, we didn't even have a chance to take pictures.  I had no problem at all making another batch a few days later.  These are definitely the best chocolate chip cookies I have ever made.   Even though I used to have a pretty severe candy addiction in my mid-twenties (picture this: two girlfriends trying to take a picture of themselves in front of the Eiffel Tower, only to find that they are unable to take a clear picture because they both are too shaky and giggly from indulging in too many bonbons), an addiction I attributed specifically to my Mom's purse, I am now so thankful for that big bag full of treats and my Mom's instinctive way of knowing how to calm me down.  These cookies definitely have the same effect, as with each bite, I can feel everything else just slip away.  It's just me, that cookie, and the angels singing.  Is it odd that I want to stash a bunch of these cookies in my purse?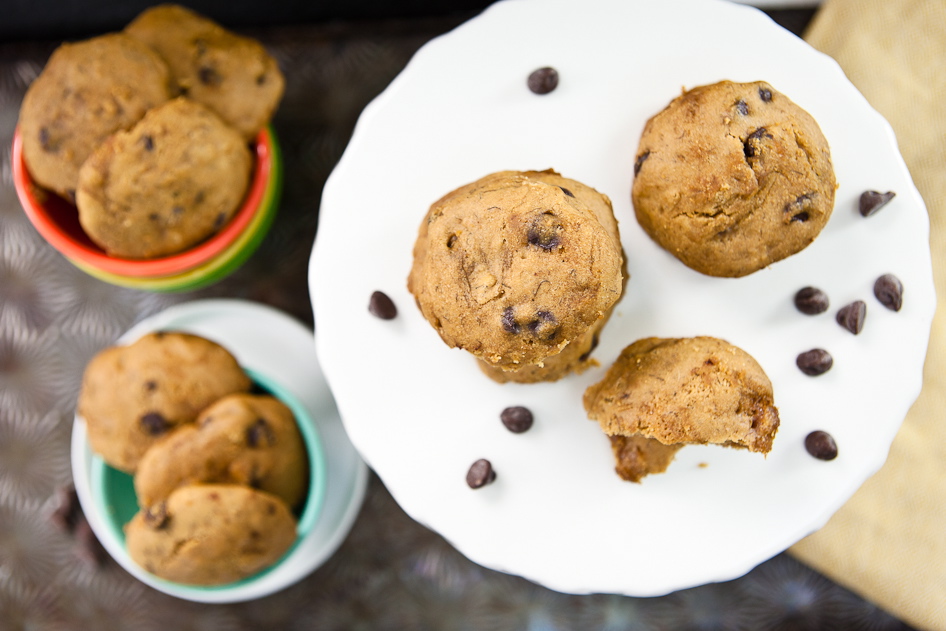 Salted Caramel Chocolate Chip Cookies
Ingredients
¾ cup coconut sugar
½ cup water
1 cup coconut milk (full fat)
½ teaspoon sea salt
1 large ripe banana, mashed
1 tablespoon coconut oil
1 teaspoon vanilla extract
1½ cups gluten-free flour mix (or all-purpose flour)
1 ½ teaspoon Ener-G Egg Replacer
½ teaspoon baking soda
¼ teaspoon salt
2/3 cup chocolate chips
Instructions
Pour coconut sugar and water into a pot. Bring to a boil, whisking frequently. Lower to a simmer and let the water reduce by half. The water should be a dark brown. Keep whisking it and keep a close eye on it because it will foam up and overflow, if you are not careful.
Gradually whisk in the coconut milk. Keep it at a simmer, whisking frequently, until the mixture has turned a medium/dark brown and has thickened significantly, about 10-15 minutes. Stir in the salt. Remove from heat and let cool. This will give you ¾ – 1 cup caramel sauce.
In a large bowl, mix together your flour, egg replacer, baking soda, and salt. In a medium bowl, beat together your mashed banana and coconut oil until fluffy. Whisk in 2/3 cup caramel, setting aside the rest of the caramel sauce for later. Whisk in the vanilla extract.
Slowly add your wet mixture to your dry mixture and mix until just combined. Fold in the chocolate chips and flatten the dough into the bottom of the bowl. Place the bowl in the refrigerator and let it chill for 30 minutes.
Preheat the oven to 350. Line two baking sheets with parchment paper.
Remove your chilled cookie dough from the fridge. Drizzle the remaining caramel over the dough. Use a knife to make several slashes through the dough, cutting in the caramel sauce, but not mixing it in. Without mixing the dough any further, use a tablespoon to scoop out the dough and drop it on the prepared baking sheet. The dough will be sticky and a little more wet, with streaks of caramel sauce running through it. Once you have scooped up all the dough, place the baking sheets in the oven for 8-10 minutes. They are done when they have solidified, but are still slightly soft.
Let the cookies cool on the baking sheets for about 3-4 minutes before transferring to a cooling rack. You will be missing out on one of life's greatest experiences if you do not eat one while it is warm. Let them cool completely before transferring to a plate to serve (or container to store). Enjoy!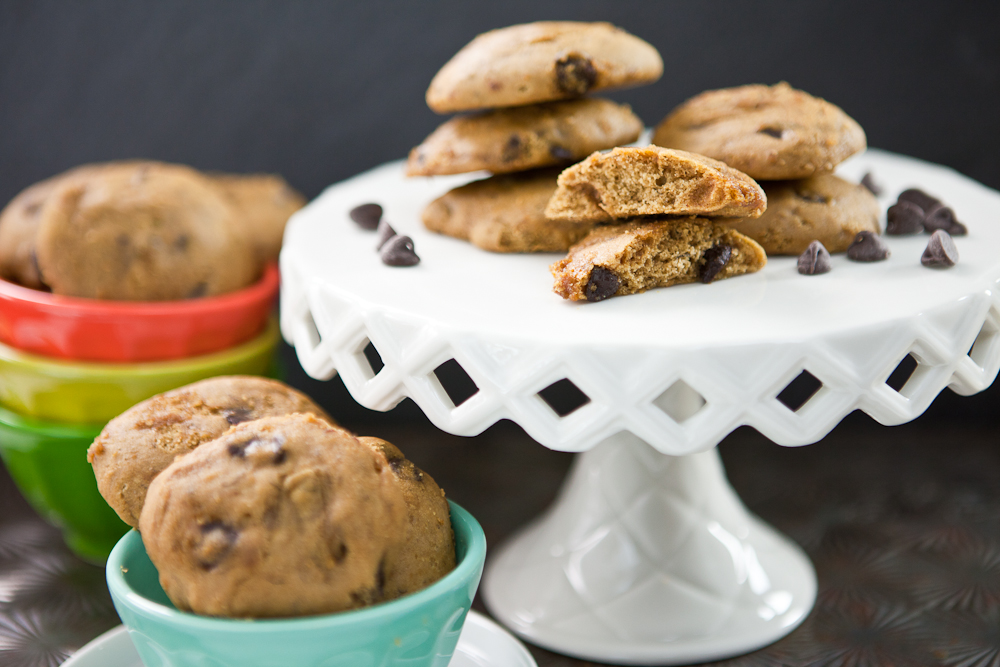 Love animals? Help support Farm Sanctuary's mission to protect farm animals from cruelty! Keepin' It Kind's goal is $500, but we can't do it alone! Together, we can make a real difference for farm animals everywhere. Donate today!  Learn more about Why I am Walking for Farm Animals and join our team!
 Photography by Chris Miller