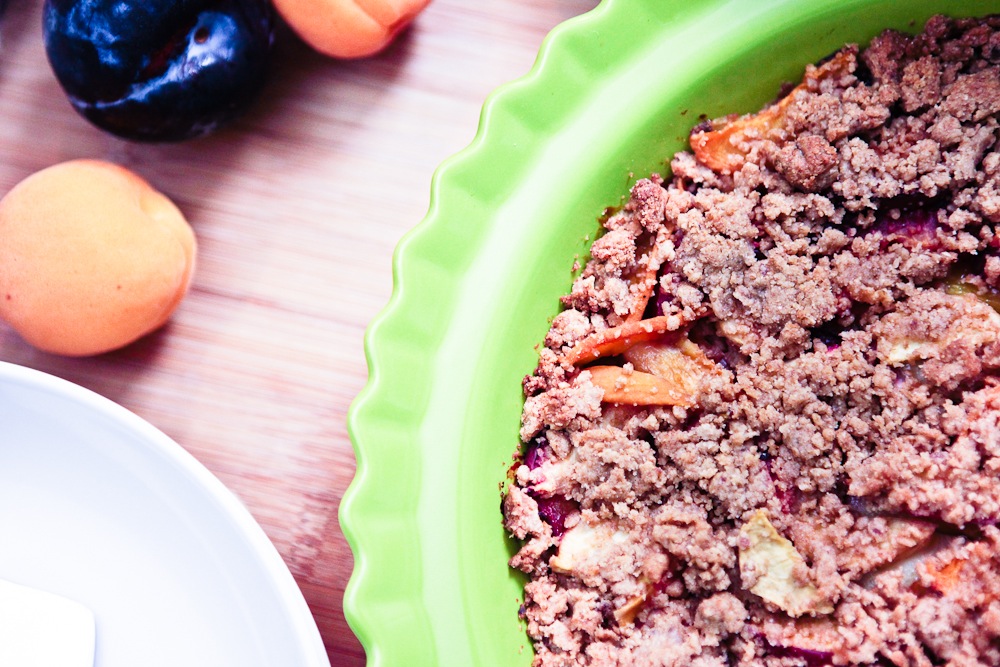 Happy Independence Day to all my U.S. friends!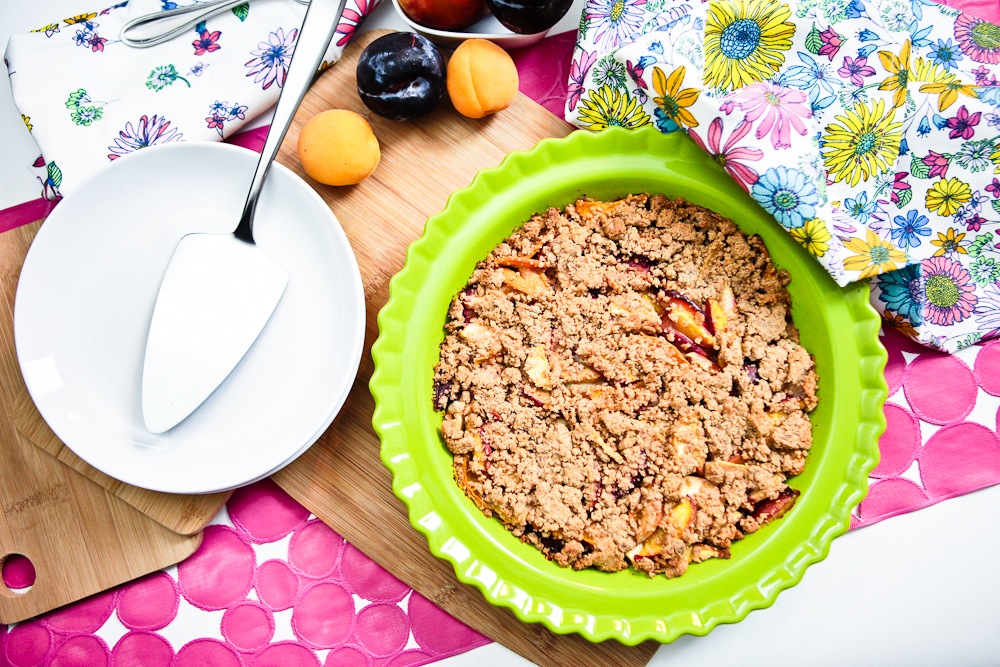 Back in northern California, Gordon, one of my old personal training clients (whose daughter later became one of my best friends) used to have a huge 4th of July party every year.  There was a huge potluck, swimming, a mini-golf competition, way too much alcohol, and then Gordon would put on a full fireworks show in the cul-de-sac he lived in, completely pissing off all of his neighbors.  Needless to say, I looked forward to this party every year.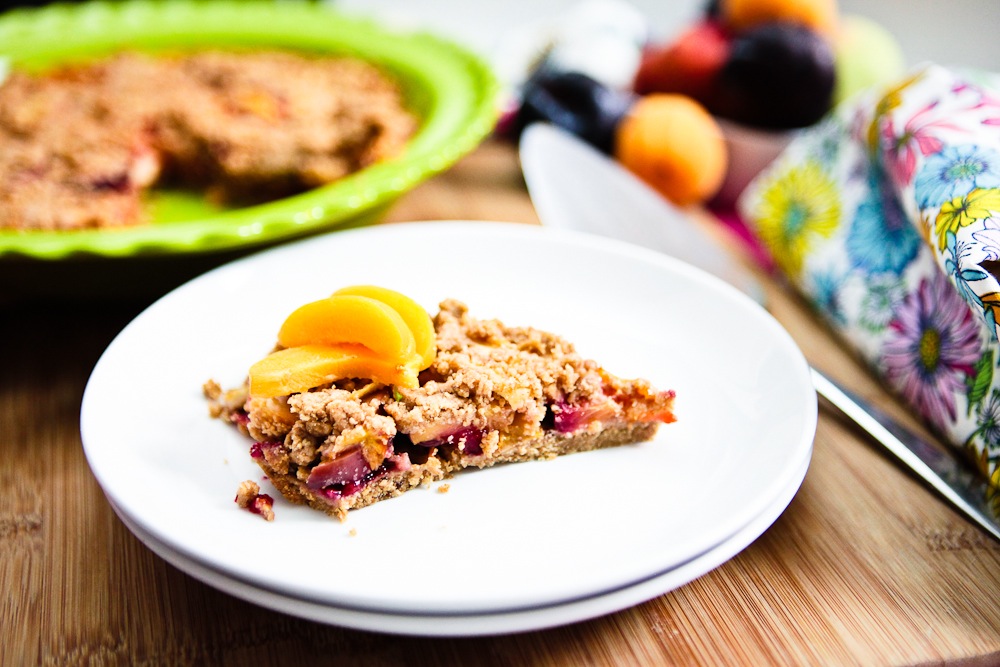 Being a personal trainer, I felt it was my duty to bring a healthy dessert or snack to share with everyone and I did this the first 4 years.  I managed to keep it pretty classy during all of that time.  Then one year, I brought a pasta dish, and I ended up experiencing the complete opposite end of the classy spectrum.  I realize that it was likely my choice in beverage that led to my behavior, but I wonder what would have happened if I had brought one of my healthy desserts?  Would I still have that one pair of flip-flops?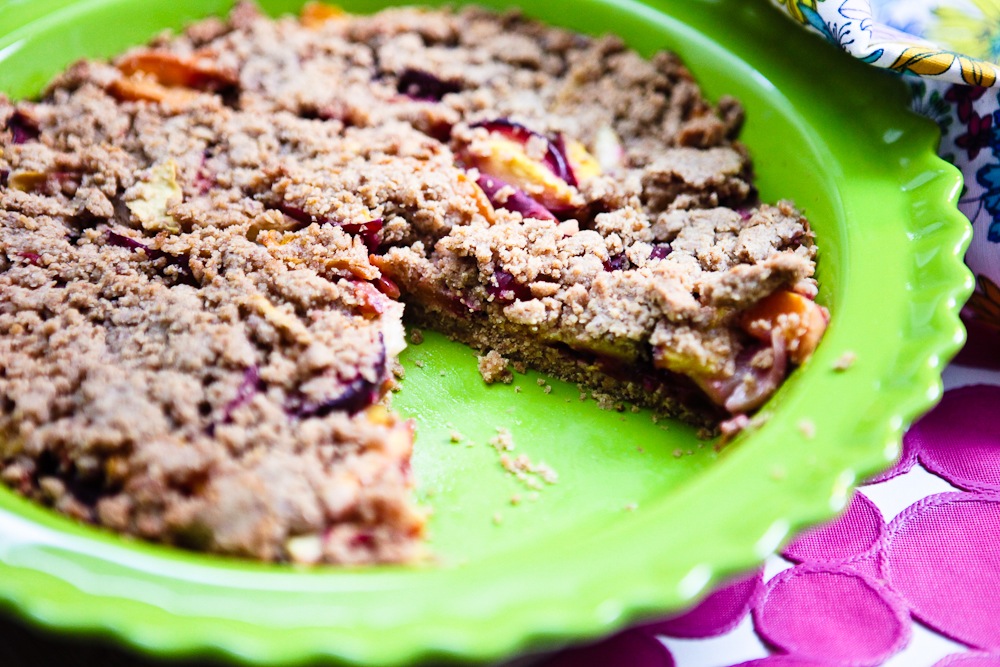 I have no regrets and I am so thankful for that day.  I had a blast and it made me appreciate classiness.  However, if I were going to Gordon's party today, I would likely be bringing this dish (as well as a cooler full of water).  This dessert brings everything you love about cobblers and puts them in a portable-friendly bar form (I used a pie dish, because I thought it was pretty, but a 9x9 baking dish would be perfect too).  The fact that they're sugar-free and have a very low oil content would make my old personal trainer self pretty happy.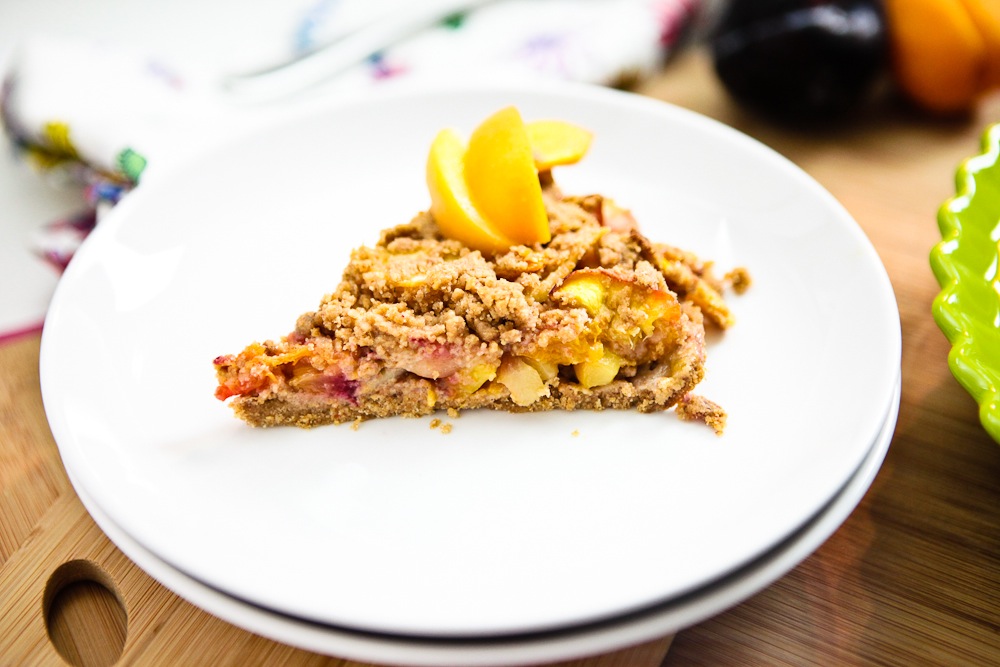 Even though I don't have a party to go to today, and will likely be staying home (and missing my client and his family), I will still be enjoying these very scrumptious bars.  If you do have a party to go to, you should definitely whip up some Stone Fruit Cobbler Bars and show everyone how to keep it classy!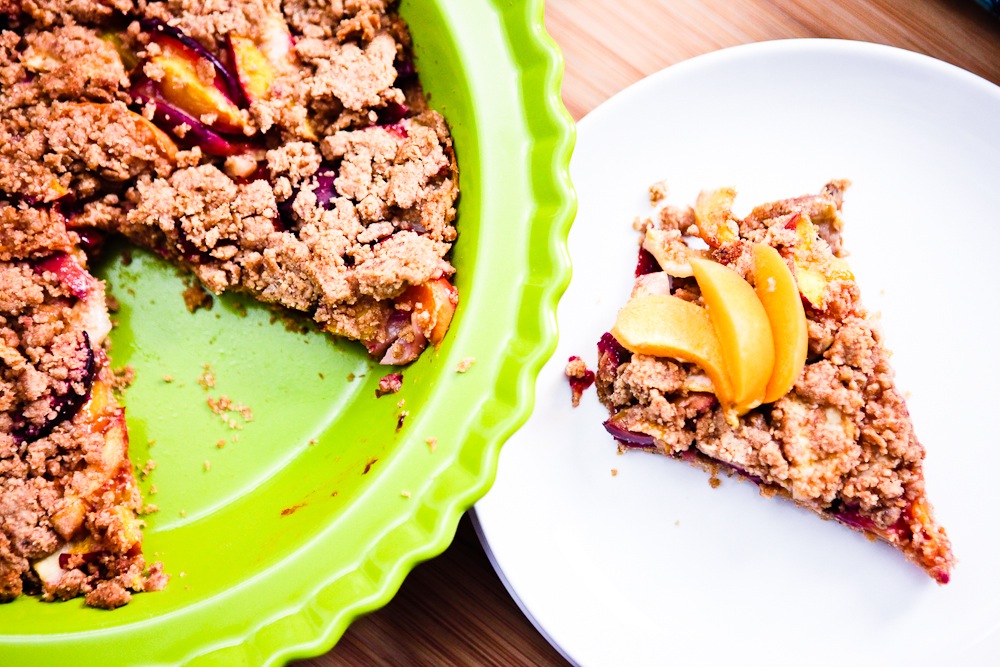 STONE FRUIT COBBLER BARS
Ingredients:
1 ½ cups whole wheat flour (could be made gluten-free with GF flour)
½ tsp baking powder
¼ tsp salt
2 tsp cinnamon
¼ + 1/8 cups coconut oil, softened at room temp
¼ cup maple syrup (or agave syrup)
3 dates, pitted
2 peaches, peeled and thinly sliced
2 nectarines, thinly sliced
2 apricots, thinly sliced
2 plums, thinly sliced
2 tsp cornstarch
1 tsp pure vanilla extract
Instructions:
Preheat oven to 350.  Lightly grease, or spray with vegan non-stick spray, a 9x9 baking dish.
In a medium bowl, toss the fruit with the cornstarch and vanilla extract.  Set aside.
In a bowl, combine the dry ingredients (the first four ingredients).  Set aside.
In a food processor, combine the coconut oil, maple syrup, and dates until smooth.  Pour into the dry ingredient bowl and mix to combine.
Spread ½ - 2/3 (depending on how much you want to have on top of the fruit.  Personally, I like to have some of the fruit peek through) of the crust batter into the bottom of the prepared baking dish.  Spread the fruit over the crust and top with the remaining batter.
Bake for 30-35 minutes, until crust on top is golden and crisp.  Remove from oven and let cool completely before cutting.  Enjoy!
 All Photos taken by Chris Miller and Kristy Turner

© Kristy Turner and Keepin' It Kind, 2012. Unauthorized use and/or duplication of this material (content and images) without express and written permission from this blog's author and/or owner is strictly prohibited. Excerpts and links may be used, provided that full and clear credit is given to Kristy Turner and Keepin' It Kind with appropriate and specific direction to the original content.