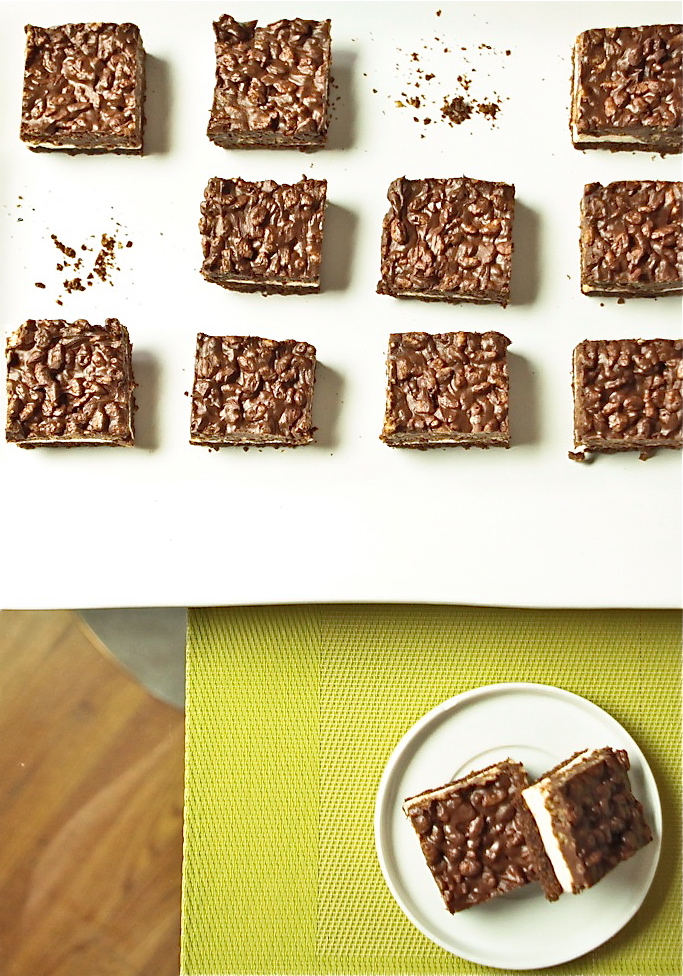 On mine and Chris's first date, Chris and I "argued" (I'm using that term very loosely) over who had the better set of grandparents.  I had never met someone who raved about their grandparents as much as I do.  After about eight months of dating, I got to meet Chris's twins, and shortly thereafter, I got to meet his parents and the rest of his family.  I finally got to see what he was talking about.  His entire family is wonderful and reminds me very much of my own family: Lots of hugs, tons of laughter.  And his grandparents definitely give my grandparents a run for their money.  I can genuinely say they are two of the sweetest, most positive, most kind people I've ever met.
A few months later, we went back to his family's home for Thanksgiving.  As one would expect, there was a ton of food.  Amongst the dessert items, there were these ridiculously stupid-good bars.  It was like a brownie, a marshmallow, and a Nestle Crunch bar all got together and had a baby.  Chris and I unabashedly stuffed ourselves with these bars.  When we asked, in between mouthfuls, who made these glorious little pieces of heaven, we were told that Hope, Chris's grandmother, had made them.  We, of course, told her how much we couldn't stop eating them, and she said she would give us the recipe.
I am horrible at remembering to give someone a recipe after I promise it to them.  Grandma Graeff is not.  One week later, Chris and I received this in the mail: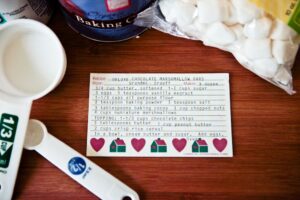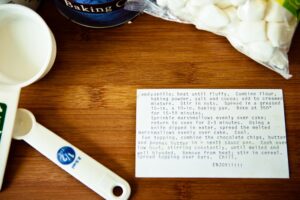 I love how it's typed out, on this cute little card.  I also LOVE the word "Deluxe" and the fact that it's used in the title makes me love it, and Grandma Graeff, all the more.  It's pretty dear to both Chris and I, and ever since we got it, it has sat on a shelf where we can always see it, propped up against a couple books.  Just the sight of this card brings a smile to my face, though we have never actually made the recipe until now.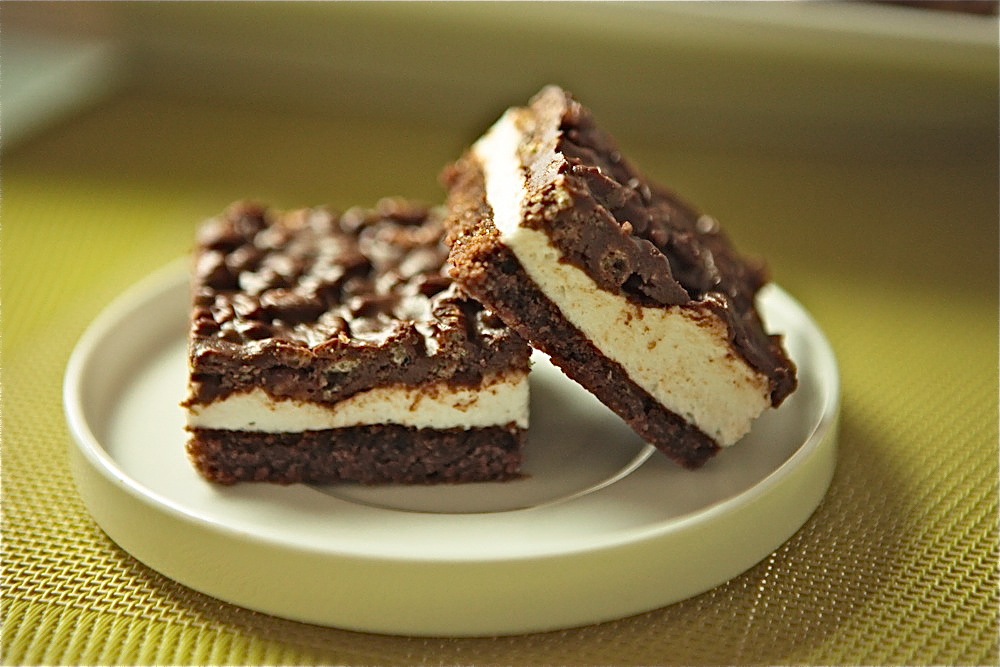 I wanted to not only make an even more super "deluxe" vegan version, but I also wanted my gluten-free friends to partake, and since I figured there would be plenty of sugar from the chocolate chips and the Dandies, I wanted the base to be refined sugar-free.  They turned out so well. So, so, so, so very well!  With the first taste, I was taken right back to the last time I ate them, and had to remind myself that I needed to not eat 17 of them right then.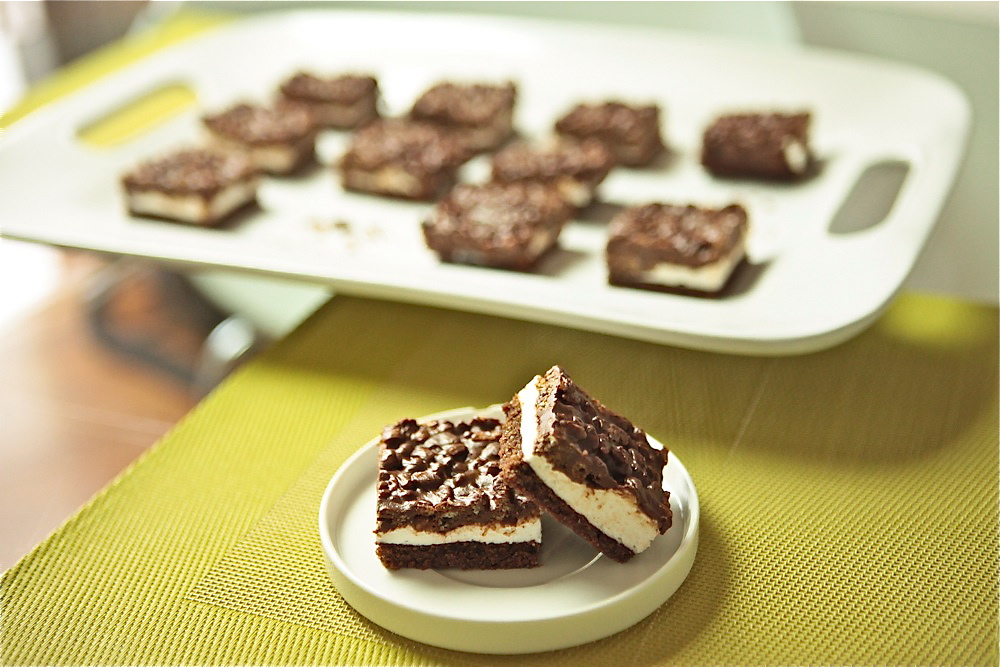 grandma graeff's deluxe chocolate
marshmallow bars
Deluxe Chocolate Marshmallow Bars
Ingredients
for the base: dry ingredients

1 1/3 cups gluten-free all-purpose flour (or regular all-purpose flour)
3 tablespoons cocoa powder
½ teaspoon baking powder
½ teaspoon salt

for the base: wet ingredients

½ cup canola oil
¼ cup + 1 tablespoon agave syrup
1 very ripe banana mashed
3 Ener-G egg replacer (4 ½ teaspoons mix combined with 6 tablespoons warm water) or 3 flax eggs (3 tablespoons flax meal mixed with 9 tablespoons water)
1 teaspoon vanilla extract
1/4 cup chopped cashews (optional)

for the marshmallow layer

1 10oz bag vegan marshmallows (I used Dandies)
1 1/3 cups vegan chocolate chips
1 cup peanut butter
3 tablespoons vegan butter/margarine
2 cups crisp brown rice cereal
Instructions
Preheat oven to 350. Spray a 9×13 baking dish with vegan non-stick spray. Prepare your egg replacer and set aside.
In a large bowl, combine the dry ingredients for the brownie base. In a smaller bowl, combine the wet ingredients. Add the wet to the dry and mix until just combined. If using the cashews, fold them in now.
Spread the batter out in the prepared baking dish and bake in the oven for 15-18 minutes, until a toothpick inserted into the center comes out mostly clean.
Evenly spread the marshmallows over the top of the brownie base and return to the oven for about 3-4 minutes. Using a rubber spatula dipped in water, spread the melty marshmallows evenly over the top of the brownie base. Set aside.
For the topping, combine the vegan butter and peanut butter in a large saucepan and stir over low heat until combined. Add the chocolate and continue to stir until the chocolate is melted and fully combined. Remove from heat and stir in the cereal. Spread the topping over the marshmallow layer. Chill until topping is hard.
And from Grandma Graeff: "ENJOY!!!"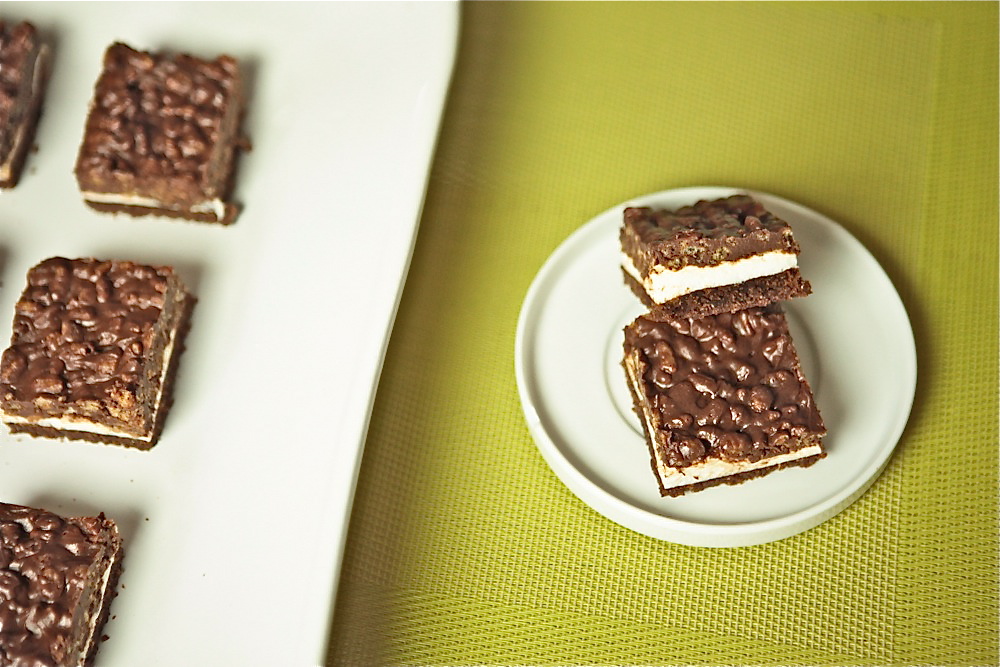 I know this another "Grandma's Cooking" post, but seriously, grandmas are just the best chefs.  And they send hand-written recipes or recipes typed out on cute index cards, which makes cooking those recipes even more fun.  I hope you give these super deluxe bars a try!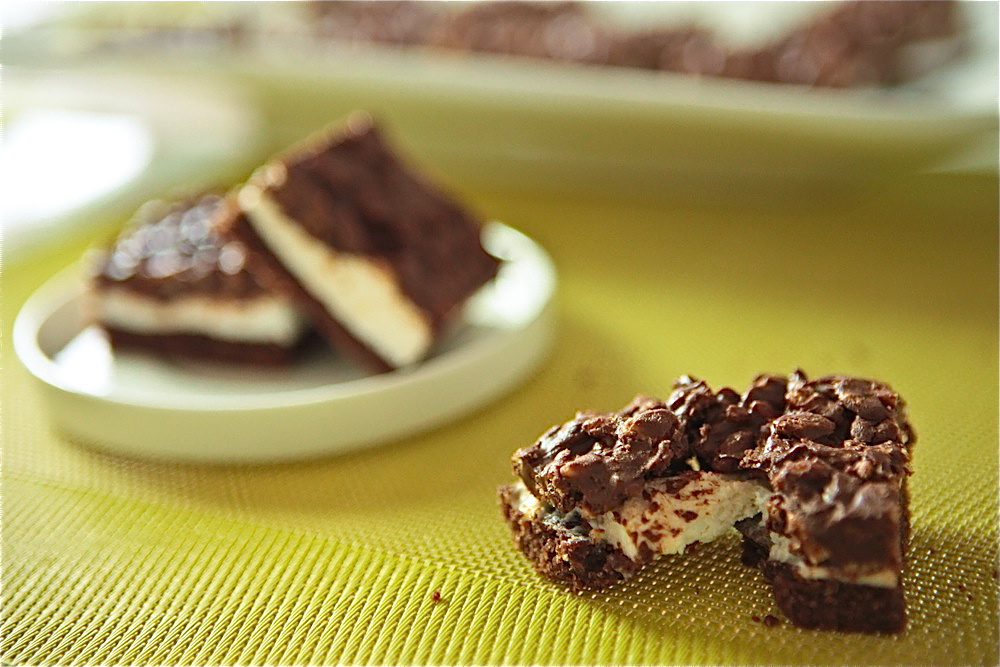 Do you have any favorite recipes, passed down from your grandmother, or someone else in your family?
Photography by Chris Miller