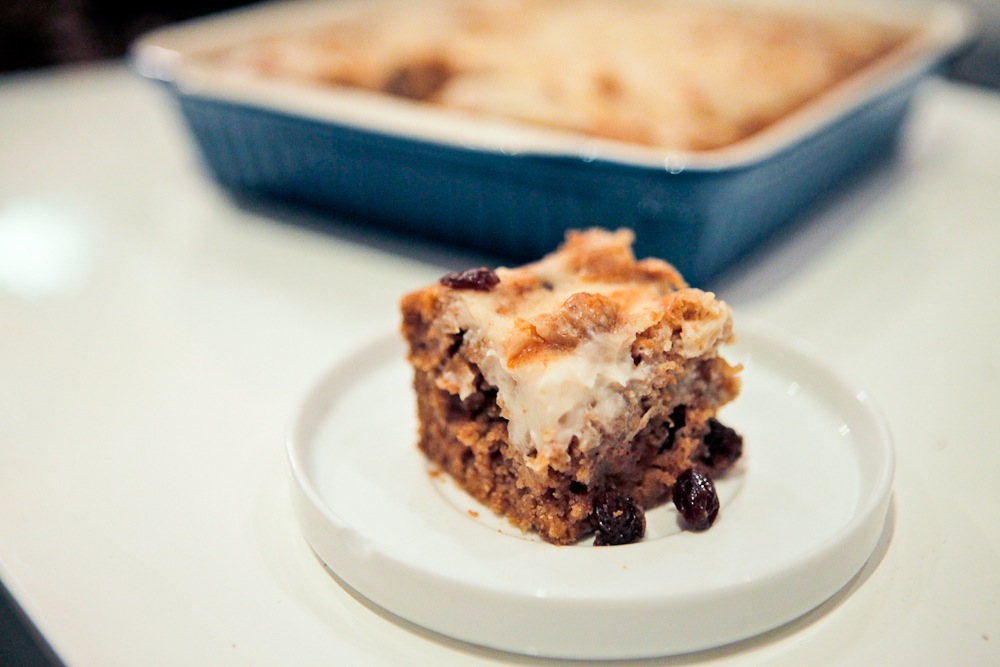 I am not good with frosting or icing.  There are two reasons for this:
I am a perfectionist and I am not skilled enough yet to apply frosting in a perfectly even way.
I have a habit of eating too much from the bowl and the spoon and making myself sick.
With daffodils in a vase on our kitchen table, and fresh organic carrots in my fridge (from my CSA), I wanted to make something that screamed "Spring!": Carrot Cake.  But you can't make carrot cake without cream cheese frosting.  I spent a few hours pondering exactly how I could combine the two so I wouldn't have to apply frosting and still make it look pretty.  I decided to try something I've never done before: Marbling.  My brain, however, said "No, that's not all.  Let's take it a step further, and make it a real adventure.  Let's make the whole thing gluten-free."
I've never ventured into gluten-free baking before because frankly, I'm overwhelmed by the amount of gluten-free flours, and I don't know how to choose the right ones.  My brain had made up its mind, though, so I got started on my research.  Hours of research.  Then a couple of hours of experimentation.  And this beautiful creation is what came of it.  Taking the first bite was maybe one of the proudest moments in my life.  It was in-friggin-credible!
I highly suggest stopping whatever you're doing right now and making these bars.   I guarantee it will be far more rewarding and more delicious.  Marbled Carrot Cake Raisin Bars are my new favorite way to celebrate Spring.  Or Mondays.  Or any other day of the week...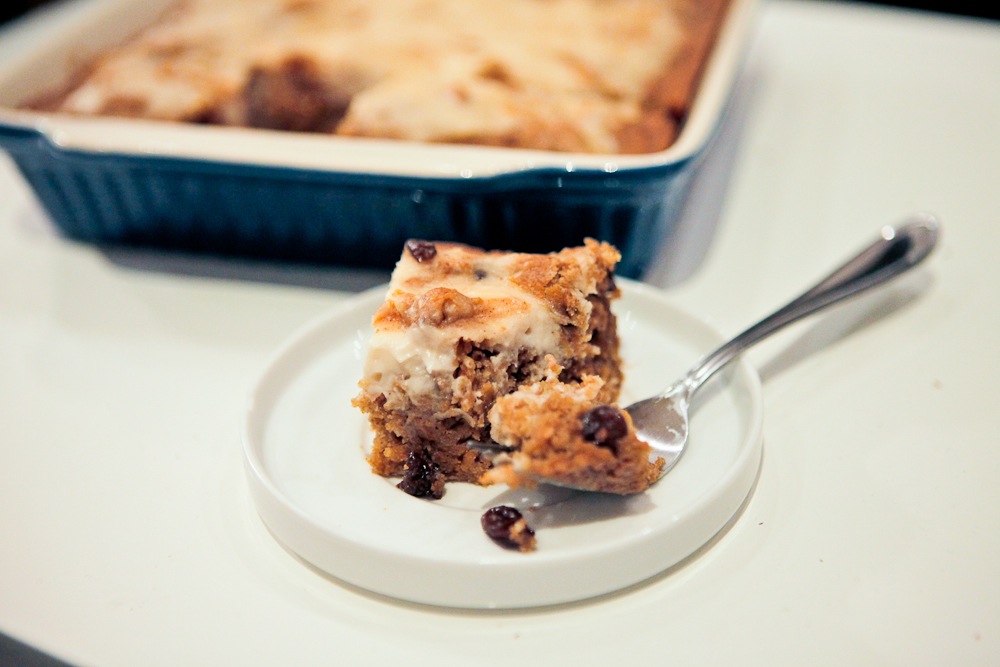 MARBLED CARROT CAKE RAISIN BARS
makes 16 pieces
Ingredients:
1 cup brown rice flour
½ cup arrowroot flour
¼ cup cornstarch
2 tsp cinnamon
2 tsp baking powder
½ tsp baking soda
¼ tsp xanthum gum
¼ tsp salt
¼ tsp nutmeg
¼ tsp ground cloves
¼ tsp ground ginger
¾ cup almond milk
3/4 tsp apple cider vinegar
½ cup brown sugar
½ cup grapeseed or canola oil
1 T flax meal
1 tsp vanilla
1 ¾ cup finely grated carrot, tightly packed
½ cup raisins
8 oz vegan cream cheese, at room temperature
¼ cup sugar
1 Ener-G egg replacer (1 ½ tsp mix combined with 2 T warm water) or 1 flax egg (1 T flax meal mixed with 3 T water)
Instructions:
Preheat oven to 350°.  Spray a 9x9 baking dish with a vegan non-stick spray.
In a small bowl, mix the milk with the apple cider vinegar and set aside so that it can curdle, about 10 minutes.  In another small bowl, mix together your Ener-G egg replacer or flax egg and set aside so that it can "gel," about 5-10 minutes.
In a large bowl, mix together your dry ingredients.  In a medium bowl, mix together your curdled milk, sugar, oil, flax meal, and vanilla.  Add grated carrots and mix to combine.
Mix together the cream cheese, sugar, and egg replacer in a medium bowl and set aside.
Add your wet ingredients to your dry and mix to combine.  Stir in the raisins.  Pour into baking dish.  Pour the cream cheese mixture over the top of the carrot cake batter.  Cut several times with a knife to create a marbled effect.  Don't overdo it because you don't want it completely mixed in, just marbled.
Put dish in oven and bake for 30 minutes at 350°.  Cover with aluminum foil to prevent the top from browning any further, and bake for 10 more minutes, or until toothpick inserted into the center comes out clean.  Let them cool before serving.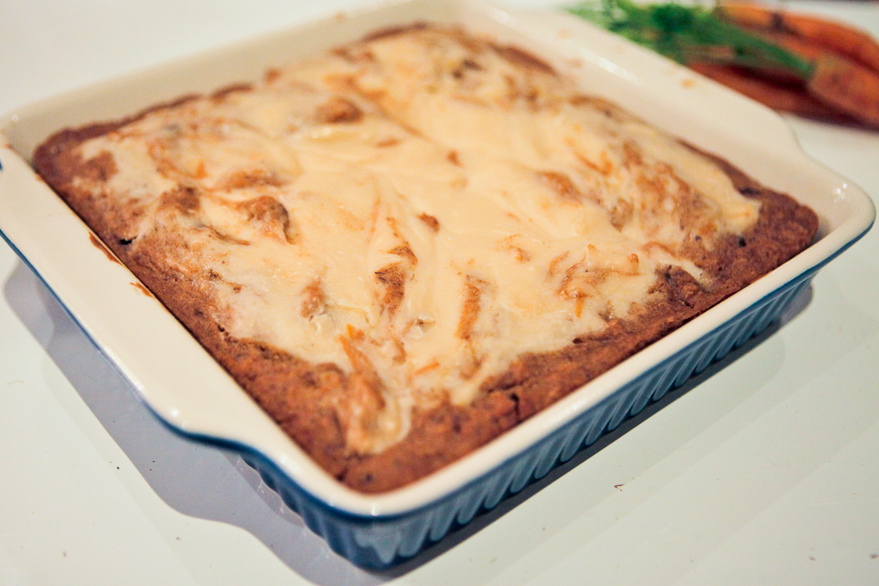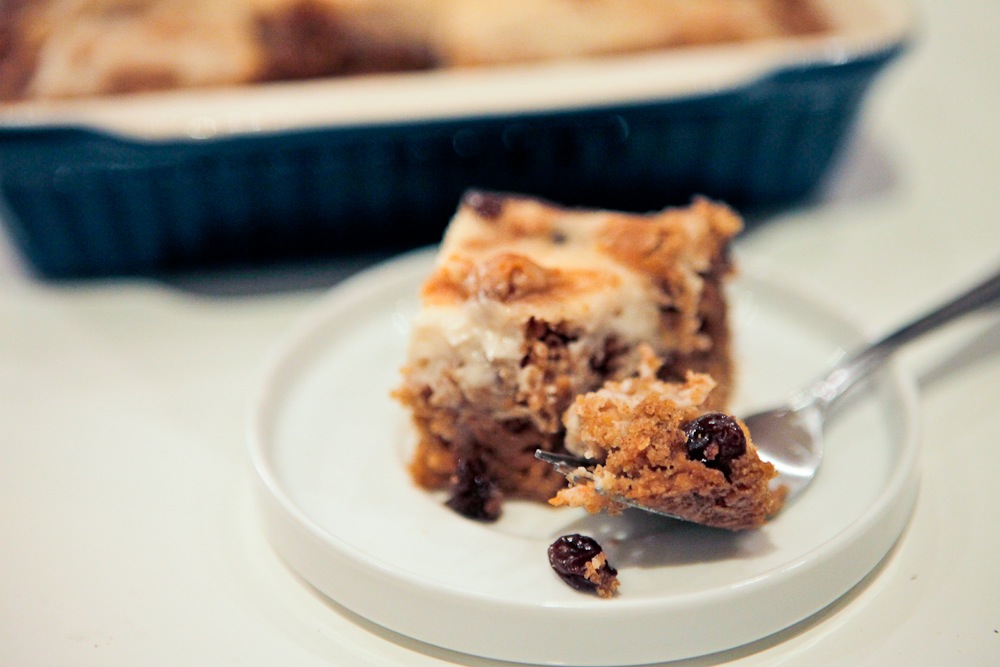 All Photos by Chris Miller
© Kristy Turner and Keepin' It Kind, 2012. Unauthorized use and/or duplication of this material (content and images) without express and written permission from this blog's author and/or owner is strictly prohibited. Excerpts and links may be used, provided that full and clear credit is given to Kristy Turner and Keepin' It Kind with appropriate and specific direction to the original content.