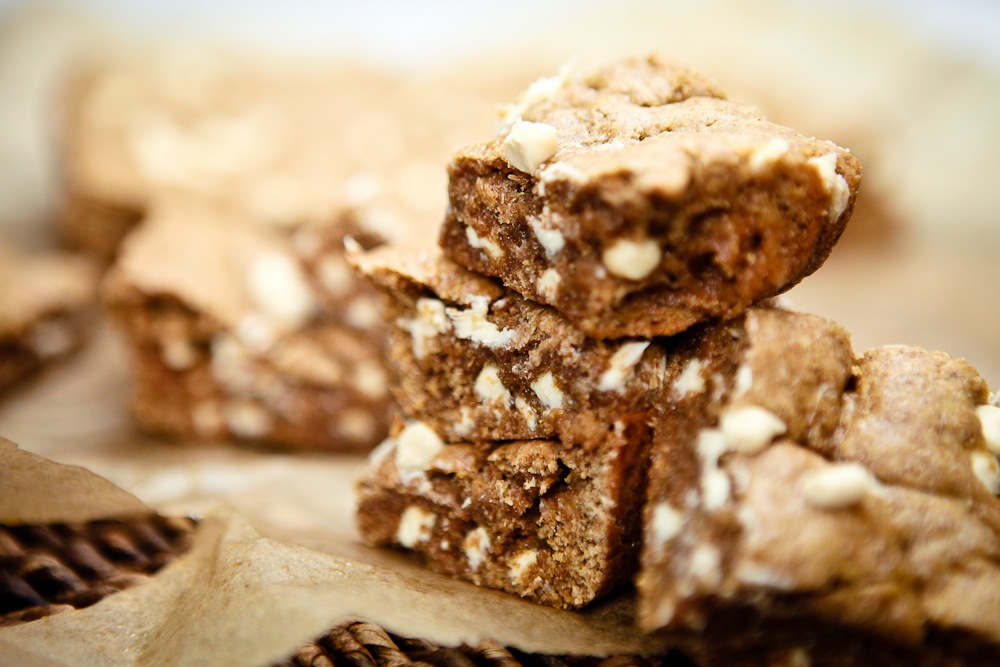 For the longest time, I had platinum blond hair.  I don't want to say it was completely the fault of the 90's, but they definitely contributed.  I don't know what possessed me to bleach my already blond hair and fill it with golden "lowlights," as my hair dresser called them.  Year after year, though, no matter how my hair was styled, it was platinum blonde.
Because I was in my early 20's and I liked to be cute,  I would often make platinum blondies to bring to potlucks or parties or what not.  These blondies were filled with white flour, refined sugar, eggs, butter, and white chocolate chips (thus giving them their "platinum" title)- but people loved them.  I think I was the only person in attendance that made the connection that the platinum blond brought the platinum blondies, but I secretly thought I was the coolest.  I blame that completely on being in my 20's.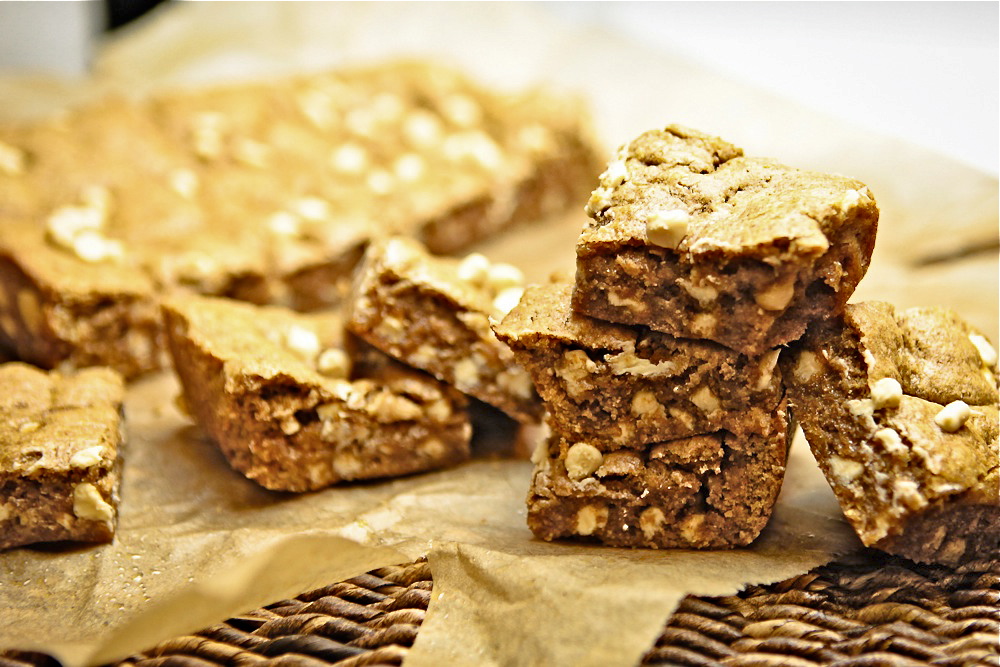 After a while, I gradually started getting my hair dyed less and less, letting my hair slowly return to its natural blond color.  Five years later, I became vegan.  I came across some pictures recently of my platinum blond self and started to think about how silly I was in my 20's and I remembered these blondies.  I decided it was time to make a more natural blondie to match who I am today.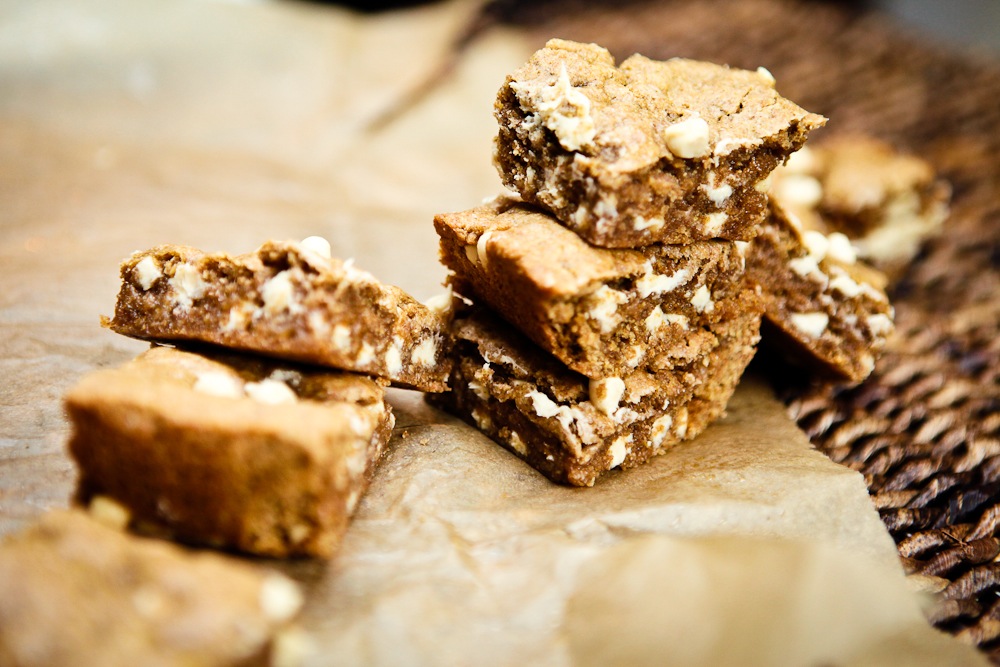 PLATINUM BLONDIES
makes 16 bars
Ingredients:
1 ½ cups whole wheat flour
½ sp baking soda
½ tsp baking powder
¼ tsp salt
¼ tsp cinnamon
¼ cup brown sugar
½ cup maple syrup
5 T canola oil
1 ripe banana, mashed
1 Ener-G egg replacer (1 ½ tsp mix combined with 2 T warm water) or 1 flax eggs (1 T flax meal mixed with 3 T water)
2 tsp vanilla extract
½ - ¾ cup white chocolate chips (depending on how much you want)
Instructions:
Lightly grease or use a vegan non-stick spray to spray an 8 inch square baking dish.  Prepare your egg replacer or flax egg.
In a large bowl, mix together your dry ingredients.  Set aside.
In a medium bowl, mix your wet ingredients.  Add your wet ingredient to your dry ingredients and stir until just combined.  Mix in the white chocolate chips.
Spread the batter our in the baking dish.  Put the dish in the oven and bake for 25-30 minutes, or until a toothpick inserted into the center comes out clean.  Place the baking dish on a wire rack to cool.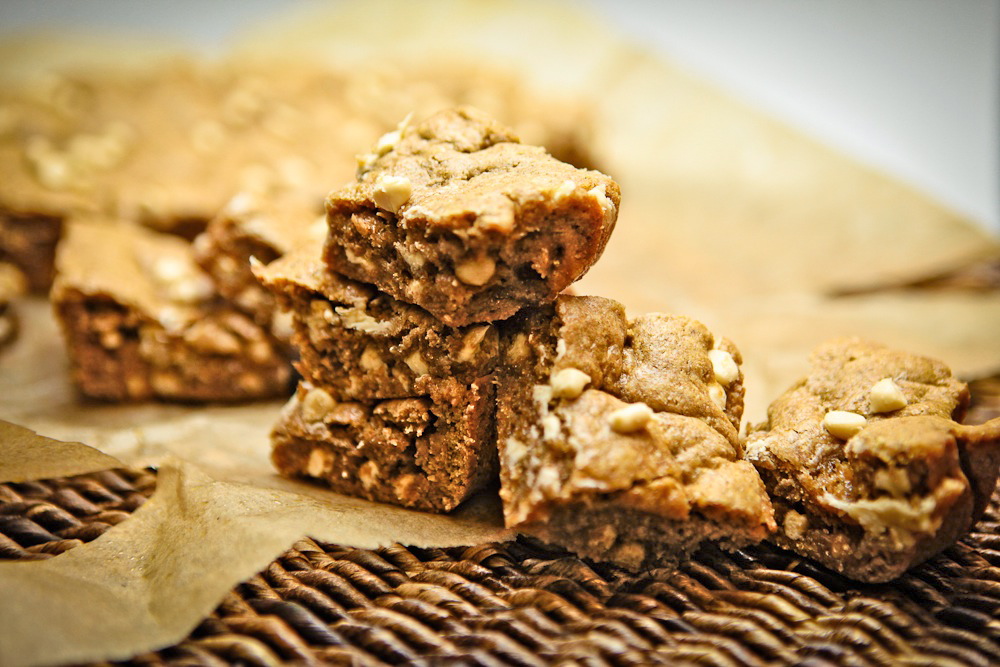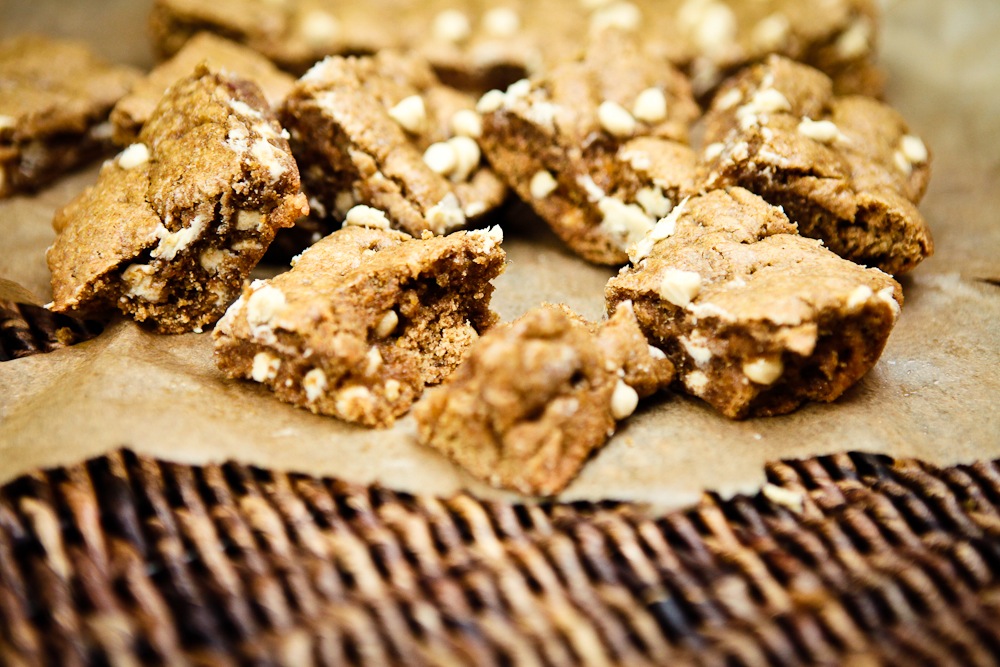 The old blondies used to taste like pure sugar, whereas these ones have a little more dimension.  You can taste the different ingredients.  The banana, maple, vanilla, and white chocolate flavors blend together so well and compliment each other perfectly.  It may be because my tastes have changed or because the taste of these bars have changed, but this natural blond likes these new natural blondies much more than their predecessors.
All Photos by Chris Miller
© Kristy Turner and Keepin' It Kind, 2012. Unauthorized use and/or duplication of this material (content and images) without express and written permission from this blog's author and/or owner is strictly prohibited. Excerpts and links may be used, provided that full and clear credit is given to Kristy Turner and Keepin' It Kind with appropriate and specific direction to the original content.