Chris told me recently that "It's not quite dessert unless there's chocolate in it."  Is there any question as to why I adore him?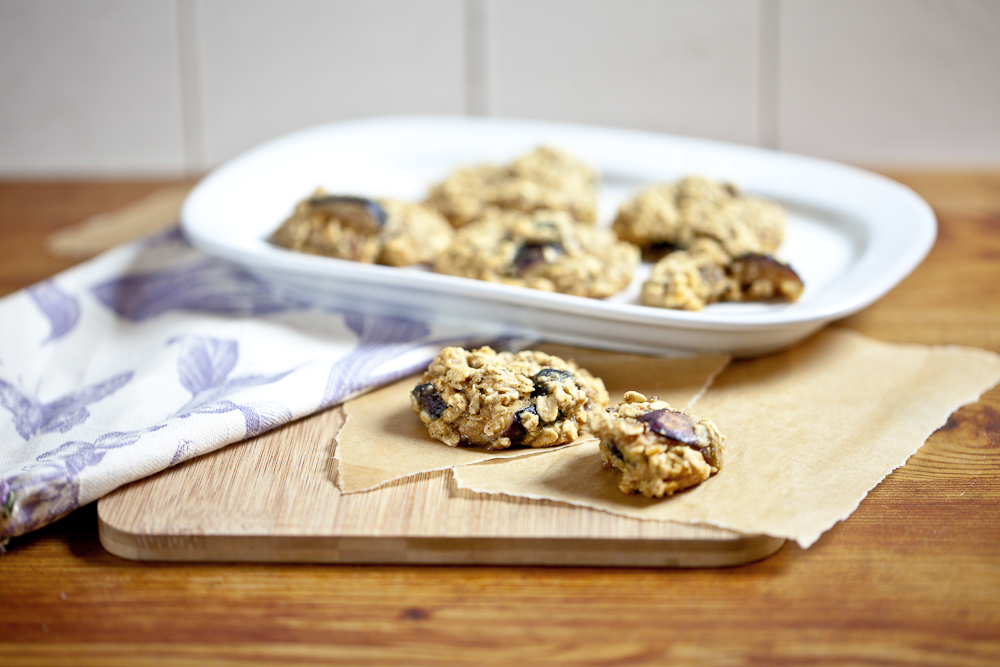 So I was all set to make some sort of chocolatey dessert to surprise him with after a long, hard day of work, when I found that I was out of chocolate chips (gasp!).  And cocoa & cacao powder (double gasp!).  How had I let this slip?  Actually, this was not a shock as this is the sort of thing I do all the time.  Lets say it's part of my charm.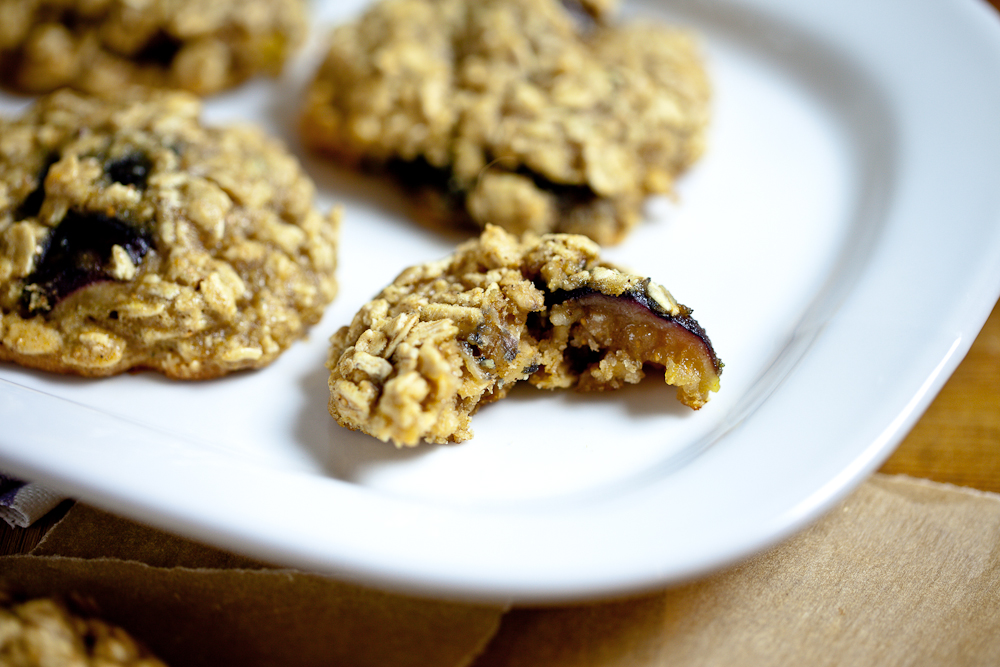 I remembered that Chris sometimes likes oatmeal raisin cookies, and I hadn't made them in ages, so I decided to go that route.  Raisins aren't my favorite things in the world, and though I had some, I just didn't feel like using them.  I had purchased some figs that morning because they were on sale and I had plans of making this salad, but decided on a whim that they would be better in these cookies than raisins.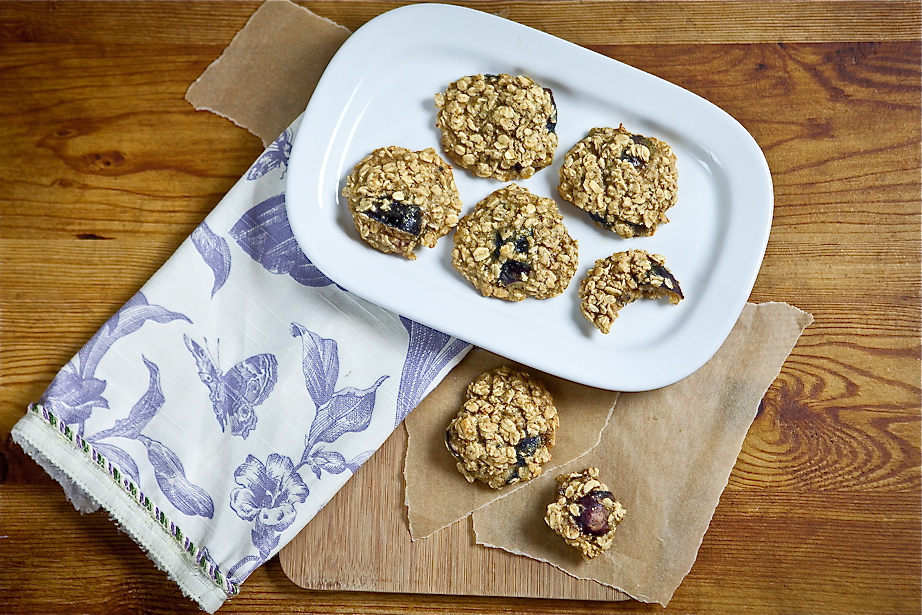 I pulled out my trusty old oatmeal raisin cookie recipe and made some adjustments which included trading all-purpose flour for gluten-free flour, brown sugar for brown rice and maple syrups, and cinnamon and ginger for cardamom and cloves.  I folded in my chopped figs (In the batch shown, I just quartered the figs, though in my next batch, I cut them into smaller chunks.  Either way is fine, but I recommend the latter) and I had a very hard time not eating all of this cookie dough straight from the bowl.  Eating way too much cookie dough could also be attributed to being part of my charm.  I restrained this time, however, because I wanted Chris to come home to a gorgeous plate of oatmeal fig cookies so we could test his dessert theory.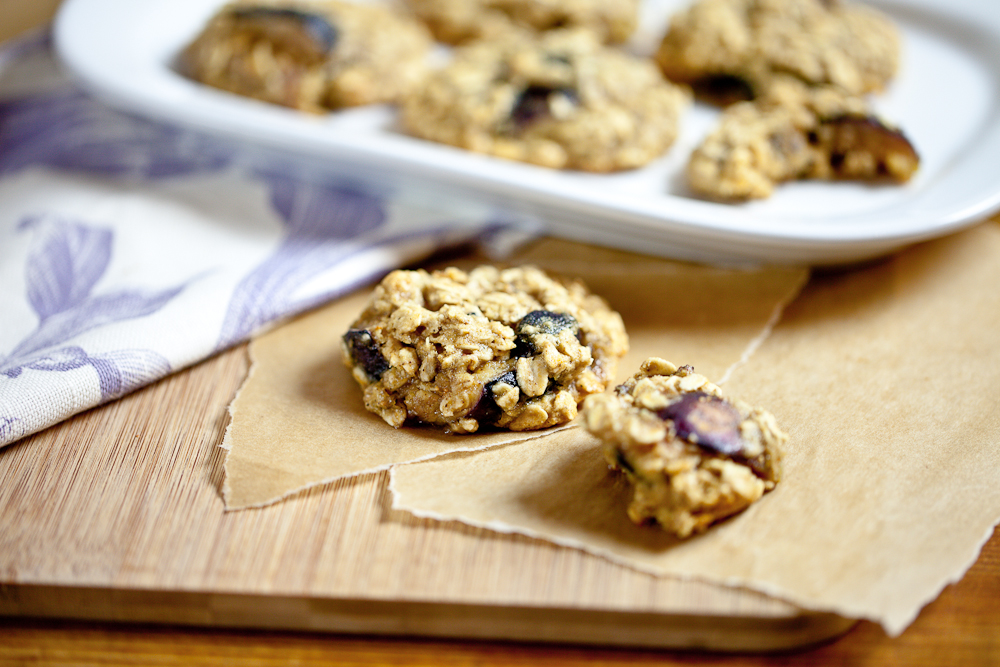 Not only did these cookies, though chocolateless, prove to be worthy of being called "dessert," but they had Chris exclaiming, between mouthfuls, "What is IN these?".  He was taken by how soft, chewy, and fragrant these cookies were.  The juice from the fresh figs seeps into the cookie making them very soft and moist.  Because of how aromatic the cardamom and cloves are, every bite you take is not just tasted by the tongue, but the nose as well.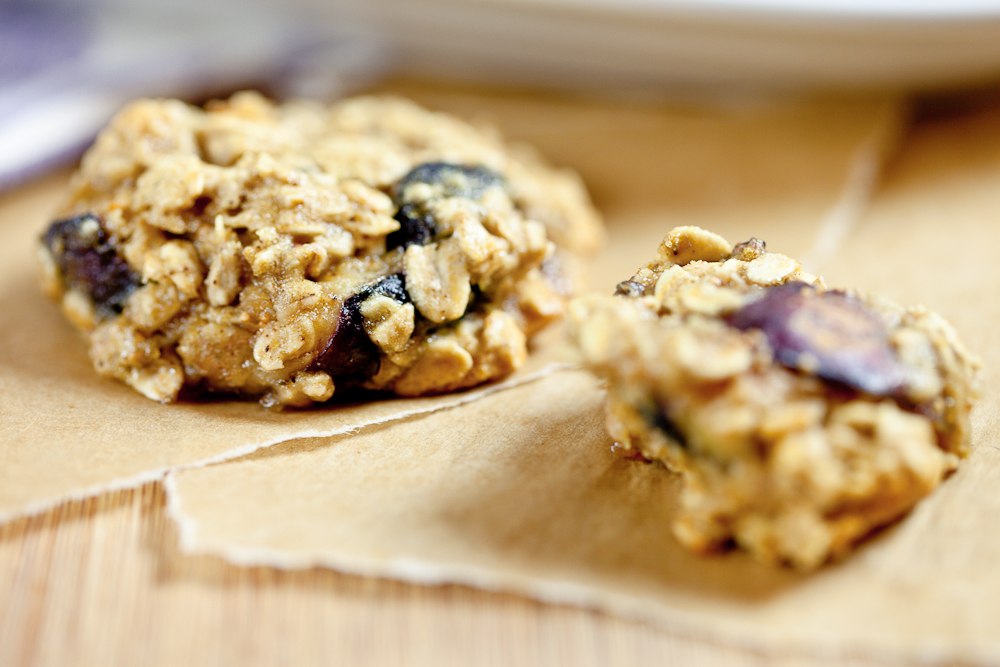 If you are like Chris, and a firm believer that desserts require chocolate, I urge you to challenge that theory with these cookies.  If you don't think desserts require chocolate, then you're likely to love these even more.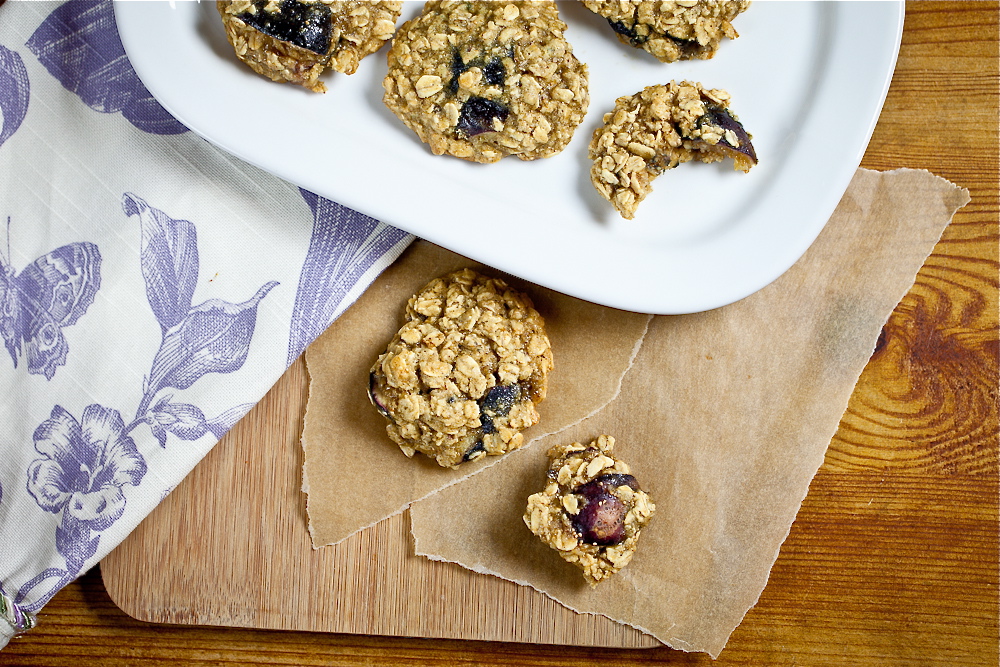 Cardamom Oatmeal Fig Cookies
Ingredients
2 cups rolled oats (not instant)
2/3 cup gluten-free flour mix, such as Bob's Red Mill (or all-purpose flour)
1 ½ teaspoons Ener-G Egg Replacer
½ teaspoon baking soda
½ teaspoon salt
½ teaspoon ground cardamom
½ teaspoon ground cloves
1/3 cup brown rice syrup
1/3 cup maple syrup
2 tablespoons coconut oil, melted
2 tablespoons unsweetened applesauce
1 teaspoon vanilla
1 cup fresh figs, stems trimmed and chopped into chunks
Instructions
In a large bowl, whisk the flour, egg replacer, baking soda, salt, cloves, cardamom and oats together until thoroughly combined.
In a smaller bowl, mix together the brown rice and maple syrups with the coconut oil, applesauce, and vanilla. Add the wet ingredients to the dry ingredients and mix together. Fold in the fig segments. Refrigerate the dough for 30 minutes.
Once the cookie dough has chilled, preheat oven to 350. Line two baking sheets with parchment paper. Scoop the dough by heaping tablespoons onto the baking sheets, keeping in mind that these cookies will spread out (so don't crowd them together).
Bake for 13-15 minutes, or until cookies have firmed and are golden brown around the edges. Remove from oven and let sit on the baking sheet for about 5 minutes before transferring them to a cooling rack. Let cool completely before serving. Enjoy!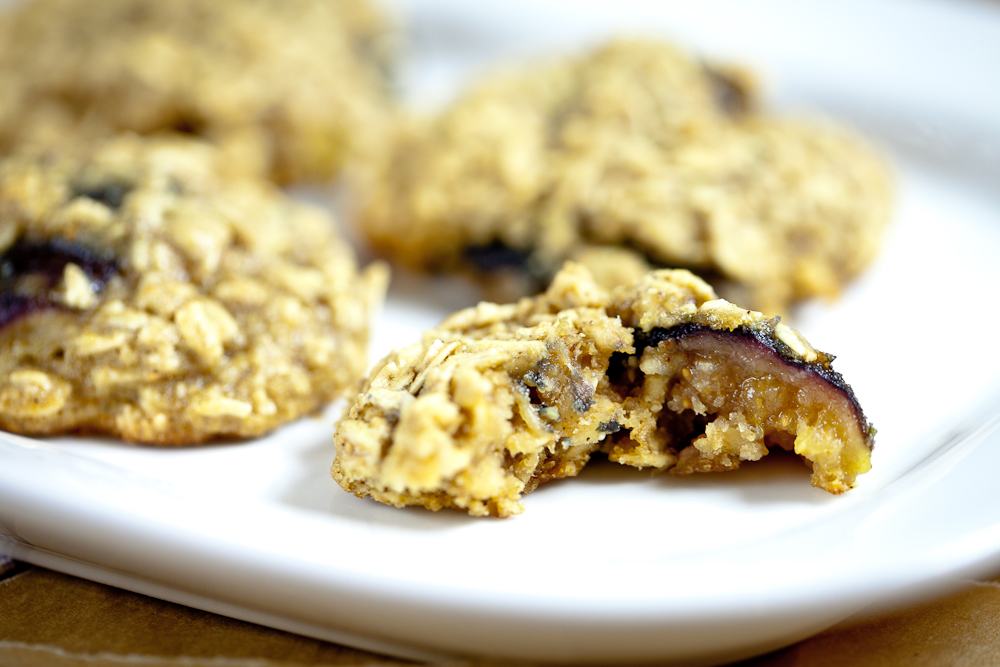 Speaking of Chris, last we week we started a
little contest
to see who could come up with a great story for how he got arrested by the Disney police.  We have picked a winner!   This little clever little poem from Beth had Chris and I busting up:
There once was a guy named Chris
who got the Disney cops pissed
They threw him in jail
and his wife got him bailed
but the whole story is truly a dish
I know what you're thinking…
but only DCA has drinking!
he made some kids cry?
he said the Peter Pan boats don't actually fly?
Maybe he stole some great loot
like The Witch's apple or Buzz's Andy-marked boot
Did he sneak backstage?
it puts Cast Members in a rage!
The truth is Chris thought it'd be extremely funny
To ask every single person he met "Where the heck is BUGS BUNNY?!??!"
Beth, you can expect a gift card to be appearing in your email inbox very soon.  Now, as promised, here is the real story:
When Chris was 13 he went on a church outing to Disneyland.  The kids were allowed to split up so he and his friend, also named Chris, hopped onboard the people-mover, a series of connected, open pod-like cars that followed a track around the park.  They were in the very front car and at one point, they decided they wanted to be in the back car.  They climbed out of the front car and ran along the track next to it and jumped into the back car.  As soon as they climbed into the back car, the ride, which had just entered a tunnel, stopped and the lights turned on.  Disney Police appeared (one of them looking uncannily like Harrison Ford) at the Chris's car and asked them if they had climbed out of the ride to change cars.  They lied and said they hadn't, but the police still took them into the Disney police station where they were detained for several hours with some chain-smoking, punk-greaser Canadians who had also been arrested for something else.  After spending those several hours in great fear that they were going to "juvi," they were finally questioned and then released, their punishment being a 1 year banishment from the happiest place on earth.
It's probably a little anticlimactic after all the build-up, but it still cracks me up every time I hear it.  Thank you, Beth, for your fantastic poem, and thank you all so much for participating- we had a blast reading through your crazy, off-the-wall stories!
Love animals? Help support Farm Sanctuary's mission to protect farm animals from cruelty! Keepin' It Kind's goal is $500, but we can't do it alone! Together, we can make a real difference for farm animals everywhere. Donate today!  Learn more about Why I am Walking for Farm Animals and join our team!
Photography by Chris Miller