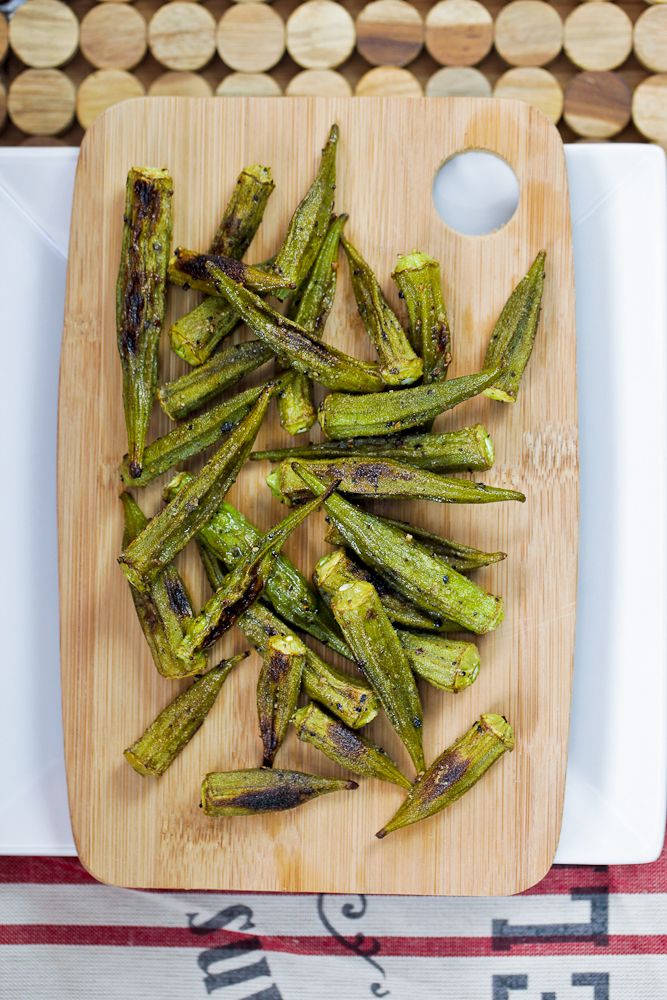 Is anyone as excited as I am about it being okra season?  I have to admit, I'd actually never had okra until just a few days ago and now you can safely call me an okra enthusiast.  You probably could have safely called me an okra enthusiast before a few days ago, but I would have likely just responded with a blank stare (or a slap on the wrist, if I was in a mood).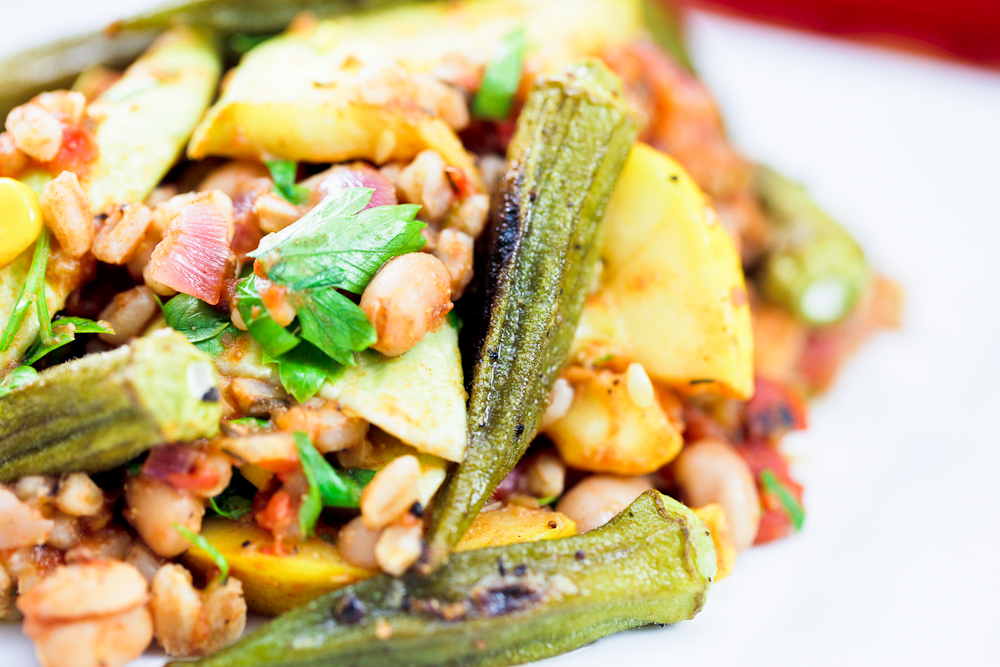 In the last 72 hours, give or take, I've gone from on of those who turns their nose up at okra because someone said it was slimy (or mucilaginous as Wikipedia likes to say), to researching recipes, scouring farmer's market for the freshest okra I can find, and as you may have guessed, reading about it on Wikipedia.  In other words, I'm way into okra right now.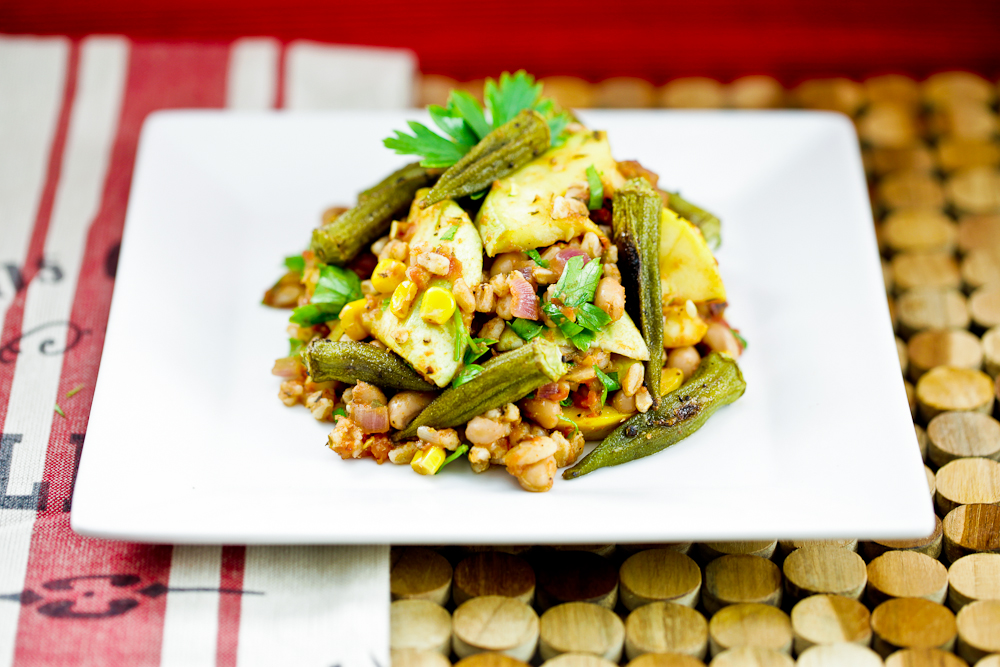 Yes, it is true- okra can release a white, slimy, unappetizing goo, but that goo can be put to goo-d use (Corny alert!).  The slime can be used to thicken stews or gumbo and is actually very good for you as it is a valuable source of insoluble fiber.  Okra, itself, is very nutritious, being a calcium-potassium-folate-antioxidant-vitamin C packed pod.  If you are still unconvinced to jump on the okra bandwagon, take a look at this recipe.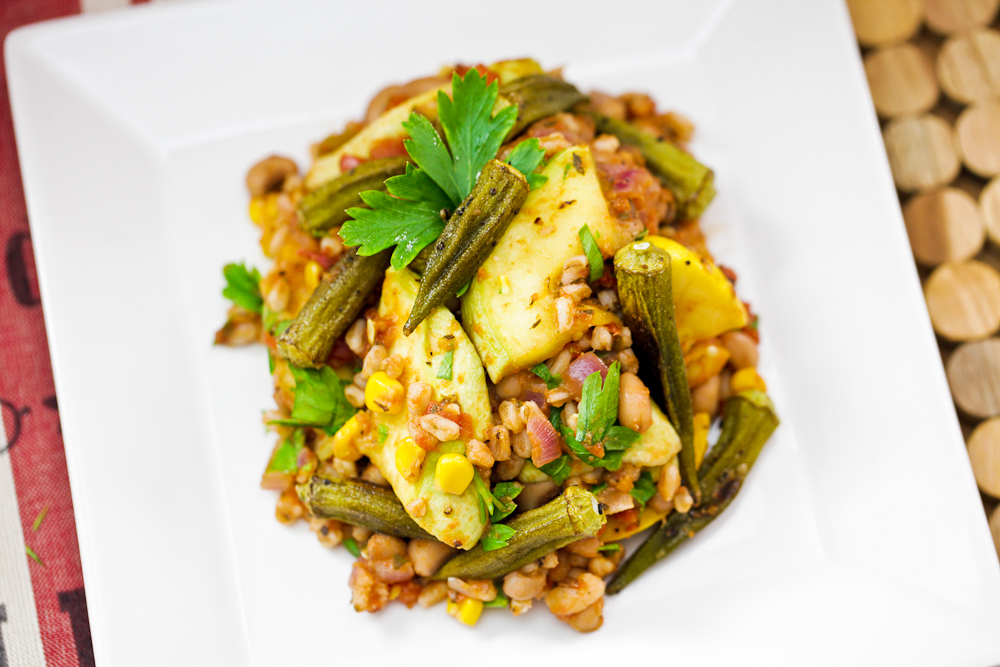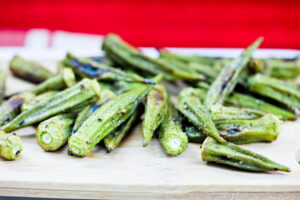 Imagine an okra pod, with a crisp, slightly browned outer shell.  When you bite into it, you are not met with goo, but with a soft creamy texture, similar to roasted zucchini.  It has a rich, smoky, very distinctive taste that is all its own.  The trick to this is roasting the okra pods and the result is extremely addictive.  You could eat them as finger food, just like you would french fries, but I took it a step further.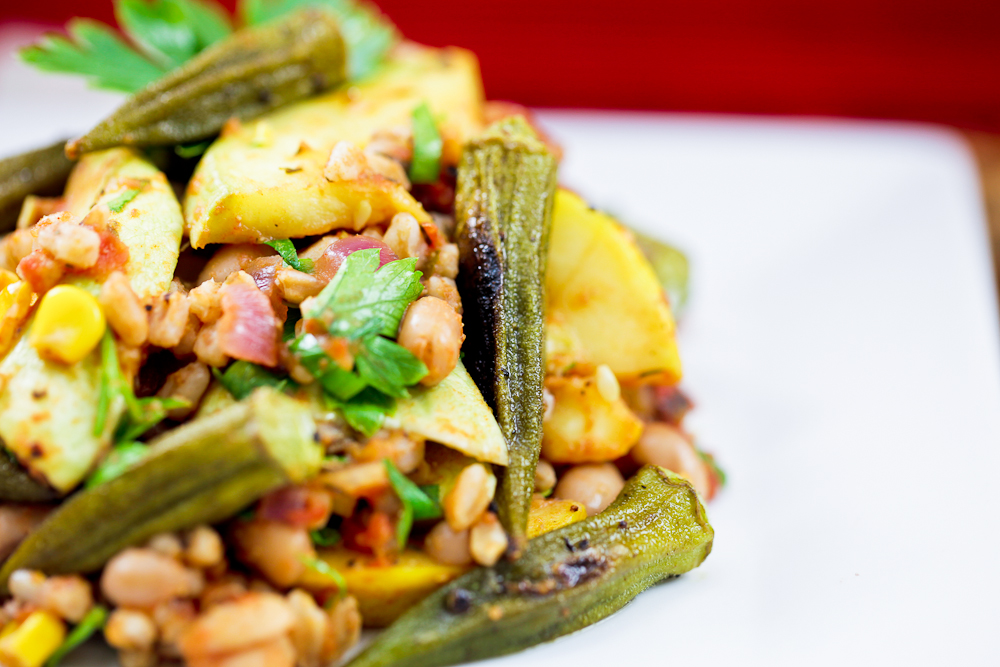 I decided to mix them in with some roasted patty pan squash (though zucchini or another summer squash would work just as well), black-eyed peas, fire-roasted tomatoes, cilantro, and farro.  The variety of ingredients turned this bowl into an explosion of smoky, creamy, nutty, and savory textures.  It was the best thing since sliced okra.  Just like the first time I heard a Flight of The Conchords song, I was instantly hooked and couldn't wait for my next fix.  Thank goodness for the leftovers that tided me over until I could go to the okra enthusiast store farmer's market and stock up.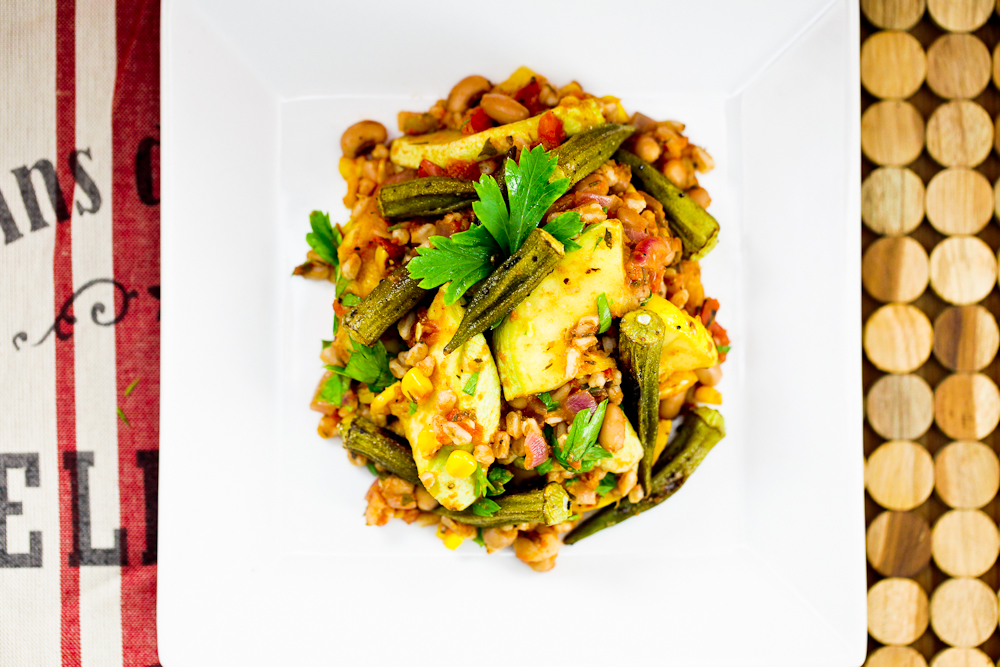 Okra, Black-Eyed Pea & Farro Bowl
Ingredients
1/2 lb okra, tops trimmed with out cutting open the pod
3-4 cups patty pan chunks (or other type of squash)
olive oil spray
salt and pepper to taste
1/2 cup farro, rinsed
1 cup water
1 teaspoon olive oil
1 medium red onion, chopped
3 cloves garlic, minced
1 tablespoon green chiles (from a can)
1 15 oz can of fire-roasted tomatoes
2 teaspoons cumin
2 teaspoons dried thyme
1 teaspoon dried oregano
1 teaspoon smoked paprika
1 15 oz can of black-eyed peas, rinsed and drained
1 cup fresh or frozen corn kernels
1/2 cup fresh cilantro, roughly chopped
Instructions
Preheat the oven to 450. Line 2 baking sheets with parchment paper.
Spread the squash chunks one baking sheet and the okra on the other baking sheet. Lightly spray both sheets with olive oil spray and add salt and pepper to taste. Toss to thoroughly coat both the squash and the okra. Place in the heated oven and roast for 15 minutes, flipping halfway through to cook evenly. The squash may need to stay in the oven for 5 more minutes.
Once the okra and squash are in the oven, start cooking your farro. Place your rinsed farro in a pot with the water and bring to a boil. Once it is boiling, lower to a simmer and cover the pot partially. Cook until there is no more water, about 15-20 minutes.
While the farro is cooking, heat the olive oil in a large, shallow saucepan over medium heat for 1 minute. Add the garlic and cook for about 1 minute before adding the onion. Saute the until the onion is translucent. Add the green chiles, tomatoes and spices and mix to combine. Add the black-eyed peas and corn and mix to combine. Continue to cook for about 5 minutes, stirring occasionally to prevent sticking.
Once the okra and squash are done roasting, and the farro is done cooking, add them all to the black-eyed pea mixture, and mix to combine. Serve immediately while hot. Enjoy!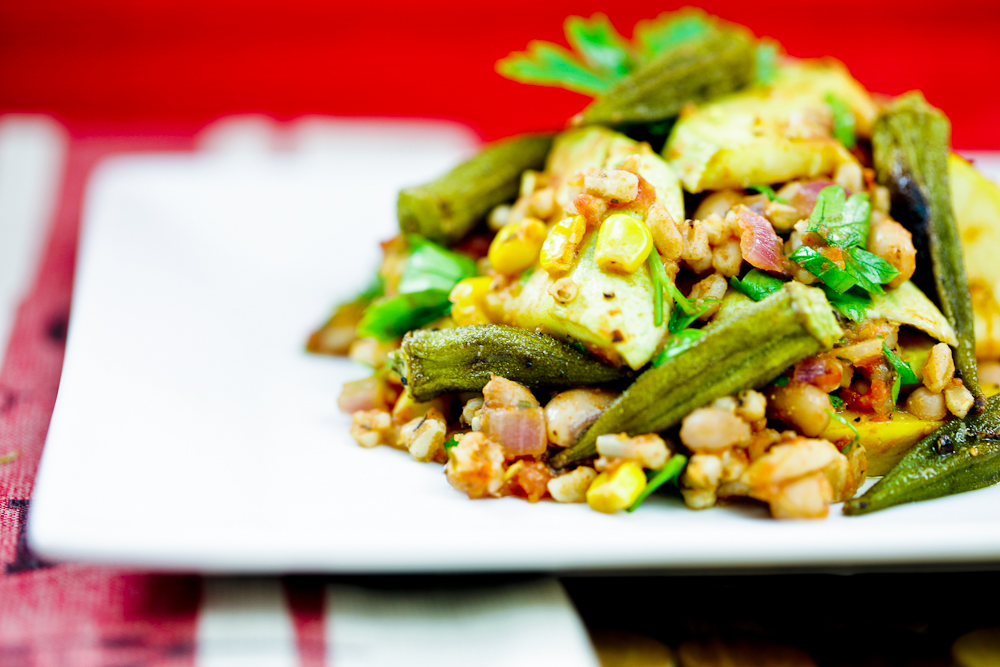 Several days ago, I received many requests to know how exactly Chris, my husband, got himself arrested at Disneyland by the Disney Police.  I honestly didn't think that statement would cause such a stir, but since it has, I am going to use an idea Cadry suggested and create a little contest:  To enter, just leave a comment below describing the story for how you imagine he got arrested.  Chris and I will pick the best/most creative story and possibly put together a little prize for the winner (in other words, I haven't figured that part out yet) and let you know the true story.  We will be choosing the winner this Sunday, 9/16/12, and revealing the winning story on Monday, 9/17/12.  Have fun!
Love animals? Help support Farm Sanctuary's mission to protect farm animals from cruelty! Keepin' It Kind's goal is $500, but we can't do it alone! Together, we can make a real difference for farm animals everywhere. Donate today!  Learn more about Why I am Walking for Farm Animals and join our team!
Photography by Chris Miller