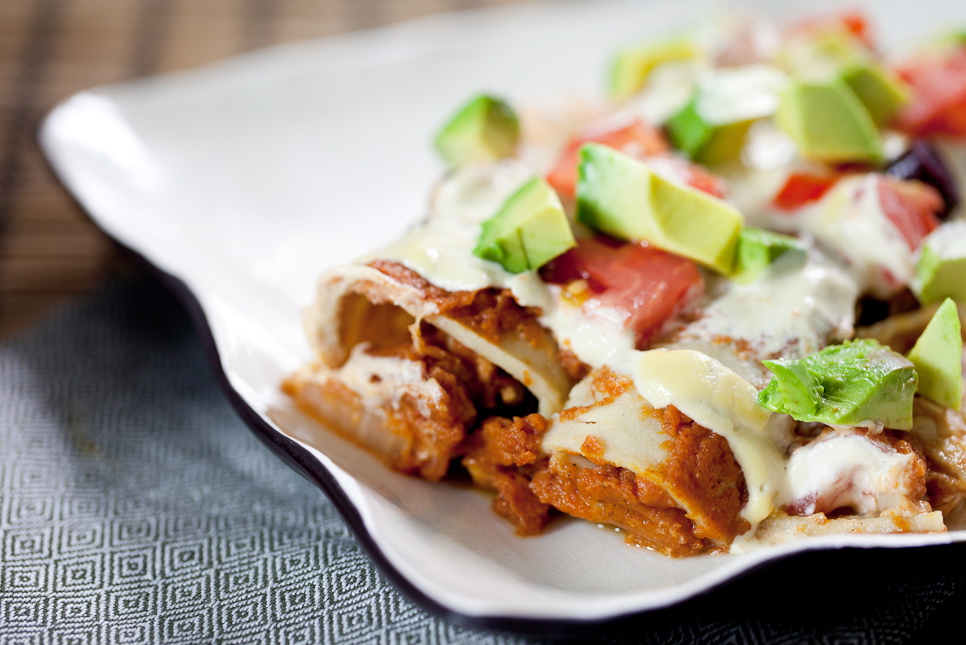 In the past, when I've brought food to share with my family, I've always been met with many questions about the ingredients (followed by raised eyebrows), jokes about the food being weird or likely tasting like cardboard (without tasting it), announcements of undying love for meat, a list of how few times one ate meat this last week, rolled eyes, concerned looks ("That poor malnourished girl!"), and then one or two people saying "hmm, this is pretty good"  and maybe going back for seconds.  I know it's a combination of curiosity and defensiveness, but I do my best to not let it get to me.  I'm used to it now, and though I do feel a little stressed when it comes to eating with my family, I've found that it's much easier for myself, and for everyone else, if we just bring our own food.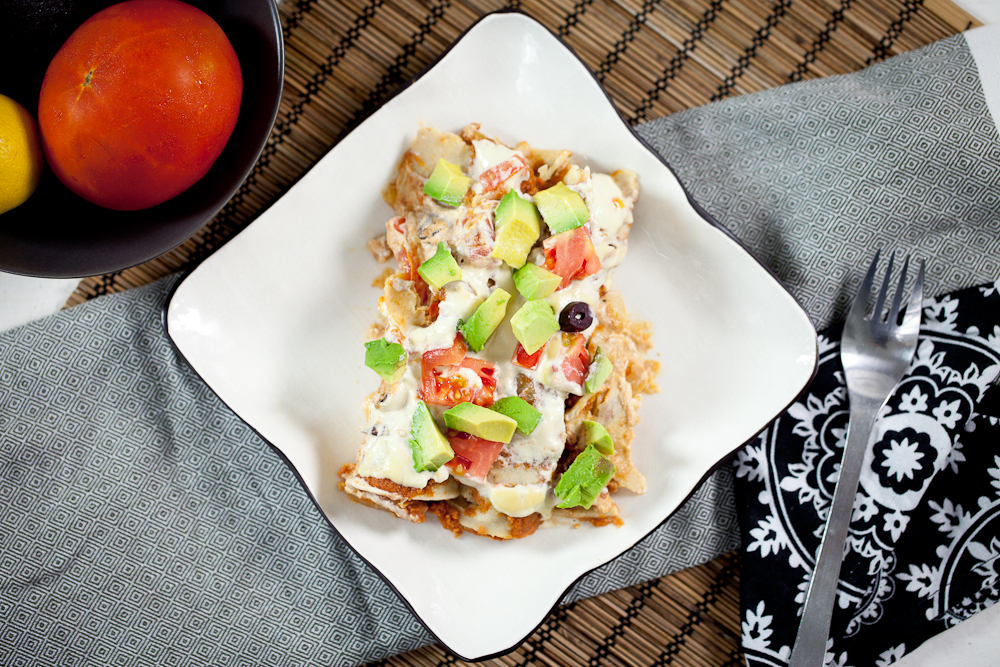 This was what I had been planning on doing for an upcoming family event, so you can imagine my surprise when I was asked to contribute a dish ("something in a 9 x 13 casserole dish").  When I asked if I should perhaps bring a vegan dessert as well, I was met with the question "Aren't all desserts vegan?"  I explained that we don't eat eggs, dairy, or any other by-products of animals.  The reply: "Ok. Sure.  I would love to try whatever it is that you eat."  This was new.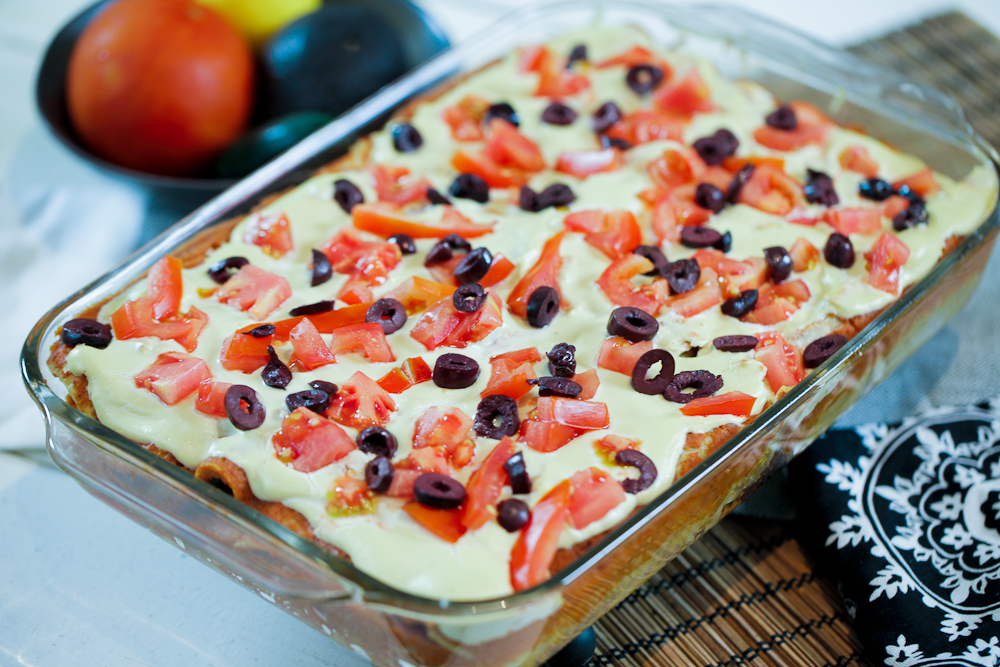 I planned on just simple gluten-free, vegan chocolate chip cookies for dessert (which ended up getting upgraded), but I was stumped when it came to a casserole style dish.  I wanted something that I knew my family would go for, something they would never suspect to be vegan.  After a week or two of debating and having my stomach tied up in knots, I planned out my contribution: Jackfruit Enchiladas.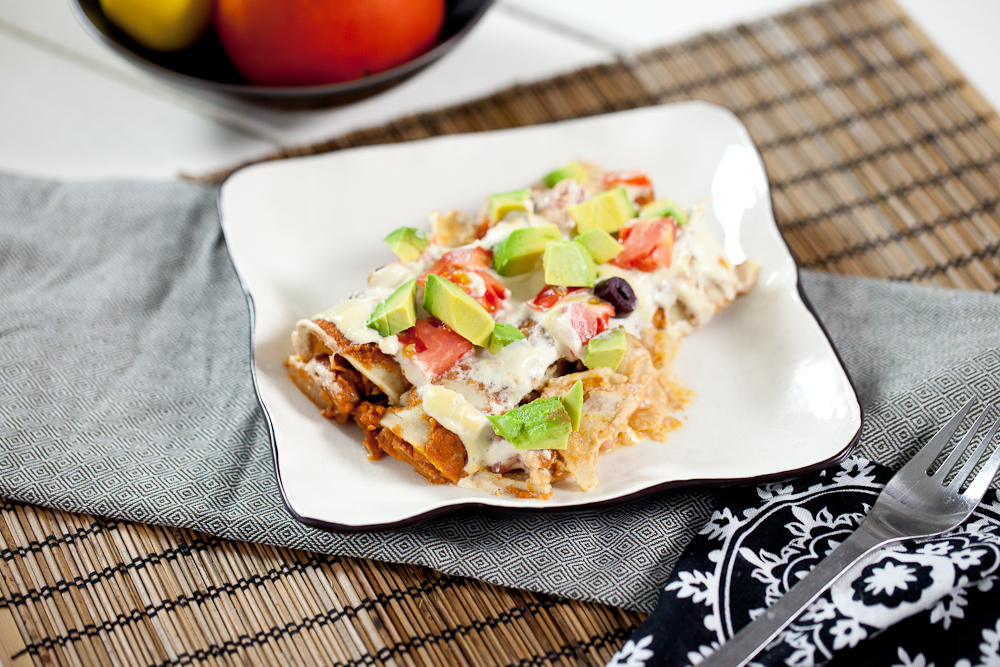 Jackfruit is a fruit (thus the name) from South/Southeast Asia.  Depending on it's type, the flesh can be rather hard and fibrous or soft and sweet.  When cooked, it can take on the flavor of whatever you choose to season it with, and it has shredded meaty texture. It can be a very versatile ingredient in the vegan kitchen and can be found in most ethnic markets.  It's available packed in water, brine, or syrup.  If you are using it for a savory recipe, be sure to choose one not packed in syrup.  I decided that the texture of this fruit, cooked in a spicy tomato-based sauce and packed into corn tortillas, covered with subtly spicy enchilada sauce and cashew crema, would be something that would taste amazing and not intimidate my family.  I prepared a separate test dish at the same time that I made the main and I was wrong.  These enchiladas did not taste amazing.  They were down-right ridiculously mind-blowing and I actually couldn't wait to share it with my family.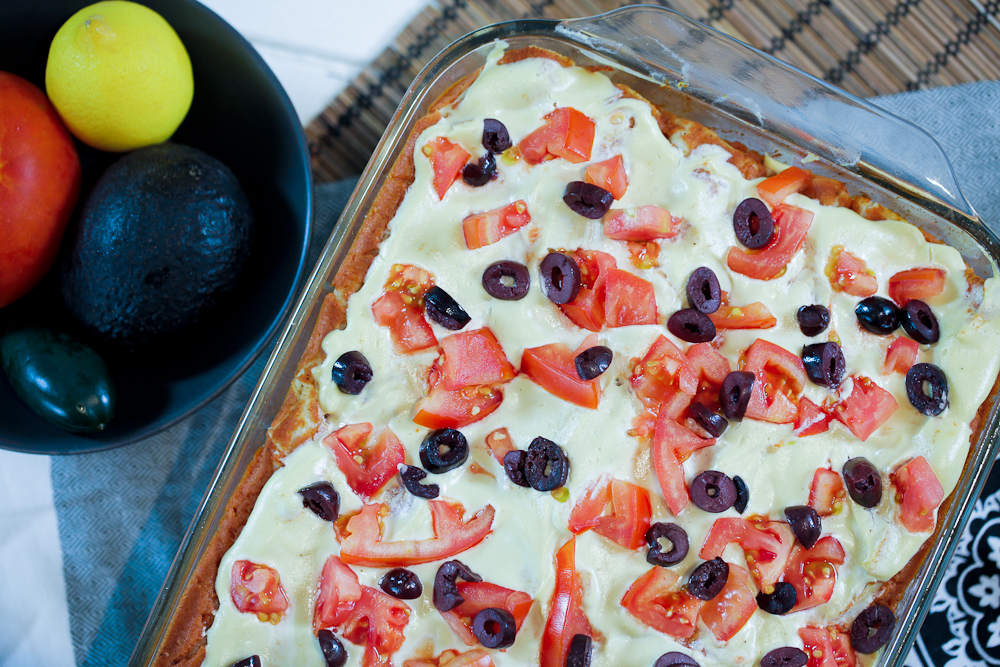 Almost two weeks ago, my family gathered to celebrate a very special occasion: My grandparents celebrated their 60th anniversary and renewed their vows.  My cousin, Josh, a lawyer, officiated, and I was asked to do a reading during the ceremony.  We sat down to a beautiful dinner outside, and though there were a few questions regarding jackfruit, the dish went over surprisingly well!  I had prepared myself to bring home leftovers, but the 9 x 13 dish was scraped clean!  This was a momentous occasion in itself, but add to that the beautiful table setting, the collection of my beloved family at one table, and a wonderful toast from Brandonn, another cousin, and you have a taste of what an incredible meal this was.   Later, my grandparents were able to have their first "first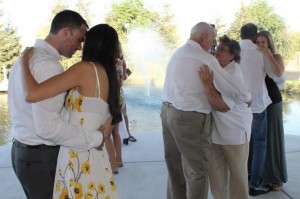 dance" and after a few moments all the other couples stood up and began dancing with them.  At one point, my grandpa and I caught each other's eyes and he did a little wave at me, over my grandmother's shoulder, and I waved back at him.  It was an incredible day that I will never forget and I am so thankful I was able to move past my meal-time trepidation and fully enjoy my time with my amazing family.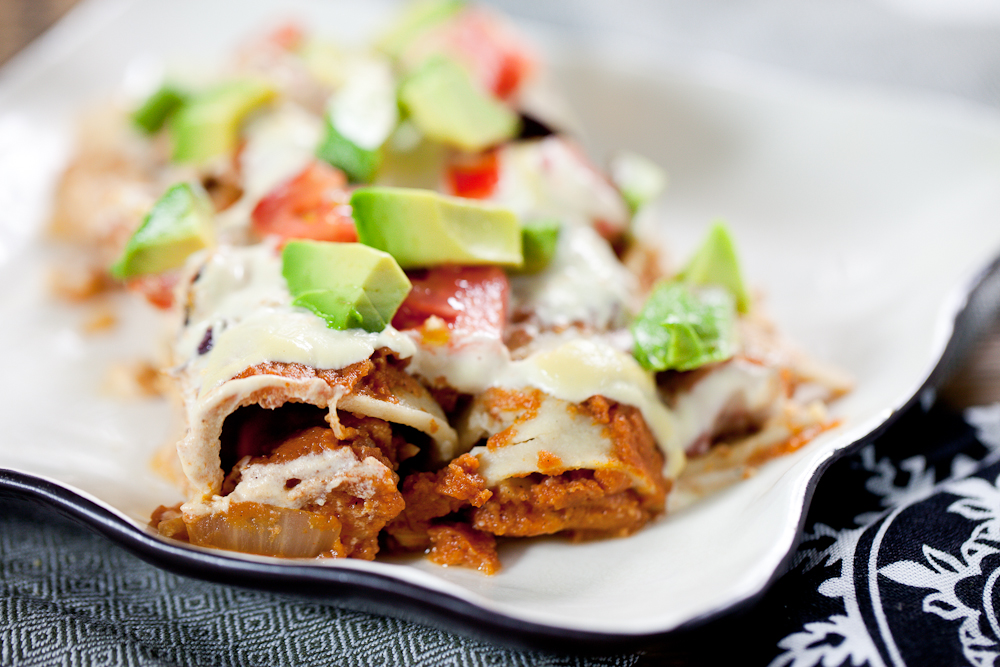 Ingredients
1 15 oz. can of fire-roasted tomatoes
2 Pasilla or Anaheim peppers
1 head of garlic
1-2 teaspoons olive oil
1 1/2 cups vegetable broth
salt and pepper to taste
1 1/2 cups raw cashew, soaked for at least 2 hours
2/3 cups water, reserved from soaking the cashews
2 tablespoons nutritional yeast
2 teaspoons white miso
2 teaspoons white vinegar
1 teaspoon garlic powder
1/2 teaspoon onion powder
juice from 1 lemon
salt to taste (optional)
1 teaspoon olive oil
3 cloves garlic, minced
1/2 large onion, chopped
2 tablespoons green chiles (from a can)
1 1/2 cups mushrooms, sliced
1 red bell pepper, quartered and thinly sliced
2 20 oz. cans of jackfruit, packed in water or brine, rinsed and drained
1/4 cup tomato paste
1/4 cup Bragg Liquid Aminos (or Tamari/Soy Sauce)
2 teaspoons liquid smoke
1 1/2 teaspoons cumin
1 teaspoon smoked paprika
1/2 teaspoon dried ancho chile pepper
smoked salt to taste (or regular salt)
pepper to taste
12 corn tortillas
olive oil spray
1/3 – 1/2 cup sliced black olives
1 large heirloom tomato or 2 roma tomatoes, chopped (optional)
1/2 avocado or guacamole (optional)
Instructions
Preheat the oven to 450. Remove all the cloves from a head of garlic and place on a piece of aluminum foil. Drizzle with 1-2 teaspoons olive oil and salt and pepper to taste. Wrap the cloves up in the foil and place on a baking sheet in the oven for 20 minutes. Remove and let cool before handling.
Once you've placed the garlic in the oven, you can start on your peppers. Line a baking sheet with parchment paper. Turn one of your stovetop burners up to medium-high heat. Place your peppers on top of the burner. Use tongs to slowly turn the peppers until all sides of the pepper are black and charred. Place the peppers on the prepared baking sheet and place in the oven, with the garlic for 5 minutes, flipping halfway through to allow the peppers to cook evenly. When they're done, remove from the oven and place in a plastic bag or tupperware container with a lid. Let them cool inside the bag/container.
Once the peppers have cooled, peel the outer skin off of each of them. Carefully trim the top off and remove the seeds. Place the peppers in a food processor or blender. From the roasted cloves of garlic, squeeze each of them at one end until the insides ooze out. Place all of the "oozed out" garlic in the food processor/blender as well. Add the can of fire-roasted tomatoes and vegetable broth and blend until smooth. Set aside.
Now you can start on the enchilada filling. Lower the heat of the oven to 350. Once you have rinsed and drained your jackfruit, use either your hands or two forks to tear each piece apart until it has that "shredded meaty look" and set aside.
Heat the olive oil in a large shallow saucepan over medium heat. Add the garlic and sauté for 1 minute. Add the onion and sauté until translucent. Add the mushrooms, bell pepper and green chiles and sauté until bell pepper is tender, about 5 minutes. While the veggies are cooking, combine the tomato paste, Braggs Liquid Aminos, liquid smoke, cumin, smoked paprika, ancho chile pepper in a cup and use a fork to combine it. Add the shredded jackfruit and and saute for a couple more minutes before adding the tomato paste concoction. Mix to combine and let it cook for about 5 minutes, letting the flavor soak in.
Once your jackfruit filling is done, heat your corn tortillas. This is important because if you try to wrap the filling with cool tortillas, they will break and look ugly. I wrapped 6 tortillas at a time in a couple damp paper towels and microwaved for 30 seconds.
Lightly spray a 9 x 13 baking dish with olive oil pray. Pour a little bit of the enchilada sauce into the dish, just enough to cover the bottom. Carefully spoon roughly 1/3 cup of the filling onto the center of a tortilla, wrap it up and place it fold side down in the casserole dish (I did it in two horizontal rows of 6 rolls each). Repeat with the rest of the filling and tortillas. Once your dish is filled with rolls, pour the rest of the enchilada sauce over the rolls. Cover the baking dish with aluminum foil and bake at 350 for 20 minutes.
While the enchiladas are baking, make your cashew crema. Add all of the ingredients into a clean food processor or blender and process until smooth.
Once the enchiladas have baked for 20 minutes, pour the cashew crema over the top. You will likely not use all of it- I had about 1/3 cup left. Use a rubber spatula to evenly spread the crema over the top. Sprinkle with chopped olives and tomatoes and return to the oven for 5 more minutes. Remove from oven and let sit for 10 minutes before serving. Serve with chopped avocado or guacamole, if desired. Enjoy!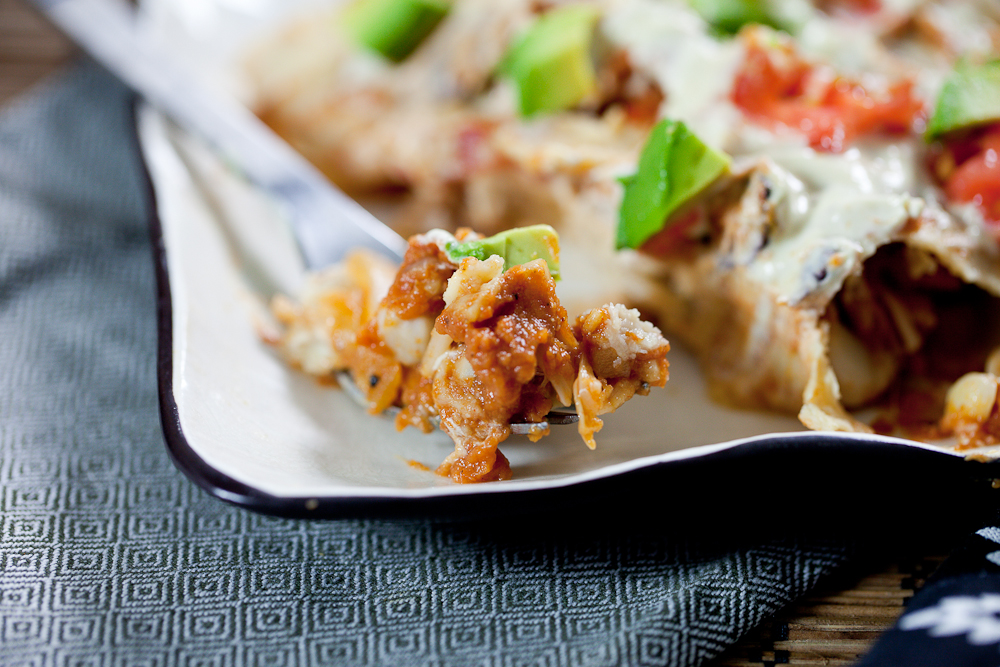 This recipe is being shared with Gluten-Free Fridays, Wellness Weekends, and Healthy Vegan Fridays.
Keepin' It Kind is participating in the Walk for Farm Animals to give hope to millions of abused and neglected farm animals! Please support me by making a Donation today. Together we can make the world a more compassionate place for animals!  Learn more about Why I am Walking for Farm Animals and join our team!
Photography by Chris Miller