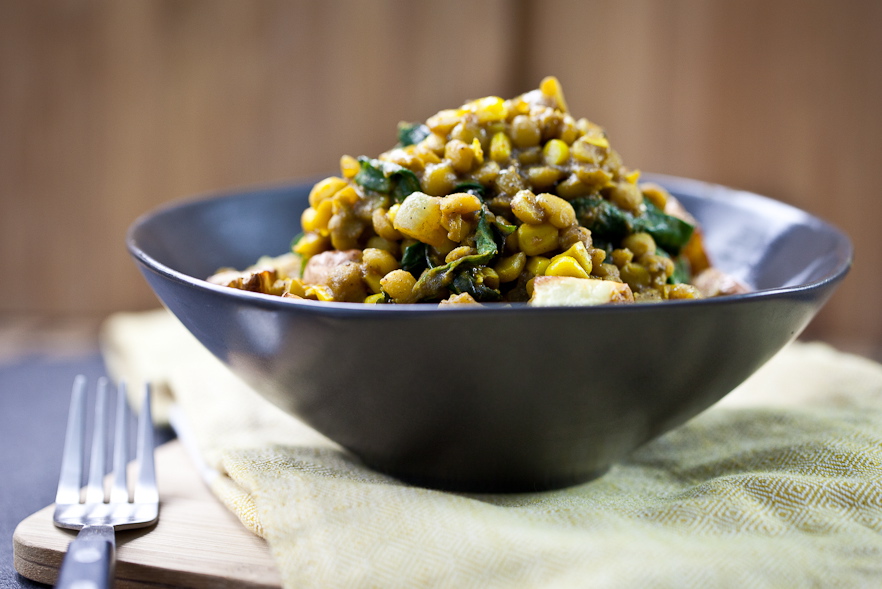 I'm going to come clean about something.  Until I became vegan, I did not entirely understand the concept of  blogs.  I rarely looked up recipes, and if I did, I certainly didn't take note of what blog it was on.  I would just make the same few dishes and occasionally wing it and make something new.  Then when I became vegan, I slowly began to explore the world of food blogging.  I have met some of the greatest people!  I began looking up recipes and techniques and taking note of blogs that I was gravitating toward.  I never commented, even if recipes from that blog totally rocked my world, because I really didn't think the blogger would ever see them or if he/she did, she would probably quickly disregard it.  I never subscribed to blogs I liked because I thought I would just end up getting a ton of junk mail.  Heck, I didn't even know what "RSS" stood for.  I only "liked" them on Facebook if I thought seeing posts from them in my newsfeed wouldn't be too annoying.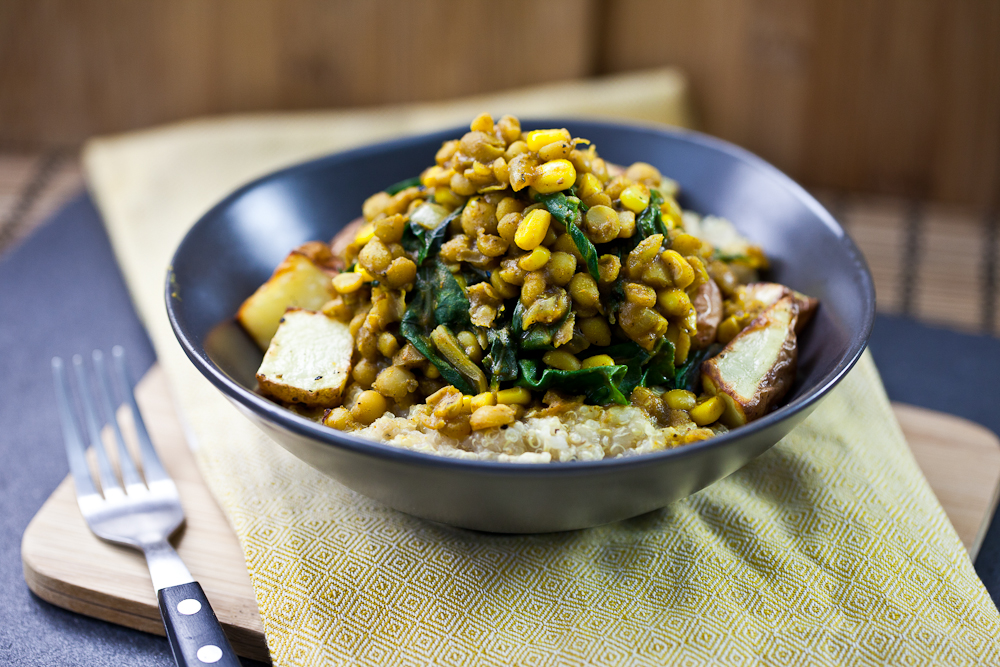 Once I started Keepin' It Kind, it still took me awhile to figure out how a blog really worked.  I learned that a good comment can really just make me beam for the rest of the day, and when I get a comment from someone I admire, I giggle like a schoolgirl.  Though it can be tough to keep up with all of my favorites (there's so many!), I love stopping in and spreading the love. It's also become a fantastic way to connect and really get to know my fellow bloggers, and I must say, the sense of community is one of my favorite things about blogging.  A couple months after I started this blog, I would only subscribe to a select few here or there, but now I subscribe to any blog that I feel a connection with so I can never miss any of their posts. Getting a new follower on Facebook or Pinterest, as silly as it sounds, is very flattering.  Now I follow other blogs on Facebook without abandon.  And I enjoy having them in my newsfeed.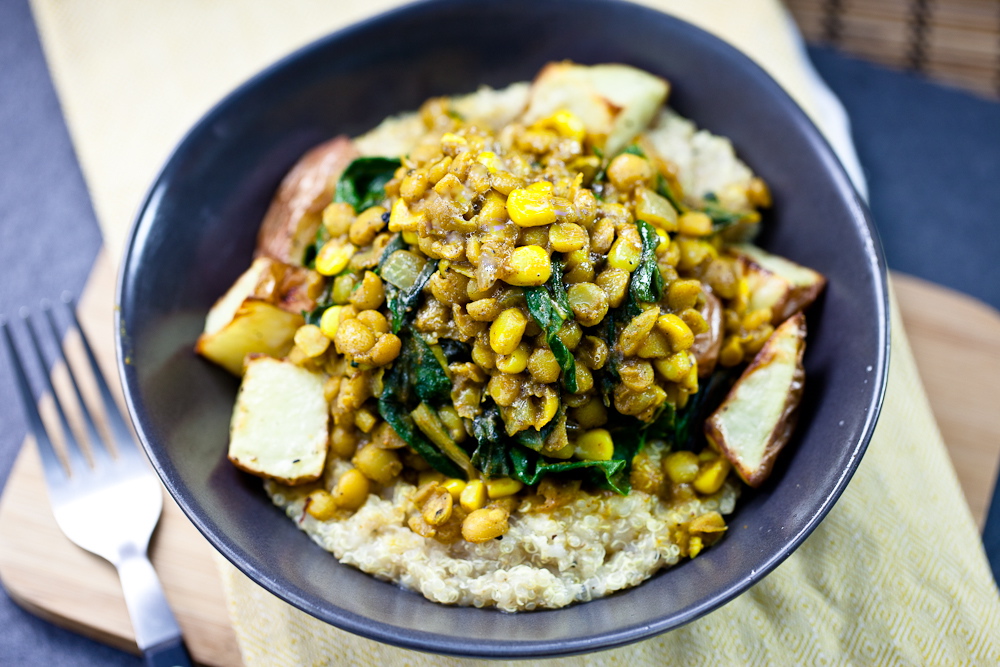 I'm  not saying I'm perfect at any of these things- not by a long shot.  I often forget to comment or when I come across a new blog I like, I forget to take note of them.  There's even blogs out there that I have admired for a long time, yet I haven't gotten up the nerve to comment.  I know Twitter is a great way to get to know your followers or other bloggers, but I can't for the life of my wrap my head around the idea of trying to manage Twitter in addition to the other social media platforms I'm involved in already.  Maybe someday, but right now, I have enough on my plate as it is.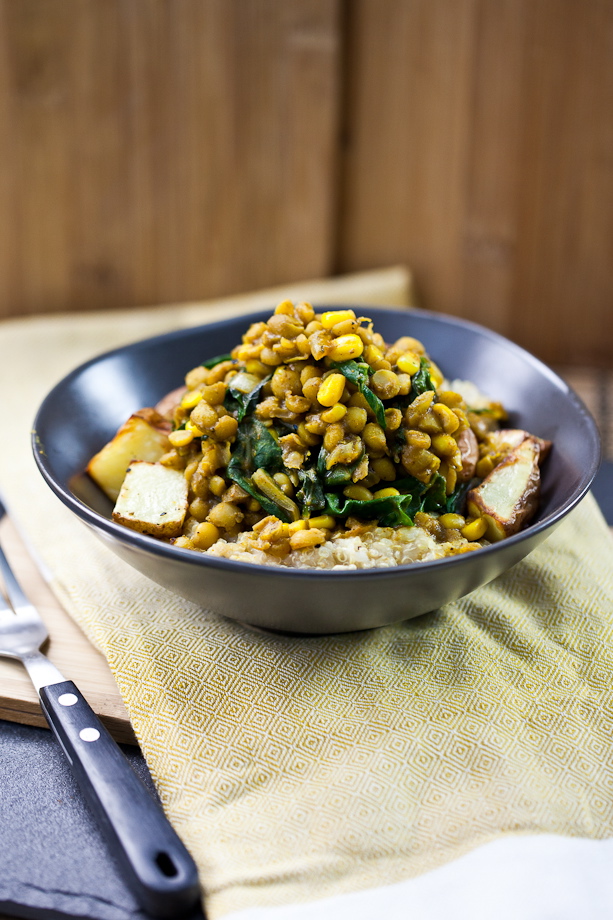 Just as my blogging/networking knowledge has increased, I'm proud to say so have my cooking skills.   Since starting this blog, my confidence in the kitchen and my willingness to explore cuisines that I have found intimidating in the past have both vastly increased.  It may have to do with routinely reading other vegan blogs that specialize in different cuisines (like Vegan Richa and ASTIG Vegan, just to name a couple).  It may be that since I started blogging, I've seen my own creativity increase and trying a new ingredient or a new technique is not as daunting as it once was.  Either way, this dish I'm presenting to you today would likely have never come about if I didn't follow my burning urge to start a blog.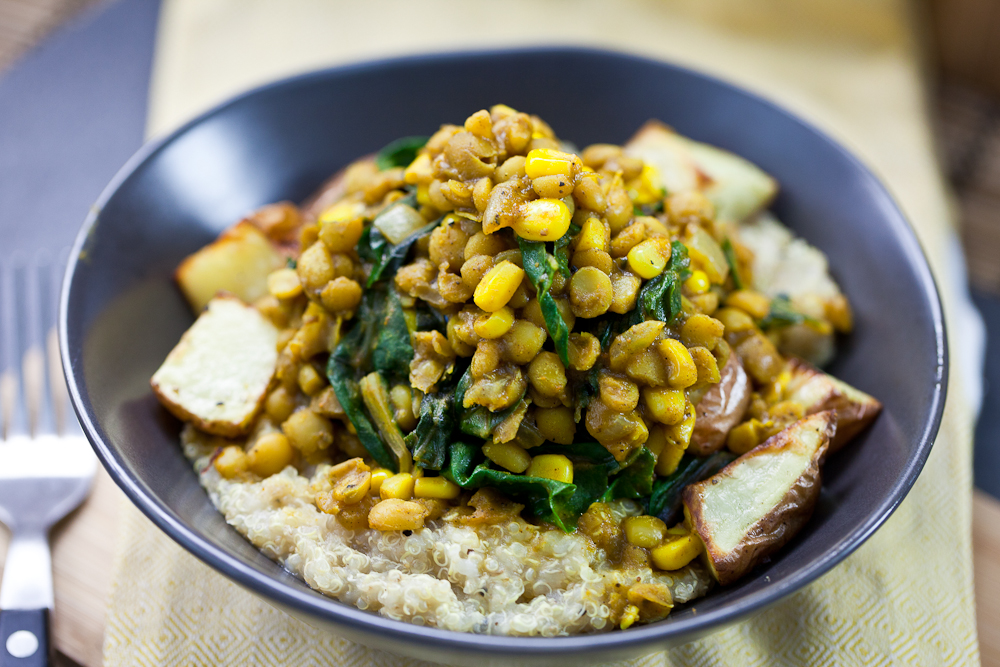 Until now, curried dishes were something I only enjoyed in restaurants.  In fact, I had a dish somewhat similar to this recently at Cafe Gratitude.  In the past, I would have just settled for having it again when I returned to Cafe Gratitude.  When I got home, however, I felt pretty confident that I could recreate this wonderful dish.  Awhile back, Richa, of Vegan Richa, sent me some various spices to try.  Though I've hesitantly tried using a tad here or there, this is the first dish that I fully committed to and fell head over heels in love with.  With sweet corn and beautiful shreds of chard from my CSA accenting the curried lentils, the aroma of this dish was quite alluring.  Pouring it over warm, fluffy quinoa and chunks of roasted potatoes made me even more anxious for that first bite.  Once I was finished  savoring the variety of textures and the warm, satisfying bowl of curry was in my belly, I wanted more.  Instead, I reached for my notebook and jotted down the recipe.  I couldn't wait to share it with my friends.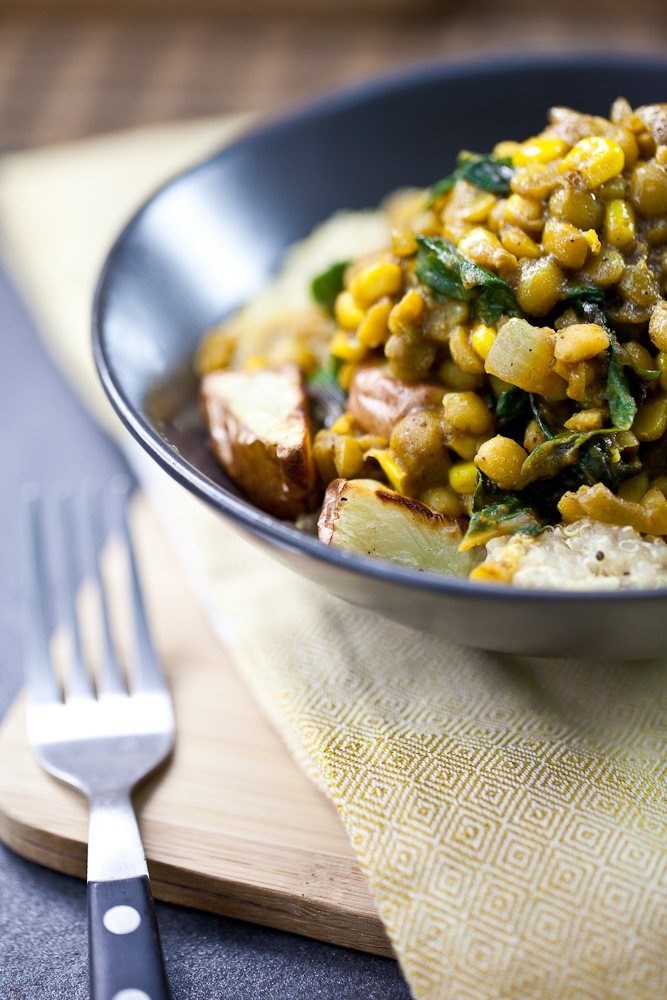 Thank you to all of you who constantly encourage, support, humor, teach, and inspire me. This one is for you.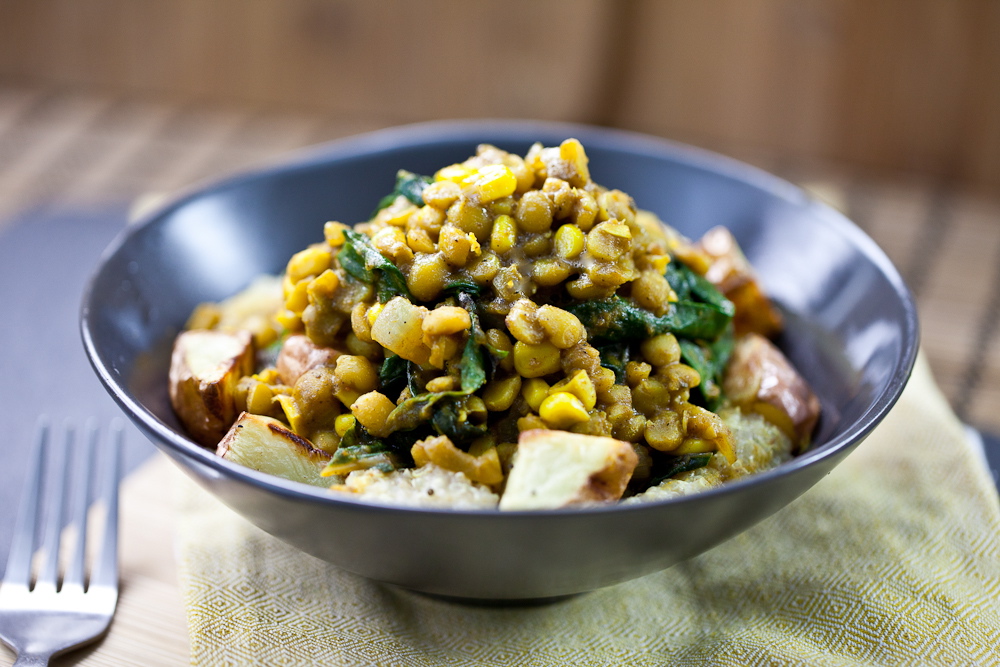 Curried Lentils, Corn, & Chard with Roasted Potatoes
Ingredients
2 medium red potatoes, diced
olive oil spray
salt and pepper to taste
1 teaspoon olive oil
1 small onion, chopped
3-4 cloves garlic, finely minced
½ jalapeno, finely chopped
1 inch of ginger root, peeled and grated
2 ½ teaspoons curry powder
1 ½ teaspoons garam masala
½ teaspoon turmeric (optional)
3 cups vegetable broth
juice from ½ lime
1 ½ cup yellow lentils, rinsed and soaked for at least 1 hour
1 cup corn kernels (fresh or frozen)
1 bunch chard, center stems removed and roughly chopped
1 teaspoon black salt
pepper to taste
½ cup cooked quinoa (or rice) per person being served (optional)
Instructions
Preheat your oven to 400. Line a baking sheet with parchment paper. Spread out the diced potatoes on the baking sheet and lightly spray with olive oil. Add salt and pepper to taste. Toss to combine and bake in the heated oven for 20 minutes, flipping them halfway through.
While the potatoes are roasting, heat the olive oil in a large shallow saucepan over medium heat for about 30 seconds. Add the onions and sauté until translucent. Add the garlic and continue to sauté for about 1 minute. Add the jalapeno and sauté for about 2 more minutes. Add the ginger, curry powder, garam masala, turmeric (if using). Mix to fully combine and let cook for about 2 minutes.
Add the vegetable broth, lime juice and lentils and mix to combine. Cover the pan and bring to a boil. Once it is boiling, lower to a simmer and replace the lid, but tilted so there is a little crack. Let the lentil simmer for about 20 minutes.
Once the lentils are cooked and the liquid has decreased, add the corn and chard and let cook until the chard is just starting to wilt. Add the black salt and pepper to taste, mix to combine and remove from heat.
Serve about 1 – 1 ¼ cup per person, over ½ cup cooked quinoa and garnish with roasted potatoes. Serve immediately. Enjoy!
Notes
This will be just as good, if not better, the next day, and is wonderful reheated and served in a warm pita.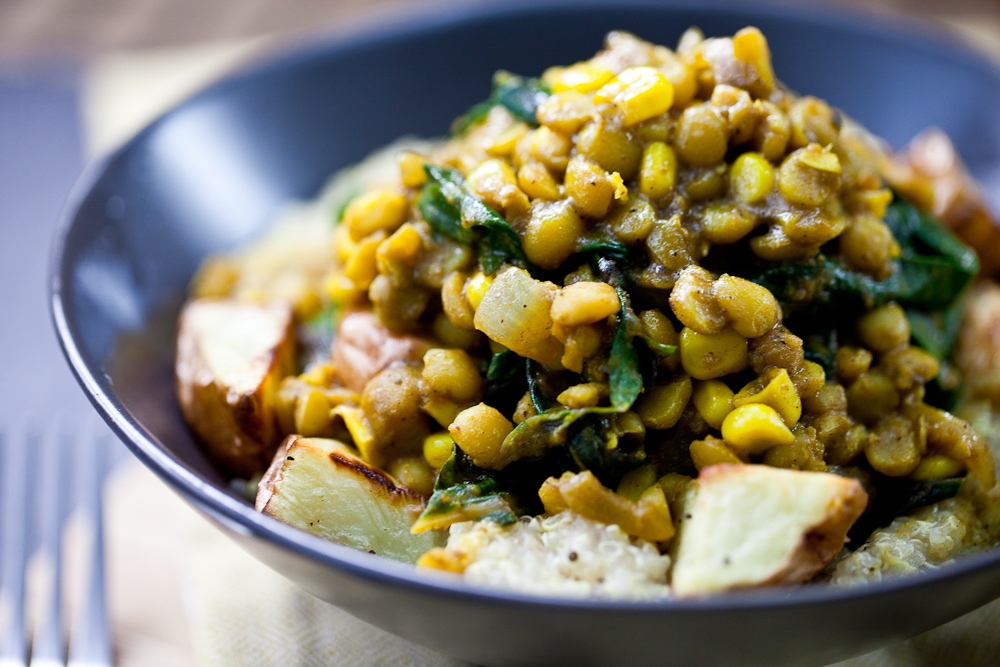 Love animals? Help support Farm Sanctuary's mission to protect farm animals from cruelty! Keepin' It Kind's goal is $500, but we can't do it alone! Together, we can make a real difference for farm animals everywhere. Donate today!  Learn more about Why I am Walking for Farm Animals and join our team!
 Photography by Chris Miller