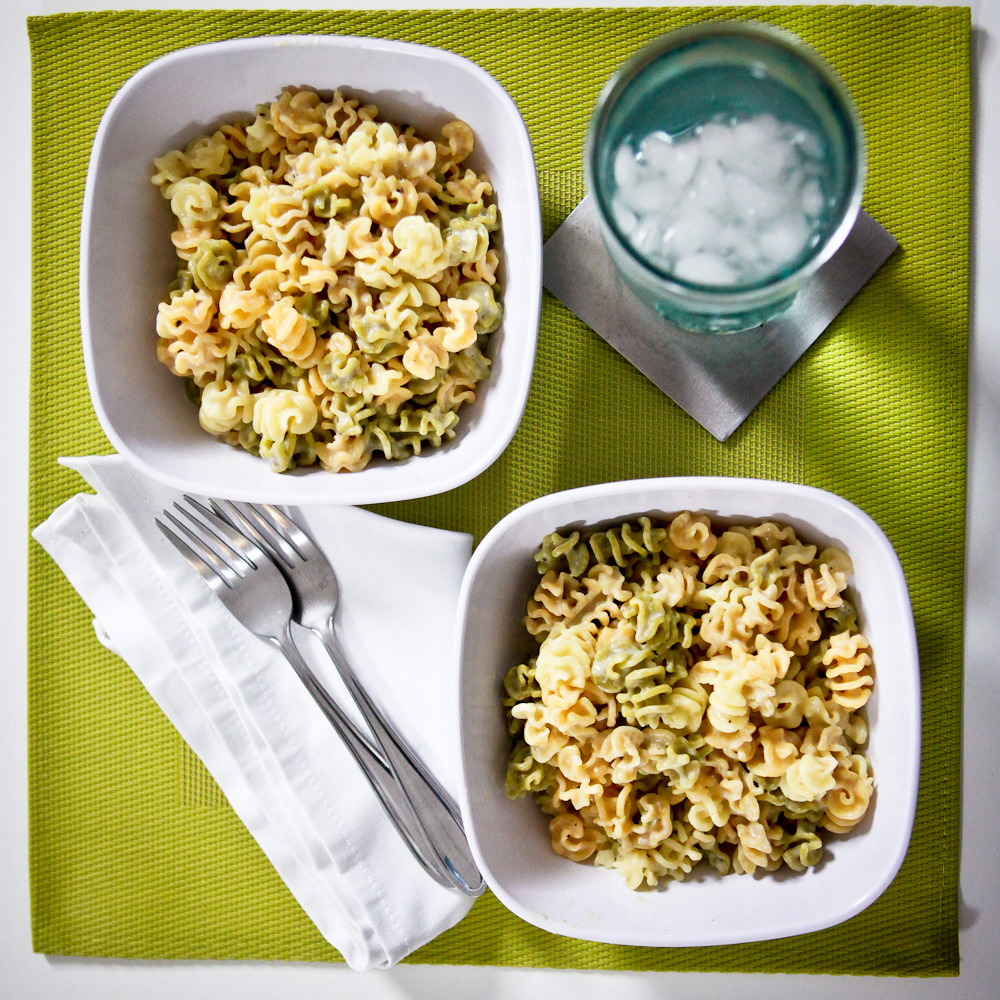 The twins spend every weekend with Chris.  When I first met Chris, we never saw each other on the weekends, because this was his time with his kids.  One Sunday, however, after almost a year of dating, he told me to meet him at Starbucks, and when I got there, he had brought the twins.  He introduced me as his friend and told them he was surprised to have run into me there.  I began hanging with the twins, not as their dad's girlfriend (because as far as they knew, I was just his friend), but as their friend.  We watched movies, played video games, went on bike rides, and soon, they were begging Chris to let me spend the night with them.  So the twins and I would have slumber parties.  These slumber parties were my first look into what Chris would make them for dinner.  It was the same every Saturday: Prepackaged cheese tortellini, heated, and sprayed with I Can't Believe It's Not Butter spray, with a side of microwaved, canned green beans.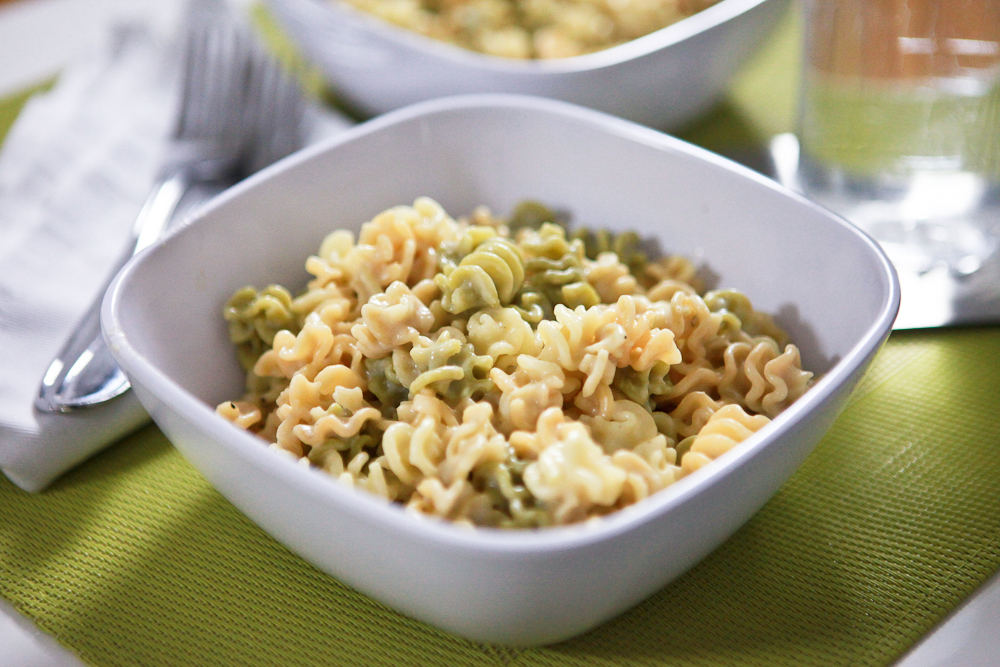 I observed this for awhile, and even helped prepare their ritual dinner, until I tried to switch it up and make it a little healthier.  I tried different things each week: Grilled cheese sandwiches, quesadillas, frozen "chicken" nuggets and corn "dogs," but their favorite remained the tortellini with butter.  As they got older, they began to inform us of other things they had begun to like.  One day, Max informed me that they were really into creamy pasta (pasta with alfredo sauce).  So I started making them a pasta with Trader Joe's alfredo sauce, which became their ultimate favorite weekend dinner.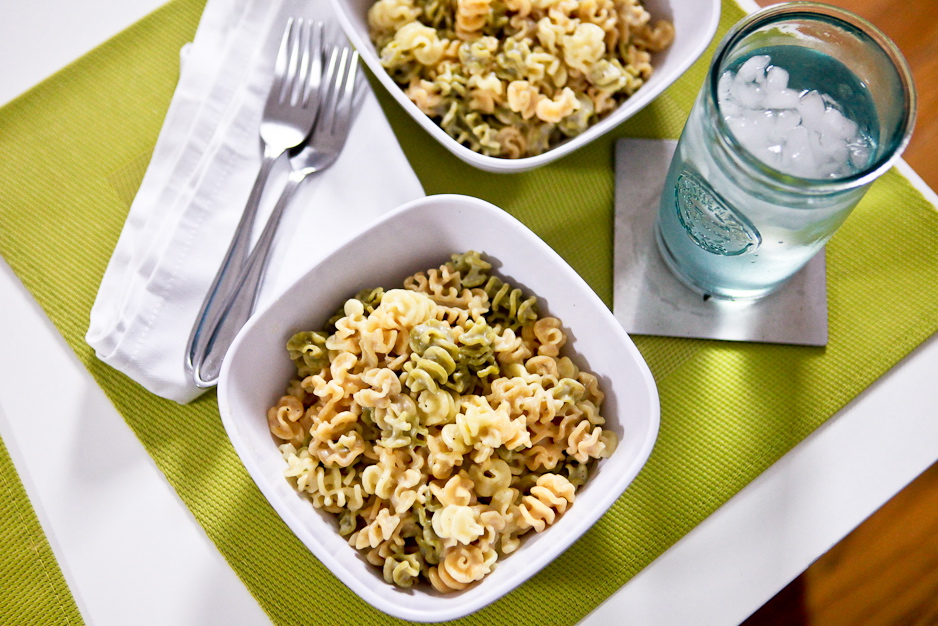 When we became vegan, one of the first things I had to veganize was their favorite dinner.  There has been several variations (none of which were an actual vegan alfredo sauce, just creamy sauces to go on their pasta), but this is the version that went over the best.  I discussed recently Sophia's decision to learn to cook so she could be vegan during the week as well, so it seemed pretty appropriate that I teach her their favorite pasta.  She was quite surprised at how easy it was to do, and I loved watching her whisk the creamy sauce as it thickened.  Sophia was also pleased to learn that she could make a big batch of this and eat the leftovers over the course of a few days, or freeze some for later.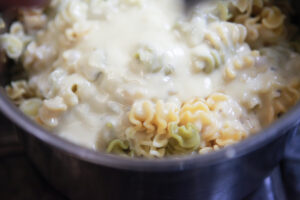 I'm not sure if it was my cooking or if it was staying up until 1 in the morning the night before Easter to see if we could spot the Easter Bunny, but after a couple months of our slumber parties, the twins told Chris that he should probably make me his girlfriend.  He was more than happy to oblige.
Ingredients
16 oz. vegan pasta of choice
1 tablespoon vegan butter (I used the one mentioned here)
1 tablespoon all-purpose flour
1 cup almond milk (or vegan milk of choice)
3 tablespoons vegan cream cheese
¼ cup nutritional yeast
salt and pepper to taste
Instructions
Bring a pot of water to a boil. Add a dash of sea salt, then add the pasta and stir to un-clump. Cook for about 7-10 minutes, or until "al dente". Drain the water from the pasta and set aside.
While the water for the pasta is still coming to a boil, you can prepare the sauce. In a pot, heat the butter over medium heat. Once it is melted, add the flour and use a whisk to stir frequently until you have a golden brown paste, about 3-4 minutes. Add the milk and bring to a boil, continuing to whisk occasionally. Once the milk is boiling, lower to a simmer, and continue to whisk occasionally so that the sauce does not stick to the pot. Let the milk simmer until it has reduced by almost half. Add the cream cheese and stir until fully melted and combined. Add the nutritional yeast and stir until combined. Salt and pepper to taste.
Add the sauce to the cooked pasta and toss until fully combined. Serve warm and enjoy! This can be refrigerated in an airtight container and kept for 3-4 days. Enjoy!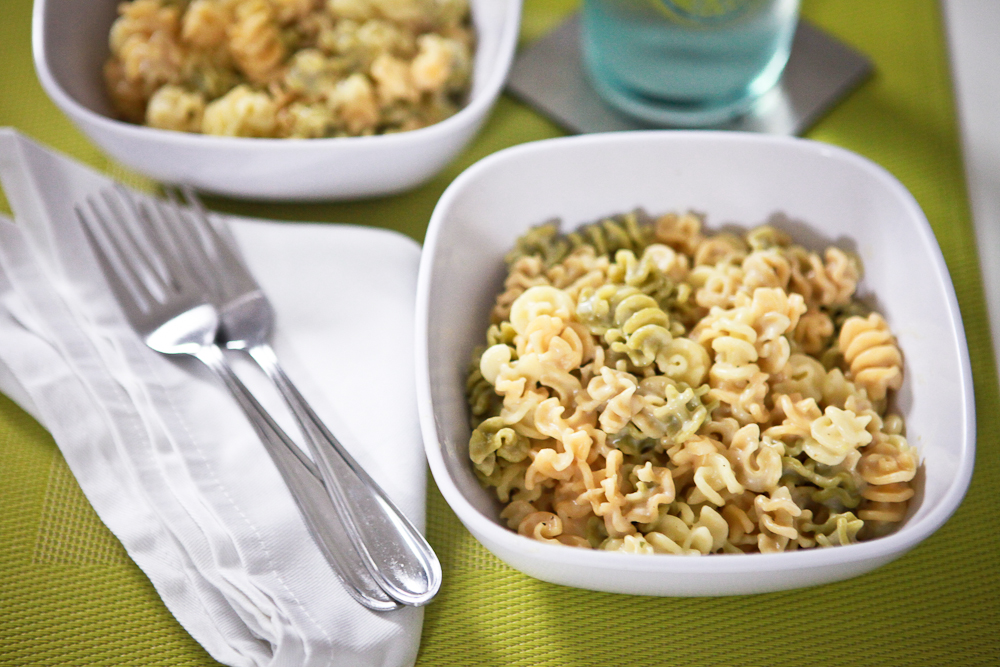 Keepin' It Kind is participating in the Walk for Farm Animals to give hope to millions of abused and neglected farm animals! Please support me by making a Donation today. Together we can make the world a more compassionate place for animals!  Learn more about Why I am Walking for Farm Animals and join our team!
Photography by Chris Miller