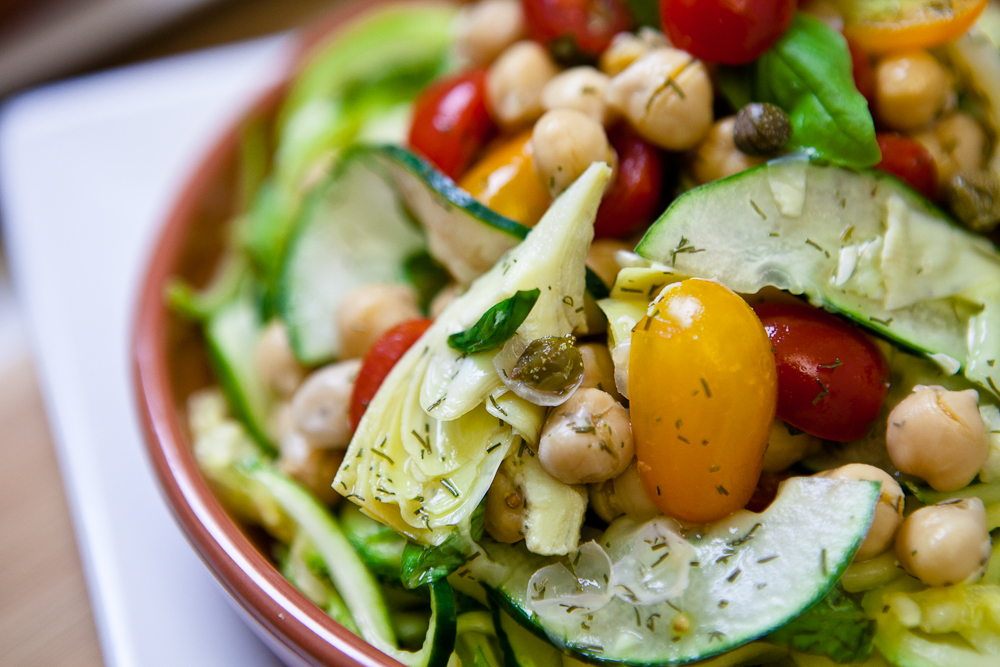 One of the small joys I get every day is reading the search terms used to find Keepin' It Kind.  The lovely and humorous Abby, of Abby Has Issues, sometimes reveals on Facebook the wild search terms used to find her site, and though mine are not nearly as crazy as hers, they do put a little smile on my face.  I want to take the time to address a few of my favorites (mind you, these all have a minimum of two hits per term).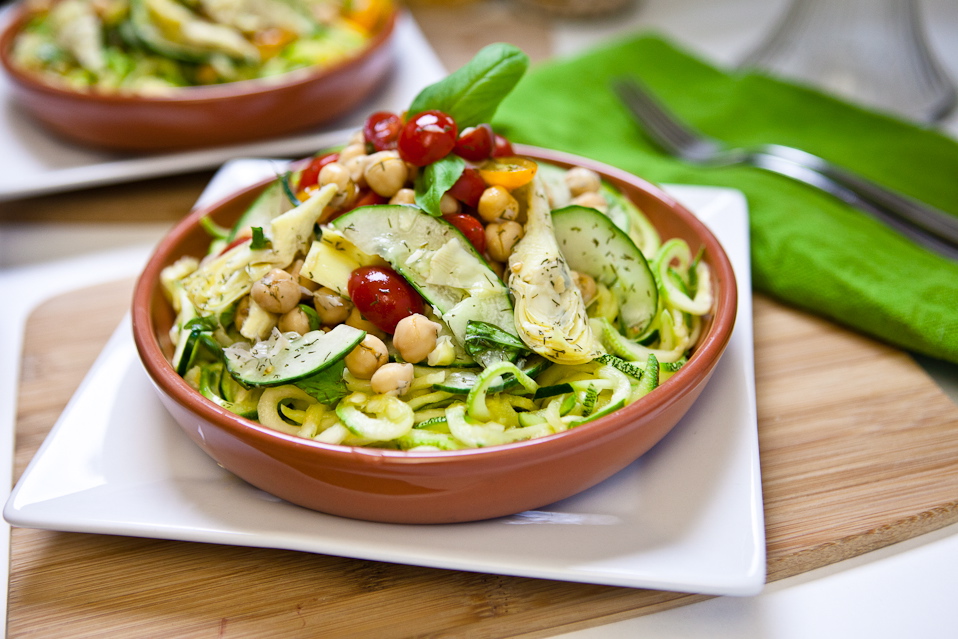 To the people asking "is spaghetti squash for good or evil": Well, aside from the time spaghetti squash stole my favorite sweater, I have no evidence of it being evil.  I would have to say spaghetti squash is good, but with a mischievous side.  A misunderstood prankster, but definitely not for evil.
To the people searching for "cool shit to do in the kitchen":  Thank you?  Have you seen my Recipes?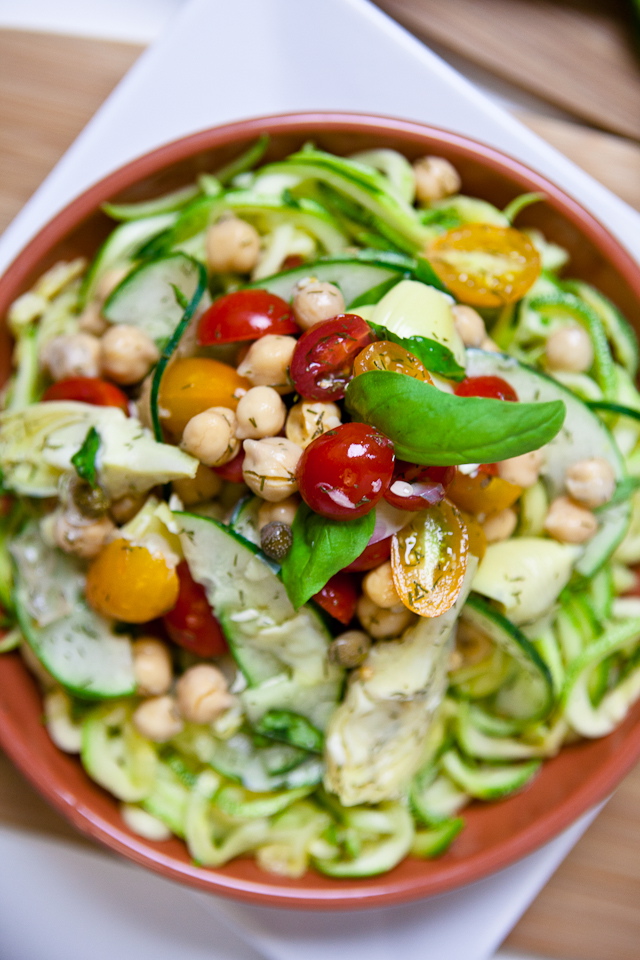 To the people stalking a fellow blogger/friend and constantly wondering if she's in a relationship (fellow blogger, you know who you are):  Ask her yourself.  This is starting to feel too much like high school.
To the people looking for "Nutritional Yeast Pizza Muffins":  Uh, marry me!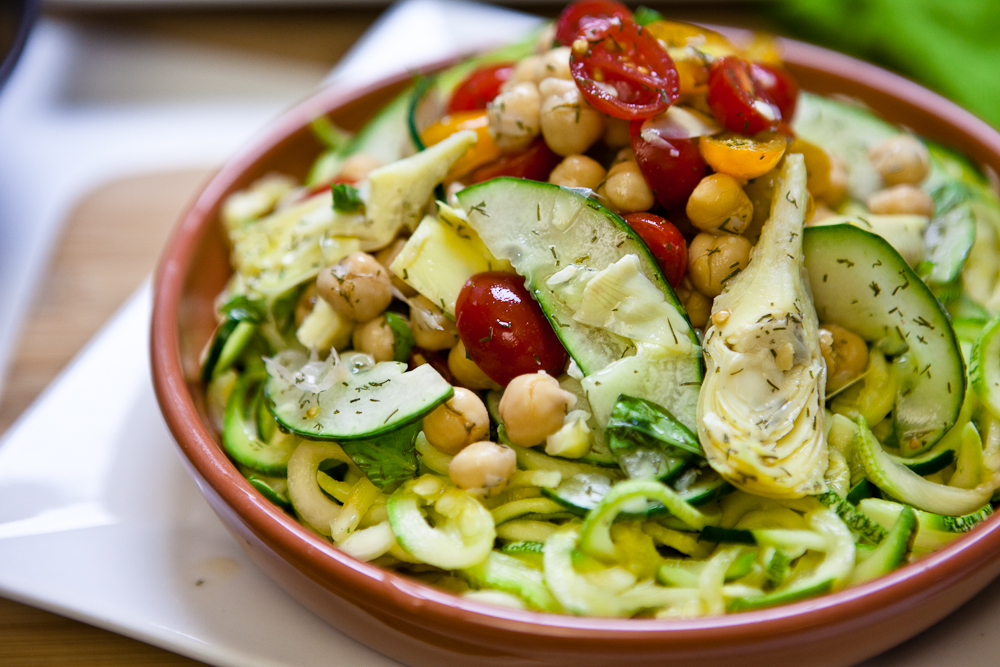 To the people wondering "can I pack a blender in my suitcase to Maui": I'm not really the authority on that sort of thing, but I can tell that I like you already.  You're a real "planner-aheader" and I like that about you.  Don't worry about what the TSA says- you go girl!  Get your pina colada smoothie on!
To the people searching for "because Will Arnett is a tool":  I don't think we can be friends anymore.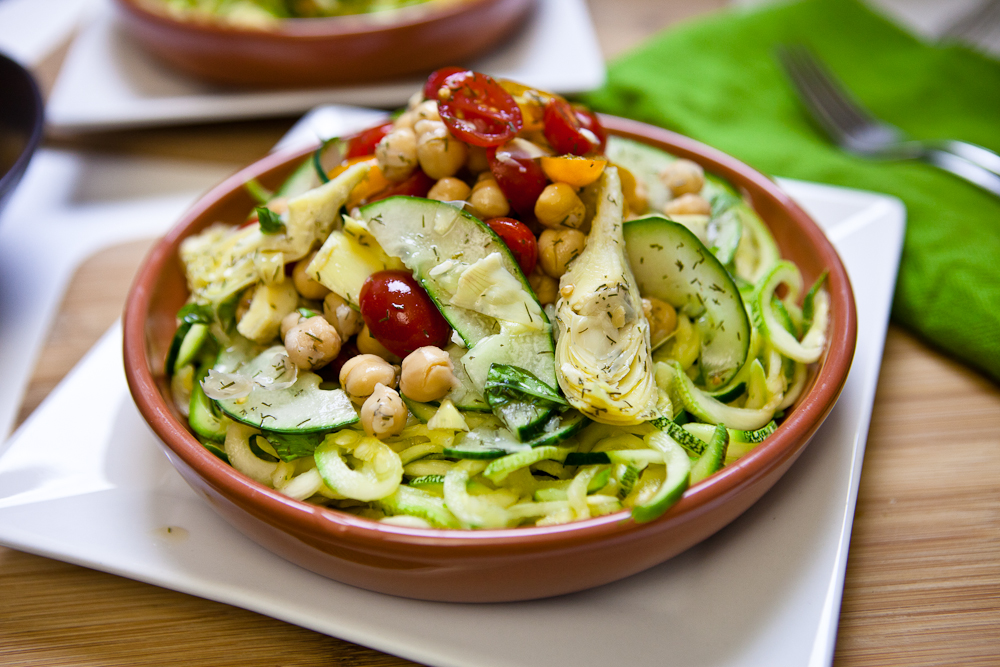 And to the nearly 2000 people who have been searching for "Zucchini Pasta":  I've got your fix right here!  Recently, one of our quick, go-to meals is a Mediterranean salad with tomatoes, artichokes, cucumber, capers, and chickpeas, tossed with a grain (sometimes quinoa, sometimes farro, sometimes millet), some lemon juice, dill and basil.  Recently however, out of spiralizer envy, I purchased a spiralizer to make gorgeous zucchini pasta to stuff in my face share with you all.  The stars aligned and my CSA sent me some gorgeous mexican squash/zucchini and cherry tomatoes at relatively the same time I that received my spiralizer.  I couldn't wait to make my favorite go-to salad, replacing the grain with some beautiful, curly zucchini pasta.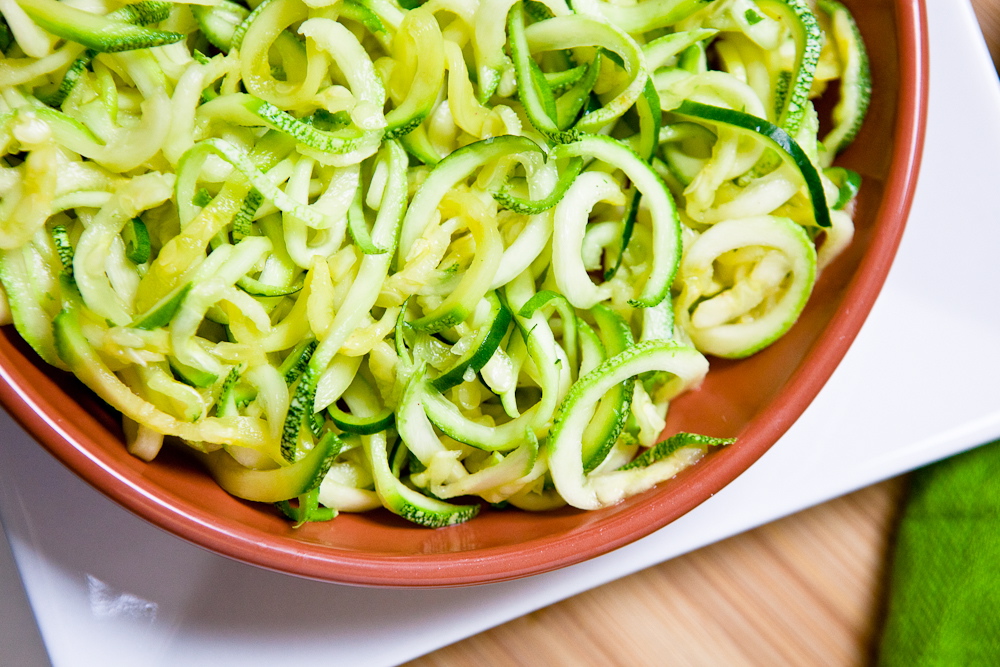 If you don't have a spiralizer, you can just as easily thinly slice your zucchini into ribbons, and it will be just as gloriously delicious.  This is the perfect salad for these warm, late summer nights.  From the juicy cherry tomatoes, the zestiness from the lemon and dill, the sharp saltiness of the capers, to the nuttiness of the chickpeas- every bite screams "I'm light and fresh and bursting with flavor."  To all of you searchers of zucchini pasta, this one's for you.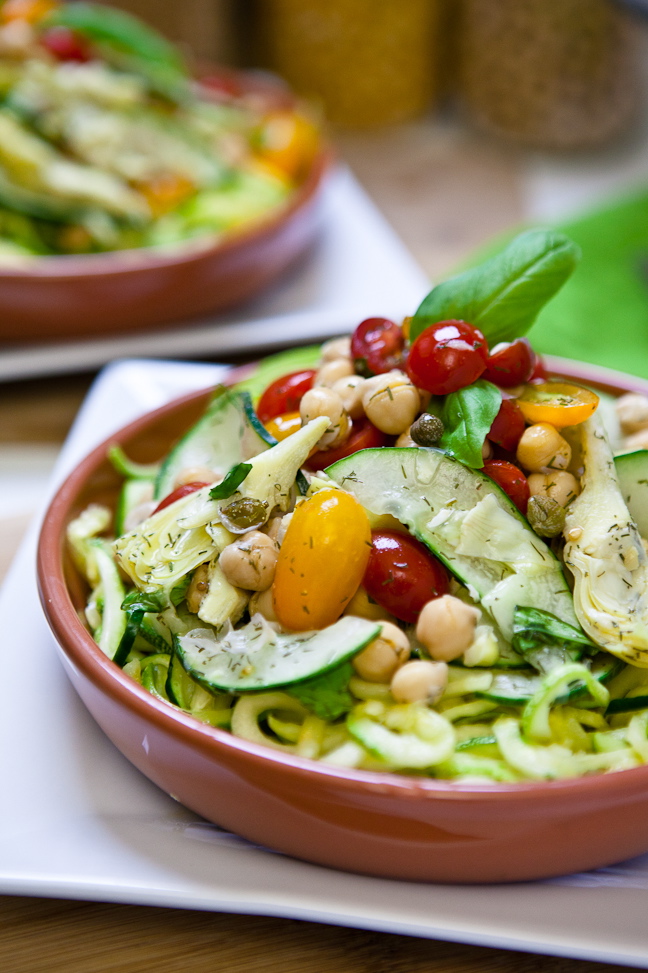 Mediterranean Zucchini Pasta Salad
Ingredients
2-3 large zucchini
1 15 oz. can of chickpeas, rinsed and drained
15-20 cherry tomatoes, halved
5-6 artichoke hearts (from a jar or can), thoroughly rinsed and quartered
1/3 of a cucumber, halved and very thinly sliced (I used a mandoline)
2-3 tablespoons capers, rinsed
1/4 cup basil chiffonade
1 tablespoon dried dill
juice from 1 lemon
1 tablespoon red wine vinegar
salt (for sprinkling on zucchini pasta)
Instructions
Run your zucchini through your spiralizer, following manufacturer's instructions. If you do not have a spiralizer, thinly slice into ribbons (preferably using a mandoline). Put your "pasta" into a colander over your sink or another container and lightly salt. This will help the zucchini let go of its moisture and get a little more soft. Toss to combine and set aside while you make your salad.
In a bowl, combine the rest of the ingredients (minus the zucchiniand salt). Toss to combine and chill for about 10 minutes.
Divide your zucchini pasta amongst 2-4 plates. Top each plate of pasta with a generous helping of the Mediterranean salad (around 1 – 1 1/2 cups). Serve immediately and enjoy!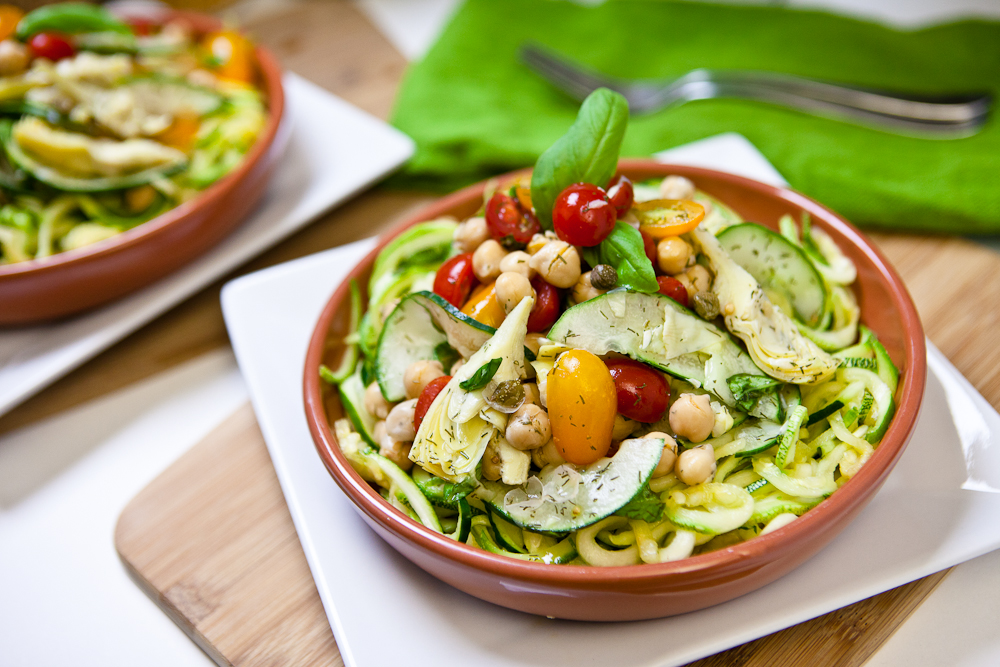 Keepin' It Kind is participating in the Walk for Farm Animals to give hope to millions of abused and neglected farm animals! Please support me by making a Donation today. Together we can make the world a more compassionate place for animals!  Learn more about Why I am Walking for Farm Animals and join our team!
Photography by Chris Miller