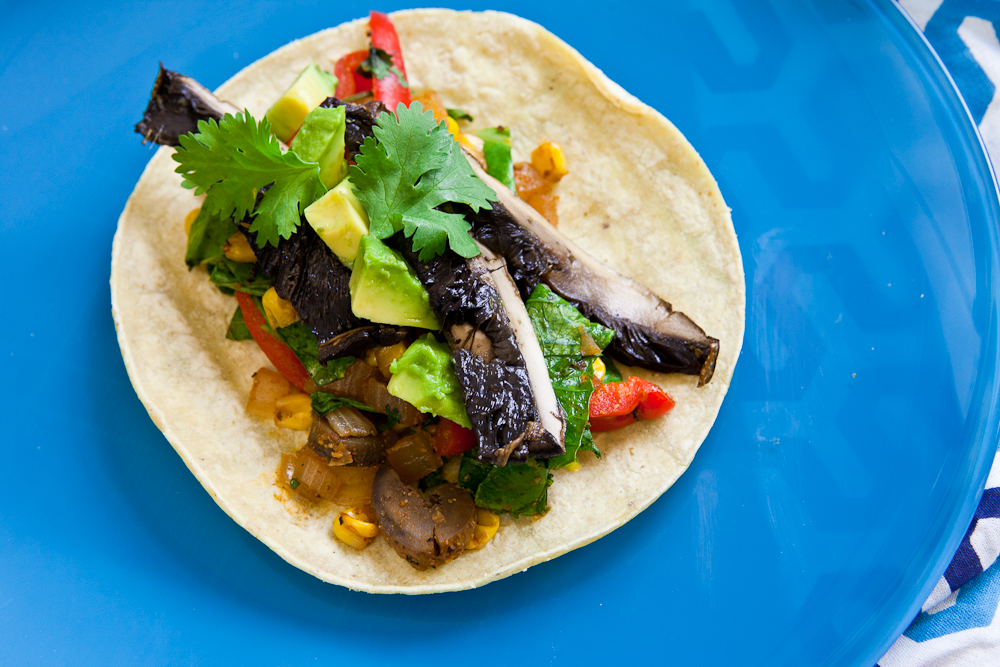 I dare anyone to argue with me when I say that portobello mushrooms are the most decadent of all the mushrooms.  Actually, let me rephrase that: Please don't argue with me when I say that portobello mushrooms are the most decadent of all the mushrooms.  I'm just not a fan of confrontation.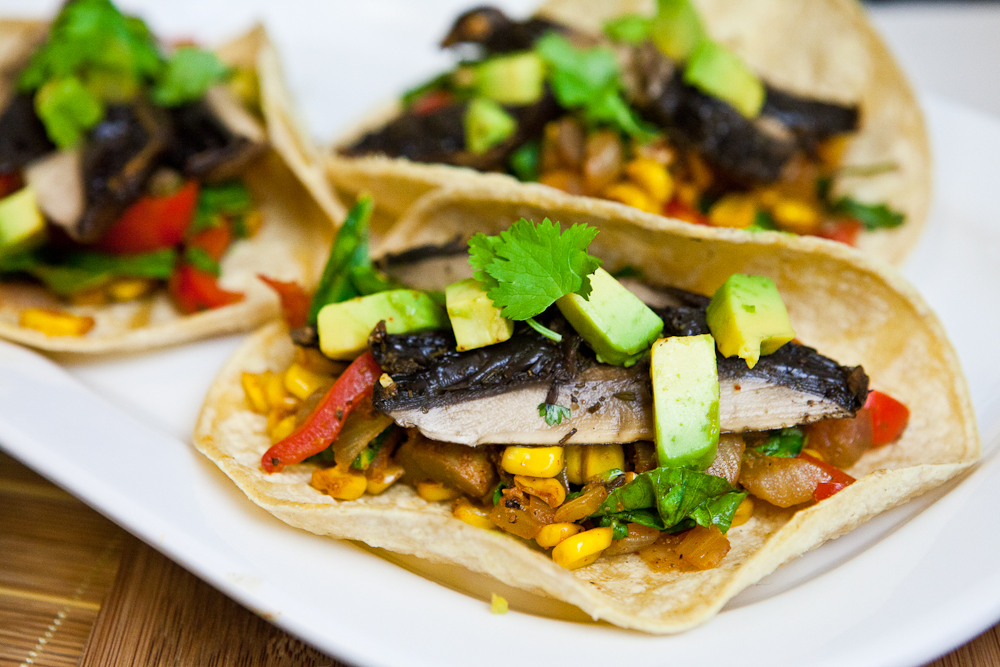 Sure, the shiitakes have their rich smokiness going for them, and oyster mushrooms are slightly sweet and chewy, making them a pleasure to cook with.  The crimini, being the baby version of the portobello, are classic household staples but pale in comparison to their adult version.  Portobellos have a magnificently hearty density to them that is so satisfying to bite into.  Their capacity to retain flavor and moisture makes each bit a flavorful, juicy treat.  They can easily stand on their own against burgers on the grill and be just as tasty, if not more, than their patty-shaped counterparts.  Portobellos readily absorb any flavor you add to them, but can be just as succulent when cooked with a bit of olive oil and salt and pepper.  There is just something about the portobello that causes my heart to be all aflutter when I find them on a restaurant menu or at a farmer's market stand.
I have a very hard time not buying portobellos when I hear them calling my name from the shelf at the grocery store.  Usually, if we don't make eye contact, it's much easier, but once I set my eyes upon those beauties, all bets are off.  I was at a grocery store recently when such eye contact occurred.  Fast forward to me delicately pulling them out of my grocery tote and placing them on the counter as if I were handling rare gems.  Since tacos are my favorite way of enjoying, well, everything lately (see exhibits A, B, and C), there was no question about the fate of these gorgeous fungi.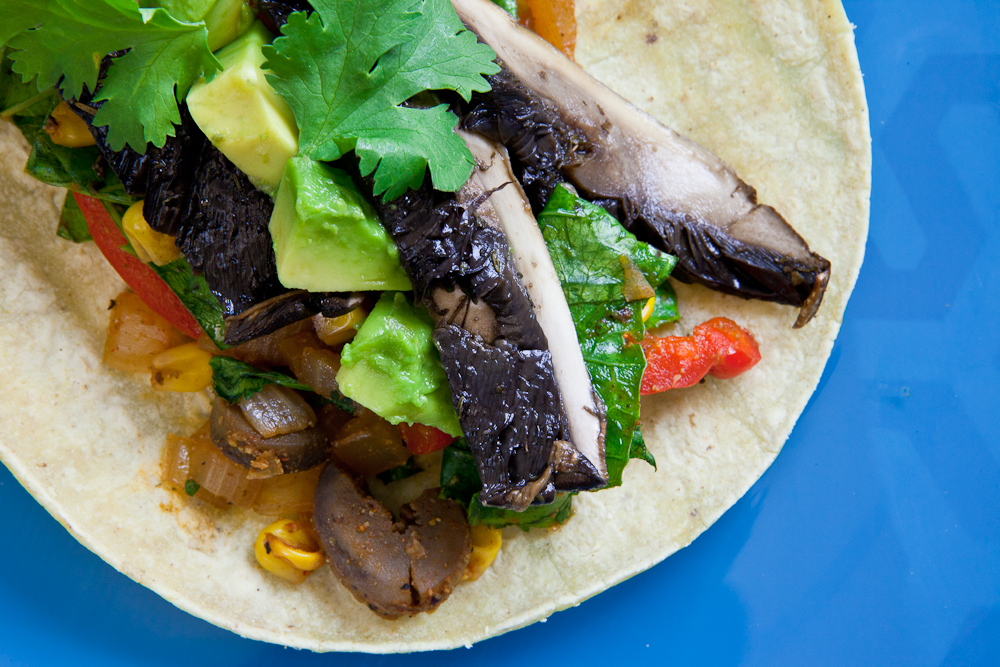 The portobellos were roasted in a simple, smoky, and savory sauce, then thickly sliced and placed atop a bed of sautéed corn, bell peppers, and collard greens and dressed with just a few chunks of rich avocado.  Rather than a fill a crunchy taco shell, I opted for a softer version, and though I used corn tortillas, small flour tortillas would work just as well.  These tacos were probably some of the best tacos I have ever had.  They were reminiscent of juicy taco-truck tacos.  You know, the kind that you have to eat right over your plate to catch the bits of corn falling out and have napkins ready to wipe the juice from the portobellos that drip down your chin.  These tacos were the ultimate ode to portobello mushrooms, and though they were accompanied by several other delicious flavors, the portobellos really shined.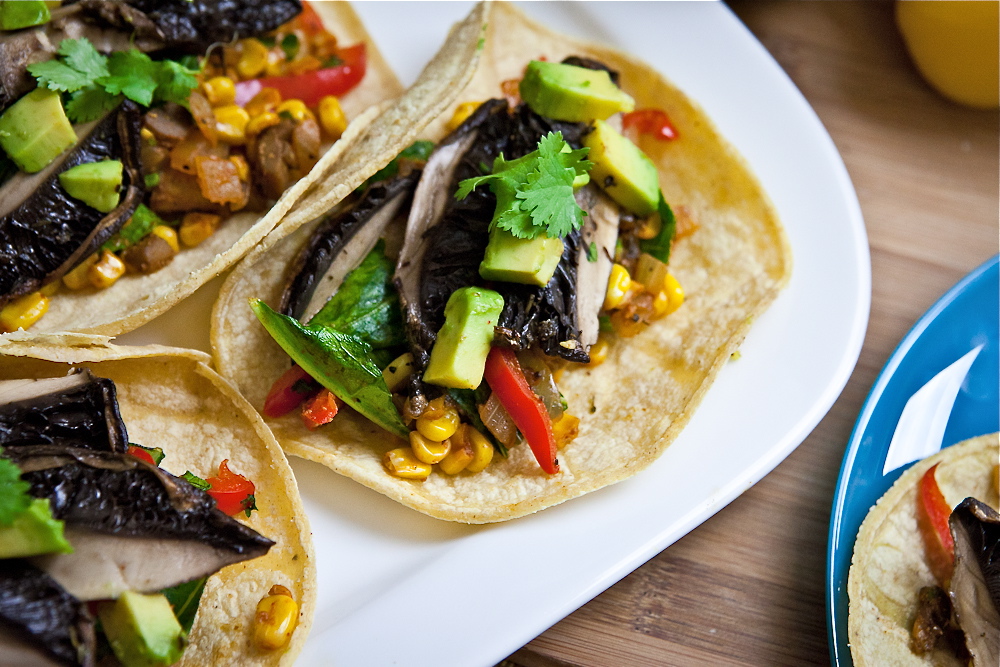 I dare you not to make these tacos.  Actually, I don't dare you.  I'm telling you.  Please make these tacos.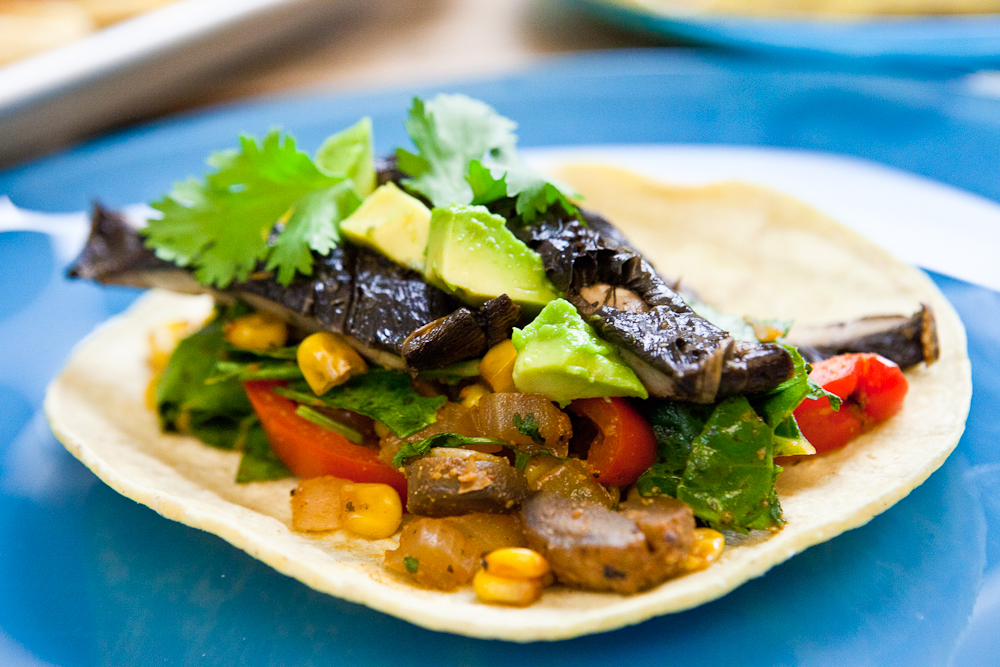 Roasted Portobello Soft Tacos
Ingredients
3 portobello mushrooms, stems removed and chopped
2 tablespoon Bragg Liquid Aminos
1 tablespoon balsamic vinegar
1 teaspoon liquid smoke
1 teaspoon dried thyme
1/2 teaspoon dried marjoram
½ teaspoon dried onion granules
¼ teaspoon garlic powder
1 cup corn kernels (I used an organic frozen variety)
½ onion, diced
1 red bell pepper, thinly sliced
2-3 large leaves of collard greens, stems removed and roughly chopped
2 cloves garlic, minced
1 teaspoon olive oil
1 teaspoon cumin
½ teaspoon smoked paprika
½ teaspoon ancho chile pepper
salt and pepper to taste
¼ cup cilantro
½ avocado, diced
6 corn tortillas (or small flour torillas)
Instructions
Preheat oven to 400. Line a baking sheet with parchment paper. Arrange the Portobello mushrooms, bottoms up, on the sheet.
In a small bowl, mix together the Bragg Liquid Aminos, balsamic vinegar, liquid smoke, thyme and marjoram. Drizzle over the mushrooms. Bake in the oven for 10-15 minutes (depending on how firm you want them). Remove and let cool until they are cool enough to handle.
While the mushrooms are in the oven, you can cook the veggies. Heat the olive oil in a large pan over medium heat. Add the onions and saute until translucent. Add the garlic and sauté for one more minute. Add the bell peppers, corn, mushroom stems, cumin, smoked paprika, and ancho chile pepper, and mix to combine. Saute until bell peppers start to get a little soft, about 5-7 minutes. Add salt and pepper to taste, then add the collard greens. Saute until the collards just start to wilt (you don't want them to get completely wilted). Toss in the cilantro, mix to combine and remove from heat.
Once the mushrooms are cool enough to handle, slice them, on a diagonal, into wide strips.
Take a clean kitchen towel and lightly wet it. Wrap the corn tortillas up in the damp kitchen towel and place the kitchen towel, with corn tortillas wrapped inside, on a baking sheet and place in the oven for 5-6 minutes.
Divide the veggie mixture amongst the 6 tortillas. Top the veggies with 2-3 slices of mushroom. Sprinkle the avocado chunks on top of each pile. You can also top with salsa and/or tofu sour cream. Serve immediately and Enjoy!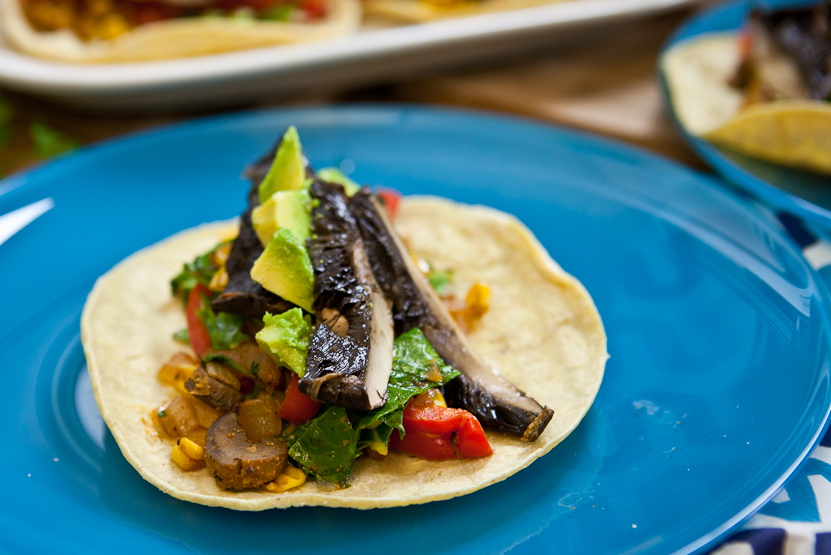 Love animals? Help support Farm Sanctuary's mission to protect farm animals from cruelty! Keepin' It Kind's goal is $500, but we can't do it alone! Together, we can make a real difference for farm animals everywhere. Donate today!  Learn more about Why I am Walking for Farm Animals and join our team!
 Photography by Chris Miller