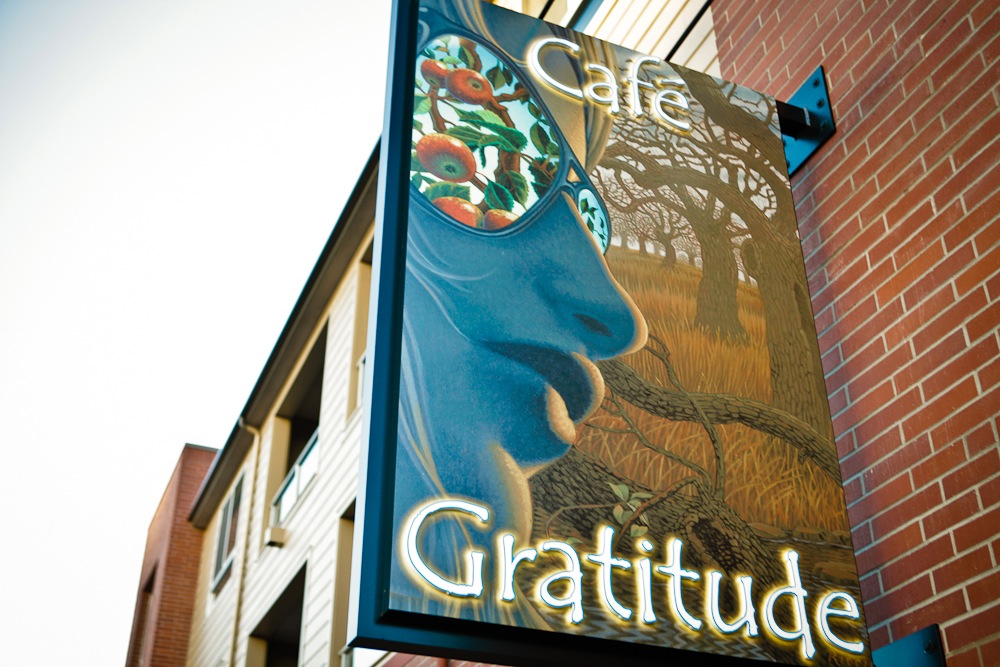 A couple months ago, I was cruising up Rose Ave. in Venice, on my way to Whole Foods, when I saw a sign that caught my eye, hanging from a newly built building.  The sign seemed to read "Cafe Gratitude."  I kept driving, thinking that I must have misread it.  That would be just way too good to be true.  A Cafe Gratitude?  So close to my house?  And my Whole Foods?  I couldn't believe it.  I had been to a Cafe Gratitude in San Francisco a couple of times, before moving to LA, and I loved it.  I had tried going to the other LA location, on Larchmont, but after driving for 20 minutes to find parking, we were told there would be a 45 minute wait for seats so we left and went elsewhere.  Cafe Gratitude is an organic vegan restaurant chain (who grows all of their own produce on their farm in Vacaville) with raw and cooked cuisine, that celebrates positivity and love for yourself and towards the world around you.  With vegan dishes titled "I AM DAZZLING" or "I AM WHOLE," how can you not love this place?  I AM IN LOVE.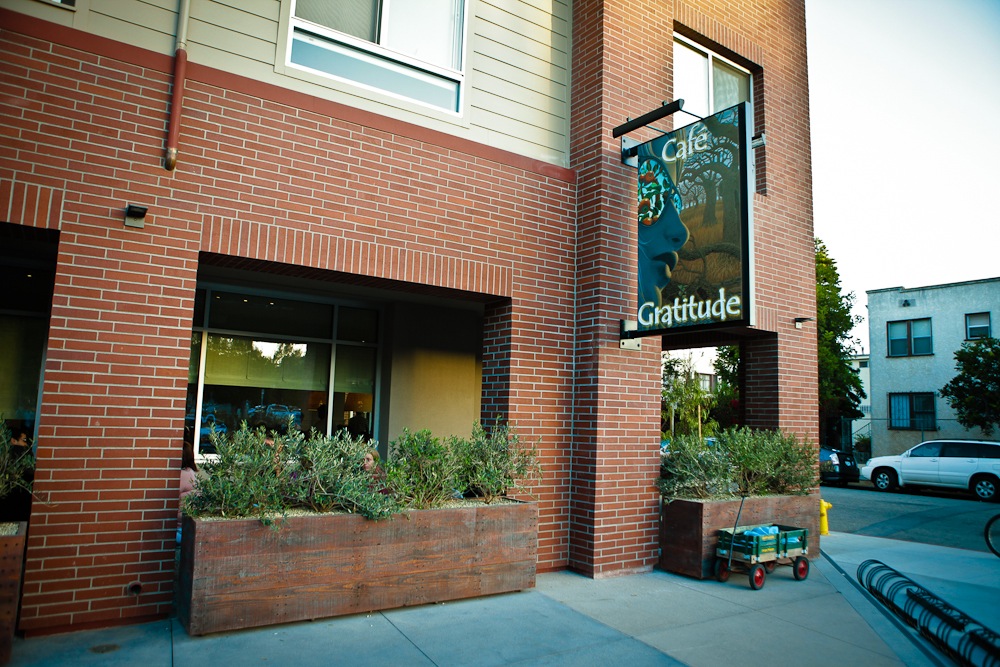 I went to Whole Foods, got my goods, and decided to drive slowly by this newly finished building to see if I had read the sign correctly.  I know I must have looked like a stalker, window rolled down, dark sunglasses on, driving 5 miles per hour while staring at this sign.  Sure enough, it was a new Cafe Gratitude, the empty space filled with construction workers, putting this restaurant together.  I immediately pulled over and texted Chris (I don't text and drive) to tell him the great news.  For the next couple of months, I did stalk Cafe Gratitude, driving by slowly to check the status of their building, constantly googling "When will Cafe Gratitude Venice Open?"  One lovely July day, I got my answer.  It was to open the following week.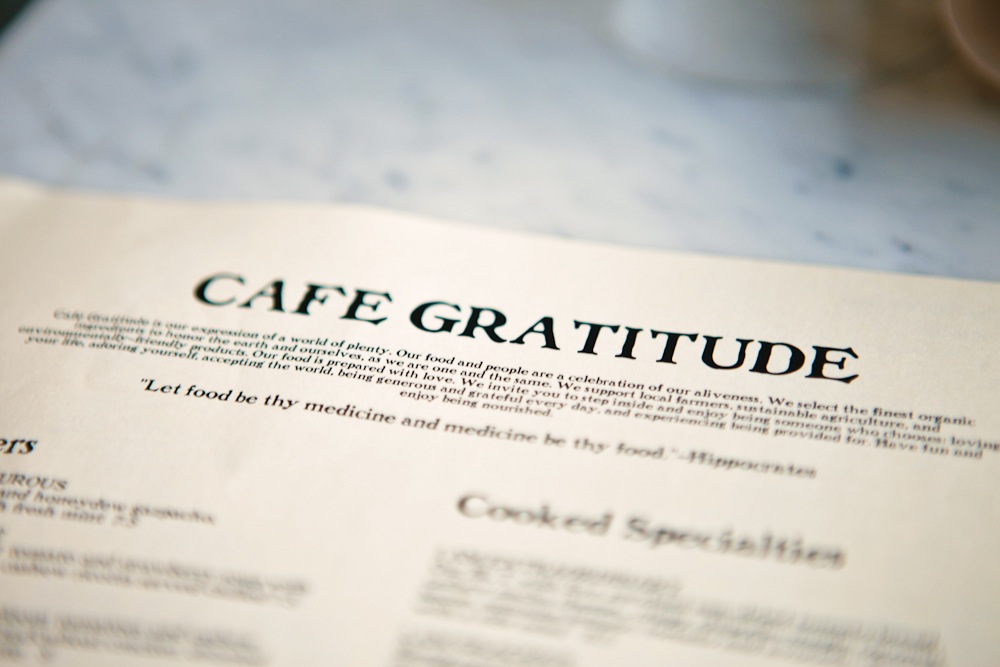 We went the first Friday they were open.  We got lovely seats outside, and through the window we got oggle the gorgeous design of the restaurant interior.  We didn't get pictures of the interior because it was too crowded (you can find a nice picture here), so you'll have to take my word for it: This location is absolutely stunning.  They have a juice bar and a dessert case, a gorgeous seating area, all of which has a very light and airy, yet sophisticated feel to it.  Outdoors, there are a few low tables with sofa/lounge chair type chairs, but mostly there ware white marble tables, with wooden bistro chairs, a cozy cafe ambiance, and a view of the entertaining Venice foot traffic.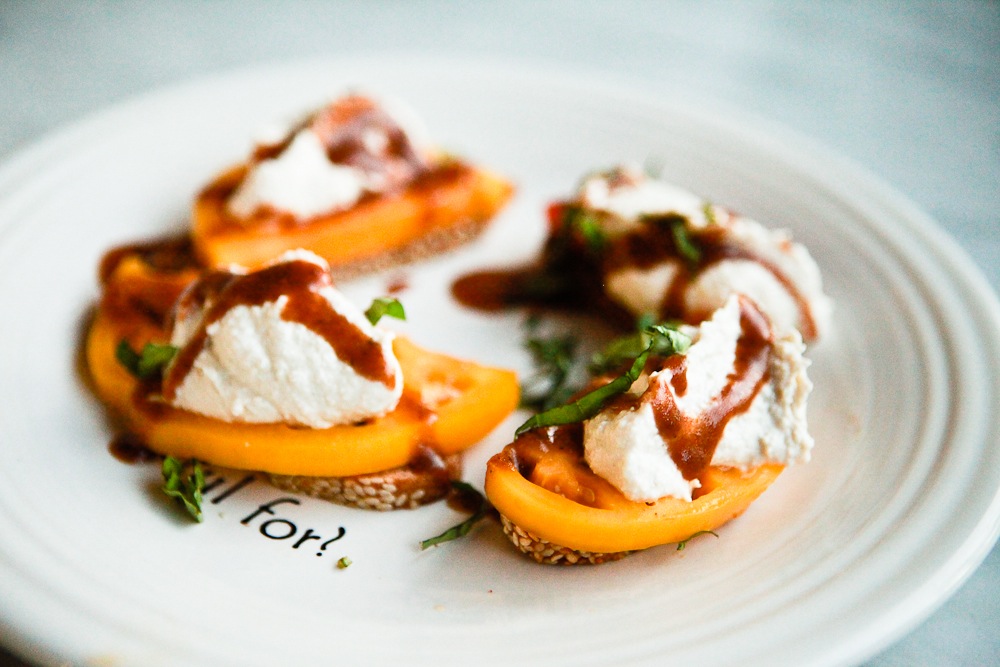 Our food did take awhile to get to us, but that was to be expected with it being their opening weekend.  Our waiter apologized and told us they were adjusting to busy times and this was the busiest they'd been all week.  It always makes me happy to hear when vegan businesses are doing well so I did not mind.  We ordered an appetizer, the I AM PRESENT, bruschetta with heirloom tomatoes and cashew mozzarella cheese on toasted whole wheat baguette, drizzled with fig- balsamic vinaigrette.  I don't know what I loved more about this dish: the cashew mozzarella or the fig-balsamic vinaigrette.  When I took my first bite, I was bummed that I had to share the whole plate with Chris.  I might just get this as my entree next time.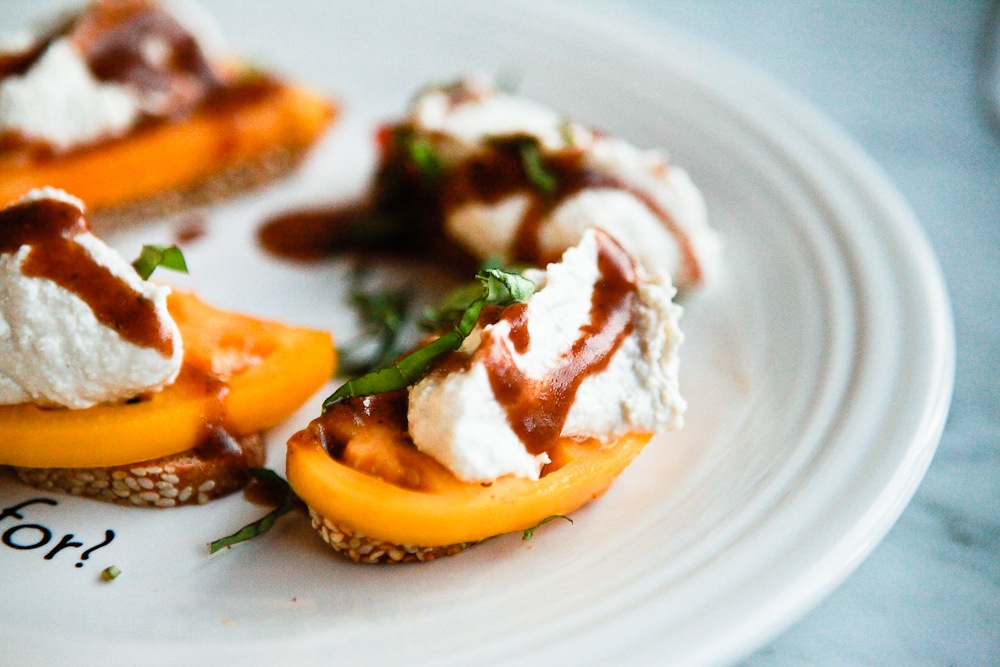 Chris ordered his favorite (he often orders from the Larchmont location when he is working in that area), the I AM EXTRAORDINARY.  This is Cafe Gratitude's  BLT which comes with sauteed maple coconut bacon, romaine lettuce, sliced tomato and avocado, with spicy chipotle aioli on an organic wheat bun.  This was my first experience with coconut bacon, and I am not sure how it is supposed to taste like bacon, but I really liked the sandwich.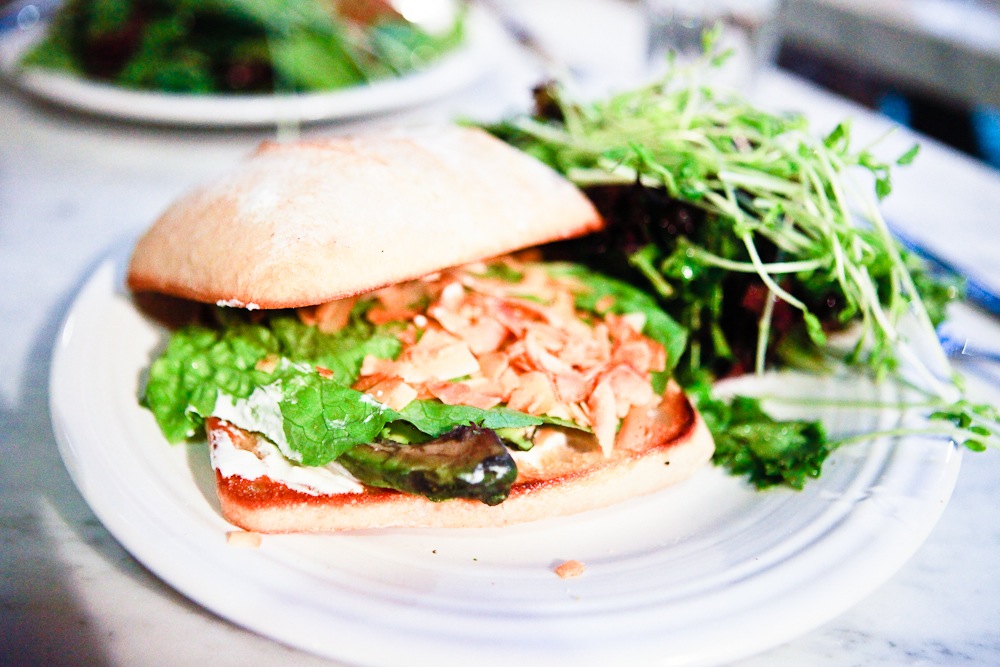 I ordered the I AM HAPPY, a mediterranean wrap with raw falafel, zucchini cilantro hummus, spinach, red onion, tomato, cucumber, red chili pepper sauce and garlic tahini dressing in a  live sun-dried tomato wrap.  We had agreed to split our dishes, and after one bite of this, I regretted making that deal.  This wrap was phenomenal.  The falafel balls were so tasty, and the the zucchini cilantro hummus and the raw sun-dried tomato wrap added a tangy zestiness to the dish that had me thinking about stealing back Chris's half when he wasn't looking (I behaved and kept up my end of the deal).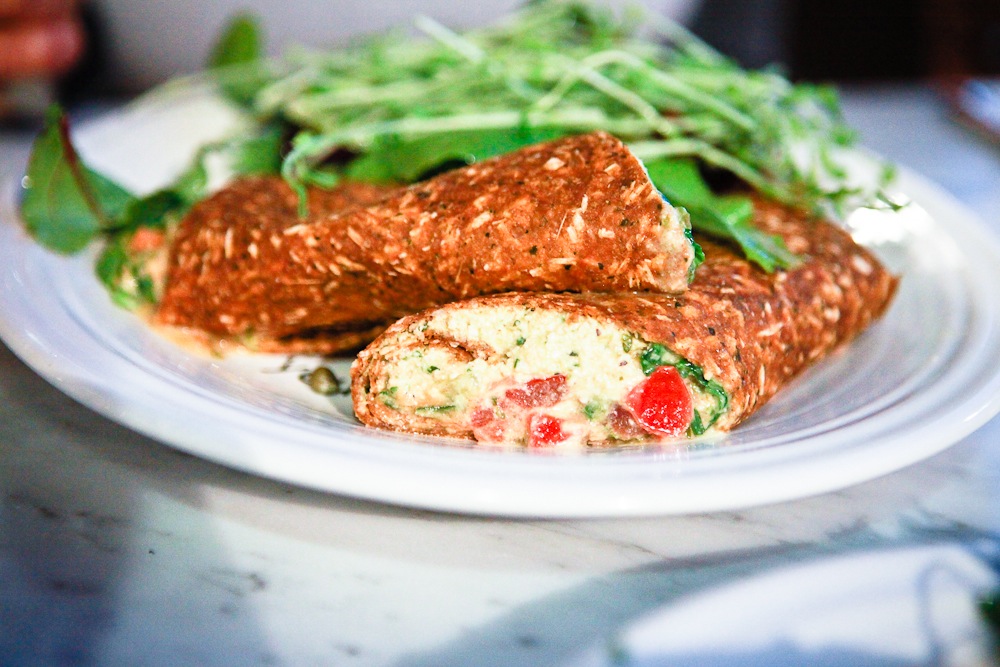 Afterwards, we knew we wanted something chocolatey to go.  We perused the very-tempting dessert menu, but settled on the I AM SUPER DARK CHOCOLATE NUGGET.   This was basically a little ball of ground cacao nibs, almond butter & maca.  Sounds pretty great for someone craving chocolate, right?  Our waiter warned us that it would be intense, which intrigued me all the more.  Once we got home, I cut it evenly in half with a knife, and was enraptured by the strong scent of dark chocolate filling my kitchen.  I was sure that I was going to regret giving Chris his half again, but to our surprise, it was quite bitter and not sweet at all.  It was good, but not necessarily a dessert-type of good.  Next time, I'll just get the raw cheesecake.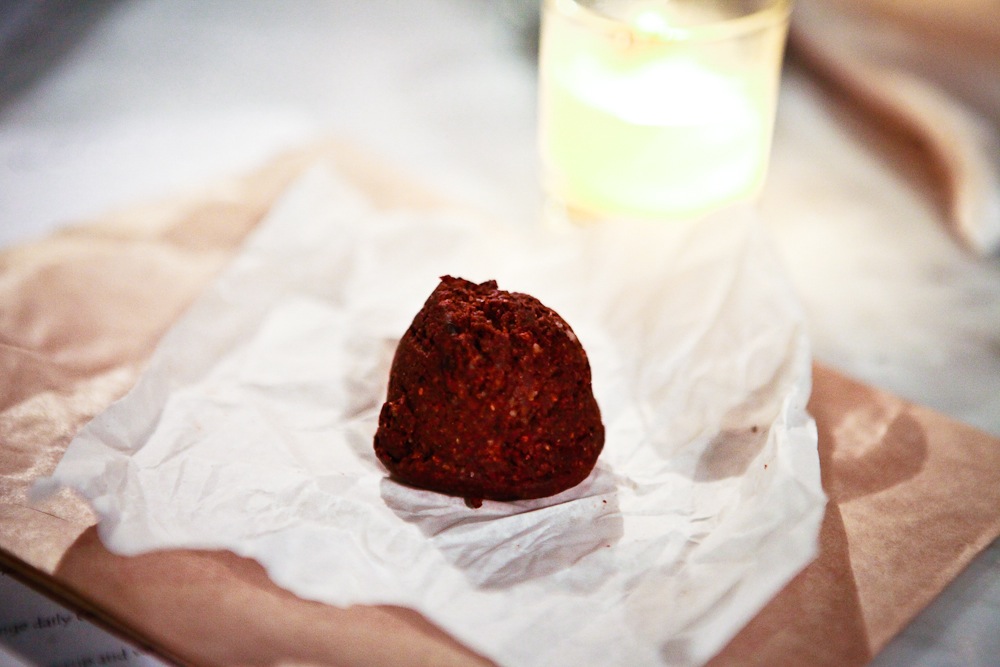 I AM OVERJOYED to welcome Cafe Gratitude to Venice.   I AM ENTHRALLED with the huge menu, which offers breakfast, lunch, dinner, kids meals, smoothies & juices, coffee & tea, and wine & beer.  I AM THANKFUL to have a new sit-down, vegan restaurant within five minutes of our home.  I AM PLEASED to see Venice growing into a more health-minded community, with expanding vegan choices.  I AM HOPEFUL that you will come and try Cafe Gratitude Venice and support this movement in Venice's community.
All Photos taken by Chris Miller

© Kristy Turner and Keepin' It Kind, 2012. Unauthorized use and/or duplication of this material (content and images) without express and written permission from this blog's author and/or owner is strictly prohibited. Excerpts and links may be used, provided that full and clear credit is given to Kristy Turner and Keepin' It Kind with appropriate and specific direction to the original content.