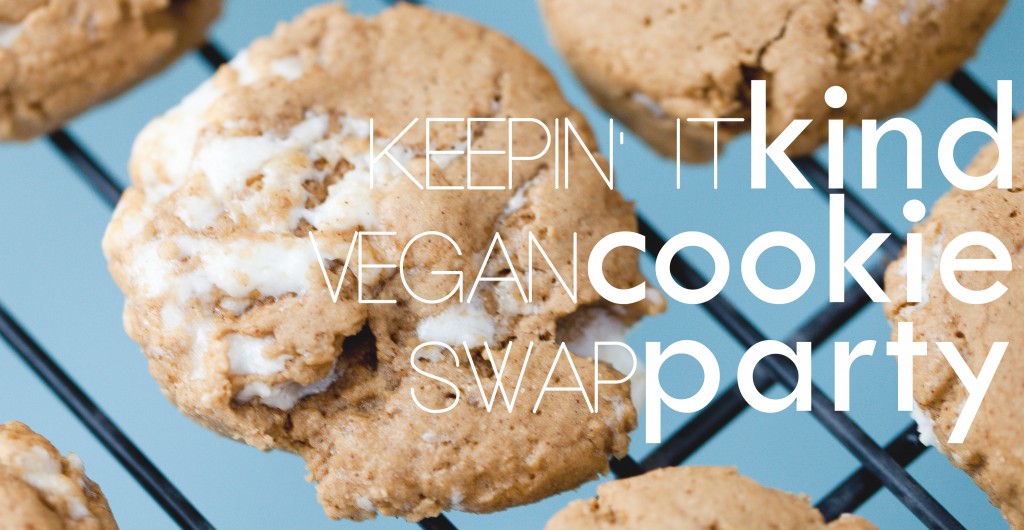 Back in the day, my friend used to host a cookie exchange party every year.  Everyone would bring about 40-50 cookies and the recipe printed out on an index card.  Each person would get to take 2 of each type of cookie as well as the recipe for each cookie.  It was an awesome party and it's something I miss doing each year.  I am ecstatic to tell you all, however, that through December 24th, I will be hosting a virtual, vegan version of this cookie swap party, with tons of guest posts from some of my favorite bloggers.  Keep checking back to see who brings what type of cookie!  
I think we all have experience in preparing food for people who have very particular tastes.  Trying to figure out what to prepare for someone who doesn't like/can't eat a number of foods can be overwhelming and downright frustrating at times.  Caitlin, also known as The Vegan Chickpea, has a lot of experience in this as she and her husband or both vegan and gluten-free, but her wonderful husband also has very particular tastes.  Caitlin shares her experiences in finding foods that work for both of them that also happen to be simple, healthy, and just downright delicious (I know, because I've tried several of her recipes!).  The Vegan Chickpea has an abundance of fantastic recipes, tips, and ideas for those that have vegan, gluten-free, and/or restricted diets and she offers them up with endearing stories, beautiful pictures, and a ton of heart.  And she happens to be one of the cutest, most adorable people I've ever had the pleasure of getting to know.  Can you tell that I"m super excited to have Caitlin here today, sharing one of her favorite recipes?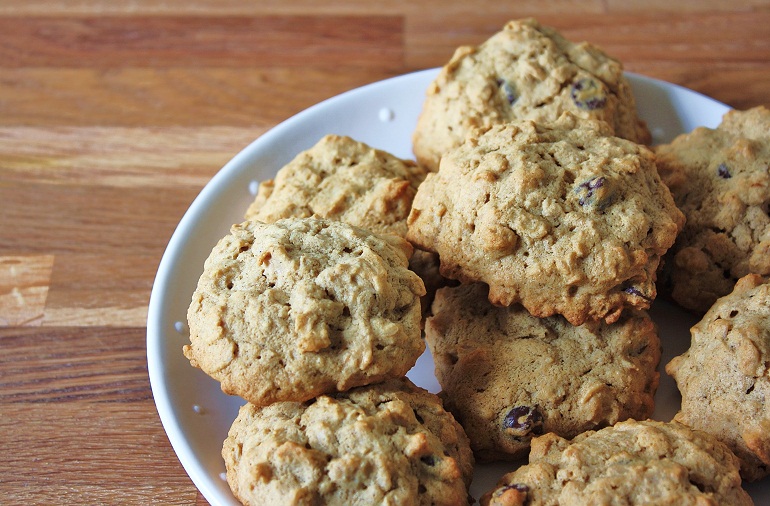 When I was little, the holidays were a truly magical time. I look back and think of all of my family's little traditions- going out and getting a real tree a week before Christmas, decorating while watching "It's a Wonderful Life", visiting the various surrounding towns that hold special holiday events, driving around the neighborhood looking at all of the over-the-top decorated homes, baking chocolate chip cookies with my mom and brother... The list goes on and on.
Nowadays, Dayv and I set up our artificial tree the weekend after Thanksgiving and I watch "It's a Wonderful Life" alone since Dayv thinks it's corny. It gets hard to still find the magic of the holidays when all of my time leading up to Christmas is spent buying presents, coordinating get-togethers, and dealing with inescapable family drama. The holidays were so much more fun when I had no obligations. When all I had to do was eat sugar cookies and watch "The Nutcracker" on tape. Alas, isn't that the curse of growing up?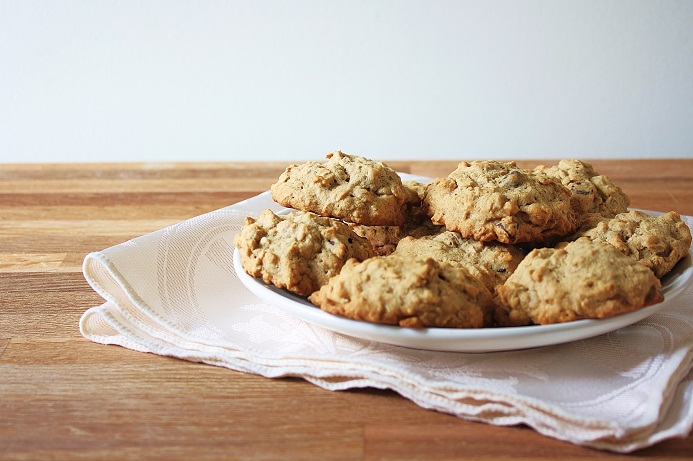 Luckily, I still find the time to do the things that make those magical feelings come rushing back to me. Like decorating the tree, watching my large collection of Christmas movies, and baking cookies. Although traditional gift giving cannot be avoided, I love giving edible gifts as well, or in place of purchased gifts. I find they are the gifts people tend to cherish the most. They are also the gifts I enjoy giving the most. They are like little pieces of love, that I baked and packaged for my most favorite people in the world.
These Applesauce Raisin Oatmeal Cookies are a personal recipe of one of my favorite people in the world(link to: http://www.theveganchickpea.com/2012/12/peanut-butter-chocolate-cookies.html), but veganized and de-glutenized. They remind me of little scones, with a similar crumble, and are also very soft and moist. I'm not going to lie, this recipe is a bit finicky, but results in one tasty cookie.
Happy holidays, everyone, and THANK YOU, Kristy, for having me here today 😉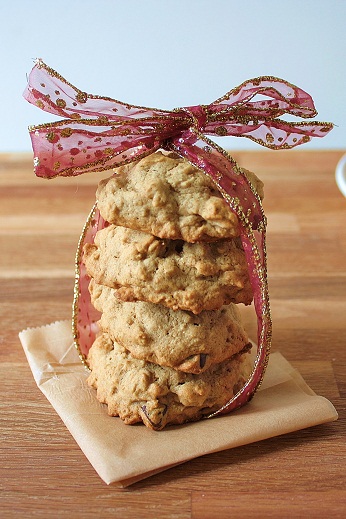 Caitlin's Applesauce Raisin Oatmeal Cookies
Ingredients
½ cup Earth Balance
1/2 cup brown sugar, packed
1/2 cup all natural apple sauce
1 ½ tsp flax seed meal mixed with 1 tbsp water and set aside for 5 minutes
1/2 tsp vanilla extract
1/2 cup sorghum flour(plus more if needed)
1/4 cup brown rice flour
1/4 cup tapioca flour
1/4 cup potato starch
1/2 tsp baking soda
1/2 tsp xantham gum
1/2 tsp cinnamon
1 ¼ cup gluten-free oats
1/2 cup raisins
Instructions
Preheat oven to 350. In a large bowl, beat together Earth Balance and brown sugar. Add in apple sauce, flax egg, and vanilla extract and mix well. In a separate bowl, whisk together flours, baking soda, and xantham gum. Slowly combine dry mixture with wet mixture, stirring until just combined. If the dough seems very wet, stir in additional sorghum flour, one tablespoon at a time, up to ¼ cup. Lastly, stir in oats and raisins. Drop rounded tablespoons on an ungreased cookie sheet and bake for 17-20 minutes, or until lightly browned. Allow to cool completely. Enjoy!
Thanks for stopping by and be sure to come back tomorrow to see who our next special guest is and what they bring to the party!  Thank you so much, Caitlin, for bringing these beauties!
Be sure to check out the rest of the cookies at the party: