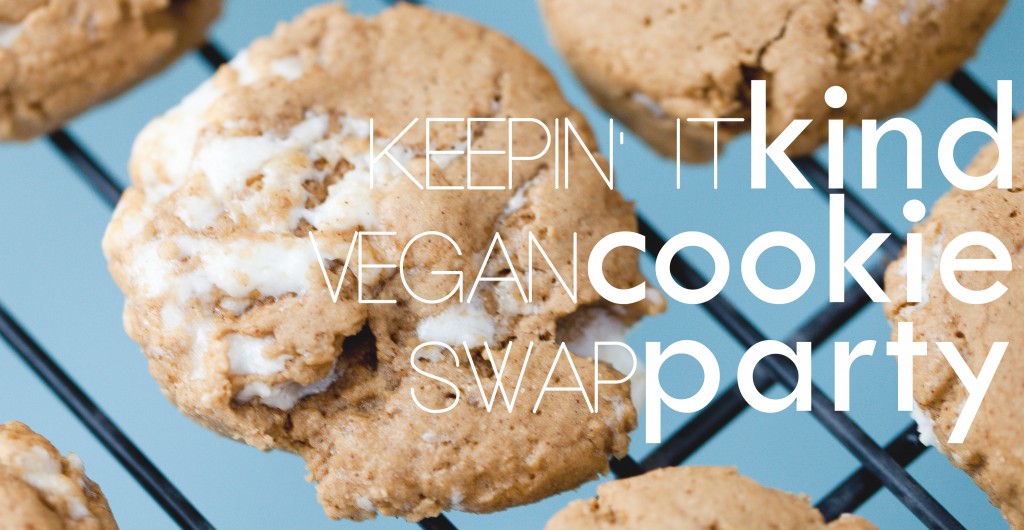 Back in the day, my friend used to host a cookie exchange party every year.  Everyone would bring about 40-50 cookies and the recipe printed out on an index card.  Each person would get to take 2 of each type of cookie as well as the recipe for each cookie.  It was an awesome party and it's something I miss doing each year.  I am ecstatic to tell you all, however, that through December 24th, I will be hosting a virtual, vegan version of this cookie swap party, with tons of guest posts from some of my favorite bloggers.  Keep checking back to see who brings what type of cookie!  
I have a tendency to be a little introverted and I sometimes feel awkward or shy when meeting new people.  When I met Cara, from Fork and Beans, however, I instantly felt right at ease.  Cara has such a gentle, warm spirit and she is so down-to-earth (all of which shines through in her blog), that it's hard not to feel right at home with her.  She is a truly beautiful person, inside and out.  And if that wasn't enough, Cara is also a gluten/dairy/egg-free cooking wizard.  I'm sure you are all familiar with her incredible creations on Fork and Beans, just like I am, so you can understand why I am so excited to have Cara here today!    
One of the perks of being a part of the blogging community is that you get to meet some amazing people. Some of them, you keep in contact through the computer, others you actually get the special pleasure of meeting in person and calling them a friend. I have the absolute pleasure of actually knowing Kristy...and this is one fabulous soul! Not that I need to tell you that--it's why you come back for more on a weekly basis. You can sense that this girl is the real deal, and believe me, she is.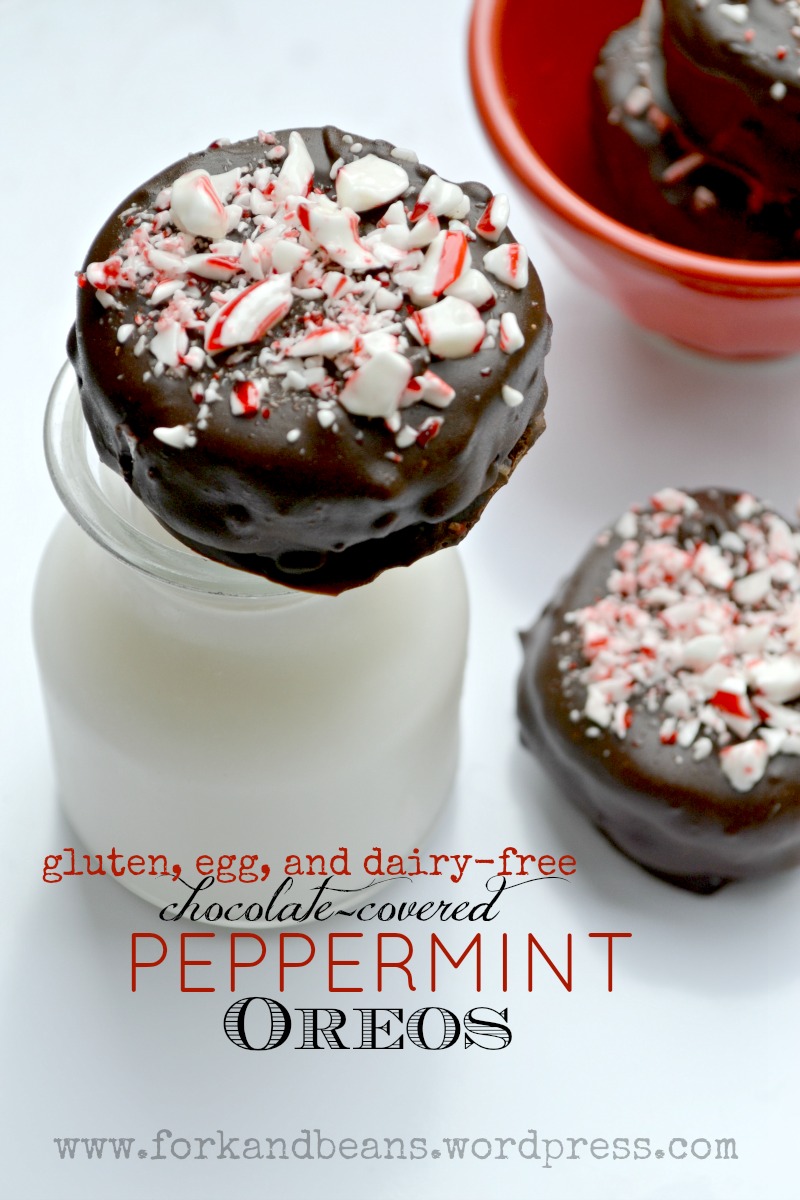 When it comes to cookies, I don't mess around. When the holidays approach, I immediately want to eat a Candy Cane Oreo from Trader Joe's because I am classy like that. Now I know that Oreos are technically "vegan" to begin with but what happens when you find yourself unable to eat the gluten from the cookies?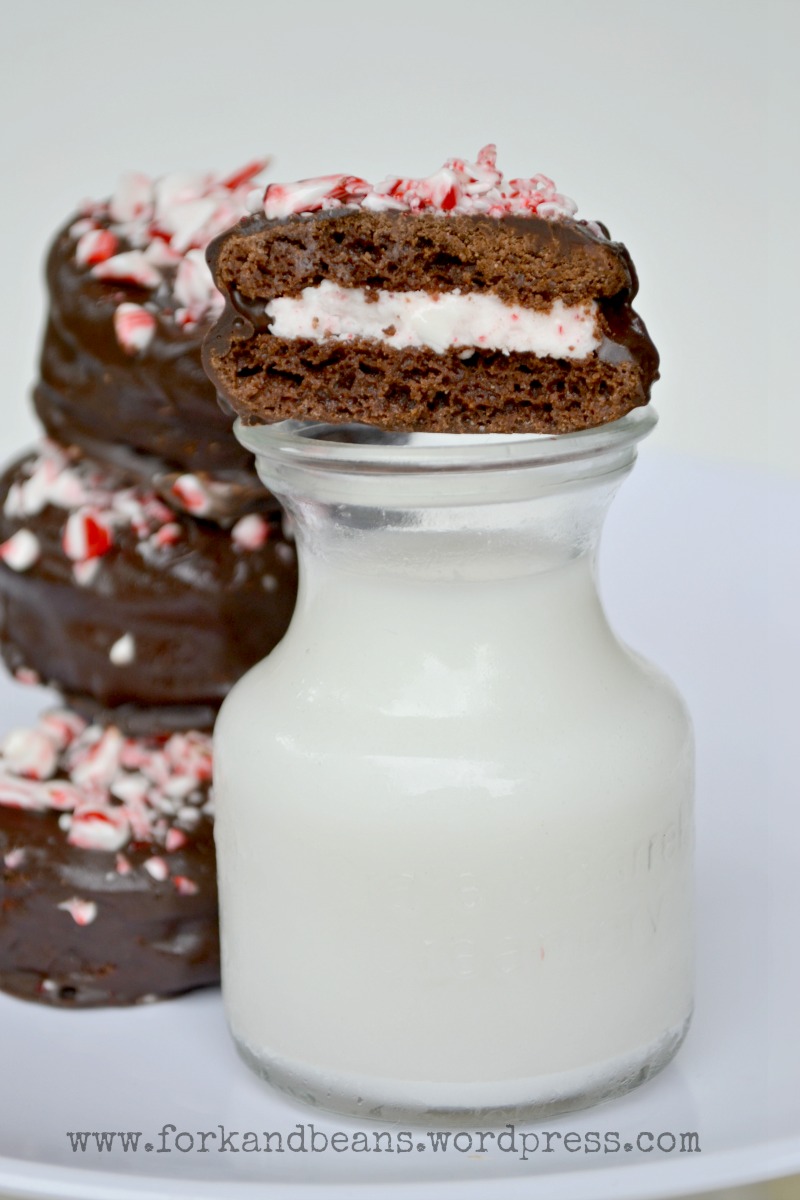 What better baking experiment to partake in then to create a gluten-free and vegan holiday sprinkled Oreo, hand-dipped in chocolate and decorated with candy canes? I knew you would agree... Feel free to leave them undipped in chocolate if you so desire. Then again, everything tastes better with chocolate, right?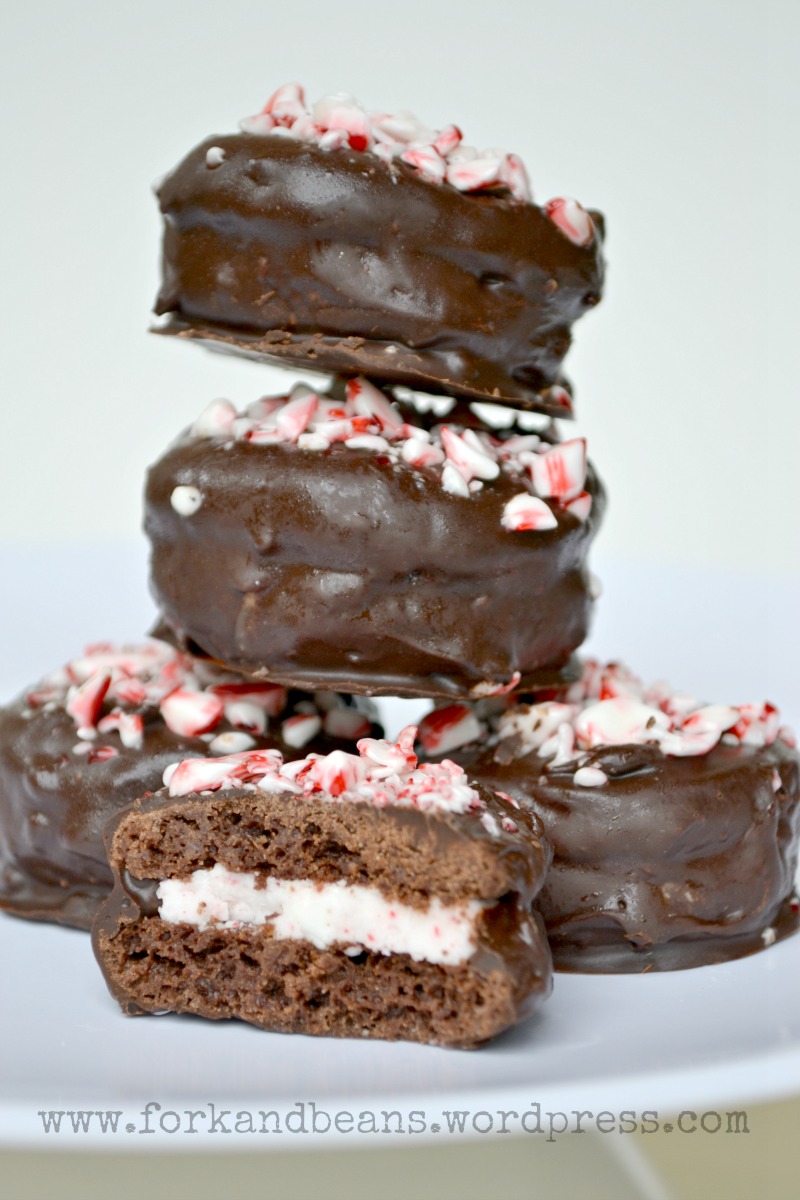 HOMEMADE CANDY CANE OREOS
gluten, egg, and dairy-free
Makes approx 24 sandwich cookies
INGREDIENTS:
3/4 c. brown rice flour

3/4 c. sorghum flour

1/4 c. potato starch

1/4 c. arrowroot powder

1/3 c. unsweetened cocoa

1/4 c. Enjoy Life chocolate chips, melted

16 Tbs Earth Balance butter

3/4 c. sugar

1/2 c. powdered sugar

1 Tb Ener-G egg replacer + 2 Tbs warm water, mixed until thickened

1 tsp vanilla extract

1/2 tsp salt
DIRECTIONS:
Cream butter and sugars with an electric mixer. *Avoid mixing for too long–1 minute maximum (if you beat for a longer amount of time, the cookies will flatten out when baking because too much air has been added into the mix).

Add melted chocolate chips and mix.

Add Ener-G egg replacer and vanilla and mix until well combined.

In a medium bowl, mix flours, starches, cocoa, and salt completely.

Add wet ingredients into dry mix bow and stir with a wooden spoon until a dough forms. Dough should not be sticky (if so, add 1 Tb of flour at a time until soft still, not sticky.

Transfer 1/2 the dough onto a piece of parchment paper. With your hands, roll dough into a log that is 6″x2″. Smooth with hands. Wrap a piece of clear wrap around the dough and chill for 2+ hours. Do the same with the other 1/2 of the dough.

Preheat the oven to 325 degrees.

Unroll the dough out of the plastic wrap and slice cookies with a sharp knife at 1/4-1/2″ thick slices.

Place 1/2 of the cookies on a cookie sheet and bake for 15-20 minutes.

Allow to cool fully on the baking sheet. The cookies with toughen up and become crunchier the longer they sit.
For the filling:
1 c. vegetable shortening

1 c. powdered sugar

1/2 tsp vanilla extract

1/2 tsp peppermint extract

14 mini candy canes, crushed (easiest way is to crush with a jar while in individual wrappers)
With an electric mixer, combine all of the ingredients (except the candy canes) together until cream becomes thick and smooth. Fold in crushed candy canes.

Using a spatula, scrape the cream into a ziploc baggie, make a small slit in one corner, and thickly distribute the cream in a circular motion onto one cookie. Gently sandwich another cookie on top. Wa-la.
Assembling:
Dip each cookie sandwich into a bowl of 1 c. dark chocolate, melted. Top with more crushed candy canes.

Allow to set on parchment paper. Chill until set.
Thanks for stopping by and be sure to come back on Sunday to see who our next special guest is and what they bring to the party!  Thank you so much, Cara, for sharing this perfect holiday indulgence fix!
Be sure to check out the rest of the cookies at the party: