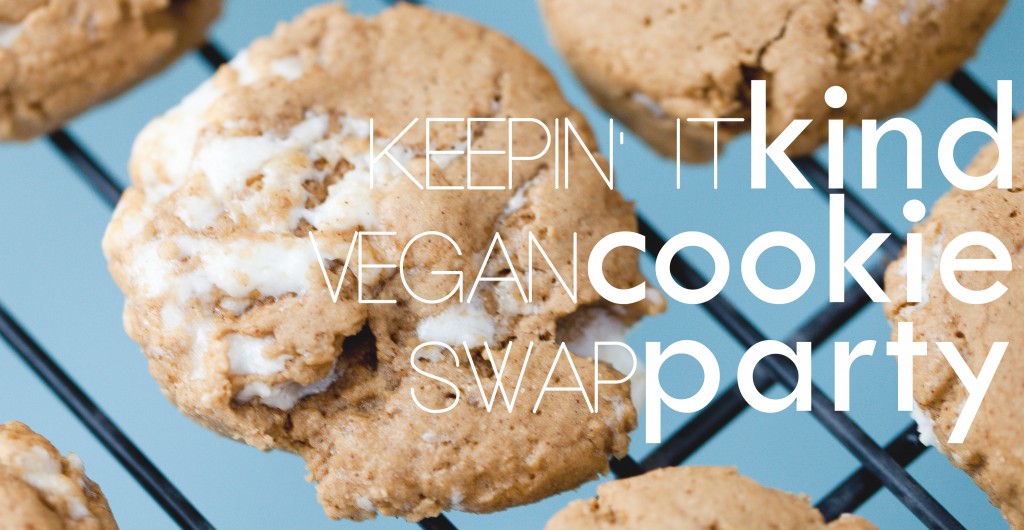 Back in the day, my friend used to host a cookie exchange party every year.  Everyone would bring about 40-50 cookies and the recipe printed out on an index card.  Each person would get to take 2 of each type of cookie as well as the recipe for each cookie.  It was an awesome party and it's something I miss doing each year.  I am ecstatic to tell you all, however, that through December 24th, I will be hosting a virtual, vegan version of this cookie swap party, with tons of guest posts from some of my favorite bloggers.  Keep checking back to see who brings what type of cookie!  
Chris and I have something we do almost once a week: We "oooh" and "ahhh" over the photography from one of my favorite blogs, Sunday Morning Banana Pancakes.  Heather's photography and food styling is absolutely stunning, and that is probably my least favorite part about her blog.  Heather's warm spirit, amazing recipes, and her peaceful, kind voice far surpass her amazing photography.  Every time I visit Sunday Morning Banana Pancakes (the name alone makes you feel warm and cozy), I feel like I'm hanging out at a good friend's home and I want to have seconds of whatever she's serving.  I am so thrilled to have her over at my house today, sharing one of her gorgeous creations.
How excited was I when I received an invite to Kristy's Cookie Swap - um, super excited!
Kristy from Keepin' it Kind is amazing, she truly is a blogger that I look up to - she has an amazing heart, is adorable and  creates mouth watering recipes. how could I say no?
Each year I create holiday cookie boxes for friends, family and neighbors. every year I try to include different cookies and sweet treats, when debating on what cookie i should bake up for the swap i thought back to my cookie boxes. this cookie that I am sharing with you today is the only cookie I have repeated year after year it is the first vegan cookie that my Aunt fell in love with and the cookie that is requested each year by Justin.
I will be the first to admit this is not the healthiest cookie, a cookie fully encased in powdered sugar - but tis' the season, just add in a little extra zumba or an extra long walk.
Warm spices of cinnamon, nutmeg & allspice mixed with molasses, maple syrup & butter - flavors that can't help remind me of the holiday season. This is a great cookie to make with the little ones in your life, task them the job of coating each cookie with the powdered sugar, it is as is easy placing a few cookies in a bag of powdered sugar and shaking the cookies around a bit.

The inspiration for the cookie came by way of a few different cookie recipes - noel cookies, snowballs &

Pfeffernussen. I wasn't quite sure what to call this cookie, noel cookie sounded best plus the cookies are not fully round like a snowball.

I hope you enjoy this sweet Christmas treat just as much as we do!
Heather's Noel Nut Rounds
Ingredients
1 stick of vegan butter- room temperature
1 tbsp pure maple syrup
1/2 tsp grand marnier or orange juice
1 tbsp molasses
1 1/4 cups flour
1/3 cup chopped pecans
1/4 cup vegan confectioners sugar + more for coating cookies
1 tsp cinnamon
1/2 tsp nutmeg
1/4 tsp all spice
1/4 tsp salt
1/4 tsp baking soda
Instructions
preheat oven to 350.
using an electric stand mixer with the paddle attachment, cream butter and maple syrup. Add grand marnier or orange juice & molasses, beat until combine scraping down the sides of the bowl with a rubber spatula if needed.
in a medium bowl combine flour through baking soda
(setting aside the extra confectioners sugar for coating the cookies)
add the dry ingredients to the mixer and mix until a dough forms. a tablespoon at a time roll dough between the palms of your hands to create a small ball, place bowls on a parchment lined rimmed baking sheet. repeat until you have created 13 rounds.
bake in your pre heated oven for 10-13 minutes, cookies will be slightly cracked and should be somewhat firm to the touch.
allow cookies to cool (about 10 minutes). place powdered sugar in a brown paper bag or ziploc bag, place a few cookies at a time in the bag and shake until cookies are completely coated. repeat until all cookies are coated in confectioners sugar.
enjoy!
Thanks for stopping by and be sure to come back on Tuesday to see who our next special guest is and what they bring to the party!  Thank you so much, Heather,  for bringing these powdered sugar-coated pieces of heaven!