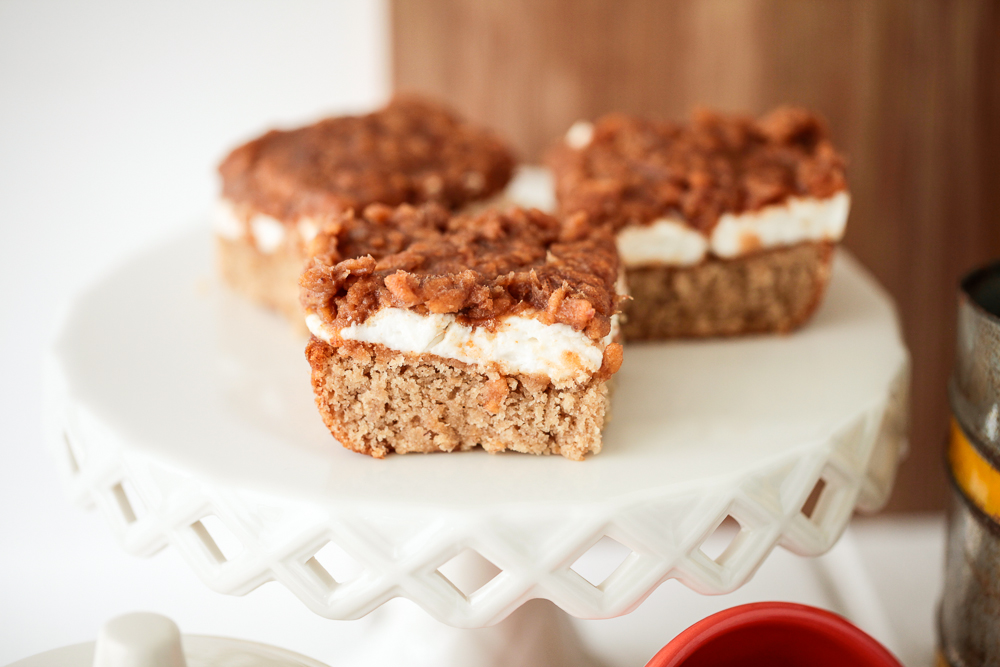 Could there be any more awesome words in that title?  Caramel.  Peanut Butter.  Marshmallow.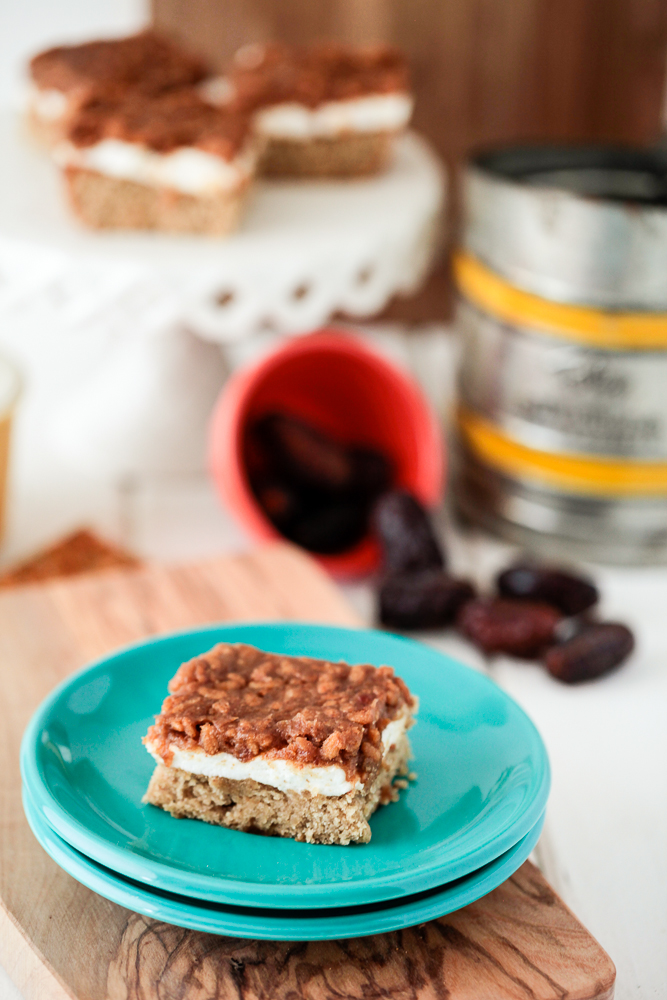 Sure, I probably could've added chocolate and just put them over the top, but chocolate always has a way of stealing the show.  I wanted the other ingredients to shine.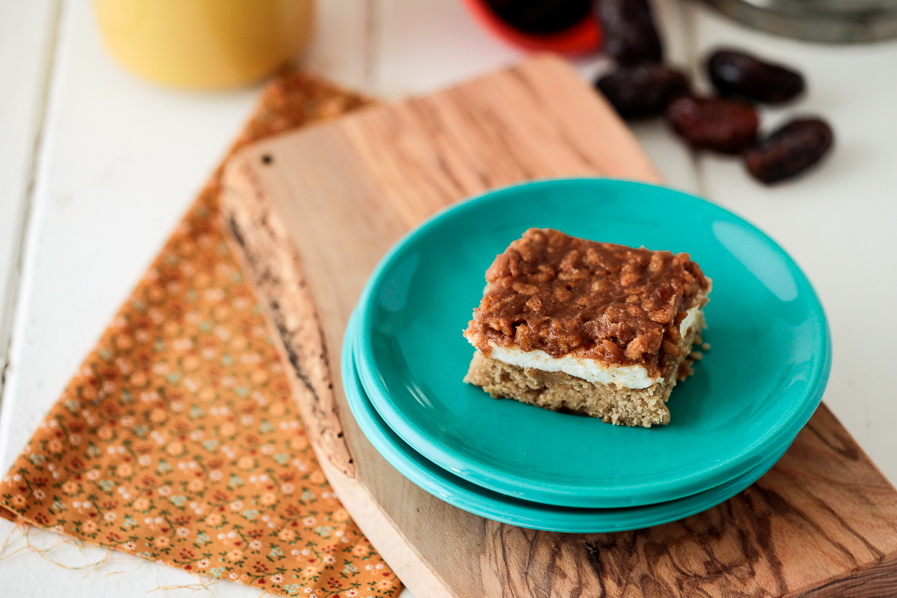 Also, these were inspired by another one of my recipes and chocolate got the spotlight in that one.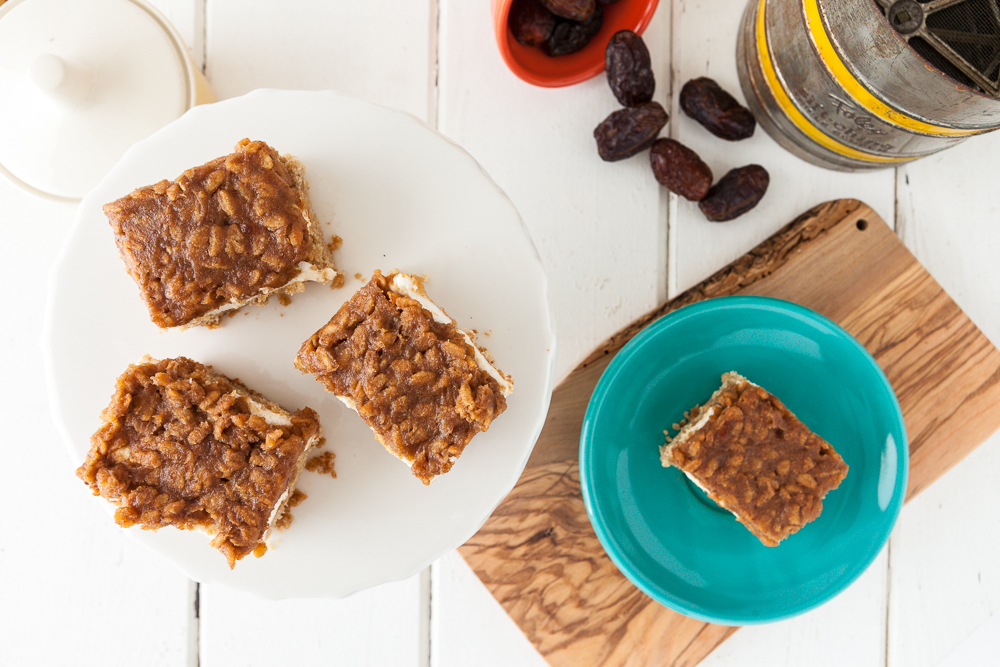 Now where did the inspiration for this flavor combo come from?  Well, I fall victim to severe peanut butter cravings once a month.  In fact, several years ago, in a fit of intense PMS, it ate 3/4 of a jar of peanut butter by spoon.  In one day.  True story.  Then I was like "I don't know why my stomach hurts so bad."  (You can't see this, but I'm rolling my eyes at my younger self right now.) So, I think it's safe to say that the peanut butter part was PMS-driven.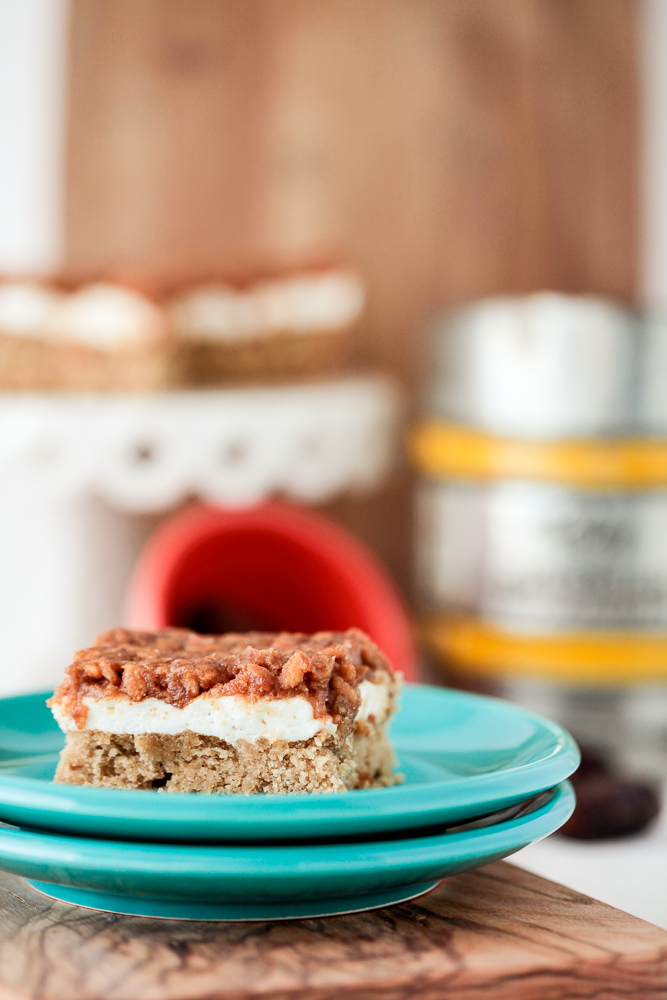 The caramel happened because I'm pretty much in love with date-based caramel these days (see Exhibits A. & B.).  I thought I would add a crunchy aspect with brown rice crisps (like the original), but alas, by being mixed in with the caramel, they lose their crunch after awhile.  I love the chewy texture that it adds, but if you want some real crunch, I would replace the crisps with some chopped nuts.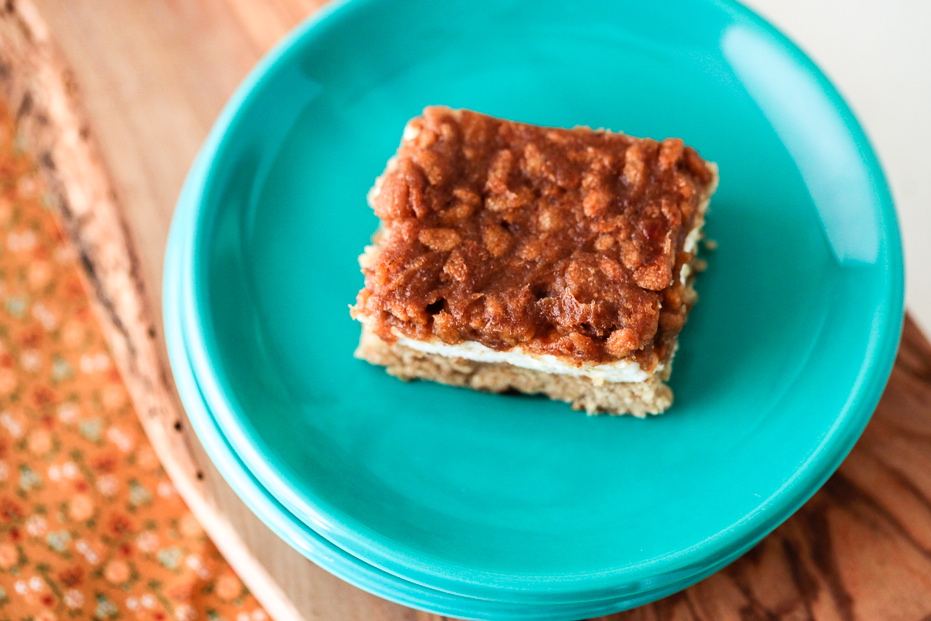 The marshmallow layer came about because, well... Do I really need an excuse to use marshmallows?  Yeah.  I didn't think so.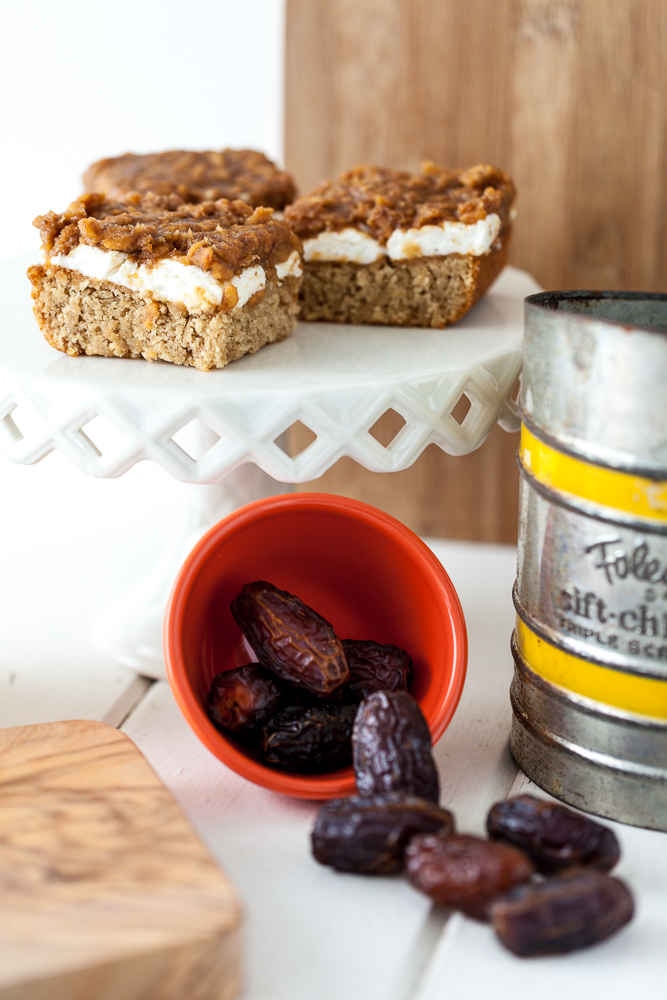 I could not be more pleased with the result.  I think I even did an unflattering little butt-wiggle dance because I was so excited after the first bite.  Let's start with the peanut butter brownie base- the peanut butter is mixed with banana and maple syrup to make a perfectly sweet, moist and flavorful foundation.  Then there's melted marshmallow.  Enough said.  To top it off, dates are pureed with almond milk, a tiny bit of peanut butter (to make it stickier) and a pinch of sea salt to make a silky caramel.  You could leave it as-is and spread it on top of the marshmallows, or add the crisp rice cereal to the mix to add a bit of texture and chewiness.  Either way, you're in for quite a treat.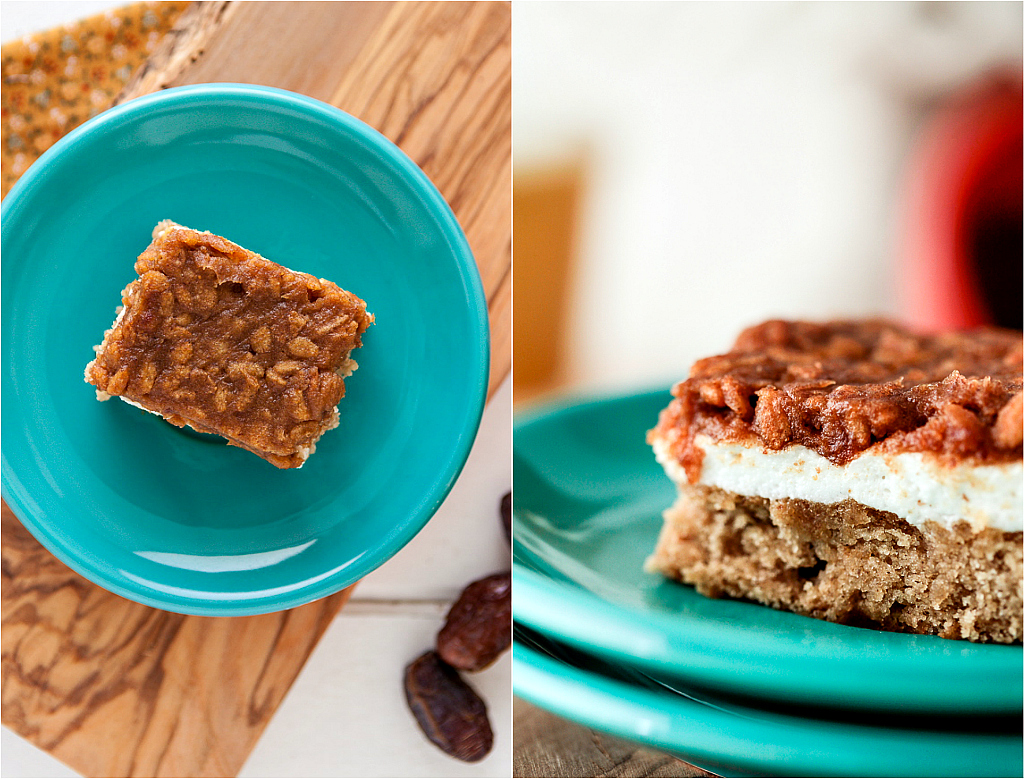 Caramel Peanut Butter Marshmallow Bars
Ingredients
1 ripe banana, mashed
1/2 cup peanut butter
1/2 cup maple syrup (or agave syrup)
1 tablespoon coconut oil
1 teaspoon vanilla extract
1 cup gluten-free all-purpose flour
1 teaspoon baking powder
1/2 teaspoon salt

For the Marshmallow Layer:

5-6 oz. vegan marshmallows (a little over 1/2 a bag of Dandies), chopped in half

For the Caramel Crunch Layer:

2 cups medjool dates, pitted & soaked in warm water for at least 1 hour
4 tablespoons almond milk
1 tablespoon peanut butter (or other nut butter)
1 teaspoon vanilla
1 cup crisp brown rice cereal
Instructions
Preheat the oven to 350. Grease a 9x9 baking dish or lightly spray with canola oil. Set aside.
In the bowl of your food processor, combine the wet ingredients for the base. Process until smooth. In a large bowl, whisk together the base dry ingredients. Add the wet ingredients to the dry and mix until just combined. Pour into the baking dish and spread out evenly.
Bake in the oven for about 25-30 minutes, or until a toothpick inserted into the center comes out mostly clean (a crumb or two is okay). Remove from the oven and spread the marshmallows evenly over the bars. Return to the oven and bake until the marshmallows are completely melted. Remove and let sit for about 5 minutes.
While the bars in the oven, make your caramel. Clean out your food processor and then combine the caramel crunch ingredients inside of it, minus the rice cereal. Process until smooth. Pour into a large bowl and add the brown rice cereal. Stir until fully combined. Spread the caramel crunch layer over the marshmallow layer. Let cool at room temperature for an hour then refrigerate for at least 30 minutes before serving. Enjoy!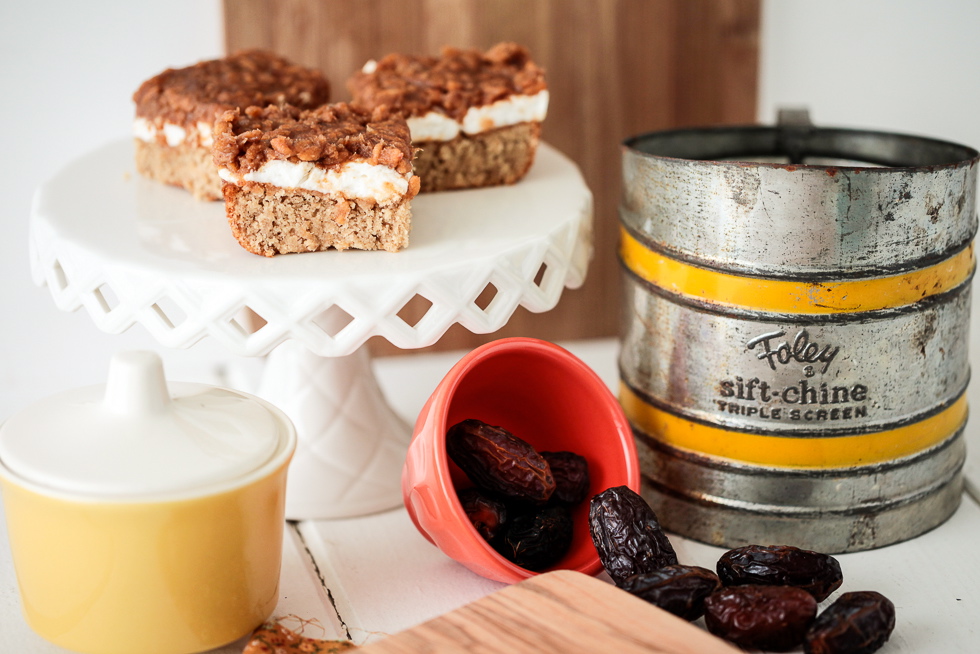 What are your favorite dessert flavor combinations?