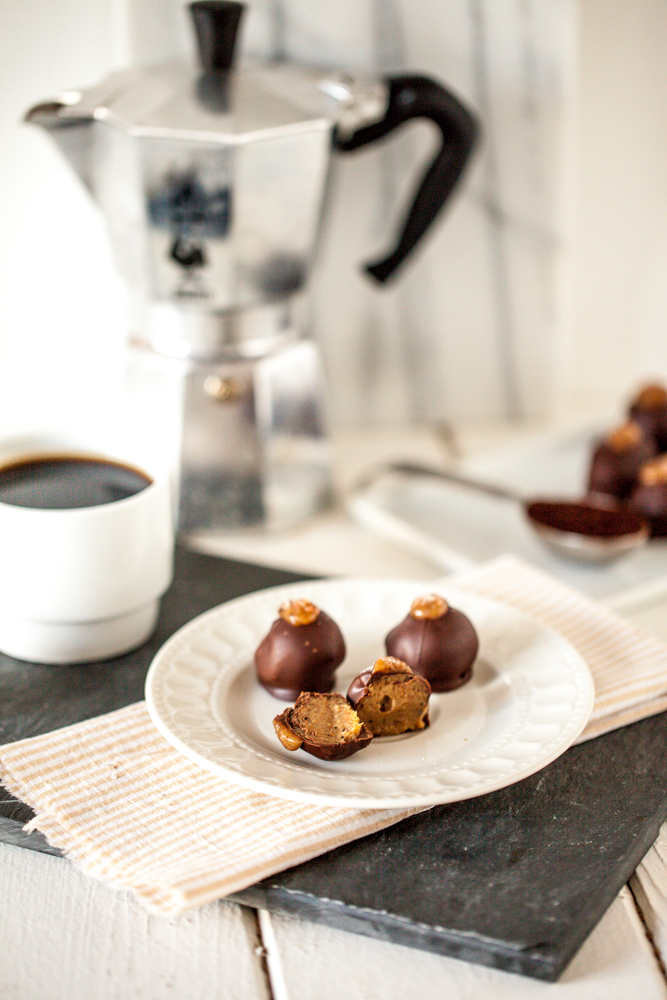 I've never had an actual Caramel Macchiato from Starbucks or some other fancy coffee house, so it might seem odd that I would make caramel macchiato truffles.  I once, however, had a plain macchiato while living in Italy.  It was right after I got fired for the first (and only) time in my life.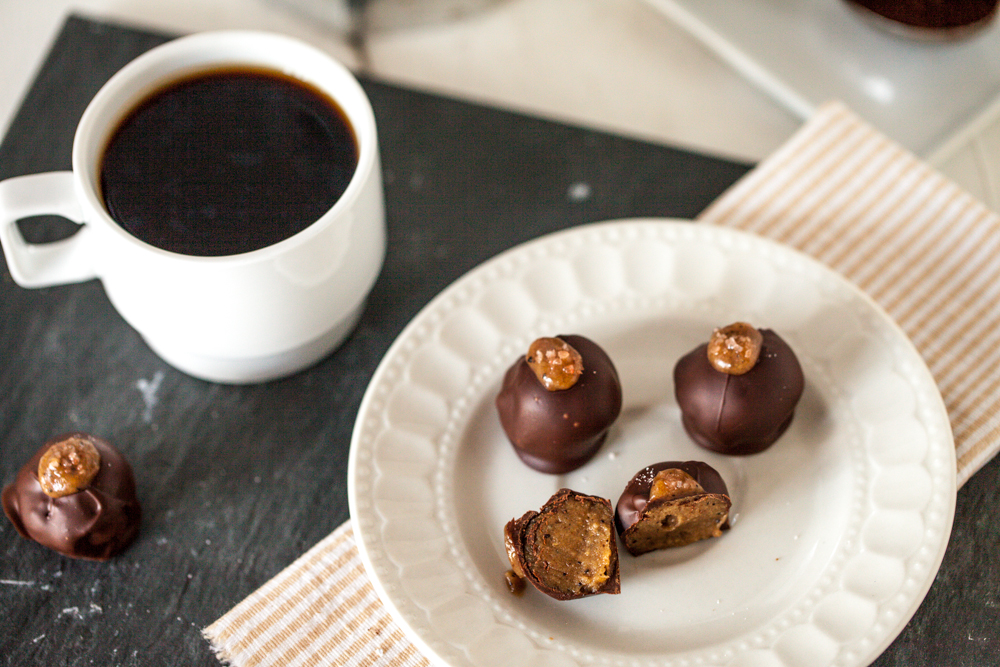 At the time, I was a straight-up espresso type of gal, but I guess, in that moment, I was so bewildered that I forgot.  Or maybe I felt that the occasion called for something more than just and espresso.  Frankly, I don't remember anything except stumbling into the nearest cafe, mumbling something to the man behind the counter and sitting down at one of the few tables.  I was the only person there.  I was wearing my running clothes, because I had planned on going running after what was supposed to be a quick and easy task that morning.  I was physically shaking, but felt relieved.  I sat there for what seemed like an eternity, but it was probably only 20 minutes, tops.  To be honest, I don't even remember what the macchiato tasted like.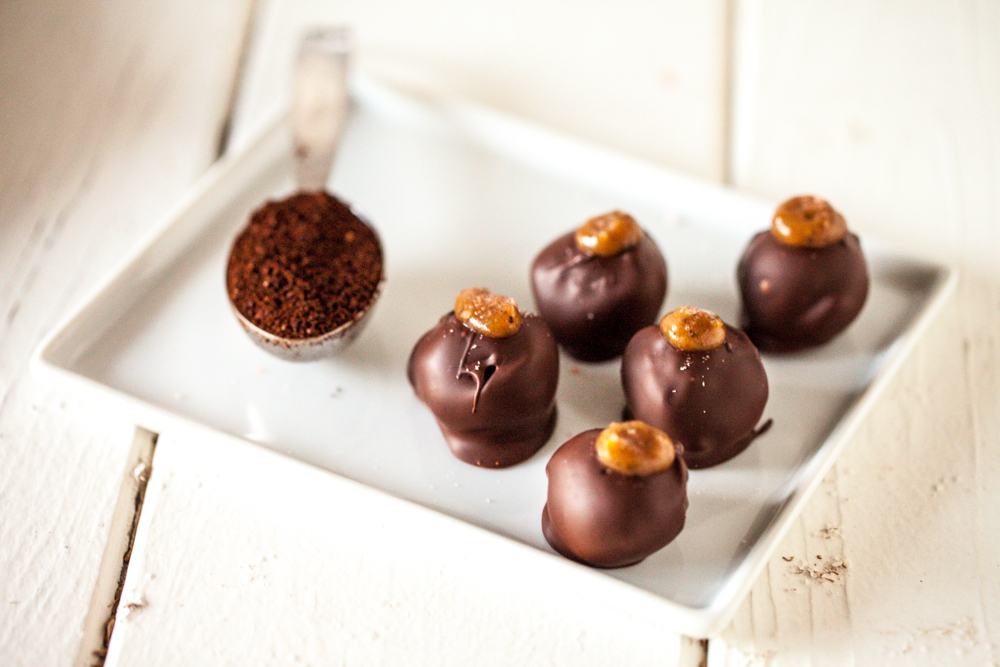 I should back up a bit.  I've spoke before about my nightmare of a job as a nanny in Florence.  Shortly after the terrible weekend at the "country house in Todi," Genevieve told me that she didn't think it was going to work out, but I could stay for two weeks or until I found a new place to live.  That's actually a very nice way to describe how that conversation went down, considering half the conversation was just me telling her to please not yell at me because I was certainly not yelling at her.  The next day, Genevieve told me that Nina was very sad about me leaving and that I could stay until I went home for the holidays if I liked.  I told her that I would rather not stay in a place where I was not wanted, and would continue looking for a place to live.  The day after that however, shook me to my core.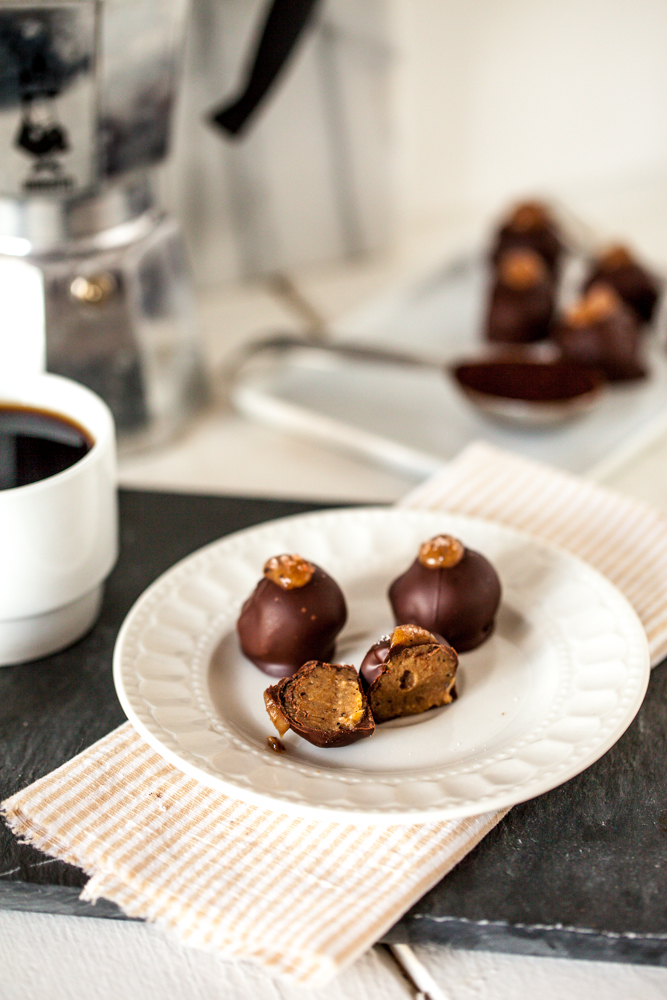 Instead of trying to describe that morning, it's easier for me to share from my blog/journal that I was keeping at the time so I've included excerpts about that day:
8:15am- Nina is still not out of bed.  Genevieve informs me "Nina is not going to school today.  I have an appointment at nine, and then I will meet you and Nina at 9:45 in front of this church."  She pulls out a map and points out where I am supposed to meet her.  Then she tells me to take the C line bus, and get off at the stop before San Marco square (which is where I get off to take Nerina to the dentist every week), and meet her in front of the church there.

9:15am- Genevieve has left and I have gotten Nina ready and we are headed out the door to go catch the bus.

9:30am- The bus picks us up, and I am slightly annoyed at the bus driver for talking so loudly on his cell phone while he is driving.

9:40am- I am even more annoyed because the bus driver missed our stop because he was too busy talking on the phone.

9:42am- we get off the bus, and backtrack to the stop we were supposed to get off at and are standing in front of the church by 9:45am, but there is no sign of Genevieve.

9:45am- I call Genevieve, and she yells "Where are you?  I am waiting here and I do not see you!"  I tell her where we are, and she says "No!  I told you to meet me at this church!  I ask you to do one simple thing and you can't even do that!"  I say "I am so sorry, Genevieve.  Please stop yelling at me and tell me where you want me to bring her."  She yells at me to stay where I am and that she will come to me, then she hangs up.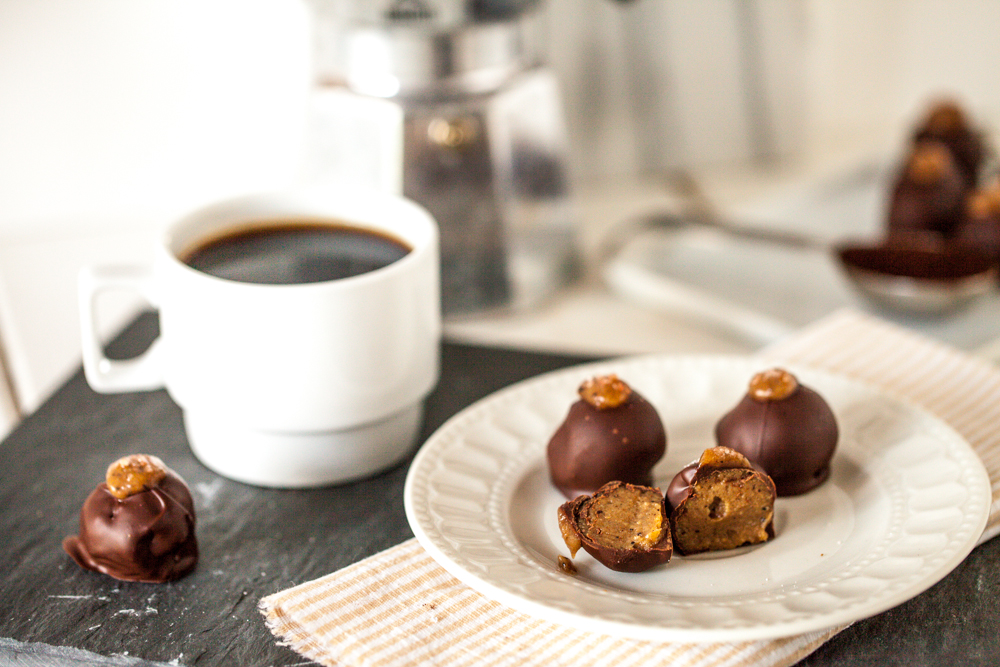 9:50am- Nina and I are standing where she told us to stand and Nina is asking me repeatedly "Why did you say 'I'm sorry' to Mommy?"  Genevieve calls again, screaming "Where are you?!"  I tell her again, the name of the plaza and the street name. She begins to go on again about how incredible it is that I would venture out into a town where I am unfamiliar (untrue) without a map, with a five-year old, and not being able to speak the language enough to ask for directions (I know very well how to ask for directions in Italian and I understand directions in Italian, not that it really matters because the area where we were is a very touristy area and everybody speaks English anyways).  "How stupid and irresponsible can you be?" she yells before she hangs up on me again.  I am frustrated because the place where she wanted us to meet is only two blocks or a five minute walk from where we are, and I could have easily walked there to meet her, but she found yelling and screaming at me a far more effective way to solve the problem.

9:55am- She calls me again, screaming "You said you were on Gia Copone and I do not see you!"  I told her to not yell at me again, that we were on Gia Capone, in front of the church she told us to stay at."  We walked 5 steps towards the street, the entire time Genevieve is hurling insults at me through the phone.  As soon as we arrive (five steps closer to the street), she hangs up and we see her charging down the street like a maniac.  She rips Nina's hand out of mine and begins screaming at me, while we stand in the middle of the street "I can't believe how incompetent you are.  I ask you to do one simple thing, and you put my child's safety at stake because of your idiocy.  You are completely unsuitable to work with children."  I tell her I am very sorry, but she goes on: "Whatever made you think you could take care of children?  You should never, ever, EVER work with children again!  I want you out of my house by Sunday!"  Nina is just standing there, on the verge of tears, watching this whole thing.  I tell her, very calmly, "Don't worry.  I'll be gone by the time you get home."  And I turned and walked away.

10:05am- I'm sitting in the nearest café, unable to even sip my macchiato (why did I order a macchiato?) because I am too much in shock at what had just happened, and sick that I was not going to be able to say goodbye to Nina.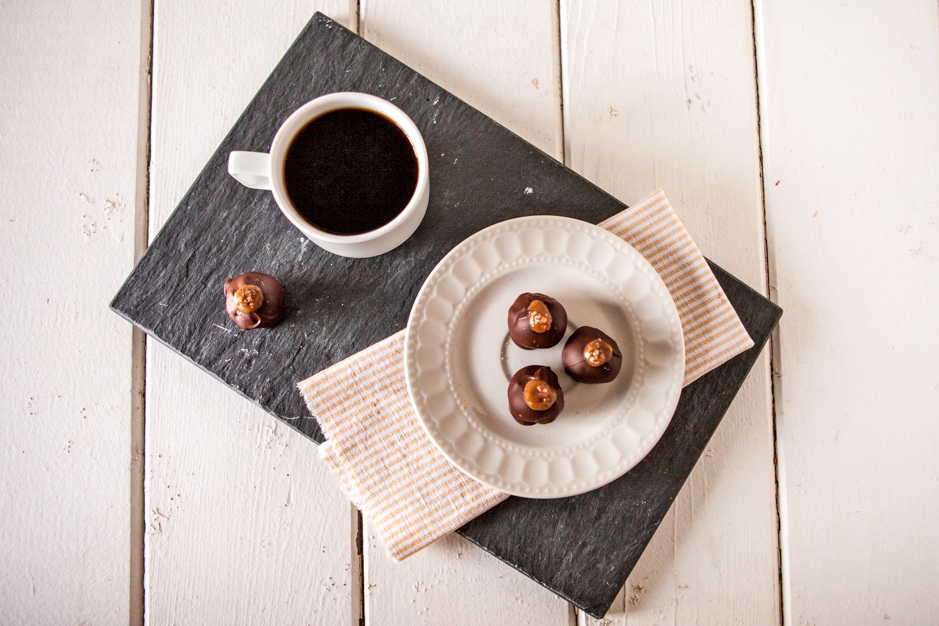 You're probably wondering why I was inspired to create a treat based on something I drank on that awful morning.  Well, the reason is this: That macchiato marked the beginning of a new chapter for me.  For the next month, I spent all of my time teaching myself to love Florence and my life, in general, again.  I visited museums and went to nearby cities to juste to taste their wine.  I wrote like crazy, I ate a lot of pizza, I ran by the river every day, I danced until sunrise, I spent 48 hours watching a Sex and the City marathon with my roommate.  When I returned to the US after that month, I continued to live like that- just doing what made me happy.  If it wasn't making me happy, I changed it.  That's how I ended up moving to LA.  That's how I ended up starting Keepin' It Kind.
Now I am encouraging you to do what makes you happy.  If you're doing something that doesn't make you happy, stop.  Take a walk.  Read a book.  Hug your dog.  Watch a Doris Day movie (ok, that one might just be for me).  Make these caramel macchiato truffles because caramel + espresso + chocolate = super happiness.  Get even happier when you realize that these guys are sugar-free because the caramel is made from medjool dates, almond milk, and cashews.  And have seconds.  And heck, because these truffles are so ridiculously delicious and the little sprinkle of salt on top is blowing your mind, have thirds.  Whatever you do, though, just be sure it makes you happy.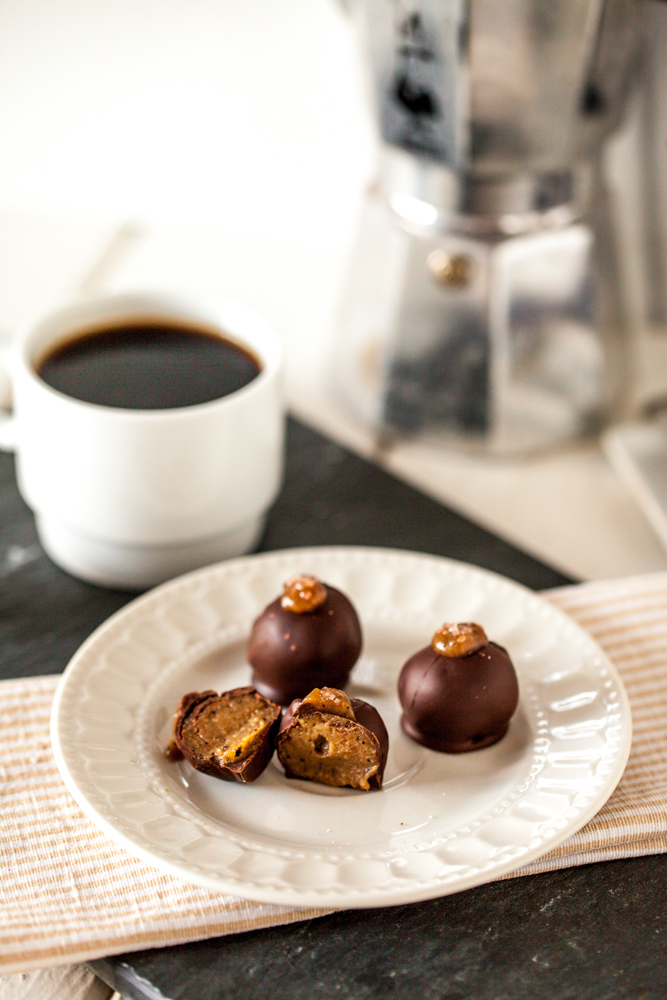 Chocolate Caramel Macchiato Truffles
Ingredients
10 medjool dates, soaked for at least 1 hour
4 tablespoons almond milk
1 1/2 teaspoons vanilla extract
1 1/4 teaspoons espresso grounds
1/2 teaspoon sea salt
1/2 cup raw cashews, soaked for at least 1 hour
1/4 cup rolled oats (gluten-free if necessary)
2 tablespoons almond milk
1 cup chopped vegan chocolate or chocolate chips
2 teaspoons coconut oil
Instructions
Line a baking sheet with parchment paper and set aside.
In the bowl of a food processor, process the dates until smooth. Add the almond milk, vanilla extract, and salt. Process until smooth, scraping the sides as necessary. Remove 2 tablespoons of the mixture and place in a bowl and save for later.
Add the espresso, cashews, and oats and continue to process until smooth, scraping the sides as necessary. This may take several minutes.
Once smooth, transfer the mixture to a pastry bag, or a resealable plastic bag with about 1/2 inch cut from one of the corners. Use the pastry bag to pipe the mixture into little blobs on the baking sheet. (I made 36 little blobs, but then later doubled them up and rolled them into 18 balls. You can start off with 18 little blobs, but it will take longer to firm up in the fridge).
While the blobs are firming up, take the reserved caramel mixture (the 2 tablespoons mentioned in the 2nd paragraph) and use a fork or a small whisk to stir in 2 tablespoons of milk. Set aside. Rinse out your pastry bag and have a smaller tip handy to apply the caramel coating at the end. If you used a plastic bag, you may want to get a smaller bag and clip a tinier hole in the corner.
Place the baking sheet in the refrigerator and let the blobs firm up for about 30 minutes (or if your impatient, like me, you can place them in the freezer for about 15 minutes). Remove, and very quickly (before they get soft again) roll each blob into a ball. If you need to double up the blobs now (see note at the end of last paragraph), then do so. You should have about 18 balls total.
Place the baking sheet in the refrigerator for another 15 minutes. Before removing, heat the chocolate and the coconut oil in a double broiler until melted. Once melted, remove from heat. Alternatively, you can melt the two together in the microwave in 30 second increments, stirring after each increment.
Remove the baking sheet from the fridge. One by one, drop one of the balls into the chocolate and use a spoon to completely cover it with chocolate, scoop it out and place back on the baking sheet. Once they are all coated in chocolate, transfer back to the refrigerator and let chill until set, about 5-10 minutes.
Use the pastry bag, with a tiny hole tip attached, and pipe the caramel topping onto the top of each truffle. Top with a bit of sea salt, if desired. Chill for another 15-20 minutes before serving. Keep chilled until ready to serve. Will keep in an air-tight container for 3-4 days (if they don't all get eaten before then). Enjoy!
What do you do that makes you happy?
Photography by Chris Miller