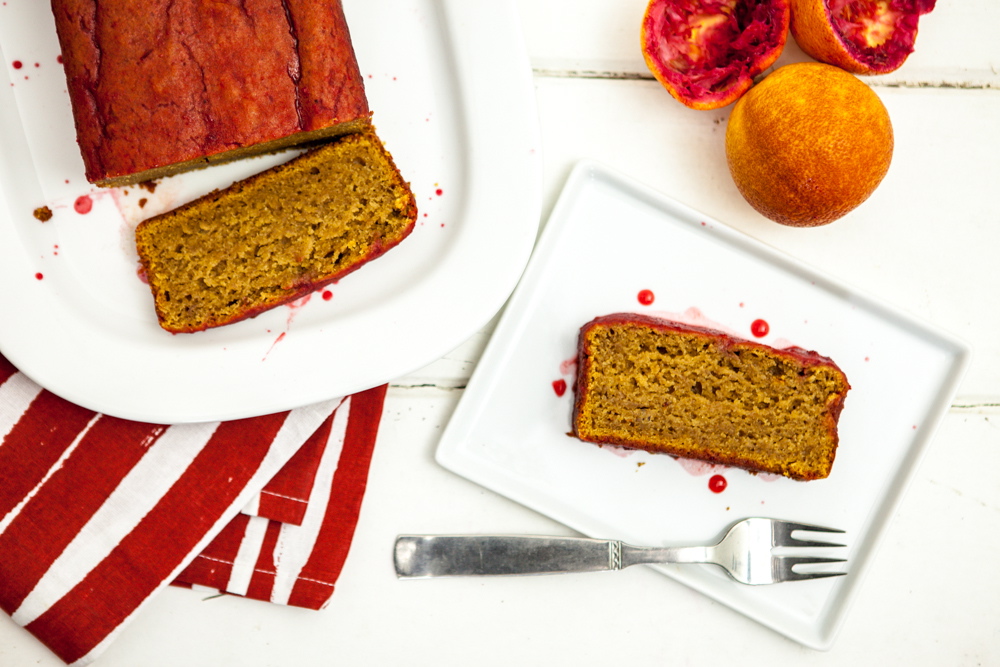 Do you ever look back at different times in your past and think "That seems like another lifetime ago?"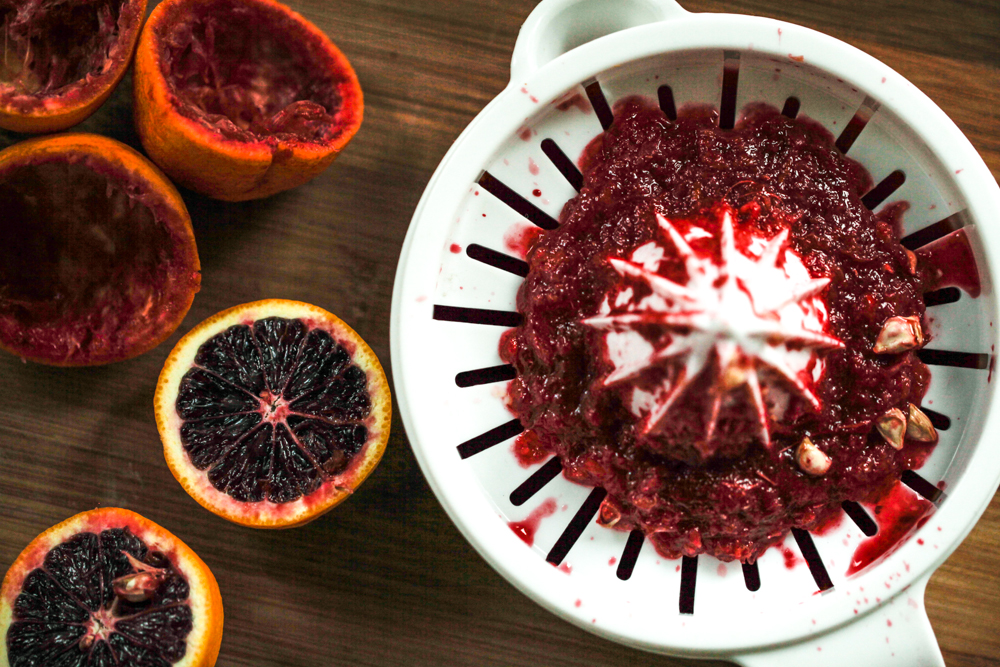 It happens to me all the time.  It sometimes feels like I've lived at least seven other lives.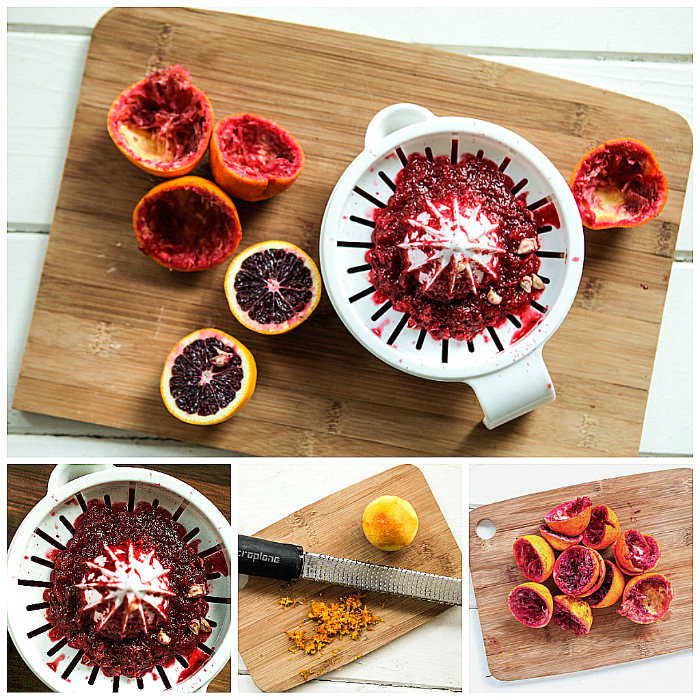 There was this one life when I lived in an apartment complex (the kind that's spread out over an acre or so, with tons of little clusters of buildings) in San Jose, California.  I was pretty unhappily married, but my then-husband and I lived in the same complex as our best friends (another married couple).  I mean, I could walk to their house in less than a minute, anytime I wanted.  It was like a semi-Friends sort of situation.
I used to bake a lot during that time.  It was therapeutic.  I used to clean a lot because that was therapeutic too.  Anything that could take my mind off how I was really feeling about everything, I did.  That's how I discovered this cake.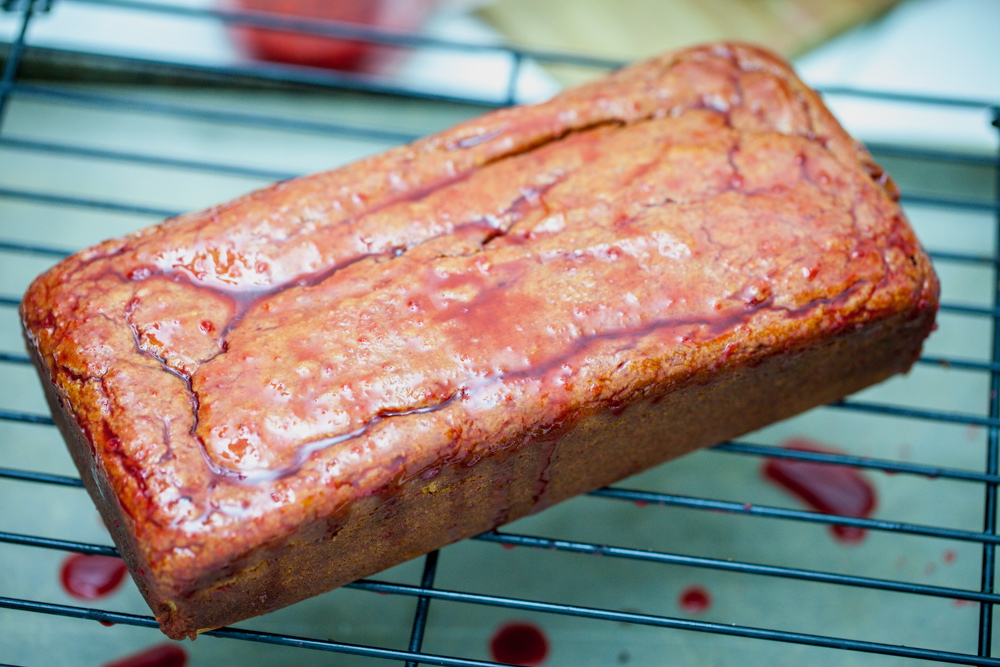 I don't remember where I got the original idea for it- a cooking magazine or maybe the food network.  I have no clue, but I changed the recipe to make it slightly healthier (not vegan at the time, though) and I used to make it with lemons.  It became my favorite thing to make because I knew, without a doubt, it would turn out well each time.  It was something I could control and had guaranteed results.  And it was delicious, so I made it a lot.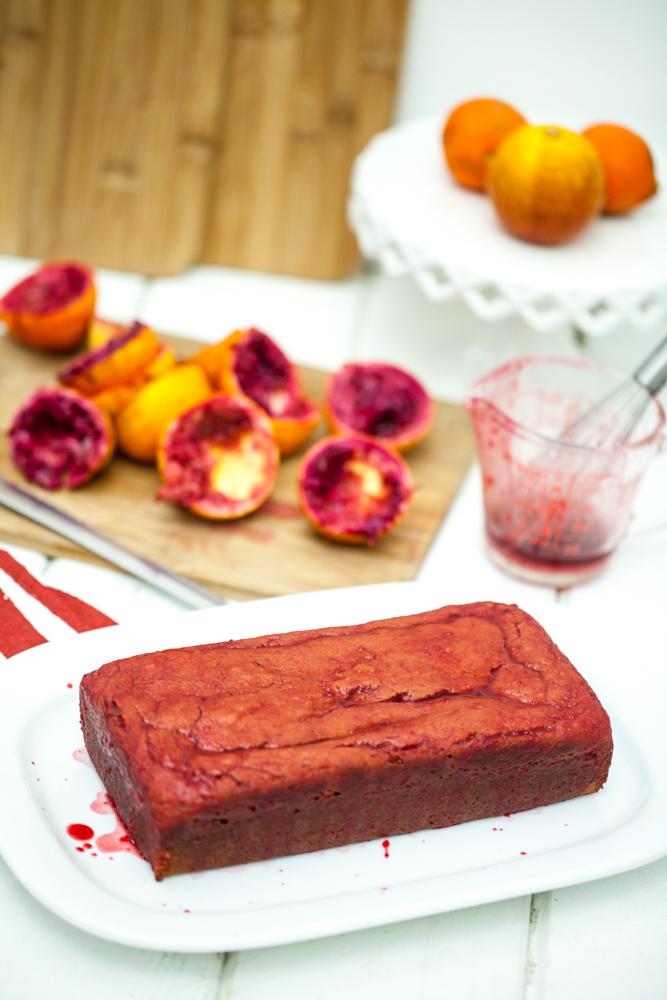 I remember making double or triple batches of this cake to freeze or share with coworkers or take to our friends who lived thirty seconds away.  It's strange because I don't remember much from this time.  I couldn't tell you what style of clothes I was into or how I wore my hair or how our bedroom was decorated or even what my then-husband really looked like at the time, but I remember this cake.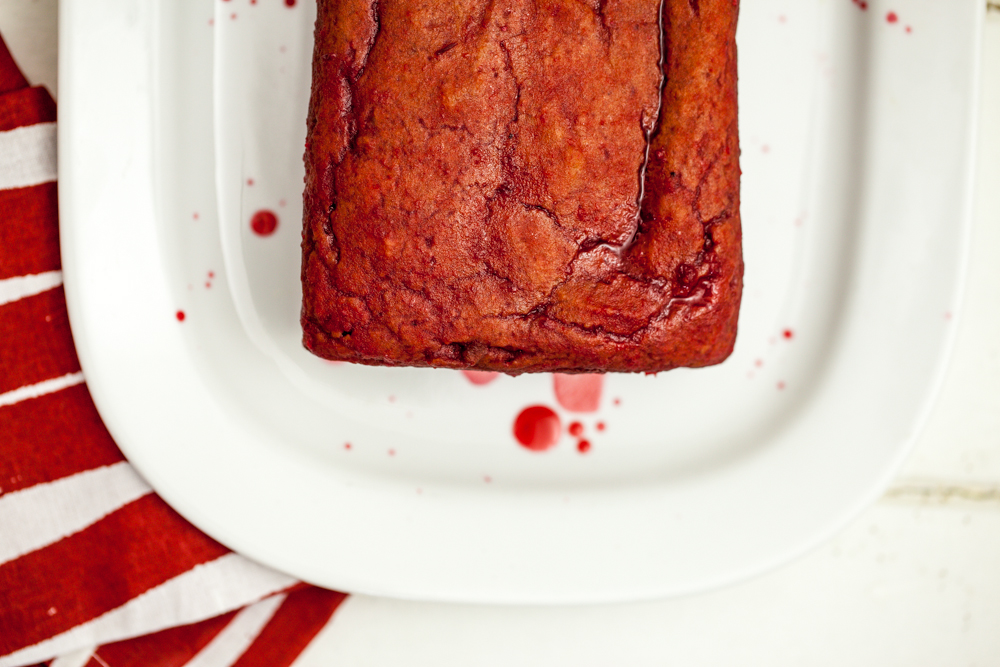 Recently, while pondering what to do with all of the blood oranges I had on my counter(courtesy of our CSA), I remembered this life I once lived and this cake that I made.  I pulled the old recipe out of my old recipe binder and began tweaking and veganizing.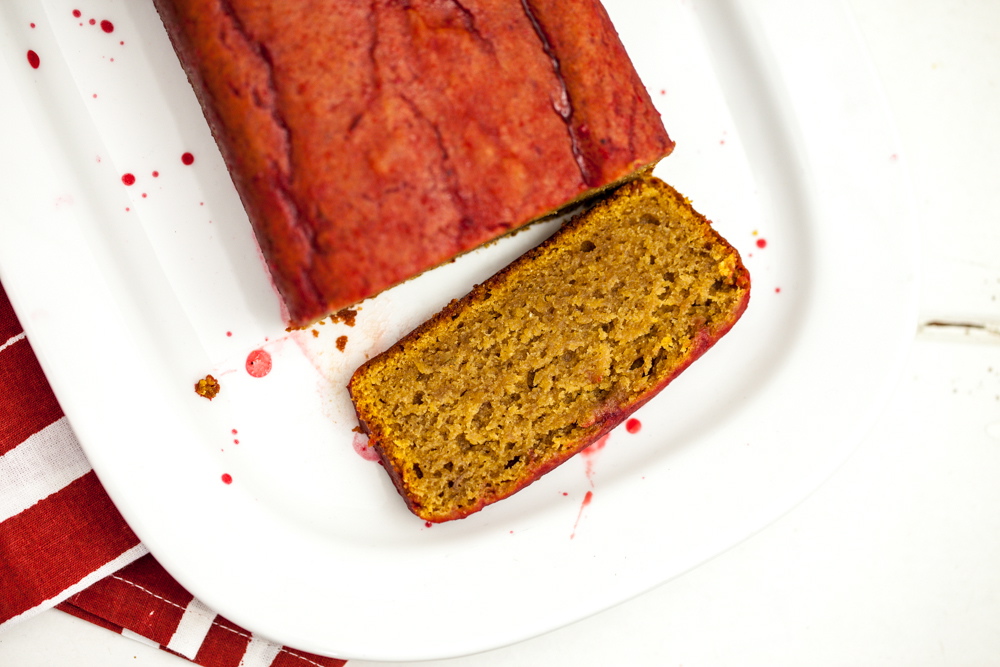 This cake is even better than the original because a.) it's vegan, therefore much more compassionate, b.) it's a really pretty pink color from the saffron-spiked blood orange glaze that is brushed on soon after it's taken out of the oven (lemon juice never really changed the color all that much), and c.) it's somehow even moister than the original, making every bite practically melt in your mouth.  Chris was unsure of the idea of putting saffron in a cake, but after one bite, he was convinced.  He couldn't get over all the different flavors packed into each bite or how intricately and complexly layered the flavors were.  Because the saffron is soaked in hot blood orange juice, it lends a grassy, or earthy, taste that pairs beautifully with citrus.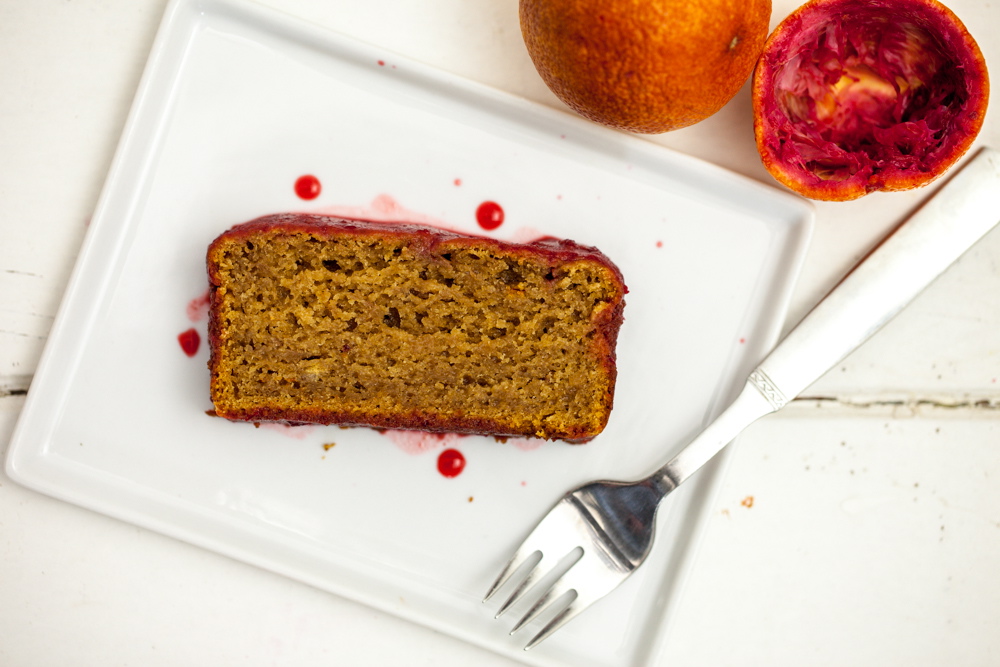 I'll be the first to admit, this cake, because it is made with blood oranges, resembles meatloaf to an extent.  Do not let that put you off.  It's pretty fantastic.  Once the glaze sets into the cake, the exterior of the cake takes on a bright, citrusy, candy-like taste and the interior is sweet, yet earthy, and extremely moist.  Because I'm in a different lifetime, I didn't take this cake to my friends to share (though I definitely thought of them a lot).  With my new, compassionate, blood orange version, I made new memories of sharing it with my current husband over the course of a week.  And I committed to memory just how handsome he was with each bite he took.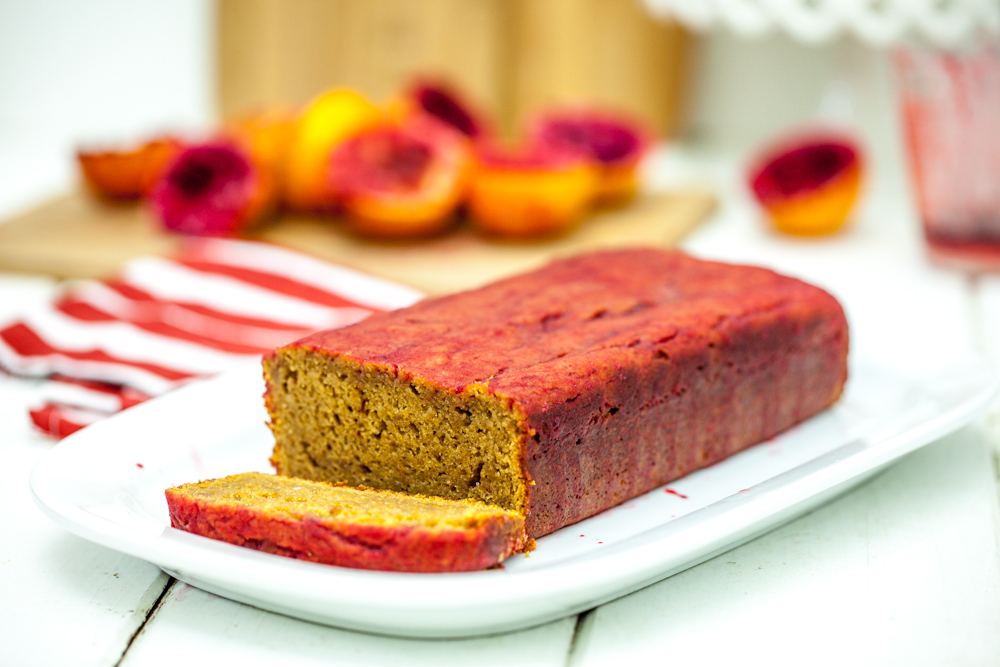 Saffron Blood Orange Pound Cake
Ingredients
for the saffron-spiked orange juice

almost 3/4 cup blood orange juice (you'll need 1/4 cup and roughly 1/3 cup)
2 pinches of saffron
1/2 cup coconut oil, melted but at room temp
1/2 cup coconut sugar
1/3 cup brown rice syrup (or agave syrup)
1/2 box silken tofu, pureed
1/4 cup saffron spiked blood orange juice, reserve the rest
1/4 cup almond milk
1 teaspoon apple cider vinegar
1 teaspoon vanilla extract
1/2 teaspoon blood orange zest

_dry ingredients

1 1/2 cups whole wheat pastry flour
1 teaspoon baking powder
1/2 teaspoon salt
remainder of saffron spiked blood orange juice (about 1/3 cup)
equal amount of powdered xylitol (or vegan powdered sugar)
Instructions
In a small saucepan, bring the blood orange juice and saffron to a boil, then immediately turn the heat off. Let it continue to steep.
In a small cup, mix together the almond milk and apple cider vinegar. Set aside.
Preheat the oven to 350. Line a loaf pan with parchment paper and set aside.
In a medium bowl, combine the flour, baking powder, and salt.
In a mixer fitted with a whisk attachment (or in a large bowl, using a hand mixer), blend the oil and sugar together. With the mixer running at low speed, add brown rice syrup, silken tofu puree, 1/4 cup of the saffron spiked blood orange juice (using as much of the saffron threads as possible), and almond milk/vinegar mixture.
Add the dry ingredients to the wet in three batches, mixing after each addition. Mix just until smooth.
Pour into the prepared pan and bake until raised in the center and a toothpick inserted into the center comes out dry and almost clean (a few crumbs are OK), 50-60 minutes.
Meanwhile, make the glaze: In a small bowl, stir together the powdered xylitol/sugar and the remaining saffron spiked orange juice (roughly 1/3), until the xylitol/sugar is dissolved.
When the cake is done, let cool in the pan 15 minutes (it will still be warm). Set a wire rack on a sheet pan with sides (to catch the glaze) and turn the cake out onto the rack. Using a pastry brush, spread glaze all over the top and sides of the cake and let soak in.
Repeat until most of the glaze is used. Reserve the rest of the glaze to spread one more layer on the cake once it has cooled. Let cool at room temperature. Re-glaze and serve. Enjoy!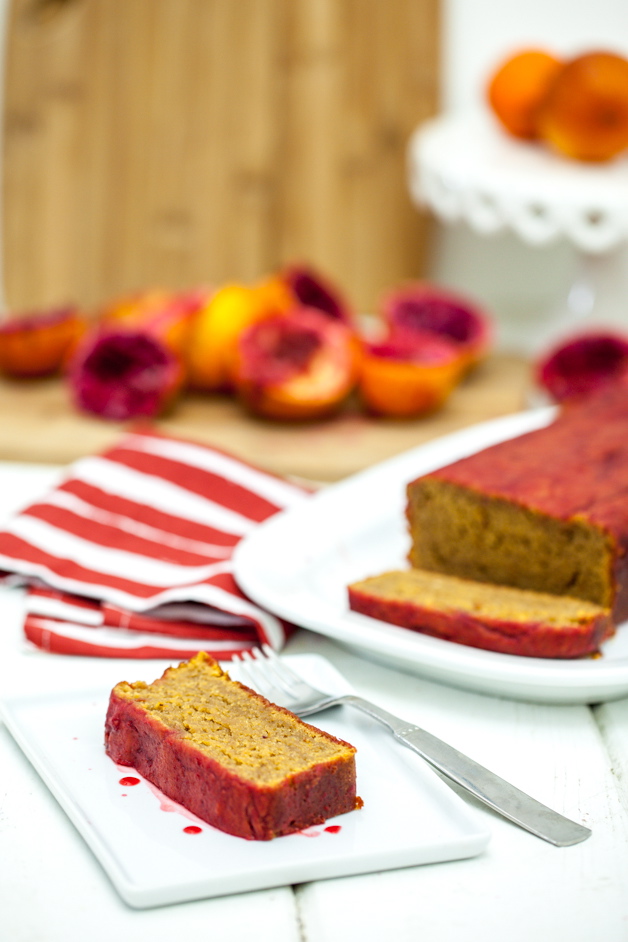 Do you ever feel like certain times in your past were from another lifetime?
Photography by Chris Miller