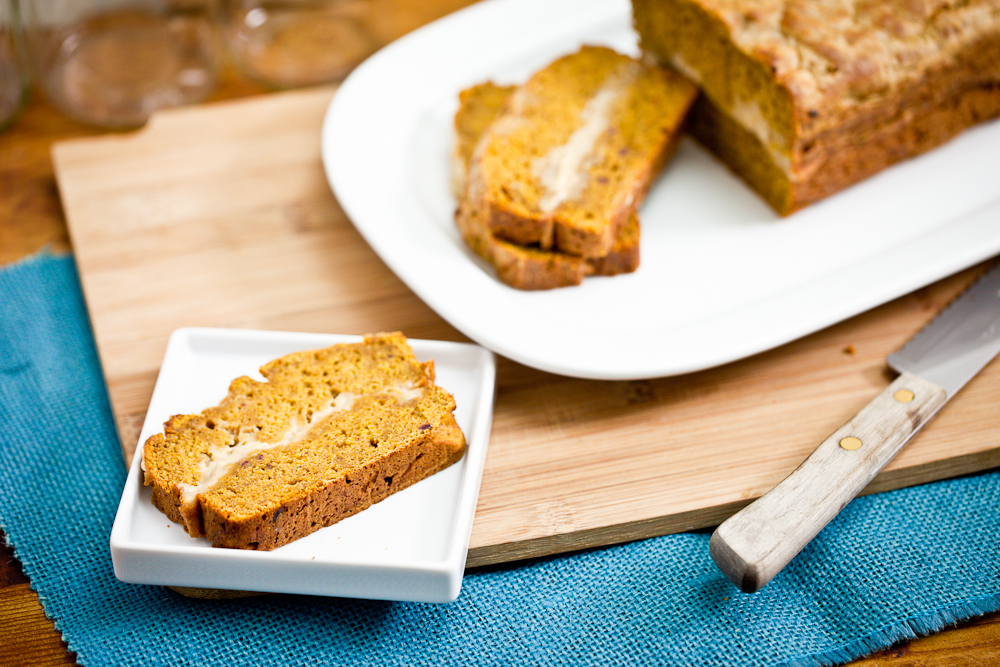 I'm going to apologize right now for the bombardment of recipes using cinnamon, ginger, persimmon, pumpkin, butternut squash, and/or other types of winter squash that you are going to be getting the next couple months.  I can't get enough of these things this time of year.  I hope you won't mind.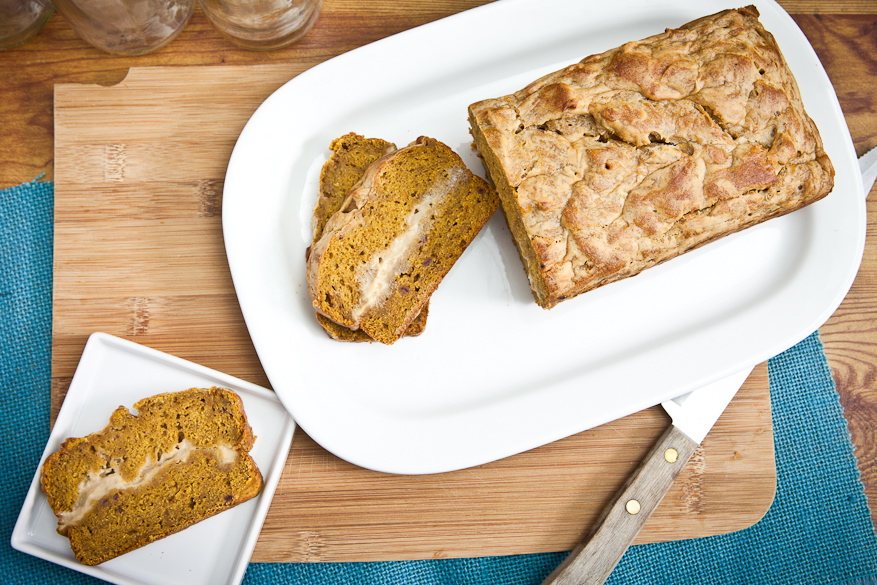 Pumpkin bread is probably one of my most favorite quick breads.  It's right up there with Carrot Raisin Bread and Chocolate Bread.  Just plain pumpkin bread has always held a special place in my heart.  One time, during my vegetarian days, a friend and I sat down to chat for hours over coffee (for me) and tea (for her) and fresh pumpkin bread.  We set out a variety of spreads- softened butter, pumpkin butter, apple  butter, fig preserves, and then my friend pulled out her little tub of cream cheese.  As I spread apple butter on my slice, I curiously watched her spread it on hers.  I told her I'd never seen that before and asked her how good it was.  She said it was the next best thing to pumpkin cheesecake.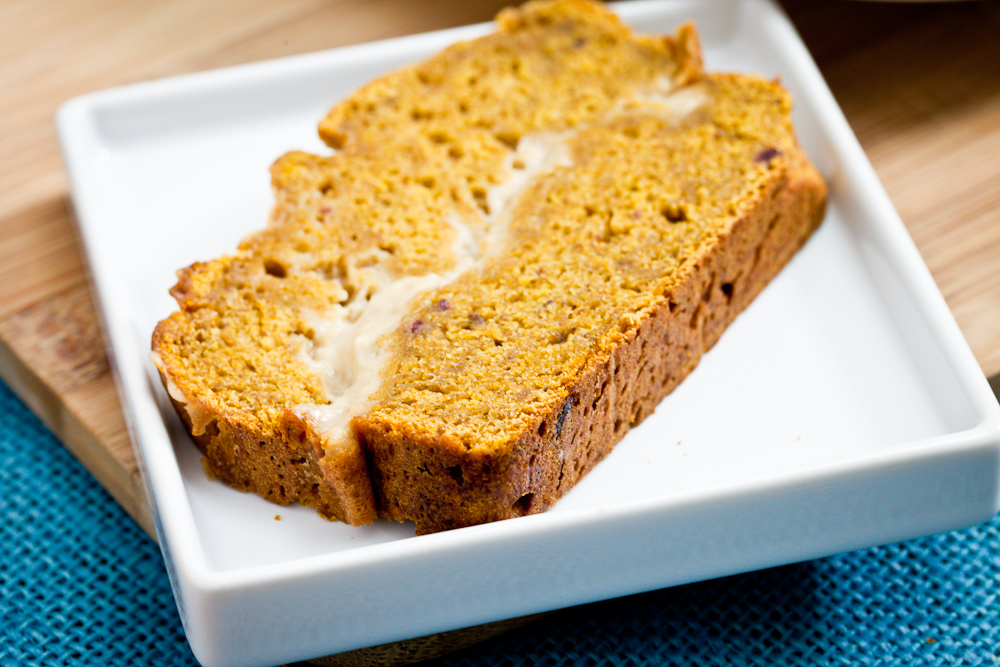 I was sold.  For my next slice, I gave the cream cheese trick a try.  Low and behold, my friend was absolutely right.  I wouldn't go as far as to say it was like pumpkin cheesecake, but all be darned if it didn't taste just as good!  The wheels began to turn and you can bet by the time we met up again the following year for our catch-up session, there was pumpkin cream cheese bread being served, and it was such a hit, it had to make an appearance the following year as well.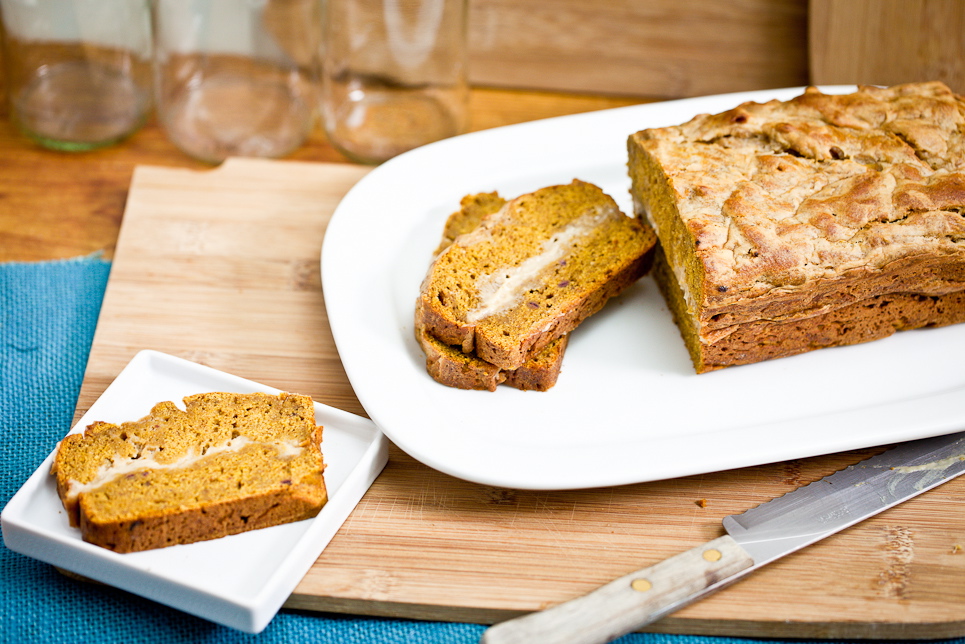 Because it's this time of year, and my pumpkin cravings are in full-swing, I knew I had to veganize this wonderful creation.  This version was also made gluten-free due to the fact I had run out of regular flour.  Wonderful, moist, spicy pumpkin bread with a layer of gooey, sweet cream cheese running through the middle and marbleized with the pumpkin batter on top makes for the perfect snack to enjoy with a cup of coffee (or tea) and catch up with a good friend.  I've long since lost touch with this friend, but she was definitely on my mind as Chris and I devoured this delicious bread.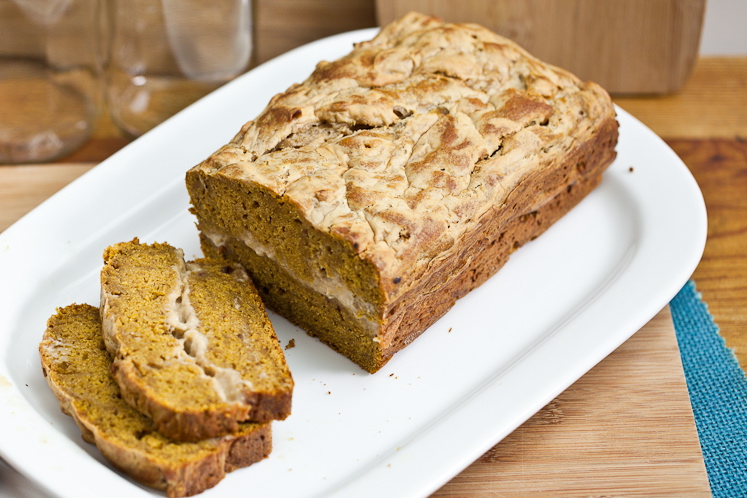 Pumpkin Cream Cheese Bread
Ingredients
1 cup canned pure (unsweetened) pumpkin puree
½ cup brown rice syrup
½ cup coconut sugar
3 dates, soaked for an hour in warm water and chopped
½ cup almond milk
¼ cup coconut oil
2 cups gluten-free flour (or all-purpose flour, minus the teaspoon of xanthum gum)
2 ½ teaspoons baking powder
1 teaspoon xanthum gum
1 teaspoon ground cinnamon
½ teaspoon ground cloves
½ teaspoon ground ginger
¼ teaspoon ground nutmeg
¼ teaspoon salt
1 cup vegan cream cheese, softened
2 T coconut sugar
1 Ener-G egg replacer (1 1/2 teaspoons egg replacer, mixed with 2 tablespoons warm water)
Instructions
Preheat oven to 350°F. Line a loaf pan with parchment paper and set aside.
In a food processor, combine pumpkin, brown rice syrup, sugar, dates, milk and oil and puree until smooth.
In a large bowl, whisk together flour, baking powder, spice and salt. Add wet mixture to dry mixture and stir just until moistened.
In a medium bowl, beat cream cheese mixture ingredients with an electric mixer until well blended.
Spoon half of the pumpkin batter into prepared pan; spoon most of the cream cheese mixture (leave about ¼ cup) evenly over the batter. Cover with remaining pumpkin batter. Spread the remaining cream cheese mixture on the top. Use a knife to gently drag through the batter and swirl it around, being careful not to touch the bottom or sides.
Bake 50-60 minutes, or until toothpick inserted in center comes out clean. Cool in pan on wire rack for 10 minutes. Remove bread from pan to wire rack; cool completely. Enjoy!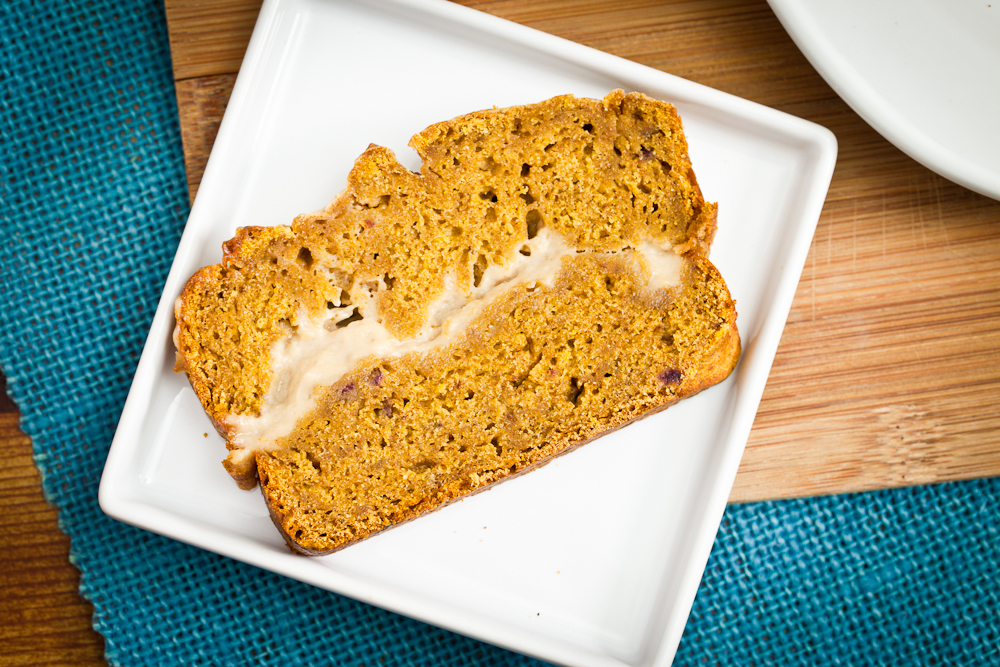 Photography by Chris Miller