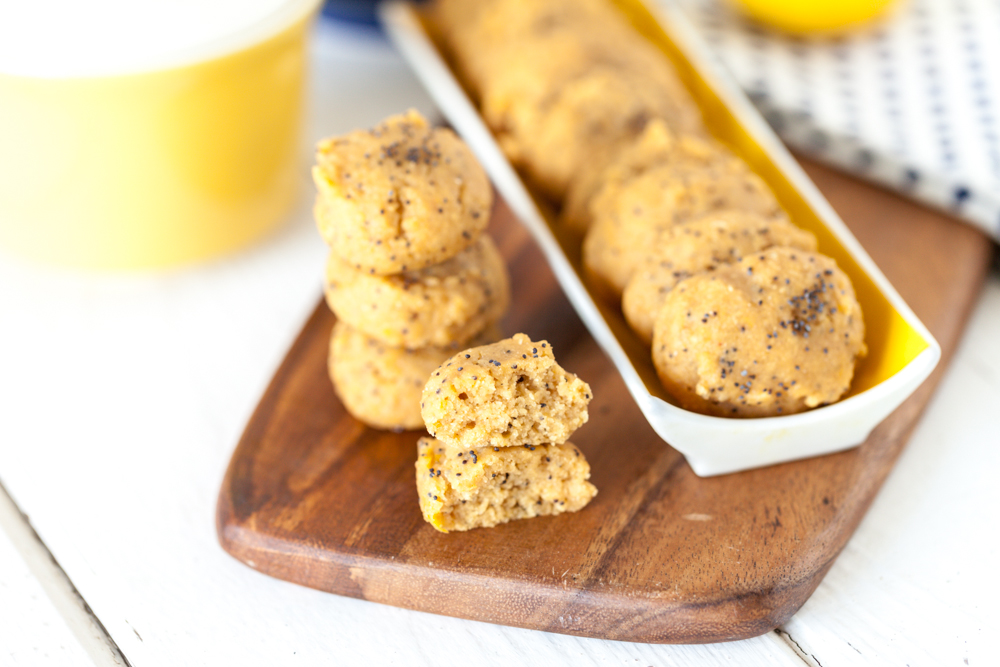 Sometimes, I get a hunger that only something sweet and lemony will cure.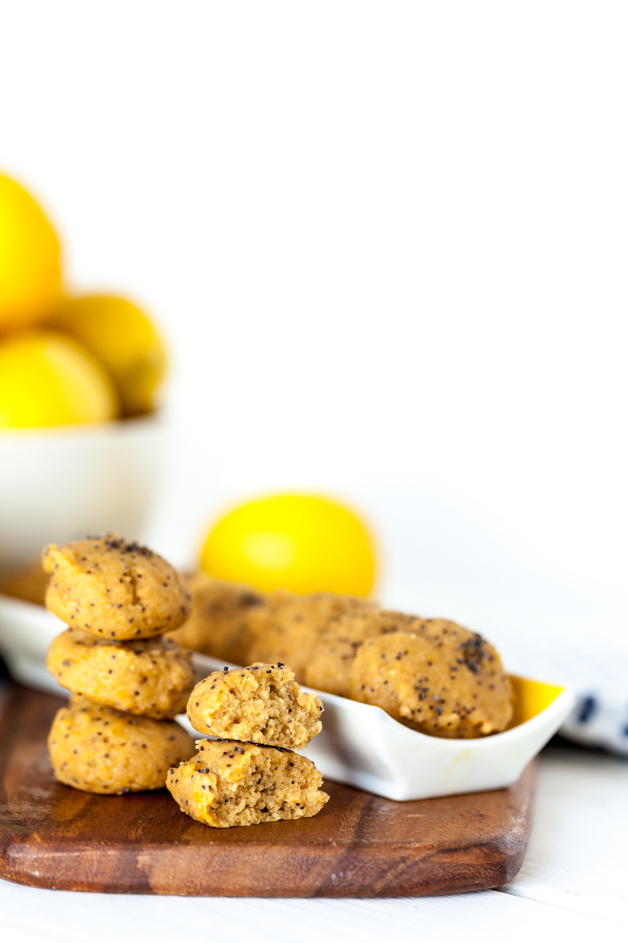 There's just something about a little bright and lemony dessert that makes my senses sing.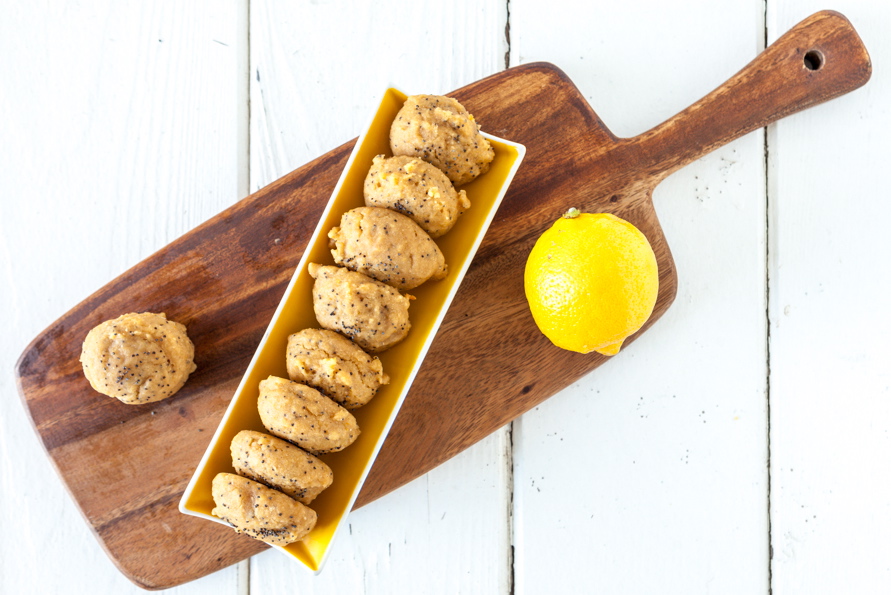 It's an interesting thing because it's rarely something I'll choose, unless I'm really craving it.  If given the choice between a blueberry muffin and a lemon poppy seed muffin, I'd choose the blueberry every time.  Brownie or lemon bar?  Brownie, please. Pumpkin pie or lemon meringue?  Pumpkin pie, for sure.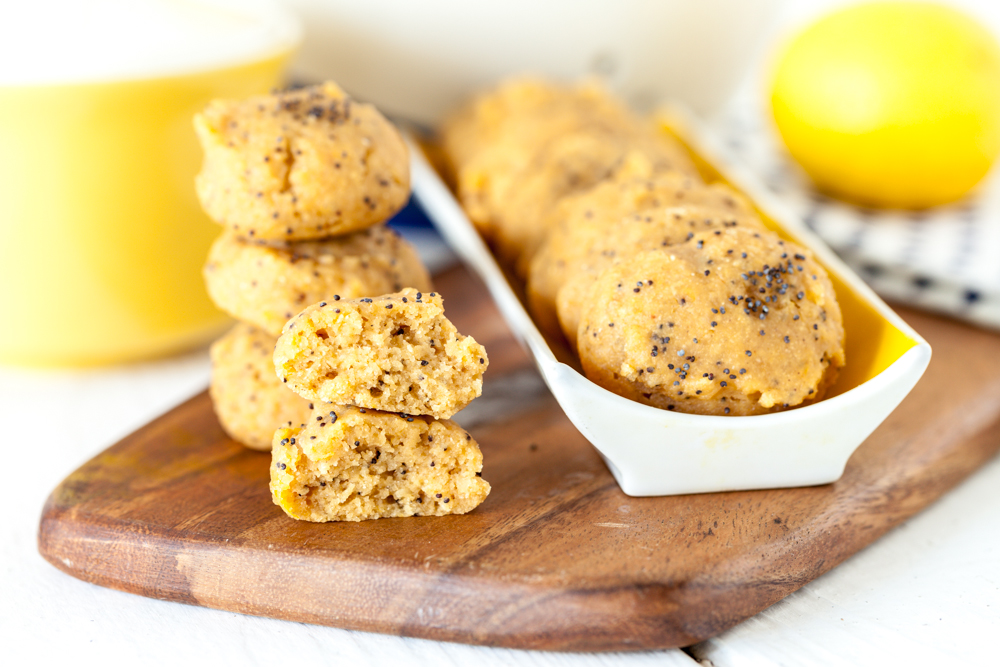 But sometimes, that craving just creeps up on me and nothing will satisfy me until I have it.  Oddly, this one crept up on me shortly after I'd made the chocolate caramel macchiato truffles but I waited three more days before I made them because I refuse to have more than one dessert in the house at a time.  That's just asking for trouble.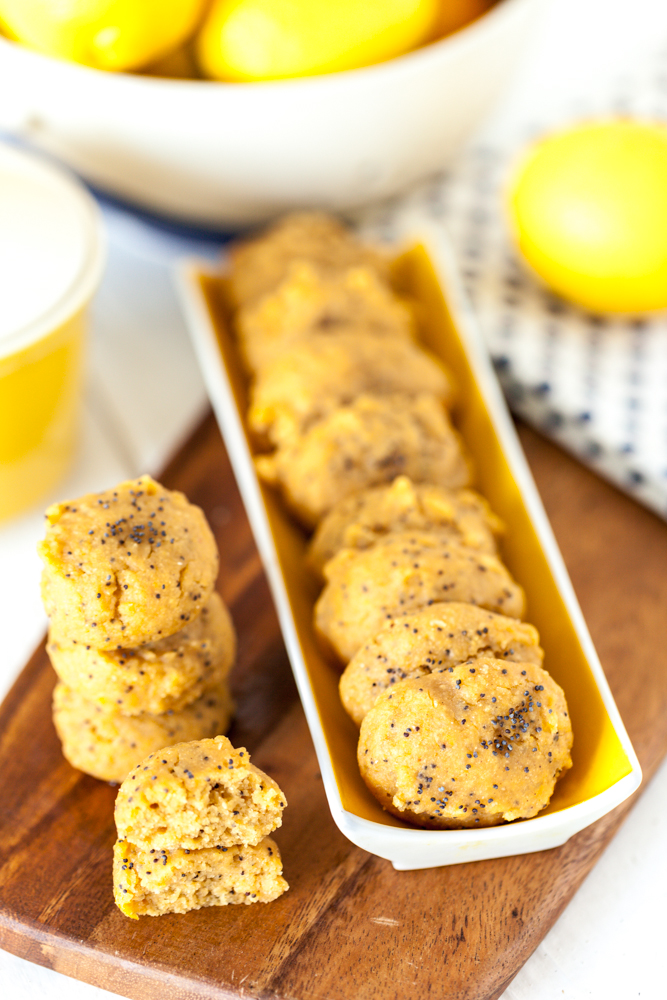 So for three days, I plotted and planned and dreamt up these little cookies.  I wrote and rewrote the recipe because I had so many different ideas of how they should be made.  What types of flour to use (gluten-free, almond flour, and cornmeal), what to use to add moisture (coconut yogurt), how to sweeten them (coconut nectar and coconut sugar).  A lot of thought went into these two-bite bundles of bliss.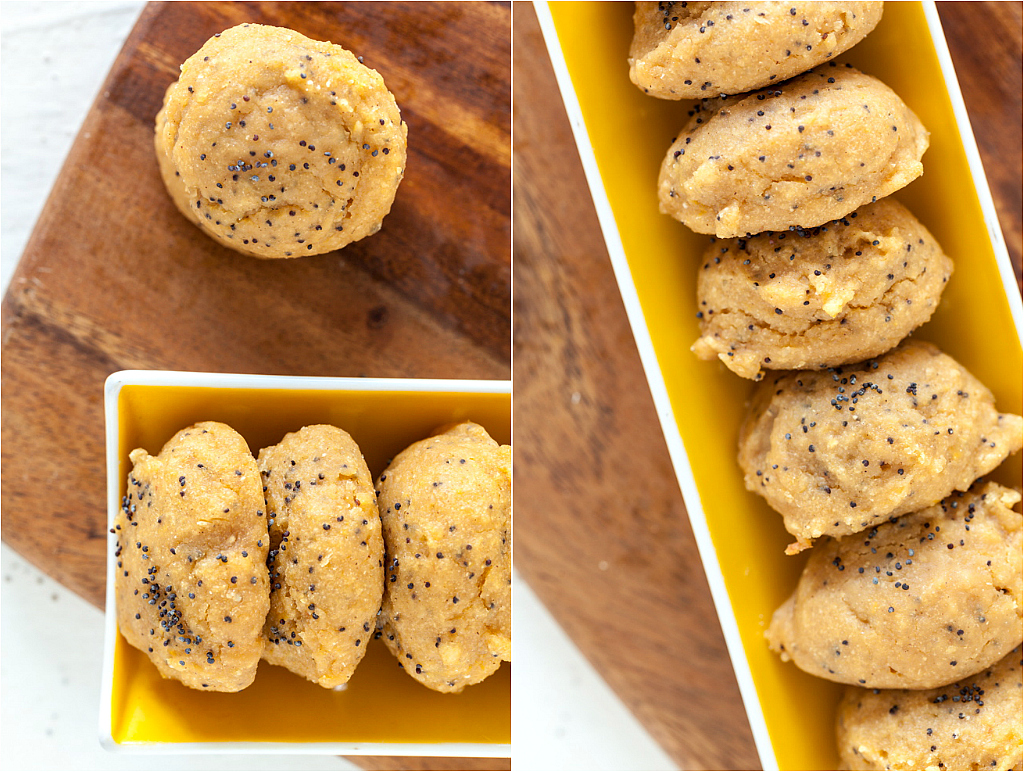 The first thing I should tell you about these cookies is that they are moist!  There is just the perfect amount of density- not to heavy, but not fluffy like a cake.  Then there's the zesty lemon flavor that comes bursting through, but not overpoweringly so.  They're perfectly sweet and since they are sweetened with coconut sugar and nectar, there's no blood sugar roller-coasters to accompany them.  You could make larger cookies, but I found that I enjoyed these adorable two-bite morsels.  And I didn't feel guilty about going for seconds.  Or thirds.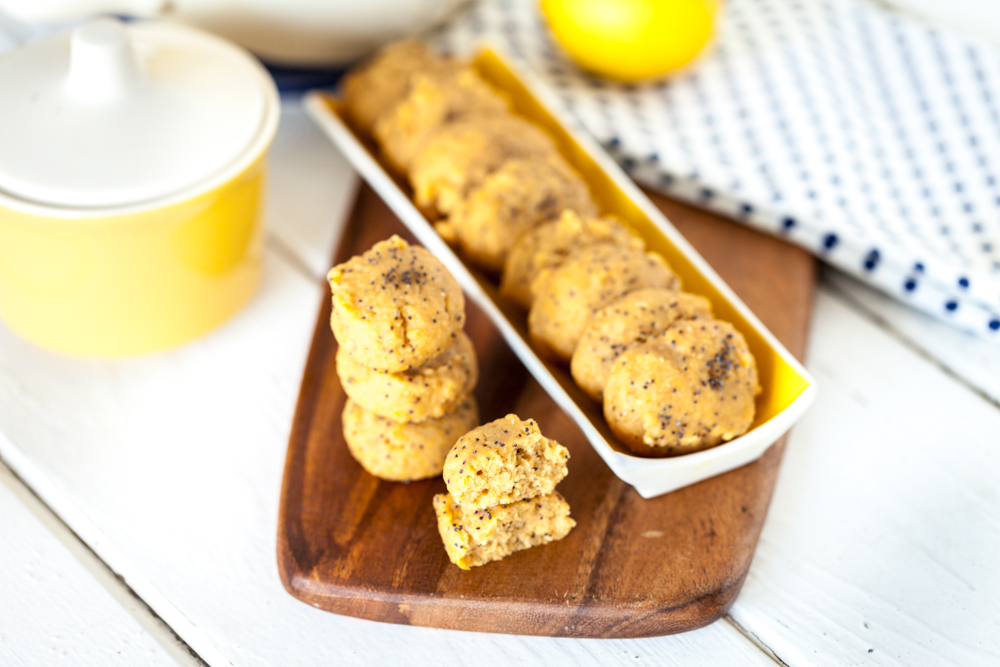 Lemon desserts are not really Chris's thing, though he's game if I'm in the mood for them.  These cookies, however, blew him away.  He too was asking for seconds.  And thirds.  Be warned: These cookies are delicious and addictive.  I dare you to stop at just one.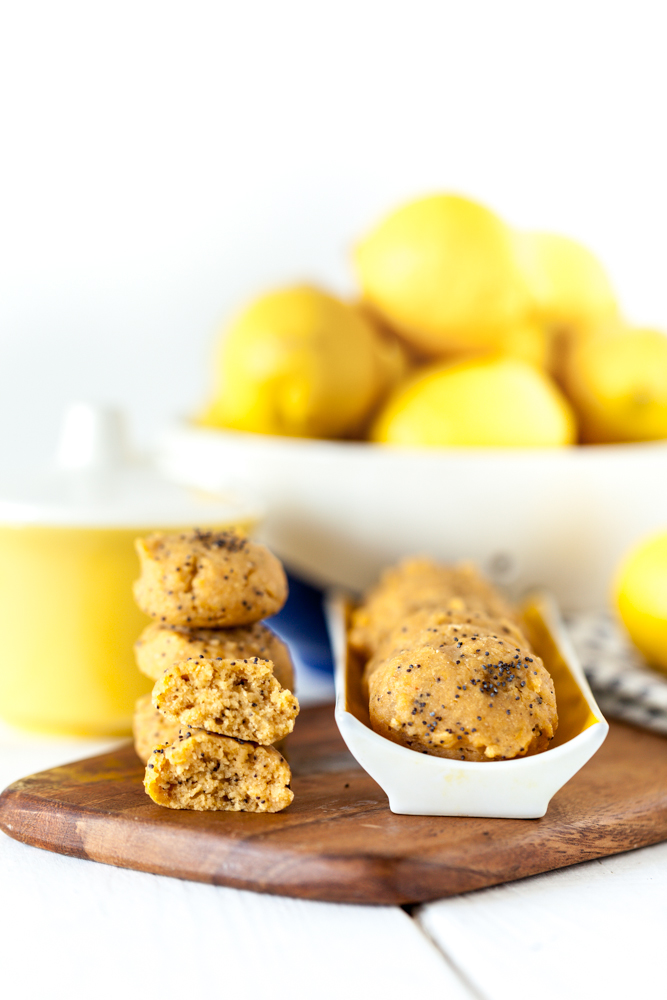 Ingredients
3 tablespoons fresh lemon juice
3 1/2 teaspoons freshly grated lemon zest
1 cup plain vegan coconut yogurt (or soy)
2 tablespoons coconut oil, melted (at room temp)
1/2 cup coconut sugar
1/4 cup coconut nectar (or maple/agave syrup)
1 teaspoon vanilla extract
1 3/4 cups gluten-free flour blend (I used Cara's)
1 cup almond flour
1/4 cup + 1 tablespoon cornmeal
1 teaspoon baking powder
3/4 teaspoon salt
1 tablespoon poppy seeds, plus extra for sprinkling
Instructions
Preheat the oven to 350. Line 2 baking sheets with parchment paper. Set aside.
In a large bowl, whisk together the dry ingredients. Set aside.
In a medium bowl, mix together the lemon juice, lemon extract, yogurt, and coconut oil. Add the sugar and nectar and mix until smooth. Mix in the vanilla extract until fully combined.
Make a well in the middle of the dry ingredients and pour your wet ingredients into the well. Use a spoon to mix together until just combined. Fold in the poppy seeds.
Use a tablespoon to scoop heaping spoonfuls of the dough onto the prepared baking sheets, about 2 inches apart (or less- I get about 20 per sheet). Bake in the oven for 10 minutes or until set and just barely starting to brown around the bottom. Let cool on the baking sheet for about 2-3 minutes before transferring to a cooling rack. Let cool completely before serving or storing in an airtight container. Enjoy!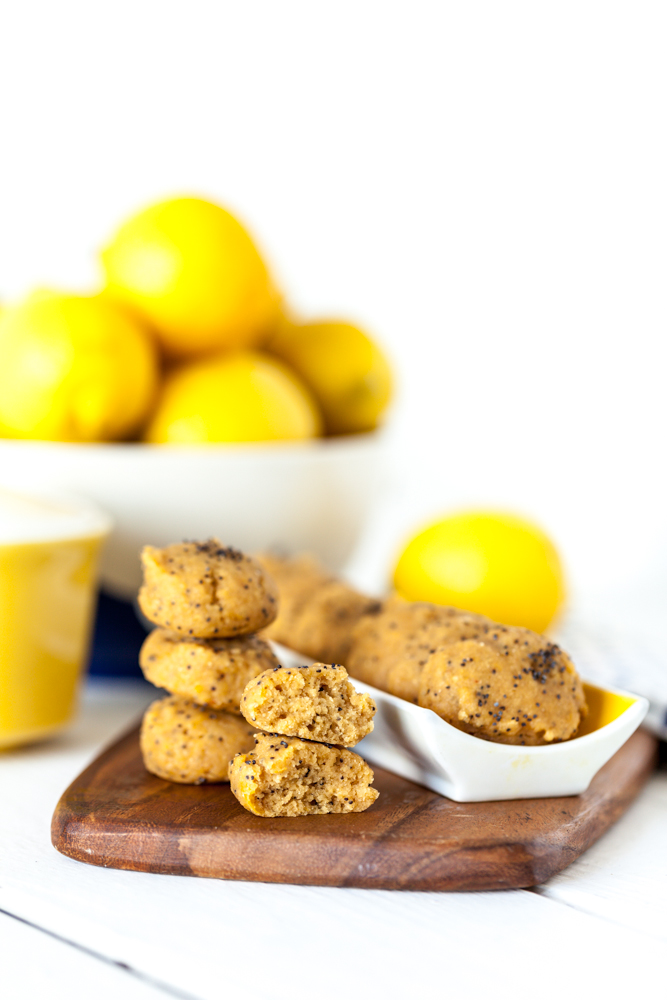 What is your favorite kind of dessert?
Photography by Chris Miller