This last weekend, Chris and I spent the most amazing weekend in Portland at Vida Vegan Con.  There is just so much I want to share with you all, but it's going to have to wait until I fully digest all of it.  In the meantime, I'm sharing this absolutely amazing roasted corn & basil farro salad.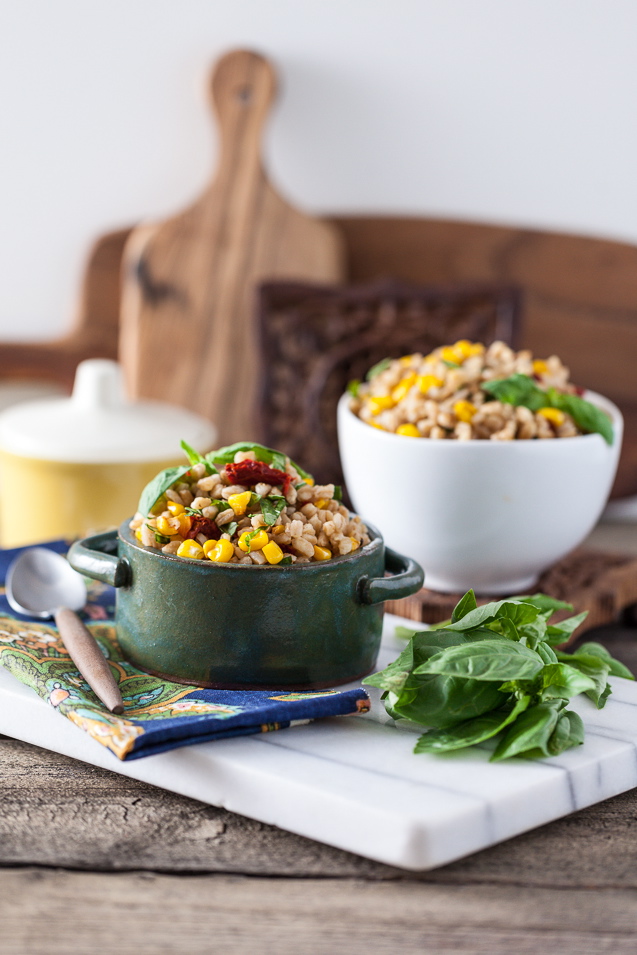 Yesterday, as you know, was Memorial Day.  Even though summer doesn't technically happen until June 21st, Memorial Day is when it begins to feel like summer to me.  That's when all the windows in the house begin to stay open all day, bike rides at dusk begin to sound heavenly, and salads become a daily occurrence.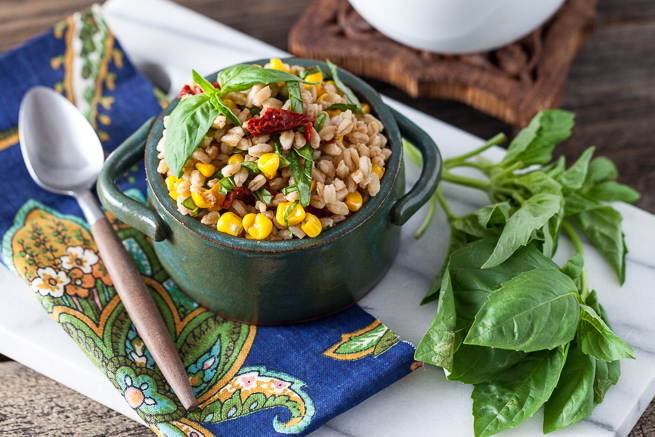 This salad is one of those salads you will want to work into your summer salad rotation.  Roasting the corn kernels with smoked paprika makes for a sweetly smoky addition to the salad.  I used farro, because as many of you may have gathered, I'm obsessed with this chewy and nutty little grain.  Quinoa, wheat berries, millet, couscous, or even rice would work well in it's place.  Fresh basil and sun-dried tomatoes add a ton of flavor to this simple little salad.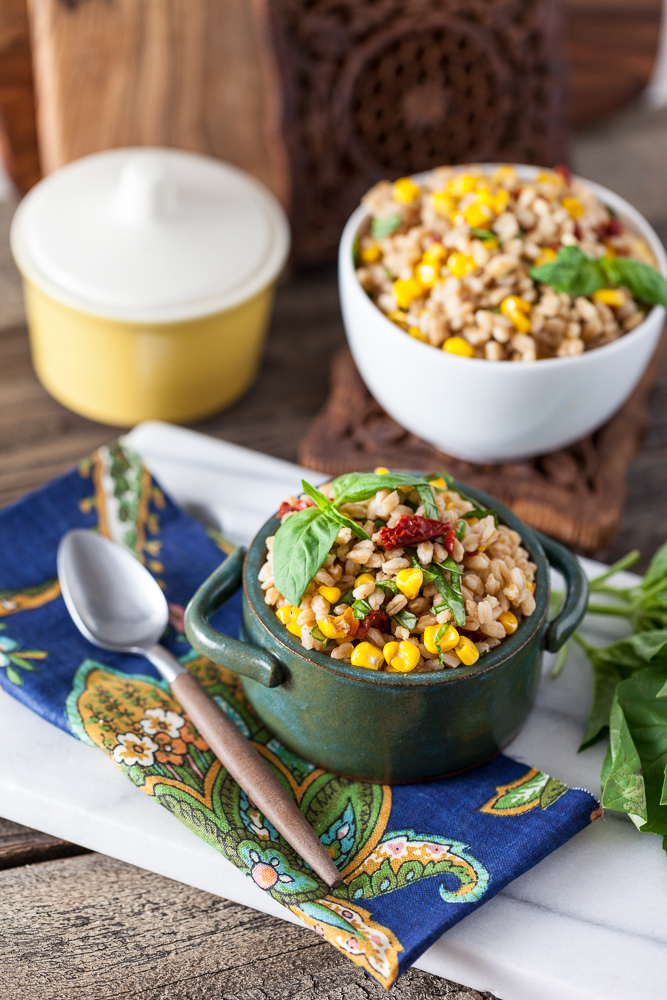 I'm also a little obsessed with sherry vinegar recently.  I realize that this is not an innovative new ingredient, but it's an ingredient I've recently rediscovered.  It has the wonderful tartness that red wine vinegar brings to the table, but without the harsh bite.  Adding a splash as my salad dressing and letting the other ingredients carry the flavor is one of my new favorite things.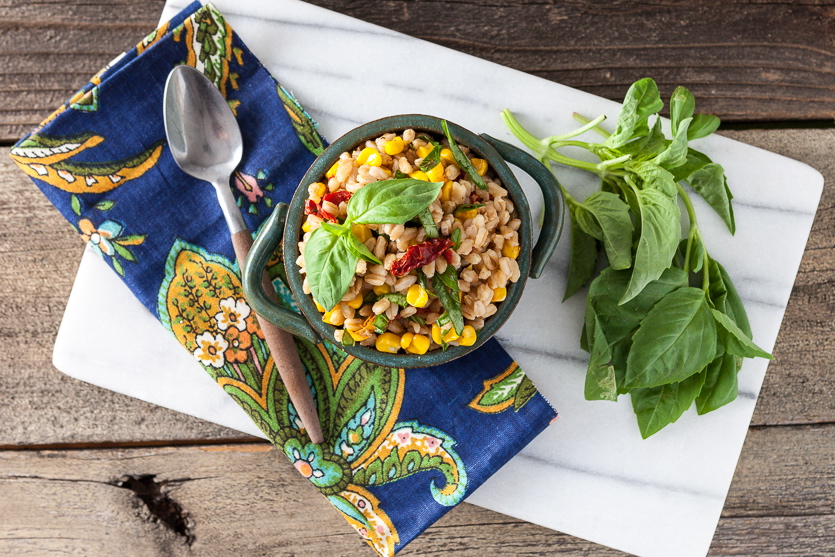 Another thing I love about this salad is how quick and easy to make it is.  Cook up the farro earlier in the day so it's cool by the time you want to make dinner.  Then just roast the corn while you prepare the other ingredients.  Ten minutes later, you have dinner ready to go on the table.  And just a heads up- it's even better the next day (or the day after that)!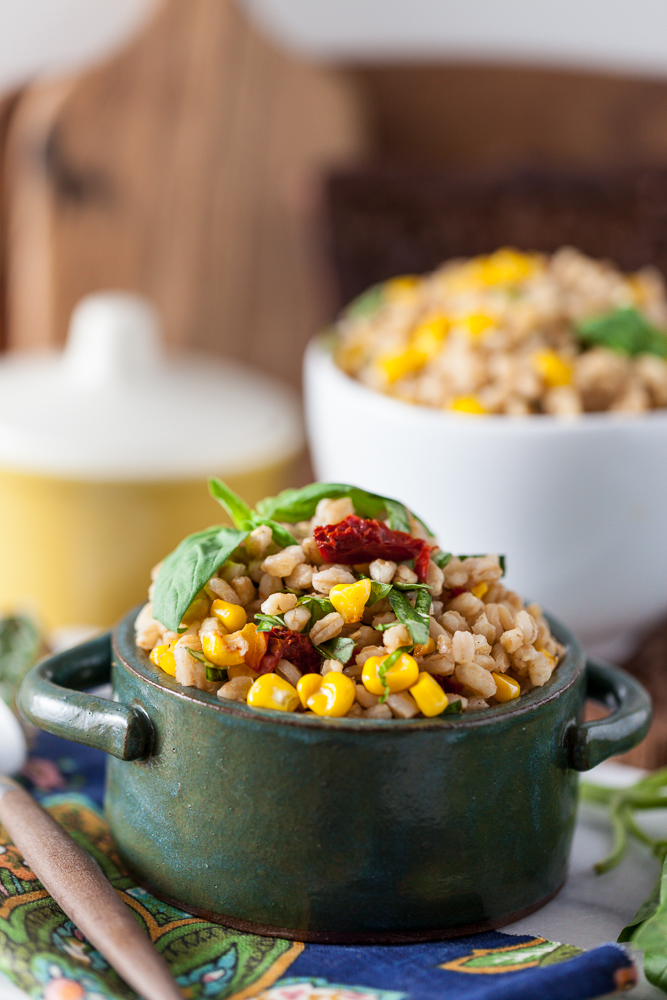 This corn and basil faro salad is also pretty wonderful if you want to add a can of white beans (rinsed and drained) to the mix (I would just increase the sherry vinegar a bit).  It's a complete, delicious meal in one bowl.  It's the kind of quick and hassle-free meal you want in the early summer so you have more time to spend the evening on the porch, enjoying the warmth and listening to the birds.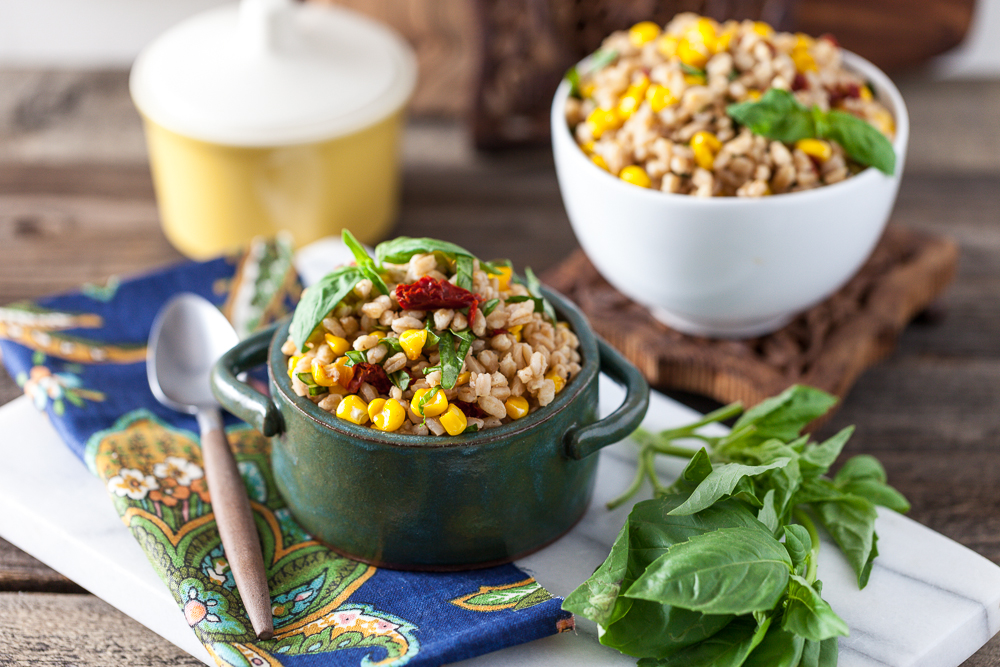 Roasted Corn & Basil Farro Salad
Ingredients
1 1/2 cups farro, rinsed
3 cups water
1/2 teaspoon garlic powder
1/2 teaspoon salt
several dashes of pepper
1/2 cup basil chiffonade
1/2 cup sun-dried tomatoes, chopped
1/3 cup sherry vinegar
2 cups frozen corn kernels, defrosted
olive oil spray
several dashes smoked paprika
Instructions
Combine the farro, water, garlic powder, salt and pepper in a medium pot, cover, and bring to a boil. Once it is boiling, reduce to a simmer and let simmer until water is gone, about 15 minutes. Remove from heat and let cool.
Preheat the oven to 400. Spread the corn out on a baking sheet lined with parchment paper. Lightly spray with olive oil, sprinkle paprika, salt, and pepper, and then toss to fully coat. Roast in the preheated oven for 10 minutes, flipping once halfway through. Remove from heat.
Combine the cooked and cooled farro, the roasted corn, basil, sun-dried tomatoes, and sherry vinegar in a large bowl. Toss until fully combined. Serve immediately or chill until ready to serve. Will keep for 2-3 days. Enjoy!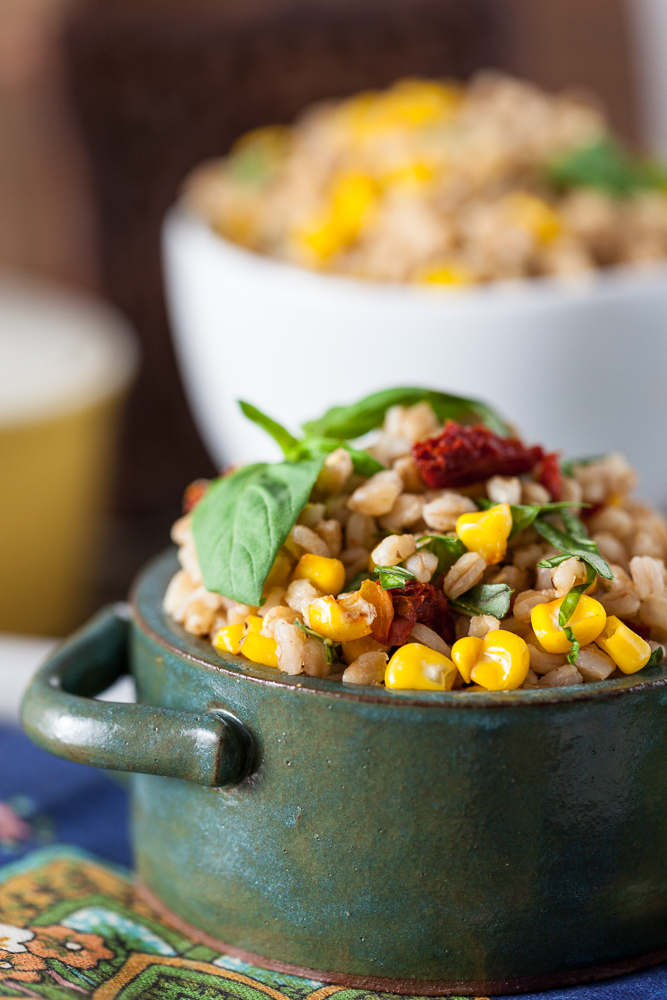 What do you look forward to once summer begins?
And one last thing- Do you all see that adorable little blue bowl that the salad is in?  That was a gift from the lovely and so-very-talented Cadry.  You must check out all of her pottery at her Etsy shop, Olive Pit Pottery.  
Photography by Chris Miller