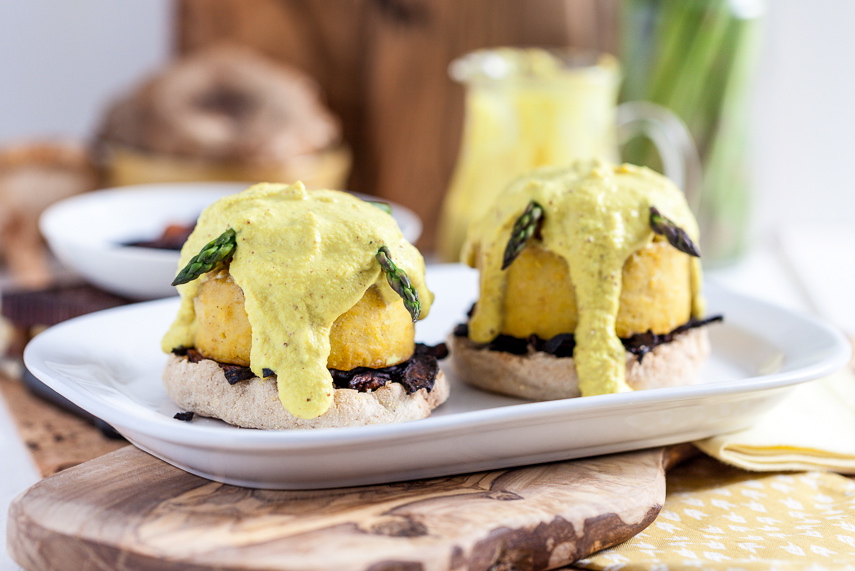 If you follow me on Facebook or Twitter, last week you may have already heard me allude to the fact that chickpea flour is magic.  Well, it's true.  Chickpea flour is magic.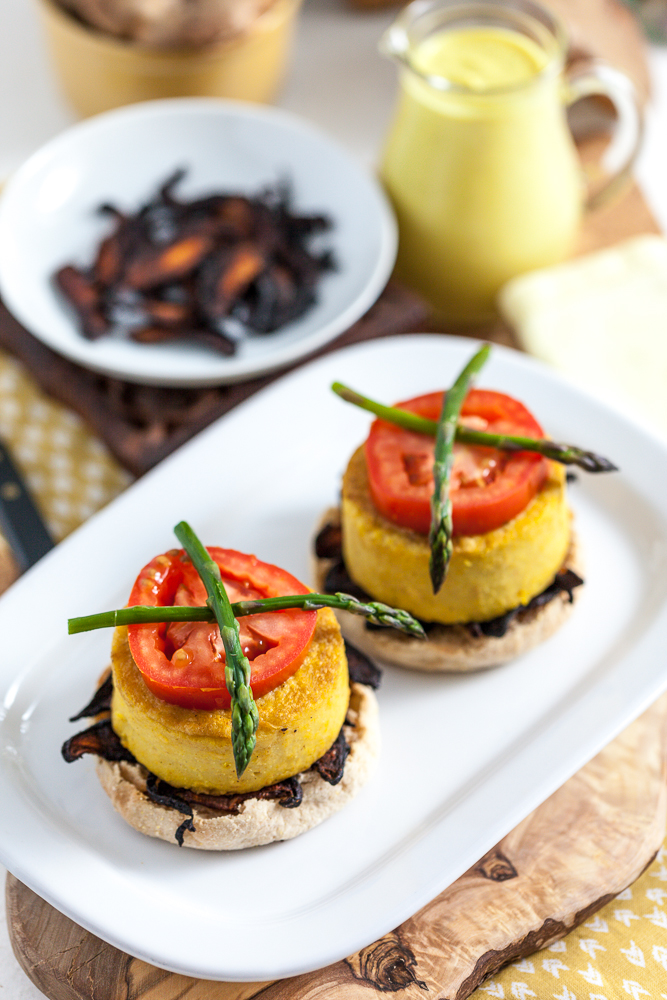 I mean, if soccas, flatbreads, omelets, waffles, and pancakes haven't already made this clear to you, perhaps this recipe will.
Do you see that thick, luscious patty sitting atop the bed of shiitake bacon?  That's right- the one underneath the tomato and asparagus spears.  That right there is a chickpea patty, made mostly of chickpea flour.  And it's about to be turned into soy-free vegan benedict.  Magic, am I right?
To be perfectly honest, the technique behind this chickpea patty is in no way ground-breaking or new.  I'm sure many of you are familiar with chickpea fries/panelle/panisse, but if you are not, you need to get aquainted.  Chickpea fries, are basically prepared as one would prepare polenta (mix it with boiling water, along with spices, pour into a baking dish, refrigerate, then cut and fry/bake/grill/etc.), but using chickpea flour instead.  My first experience with chickpea fries was at Peacefood Cafe in NYC, and I've been obsessed ever since.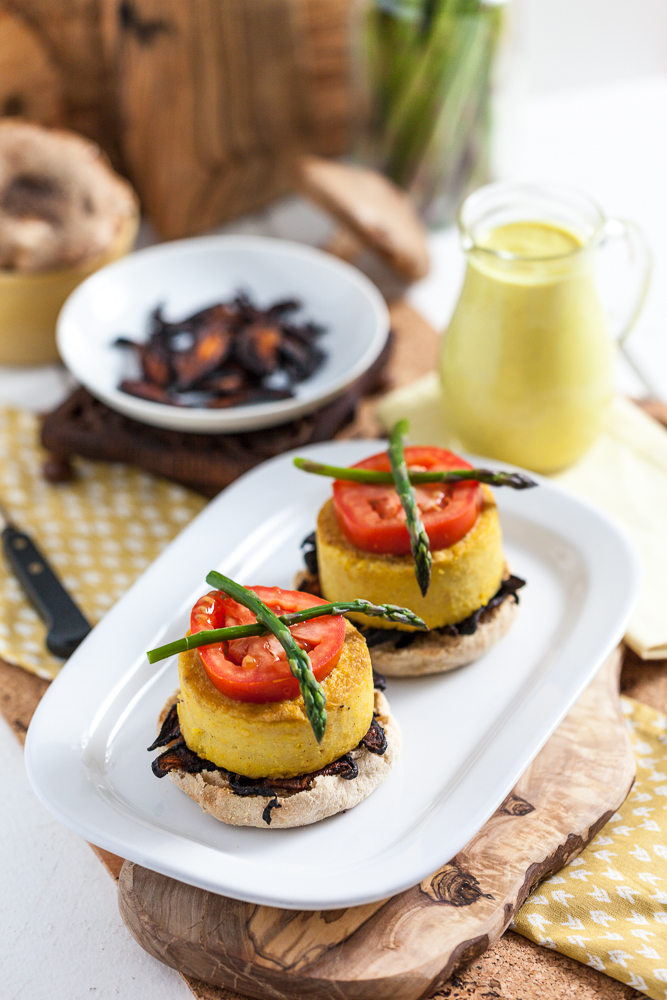 I've also been using chickpea flour a lot lately to make Pudla/Chillas, or omelets.  I've been using Kittee's method and have been amazed at how much it mimics eggs in this application.  It was only a matter of time before the idea to make soy-free vegan benedicts using chickpea flour came along.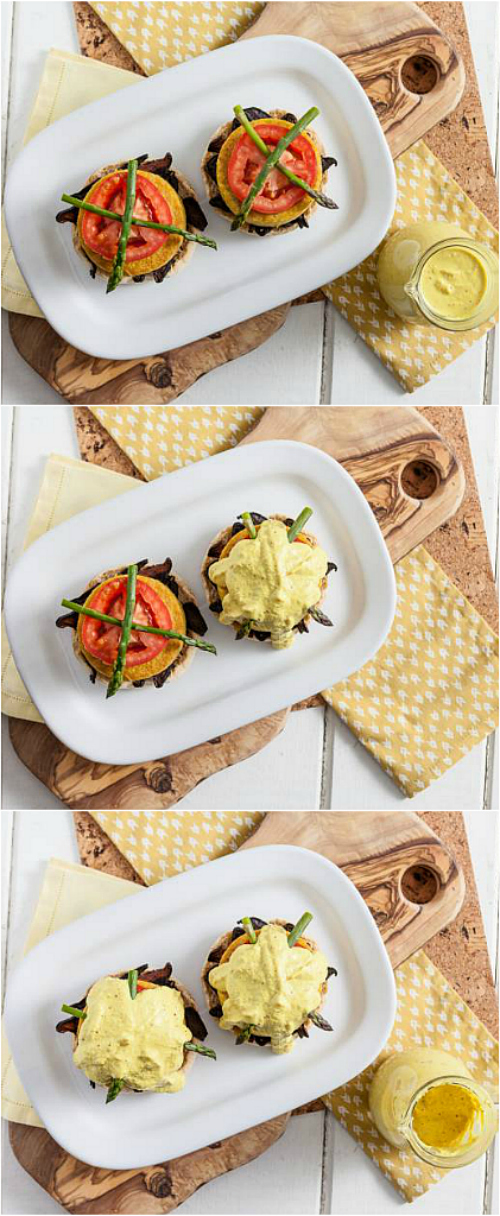 I have to admit, however, benedicts have never been my thing.  In my pre-vegan days, I think I only tried a bite of one once.  The hollandaise sauce always kind of grossed me out, as well as the runny egg.  It wasn't until I became vegan and tried a vegan benedict at a restaurant that I began to see what all of the fuss is about.  It was just another case of the animal products in a meal masking the wonderful flavors they were prepared with.  Now I quite enjoy a vegan benedict every now and again, but I've never made one myself.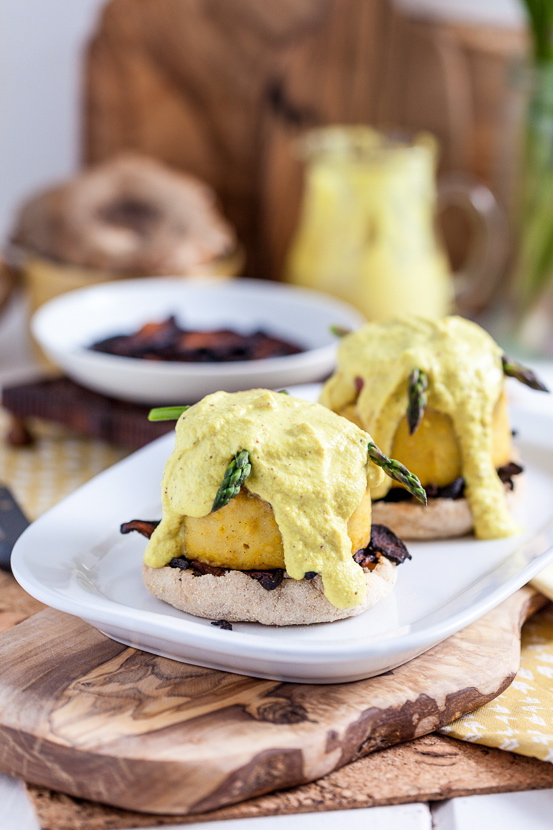 For my version, the hollandaise sauce is maybe a little thicker than the average hollandaise sauce.  I like it that way, but feel free to add more water to thin it out.  I should also warn you that this sauce may not taste exactly like the original hollandaise sauce.  I created a sauce that to the best of my memory, tastes similar to the original, but has a flavor profile that I thought would pair well with the rest of the components of the dish.  It's absolutely delicious and I may or may not have used it as a dipping sauce for several tomato slices while Chris took pictures.  Dy-no-mite!  This dish also wouldn't be nearly as wonderful if it weren't for Erin's shiitake bacon.  After trying one piece, I was like "Dang, girrrl!" in reference to Erin.  That lady is some sort of vegan culinary goddess.  If you don't make the rest of this dish, do make her bacon.  It's so worth it (though, I didn't have to cook mine as long as her recipe suggested, so just keep an eye on them).  Then there's the showstopper chickpea patty.  I think this is what biscuit cutters were invented for (never mind their name).  I pan-fried them with just a bit of olive oil spray, but they could just as easily be baked.  I did like the crisp exterior the pan-frying method gave it, leaving it soft and slightly creamy on the inside.  It was way better than any tofu benedict I've ever had.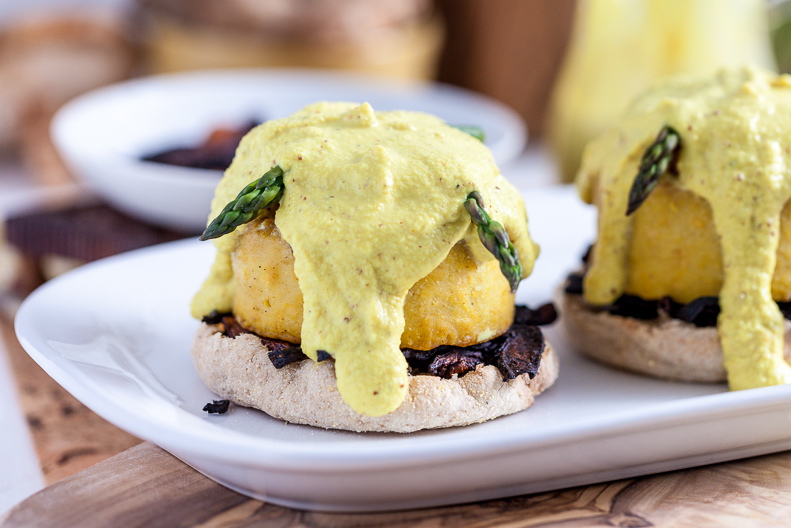 The best part about this recipe is how simple it is.  The chickpea flour batter must be made the day before (and can be made up to 3 days in advance) and once you've cooked the patties, they can keep in the fridge for another 2-3 days.  The shiitake only marinates for 20 minutes before it goes in the oven.  The hollandaise sauce only takes a few minutes to make as well and can easily be done the day before.  Cooking the chickpea patties (if you're pan-frying them), steaming the asparagus, and toasting the english muffins can all be done in the last ten minutes that the bacon is in the oven.  Then you just stack things on top of each other, pour sauce on top and stuff in face.  Easy peasy.
Chris is not one to think about food when he is not hungry (that's my department).  When I got the following text from him, the day after I'd prepared this for dinner (we like breakfast for dinner), I knew this meal was a winner: "I keep thinking about the dinner you made last night.  I don't usually daydream about meals but damn."  Seriously.  It's pretty magical.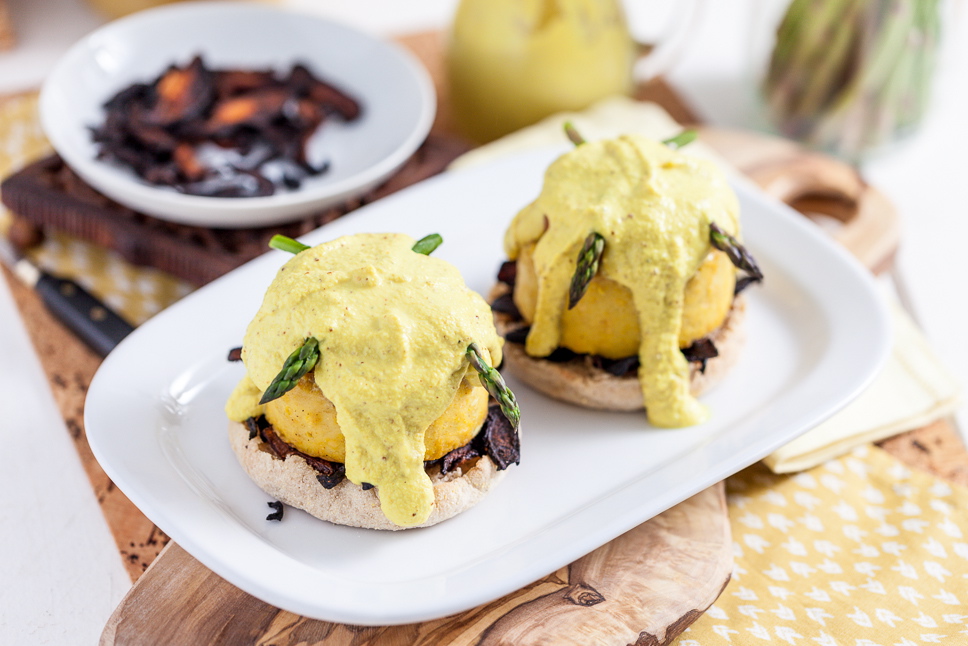 The Soy-Free Vegan Benedict
Ingredients
4 cups water
2 cups chickpea flour
1 teaspoon black salt
3/4 teaspoon onion powder
3/4 teaspoon garlic powder
1/4 teaspoon smoked parika
1/4 teaspoon turmeric
2 tablespoons olive oil
olive oil spray

for the hollandaise sauce

1 cup cashews, soaked for 1 hour
reserved cashew soaking water
juice of a lemon
2 tablespoons nutritional yeast
1-2 teaspoons dijon mustard (depending on your tastes)
1/2 teaspoon turmeric (for color- optional)
1/4 teaspoon onion powder
1/4 teaspoon garlic powder
salt to taste
2 english muffins (use GF if necessary)
1 recipe of Shiitake Bacon
1 large tomato, thickly sliced (providing at least 4 slices)
8 asparagus spears
Instructions
Start preparing your patties one day prior to when you want to serve the benedicts.
While the shiitake bacon is in the oven, you can make your sauce first, then cook the chickpea patties, steam the asparagus and toast the english muffins about 10-15 minutes before the bacon is done.
Line a 8x8 baking dish with parchment paper. Set aside.
In a large bowl, combine the chickpea flour, salt, and spices. In a large pot, bring the water to a boil. Once there is a rolling boil, slowly whisk in the chickpea flour mixture, until there is a mostly smooth texture (a few lumps are okay). Whisk in the olive oil and continue to whisk for about 1 minute, until the mixture has the consistency of a thick pudding. Pour into prepared baking dish.
Cover the dish and refrigerate overnight (or at least 8-9 hours).
When it is time to cook the patties (about 10-15 mintues before shiitake bacon is done), use the parchment paper in the baking dish to lift the chickpea mixture out of the dish and set on a cutting board. Using a round cookie cutter or biscuit cutter, cut out 4 round patties. (I also cut the leftover pieces of the mixture into small pieces and also placed them on a baking sheet line with parchment paper, and baked them for about 20 minutes after the bacon was done. They 're great to save and use a snack or sandwich filling later.)
PAN-FRY INSTRUCTIONS: Heat a non-stick pan over medium heat and lightly spray with olive oil spray. Cook the patties on one side for about 3-4 minutes, until the bottom gets a little golden and crispy. Flip the patties, then cover the pan for another 3-4 minutes or until the bottoms are also golden and crispy. Remove from pan and set on a paper towel until ready to use.
BAKING INSTRUCTIONS: Preheat oven to 400. LIne a baking sheet with parchment paper and spread the patties and cutouts on the baking sheet. Bake in the oven for 20-25 minutes, flipping once halfway through, until the patties are firm and both sides are golden. Remove from oven and set aside.

for the hollandaise sauce

Make the sauce while the patties are in the oven. Drain the cashews but reserve the water. Combine all of the ingredients (except the water) in the bowl of a food processor and process until smooth. Add water until desired consistency is reached (I used 13 tablespoons). Remove and chill until ready to use.
During the last 10-15 minutes that the shiitake bacon is in the oven, steam the asparagus. In a pot, fitted with a steaming device, bring about 1/2 a cup of water to a boil. Place the asparagus in the steamer, cover and let cook for about 5-7 minutes. Remove and set aside.
Cut open the english muffins and toast them in a toaster. Remove when done.
Place the english muffins on 2 plates, "nook and cranny" side up. Divide the shiitake bacon amongst the four pieces of english muffin. Place one chickpea patty on top of each muffin. Top each patty with a tomato slice. Top each with two asparagus spears (I cut mine in half and just used the tops to be fancy, but that's unnecessary). Pour hollandaise sauce over each benedict. . Serve immediately. Enjoy!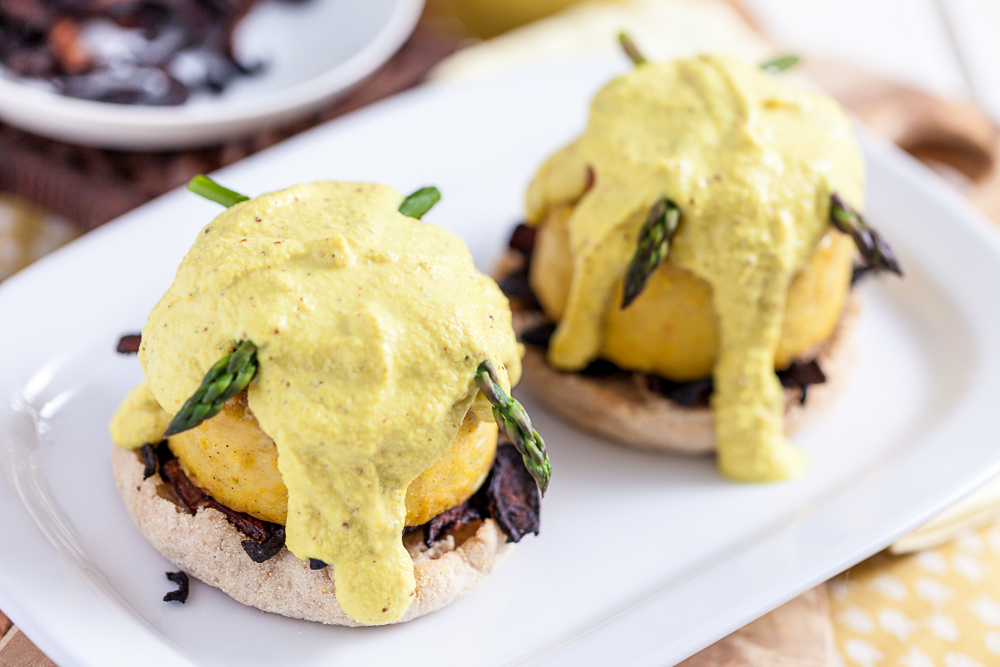 What ingredients do you consider "magical"?
Photography by Chris Miller