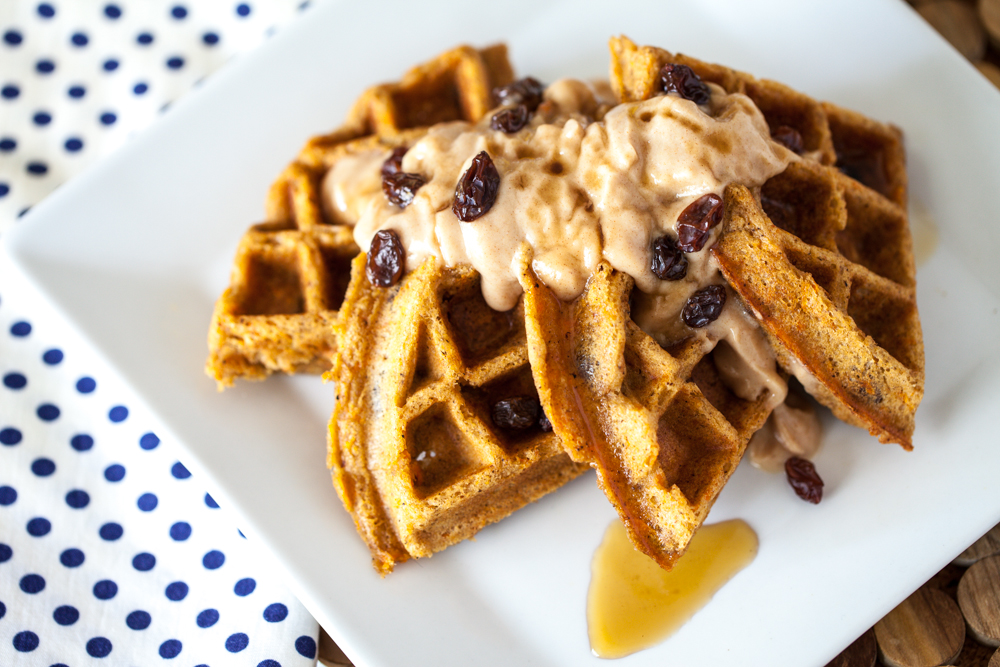 My grandfather was a tile setter and owned his own tile setting company.  In the 1960's, he hired a young high school boy to be his helper.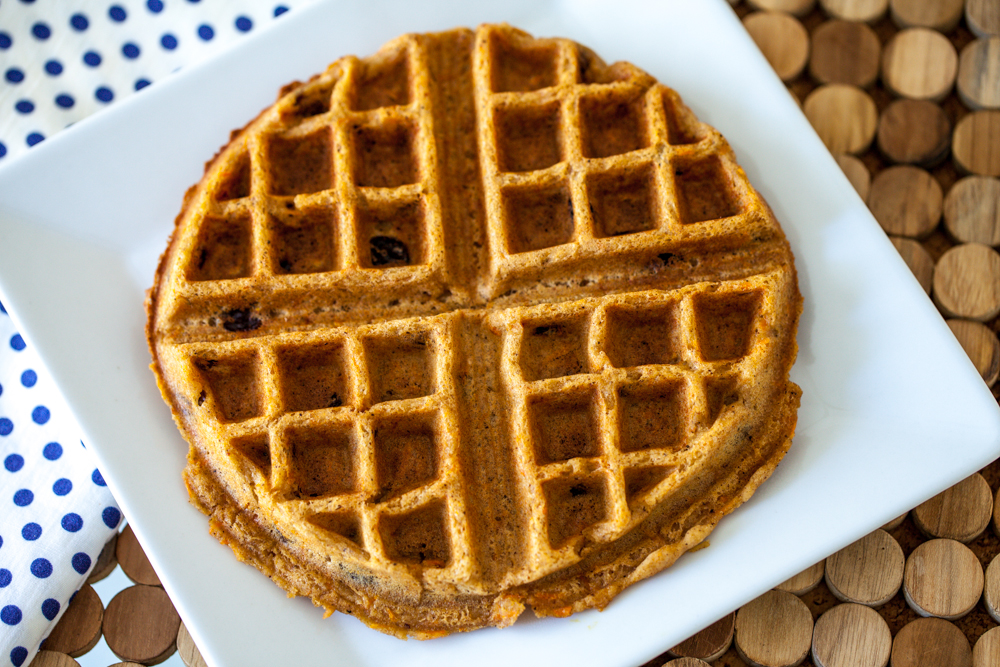 My grandfather and his whole family, except for one of his daughters (who thought he was ugly and obnoxious), loved this boy.  The young boy was smitten by this particular daughter, but being four years younger than him and just plain picky, she didn't want anything to do with him.  He continued to flirt with her and charm her until she finally agreed to go out with him.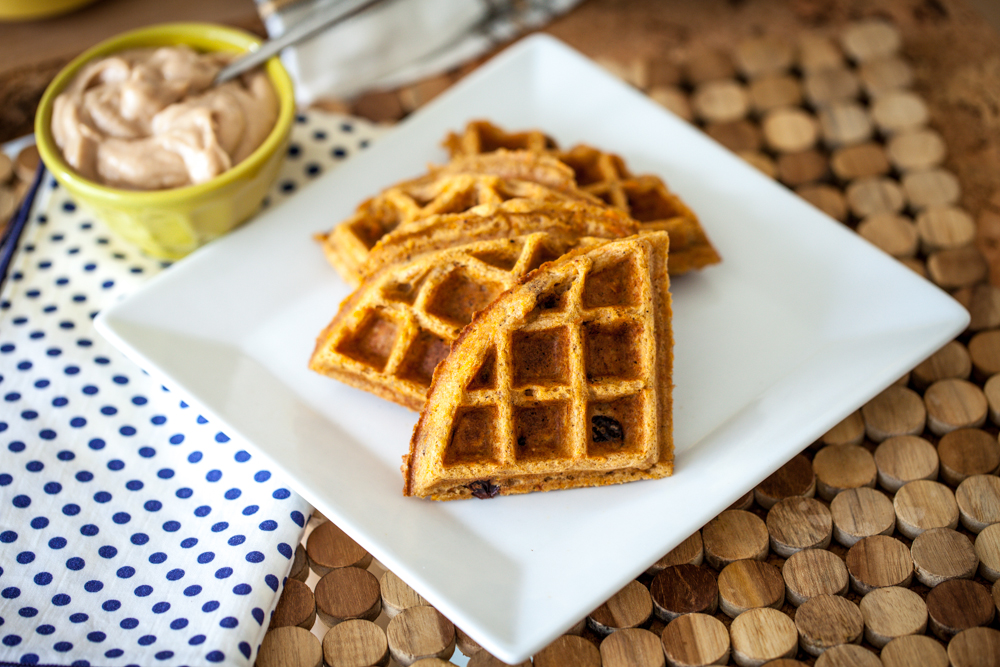 That was all it took.  They dated until a couple years after the boy graduated from high school when he was drafted to the Vietnam War.  Being young and in love and unable to be convinced otherwise, the young girl, at the age of sixteen, dropped out of high school and married this boy before he went to war.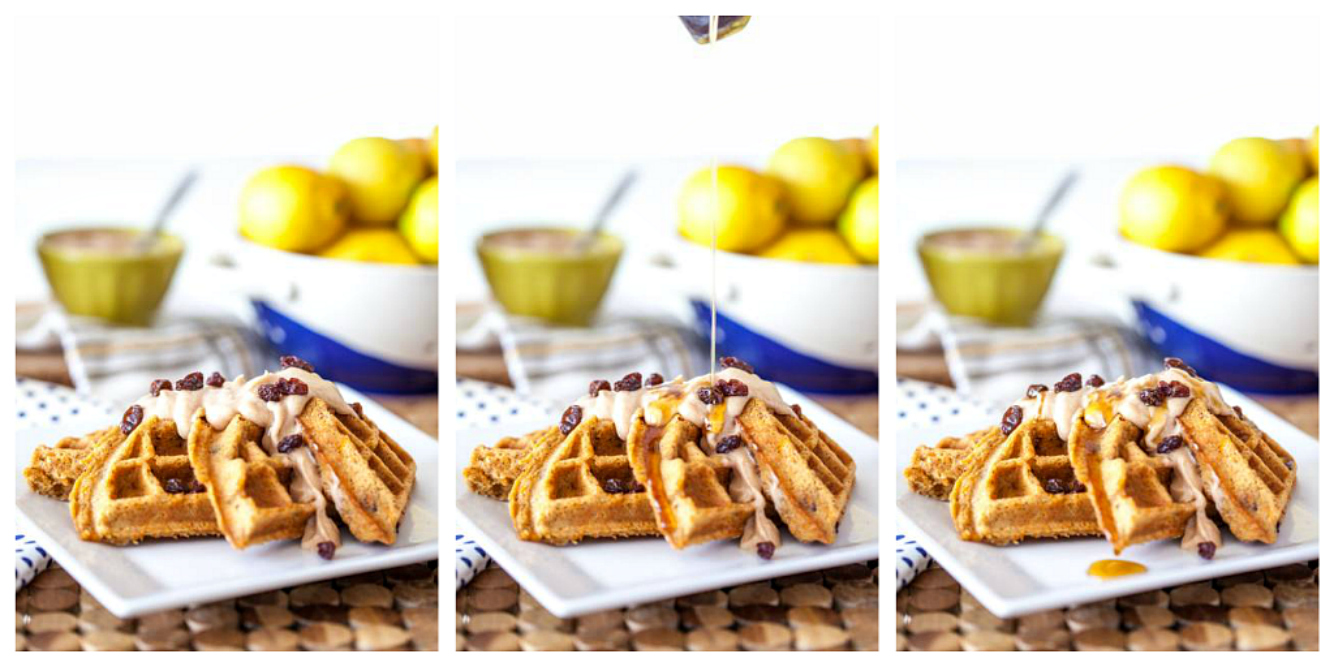 And that's the story of how my mom and dad met and got married.  Due to a motorcycle accident, my dad never ended up going overseas, but instead was stationed at various places in the U.S. until his term was over.  My mom went with him everywhere, and while he was stationed in Monterey, California, she went to junior college and got her GED.  When his term was over, she went to work while he went to college to get a business degree, and with that he started his own tile setting company.  They bought a house, had a couple (incredibly amazing) kids, and the rest is history.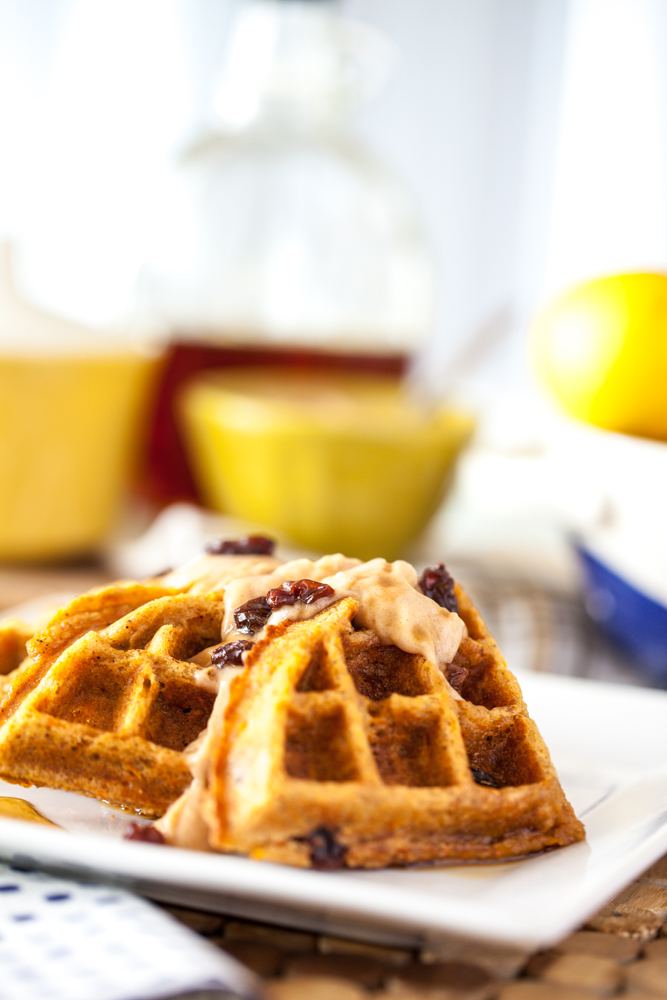 Growing up, my dad did 99% of the cooking in our house and one of my absolute most favorite things he would make was waffles.  Always the early bird, he would always wake up before all of us.  Taking after him, I would usually get up shortly after.  There was nothing better than waking up to the smell of waffles on the weekend, running downstairs and watching my dad as he would pour some fresh batter into the waffle maker so I could have one, nice and hot.  He would smear it with butter and douse it in Mrs. Butterworth's then hand me my plate so we I could eat my waffle while watching TV with him in the living room.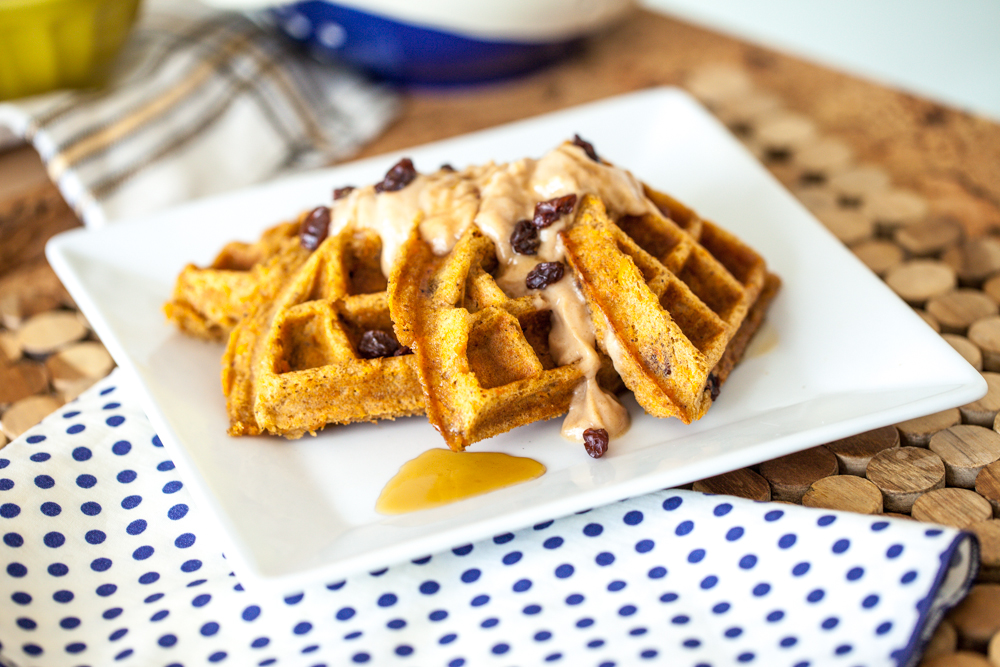 Today is my dad's birthday, and to celebrate, I made waffles for my family this last weekend.  My dad would never go for carrot cake waffles- plain waffles are more his style.  One of my favorite stories that my grandfather tells about my dad is that the first time they had him over for breakfast, they had waffles.  My dad asked for peanut butter to go with his waffles.  My grandparents thought he was crazy, but handed him the jar and watched as he smeared chunky peanut butter all over his waffle before pouring the syrup on it.  I can just picture my grandfather watching him, one eye-brow raised, but my grandfather, so curious about this peanut butter idea, gave it a try himself.  And loved it.  And to this day, that's how my grandfather eats his waffles too.  And he tells us the story every time.  It's one of my most favorite things.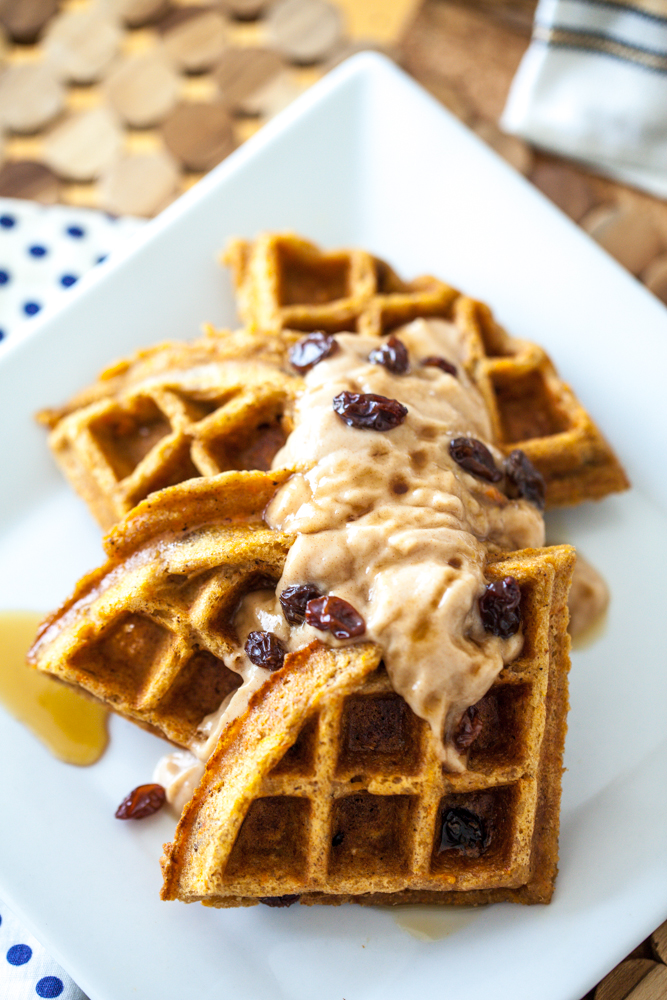 These carrot cake waffles are probably the best waffles to ever come out of my kitchen.  Their flavor is so rich and carroty, the plump little raisins adding a punch of flavor, but what is so striking about these waffles is how moist and fluffy and cakey they are.  It's just like taking a bite of carrot cake, but in waffle form.  Then there's the cinnamon maple cream cheese spread.  I can't even begin to stress to you enough how amazing this stuff is.  It tastes like cinnamon roll glaze, but with more of a cream cheese flavor and a tiny bright burst of lemon, and having it piled on top of one of these super-cakey waffles is just dessert-for-breakfast heaven.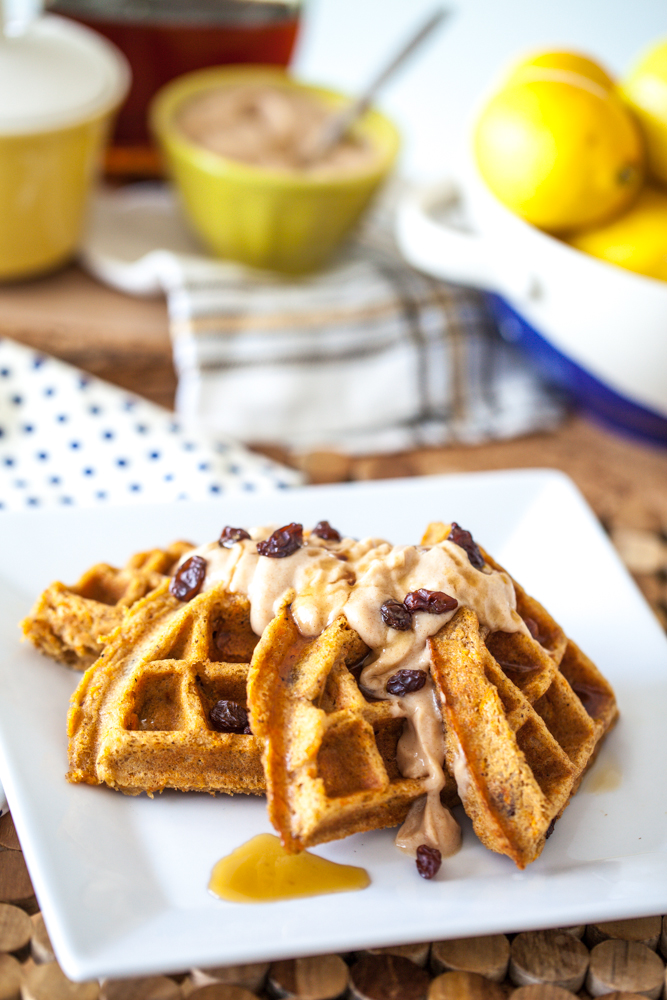 I wish I lived close enough to my dad to be able to make him some plain waffles for his birthday and watch him smear chunky peanut butter all over them before he eats them.  Because I don't, though, I'll settle for enjoying another batch of these carrot cake waffles, smothered in maple cream cheese sauce, and thinking of my dad and fondly remembering how he passed on his love of waffles to me.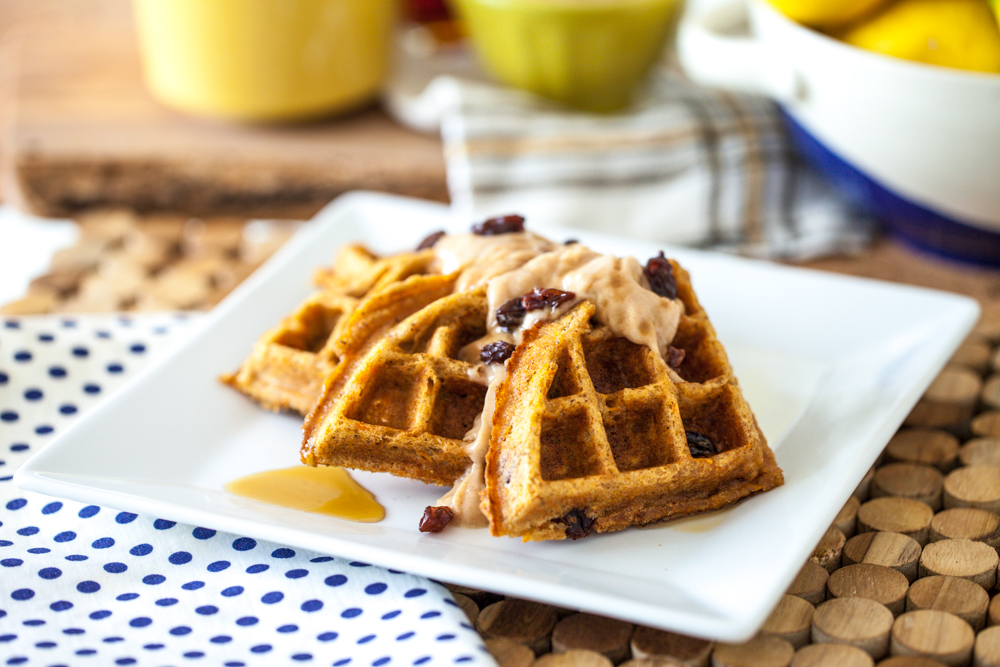 Carrot Cake Waffles with Cinnamon Maple Cream Cheese Spread
Ingredients
1 cup oat flour (or grind rolled oats in a high speed blender to get 1 cup of flour)
1/2 cup brown rice flour
1/2 cup sorghum flour (or replace both the brown rice and sorghum flours with a flour blend of your choice)
1/2 teaspoon salt
2 teaspoons baking powder
1 teaspoon cinnamon
1 teaspoon cloves
1/2 teaspoon nutmeg
1 1/2 cups plain coconut yogurt (or soy yogurt)
2/3 cup almond milk (or other dairy-free milk)
2 tablespoons coconut oil, melted
2 tablespoons maple syrup
1 teaspoon fresh lemon juice
1 teaspoon vanilla extract
1 cup grated carrots (finely grated, not in large shreds)
2/3 cup raisins (optional), plus extra for sprinkling on top

for the cinnamon maple cream cheese spread

1/2 cup vegan cream cheese
2 tablespoons maple syrup
1 teaspoon fresh lemon juice
1 teaspoon cinnamon
1/2 teaspoon vanilla extract
Instructions
for the cinnamon maple cream cheese spread

Using an electric mixer, thoroughly whip the cream cheese, cinnamon, and maple syrup together until fluffy. Chill until ready to use.
In a large bowl, mix together the dry ingredients.
In a medium bowl, mix together the wet ingredients. Add the wet ingredients to the dry and mix until just combined. Fold in the carrots and raisins, if using. Let stand for 10 minutes, while you let the waffle maker heat up.
Cook waffles according to your waffle maker's instructions. Top with cinnamon maple cream cheese sauce and maybe a smidge more maple syrup and serve warm. Enjoy!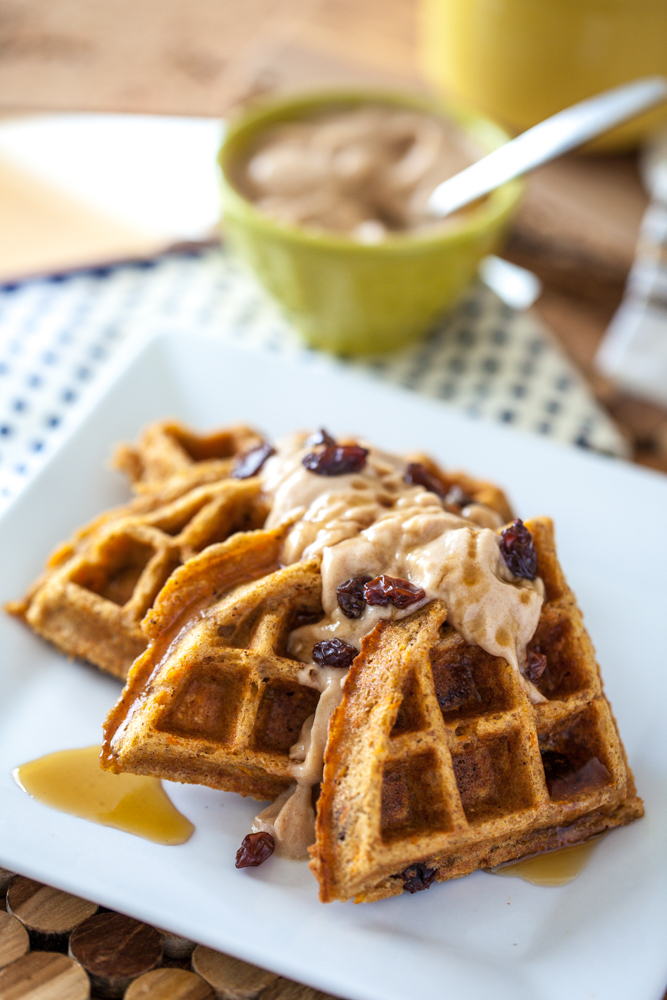 Do you share any food loves with your parents?
Photography by Chris Miller